08/23/09
Filed under:
General
Posted by:
site admin
@ 2:57 am
VR1
(WE
ARE ONE)
+ve
NEWS
Statues of living persons can also be installed:
Maya govt to SC
The Uttar Pradesh government, which
had made budgetary allocation of crores of rupees for installation of
statues of Chief Minister Mayawati and her mentor Kanshi Ram in the
state, has said it is a wrong notion that only statues of dead persons
can be installed.

The state
government expressed dismay over the manner in which the hype is being
created over installation of statues of Mayawati and quoted examples of
superstar Amitabh Bachchan and former Prime Minister Atal Bihari
Vajpayee whose statues have been erected.

"It is a wrong
notion that only statues of dead persons can be installed. There is no
dearth of examples whether in the country or abroad about statues of
living persons. In the Indian context, one can easily refer to A B
Vajpayee Institute of Technology and Management, Gwalior and Amitabh
Bachchan Institute at Saifai, Etawah," the state government said in an
affidavit.
http://timesofindia .indiatimes. com/news/ india/On- statues-Maya- tells-SC- to-stay-out- /articleshow/ 4921375.cms
On statues, Maya tells SC to stay out
Dhananjay Mahapatra , TNN 22 August 2009, 08:10am IST



NEW DELHI: The 'stupa' being constructed near Noida flyway with a

crowd of statues will cost the exchequer Rs 203 crore and there was a

budgetary

allocation of Rs 294 crore for other parks and statues, the Mayawati

government told the Supreme Court on Friday.( Watch Video )



All this "money has been sanctioned by the state government through

budgetary allocations approved by the Assembly and every expenditure

was authorised by the state legislature, " it said.



Before giving details of thousands of crores allocated for its

pro-poor, pro-Dalit and pro-development schemes, the government

sounded a caution. It said the SC would do well to follow its own

judgment in 2008 which said, "The judiciary must exercise

self-restraint and eschew the temptation to encroach into the domain

of the legislature or the administrative or statutory authorities. "



It expressed annoyance over the manner in which hype was being created

over installation of statues of CM Mayawati in parks and rebutted the

claim of petitioners that only a dead person's statue could be

insta-lled by giving example of former PM AB Vajpayee and superstar

Amitabh Bachchan.



"It is a wrong notion that only statues of dead persons can be

installed, There is no dearth of examples whether in the country or

abroad about statues of living persons. In the Indian context, one can

easily refer to A B Vajpayee Institute of Technology and Management,

Gwalior, and Amitabh Bachchan Institute at Saifai, Etawah. Abroad, we

have wax statues of film stars, cricketers and other living

personalities finding place in Madame Tussauds museum," the state

said.



Terming the PIL filed by advocates Ravi Kant and Sukumar as

"frivolous", the state's affidavit through additional advocate general

S K Dwivedi said Mayawati's statues were installed "only to fulfil the

wishes of Kanshi Ram, who willed that wherever his statues were

installed, alongside the statues of Mayawati, his only heir, must also

be installed".



Giving details of budgetary allocation for parks and statues in its

51-page affidavit, the state said, "The cultural department made

provisions of Rs 194.2 crore in the financial year 2008-09 and Rs 100

crore in the year 2009-10."



On the Samajik Parivartan Sangrahalay at Noida near DND flyway, the

state said it would comprise two 'stupas' with galleries which would

depict the life history of great personalities and social reformers

and their deeds and actions related to social reforms and "not to

glorify the chief minister".



"The cost of stupa is about Rs 203 crore and not Rs 500 crore as

stated in newspaper reports," the state said, adding that SC should

not entertain PIL as SC-appointed CEC was already seized of the

matter.
Bypolls burst Cong bubble


New Delhi, Aug. 21:
If
the UPA managed to win nine of the 17 seats whose results were declared
today, it was largely because of the Congress's allies, the DMK and the
Trinamul Congress.
The
Congress netted two seats in Tamil Nadu by piggybacking on the DMK. On
its own, it won Laitumthrak in Meghalaya, lost all four in Uttar
Pradesh where its performance in the Lok Sabha polls had kindled hopes
of a revival, and picked up just one of the five seats in Karnataka.
The
Congress sounded a bit more optimistic about Uttar Pradesh, where
despite its candidates losing their deposits in two constituencies
—Bidhuna and Morna — sources put the losses down to the "time-tested"
logic of ruling parties romping home in byelections.
In Uttar Pradesh, the BSP won three of the four seats.
The BSP wrested Malihabad and Bidhuna from the Samajwadi Party and Moradabad (west) from the BJP.
BSP
sources attributed the results to chief minister Mayavati's "mid-course
corrections" after the Lok Sabha rout, a consolidation of the SC/ST
votes and an accretion in their backward caste support.
In Moradabad (west) for instance, the BSP had put up a backward caste Saini candidate, Balwan Singh.
Humayun
Qadir, a party secretary in the constituency, said that even though the
Congress got 60 per cent of the 1,50,000 Muslim votes and the
Samajwadis 20 per cent, the BSP won by nearly 18,000 votes because of
the consolidation of the backward caste and SC/ST votes.
Bypolls results prove BSP enjoys support of all sections: Mayawati



Lucknow, Aug 21 : Elated over the success of the party in the Assembly

bypoll results which were announced today, Uttar Pradesh Chief

Minister and BSP president Mayawati said it proves that the party

enjoys confidence of all the factions of society.


The ruling Bahujan Samaj Party has registered win at three out of four

seats, which had gone to the bypoll on August 18. The BSP managed to

wrest two seats from Mulayam Singh Yadav-led Samajwadi Party and one

from BJP.


In a statement, the BSP supremo said the bypoll results had vindicated

the party's principle of 'Sarvajan Hitay, Sarvajan Sukhaya' (Welfare

and Prosperity of all).




Ms Mayawati said the results also punctured the much-hyped

'misinformation' campaign of the Congress which failed miserably in

the bypolls. ''I hope the support of the people will continue in the

times to come so that the party fulfills its promise to take the state

on the path of progress and development, '' she said.



She was thankful to the people of the state as well as to the party

cadre, which according to her worked relentlessly to remove the

misconceptions being created by the opposition parties, specially the

Congress and SP.



Ms Mayawati said that the party candidates were on the socond spot at

50 seats in the recent Lok Sabha elections and the success in the

bypoll proved the party had got less than expected seats in the

general elections.



With regards to the loss at the Morna assembly seat in Muzaffarnagar

district, the BSP president attributed it to the fact that all three

major parties BSP, SP and the Congress had fielded Mulsim candidates

there due to which Ajit Singh-led Rashtriya Lok Dal emerged

victorious.



BSP has won the three assembly seats of Moradabad (west), Malihabad

(reserved) and Vidhuna, while has lost Morna seat to the RLD.



— UNI
http://www.dnaindia .com/india/ report_mayawati- bounces-back- after-poor- show-in-lok- sabha-polls_ 1284384
Mayawati bounces back after poor show in Lok Sabha polls

Deepak Gidwani / DNASaturday, August 22, 2009 2:21 IST



Lucknow: The elephant trumpeted victory for the BSP in the crucial

assembly byelections in UP on Tuesday. The ruling party won three of

the four seats handsomely. Byelections to nine more seats are to be

held in next 2 months.



The Congress, seen as the major challenger in these by elections, is

deriving consolation from increase in its vote count as compared to

2007. The SP lost both the seats (Malihabad and Vidhuna) it had won in

2007 to the BSP. The BJP fared the worst. Not only did it end up

fourth in three seats, it even lost the Moradabad-West seat it had won

in 2007. The saffron party's only consolation is that it helped the

Rashtriya Lok Dal retain Morna (Muzaffarnagar) that RLD won in 2007.



UP CM Mayawati, who did not campaign in the bypoll, described the

result a victory of her government's policies.



The results prove it is too early to write off the BSP, and that

anti-incumbency is a far cry where the Mayawati magic is concerned,

regardless of how many Dalit houses Rahul Gandhi visits. Mayawati said

that after the Lok Sabha polls people had understood that the

Congress, SP and BJP had a secret understanding to stop a "Dalit ki

Beti" from becoming PM.



The Congress is trying to explain away the BSP sweep as a result of

the "gross misuse of official machinery" by the state government. UP

Congress chief Rita Bahuguna Joshi said despite repeated pleas by her

party, the Mayawati government did not deploy central para military

forces. She also said that the results were an indicator of the

Congress's increasing popularity.
Officials must implement govt schemes: Mayawati
STAFF WRITER 12:43 HRS IST

Lucknow, Aug 22 (PTI) Instructing all the departments to ensure proper

implementation of government schemes in the state, Uttar Pradesh Chief

Minister Mayawati today said the officials will be accountable if

their subordinates fail to execute responsibilities.



"If district level officials are failing to execute their

responsibilities with honesty and dedication, accountability of

principal secretary or secretary of the department concerned will be

fixed and action will be taken against him," Mayawati said during a

high-level review meeting yesterday.



She asked the government officials to "improve their work culture as

per the expectations and need of the people and ensure that people get

benefit of various welfare schemes".



Mayawati said that a report submitted by the chief secretary had

indicated that working of some department was not satisfactory.

Government calls for objections from public
on draft notification Ward reservation list out Bangalore:




The State government on Saturday issued
the draft notification on reservation in the 198 Bruhat Bangalore Mahanagara Palike (BBMP) wards.

Objections and suggestions to the draft could be submitted in writing with
valid reasons to the Principal Secretary, Department of Urban Development,
Vikasa Soudha, Bangalore.
Objections to the notification will be taken into consideration after August
31.

The ward number, ward name and the reserved category (in brackets) are as
follows:
G stands for General;
G-W for General-Women;
BC-A for Backward Class-A;
BC-A-W

for Backward Class-A-Women;
BC-B for Backward Class-B;
BC-B-W for Backward Class-B-Women;
SC for Scheduled Castes;
ST for Scheduled Tribes.
List of wards

1. Kempegowda Ward (G); 2. Chowdeshwari Ward (G); 3. Atturu (BC-A); 4. Yelahanka Satellite Town
(G-W); 5. Jakkuru (G); 6. Thanisandra (BC-A); 7. Byatarayanapura (G); 8.
Kodigehalli (G-W); 9. Vidyaranyapura (BC-A-W);
10. Dodda Bommasandra (BC-B); 11. Kuvempu Nagar (SC); 12. Shettyhalli (SC); 13.
Mallasandra (G); 14. Bagalakunte (G); 15. T Dasarahalli (BC-A); 16. Jalahalli
(SC); 17. JP Park (G-W); 18. Radhakrishna
Temple Ward
(SC); 19. Sanjay Nagar (G); 20. Ganga Nagar
(BC-A); 21. Hebbal (G); 22. Vishwanatha Nagenahalli (G-W); 23. Nagavara (BC-A-W); 24. HBR
Layout (BC-B); 25. Horamavu (G); 26. Ramamurthynagar (G); 27. Banasawadi
(BC-A); 28. Kammanahalli (G-W); 29. Kacharakanahalli (G); 30. Kadugondanahalli
(BC-A); 31. Kushalnagar (G); 32. Kavalbyrasandra (G-W); 33. Manorayanapalya (BC-A-W); 34.
Gangenahalli (BC-B-W); 35. Aramane Nagara (G); 36. Mattikere (SC); 37.
Yeshwanthapura (G); 38. HMT (ST); 39. Chokkasandra (BC-A); 40. Dodda
Bidarakallu (G-W); 41. Peenya Industrial Area (G); 42. Lakshmi Devi Nagar
(BC-A); 43. Nandini Layout (G); 44. Marappana Palya (G-W); 45. Malleswaram (BC-A-W); 46.
Jayachamarajendra Nagar (BC-B); 47. Devara Jeevanahalli (G); 48. Muneshwara
Nagar (G); 49. Lingarajapuram (BC-A); 50. Benniganahalli (G-W); 51. Vijnanapura
(SC); 52. Krishnarajapura (G); 53. Basavanapura (BC-A); 54. Hoodi (G); 55.
Devasandra (G-W); 56. A Narayanapura (BC-A-W);
57. CV Raman Nagar (BC-B); 58. New Thippasandra (G); 59. Maruthi Seva Nagar
(SC-W); 60. Sagayarapuram (SC-W); 61. SK Garden (G); 62. Ramaswamypalya (SC);
63. Jayamahal (BC-A); 64. Rajamahal Guttahalli (G-A); 65. Kadu Malleswaram (G);
66. Subramanyanagar (BC-A); 67. Nagapura (G); 68. Mahalakshmipuram (G-W); 69.
Laggere (BC-A-W);
70. Rajagopalnagar (BC-B-W); 71. Hegganahalli (G); 72. Herohalli (G); 73.
Kottigepallya (BC-A); 74. Shakthi Ganapathinagar (SC); 75. Shankar Matt (G-W);
76. Gayathri Nagar (G); 77. Dattatreya
Temple (BC-A); 78.
Pulakeshinagar (G); 79. Sarvagna Nagar (SC-A); 80. Hoysala Nagar (G-W); 81.
Vijnananagara (BC-A-W);
82. Garudachar Palya (BC-B); 83. Kadugodi (G); 84. Hagadur (G); 85.
Doddanekkundi (BC-A); 86. Marathahalli (G-W); 87. HAL Airport
(G); 88. Jeevanbhima Nagar (BC-A); 89. Jogupalya (G); 90. Ulsoor (G-W); 91.
Bharathinagar (BC-A-W);
92. Shivajinagar (BC-B); 93. Vasanthanagar (G); 94. Gandhi Nagar (G); 95.
Subhash Nagar (SC-W); 96. Okalipuram (BC-A); 97. Dayananda Nagar (SC-W); 98.
Prakash Nagar (G-W); 99. Rajaji Nagar (G); 100. Basaveshwara Nagar (BC-A); 101.
Kamakshipalya (G); 102. Vrushabhavathi Nagar (G-W); 103. Cauverypura (BC-A-W); 104. Govindaraj
Nagar (BC-B-W); 105. Agrahara Dasarahalli (G); 106. Dr. Rajkumar Ward (G); 107.
Shivanagar (BC-A); 108. Srirama Mandir Ward (G-W); 109. Chickpet (G); 110.
Sampangiram Nagar (BC-A); 111. Shanthalanagar (G); 112. Domlur (G-W); 113.
Konena Agrahara (BC-A-W);
114. Agaram (SC-W); 115. Vannarpet (BC-B); 116. Neelasandra (ST-W); 117.
Shanthinagar (G); 118. Sudamanagar (SC-W); 119. Dharmarayaswamy Temple
Ward (G); 120. Cottonpet
(BC-A); 121. Binnipet (G-W); 122. Kempapura Agrahara (G); 123. Vijayanagar
(SC-A); 124. Hosahalli (SC); 125. Marenahalli (G); 126. Maruti Mandir Ward
(G-W); 127. Mudalapalya (SC-A-W);
128. Nagarbhavi (BC-B); 129. Jnanabharathi Ward (G); 130. Ullalu (G); 131.
Nayandahalli (SC); 132. Attiguppe (BC-A); 133. Hampi Nagar (G-W); 134. Bapuji
Nagar (G); 135. Padarayanapura (BC-A); 136. Jagjivanram Nagar (G); 137.
Rayapuram (G); 138. Cheluvadipalya (SC-W); 139. KR Market (BC-A-W); 140. Chamarajpet (BC-B-W); 141.
Azad Nagar (G); 142. Sunkenahalli (G); 143. Vishveshwarapuram (BC-A); 144.
Siddapura (G-W); 145. Hombe Gowda Nagar (G); 146. Lakkasandra (BC-A); 147.
Adugodi (SC); 148. Ejipura (G); 149. Varthur (G-W); 150. Belandur (SC); 151.
Koramangala (BC-A-W);
152. Saddgu nte Palya (BC-B); 153. Jayanagar (G); 154. Basavanagudi (G); 155.
Hanumanthnagar (BC-A); 156. Srinagar
(G-W); 157. Gali Anjaneya Temple
(G); 158. Deepanjali Nagar (BC-A); 159. Kengeri (G); 160. Rajarajeshwari Nagar
(G-W); 161. Hosakerehalli (BC-A-W);
162. Girinagar (G); 163. Katthriguppe (G); 164. Vidyapeetha Ward (BC-A); 165.
Ganesh Mandir (G-A); 166. Karisandra (G); 167. Yediyur (BC-A); 168. Pattabhiram
Nagar (G); 169. Byrasandra (G-W); 170. Jayanagar East (SC); 171. Gurappanapalya BC-A-W);
172. Madiwala (G); 173. Jakkasandra (G); 174. HSR Layout BC-A);
175. Bommanahalli (G-W); 176. BTM Layout (G); 177. JP Nagar (BC-A); 178.
Sarakki (G); 179. Shakambarinagar (G-W); 180. Banashankari
Temple Ward
(BC-A-W);
181. Kumaraswamy Layout (G); 182. Padmanabhanagar (G); 183. Chikkalsandra
(BC-A); 184. Uttarahalli (SC); 185. Yelchenahalli (G-W); 186. Jaraganahalli
(G); 187. Puttenahalli (BC-A); 188. Bilekhalli (SC); 189. Hongasandra (G); 190.
Mangamma napalya (G-W); 191. Singasandra (BC-A-W); 192. Begur (G); 193. Arakere (G);
194. Gottigere (BC-A); 195. Gottigere (BC-A); 196. Anjanapura (G); 197.
Vasanthapura (G-W); 198. Hemmigepura (BC-A-W).
BSP'S PRESENCE The
BSP which bagged 10,000 votes in Lok Sabha elections, fielded Subash
Bharani and managed to cut into dalits and backward communities
votebank, with 21,143 votes.
ALMOST EVERY
FRAUD involves VICTIM
sending "CASH" money to a Fraudster/Scammer.
ABSOLUTELY DO NOT send any money
using Western
Union / Moneygram.
Always deal ONLY locally by
meeting the seller/buyer in person.
READ and UNDERSTAND the methods
used by Fraudsters in the link above.
ONLINE TRAINING ON
PRECEPTS AND TRADE-61
ESTABLISHING
JAIVIK (ORGANIC) KITCHEN GARDEN
training
programme was conducted by
GOVERNMENT OF KARNATAKA
DEPARTMENT OF HORTICULTURE
Biotechnology
Centre, Hulimavu, Bangalore
from
21-08-09 to 22-08-09
Celebration
Program List
·
Dr.K.Ramakrishnappa
Director Dept. of Horticulture and Karnataka Horticultural Development Agencies
, Lalbagh
·
Sri.
Nagesh Hegde, Senior Jouranalist
·
Dr.
Shoba Senior SCale Lecturer Smt.VHD Central Institute of Home Science
·
Dr.
Devkumar, Professor of Agronomy, UAS, Bangalore
·
Sri.N.R.Shetty.
President Sahaja
·
Ms.Sangeetha
Sharama, Director Annadana.
·
Ms.Philomena,
Aikya.
2)
Prayer
3)
Welcome speech by Sri.Chunchaiah, Sr.Asst.Director DOH
4)
Sr.Krishnaprasad
5)
Peresentaion of Establishing Organic vegetable Garden Ms. Sangita
Sharma
6)
Launching of G3 by Dr. K.ramakrishnappa. Explanation on G3 by
Sri.NR Shetty
7)
Talk and sharing of experience : Sri.Nagesh Hegde, Sr,.Journalist
8)
Honouring Kitchen Gatrdners
9)
Participants Experience: Appaji
10)
Presidents Address: Dr. K. Ramakrishnappa
11)
Vote of Thanks ; Sri.nataraj, Asst. Director DOH

	
Establishing a vegetable garden
Tired of vegetables from
the supermarket that are tasteless and deteriorate within days of purchase? Remember how
the tomatoes and fresh beans and peas from Grandad's vegie patch used to taste? Are you
wary of genetically modified food? Growing your own fresh vegetables is not difficult and
apart from the wonderful taste, you will also know exactly what has gone into and on to
your food.
Location
The one really vital requirement for a successful vegetable garden is a sunny location.
Choose the sunniest spot you can find. If the only sunny area is paved, or on the deck or
balcony, then plant your vegetables in pots (refer to our info on sowing
into containers). There are quite a few varieties of vegetables developed expressly
for this purpose and container vegetable growing is becoming easier and easier.
The
Soil
The soil in a vegetable garden needs to be well-draining with a good structure (nice and
crumbly) that allows rapid root growth and easy access to nutrients, water and air. The
incorporation of organic material such as household compost (best because it's weed free)
and composted animal manures helps to create suitable conditions for growth. It should be
dug over to break up clumps of soil (never dig when the soil is wet & sticky as this
will cause clumping). If, however, you find digging difficult, or are faced with a
compacted, poorly-drained site, then building up a "no-dig garden" with layers
of straw, hay and compost above ground level will allow you to grow wonderful vegetables
without the heavy work of digging over the bed. Whatever way you go the top of the soil
should be friable to allow the emerging shoots to break through.
The degree of soil acidity (i.e. the pH) can affect nutrients available to
plants. Most vegetables thrive in soil with a pH between 6 and 7. A simple pH test with a
soil testing kit (one is available from the Global Garden shop) will indicate if your soil
is too acid or too alkaline. Soils with plenty of organic matter added may need the
addition of garden lime to raise the pH. For maximum growth, natural fertilisers may need
supplementing with artificial fertilisers to ensure that the plants have all the nutrients
they need. Don't over-fertilise. The use of a variety of organic materials will probably
produce perfectly satisfactory results. Water well before sowing.
Sowing
Now you are ready to open your packet and sow those miraculous little seeds!
It is usually best to sow in a straight line so that you can easily distinguish your
vegetables from any weeds which may also sprout. The job may be made easier for small
seeds by mixing them with sand & applying with a shaker to better control the sowing
rate. Sow the seed according to the directions on the packet. A general rule that works for
many seeds is that you plant them at a depth that is twice the diameter of the seed with a
minimum depth of 1 cm. Water with a fine spray initially. The seeds need moisture to
develop, so keep them moist but don't drown them.

Coping
with Pests
One of the great advantages of the home vegetable garden is the option of producing
pesticide-free produce. You may have to settle for produce that is not as visually perfect
as the shop-bought stuff and steel yourself to doing plenty of picking off and squashing
of pests. Looking at your growing crop every day not only gives satisfaction but can
enable you to quickly detect any harmful insects and physically remove them. The other
options, of course, include choosing products with low toxicity eg Pyrethrum insecticide,
trying biological control eg Dipel (for caterpillars) and using companion planting.
(Marigolds are very good). Snail bait is something that you may need to use. (Multiguard
is much safer than other baits.) A snail beer trap can be very effective - bury a
container level with the ground & fill with beer. Slugs & snails find it
irresistible & then drown happily.
What to
Plant
The choice of vegetables depends on the tastes of those who are going to eat them. Don't
waste garden space producing wonderful crops of, say, chokoes, if no one in the family
will touch them with a bargepole! Like all sensible producers, cater for your market, and
sow seed successively to have an on-going supply. Tomatoes, beans, peas, broccoli,
capsicums, lettuce, carrots and zucchini are all particularly easy & rewarding. You
don't need a huge space at all, and a vegie garden can be very attractive.
Join us as we help you along the way to grow delicious, healthy vegetables
for yourself, your family and your friends.
The Global Garden Shop
stocks a good range of excellent seeds.
It works to be at job fair, even at 73!
f you thought 60 was an age
ripe enough to retire and relax, this job fair for senior citizens in
Bangalore was destined to demolish myths. Instead of the 20-something,
fresh-out-of-college wannabe youngsters, about 700 sexagenarians and
septuagenarians queued up to meet their prospective employers.
Organised
by a City-based NGO, Nightingales Medical Trust (NTM), the fair was
surely high on novelty. For this first-of-its-kind initiative, the
Trust had roped in 13 employers. Most jobs on offer were in the fields
of insurance, accounts and engineering.

"The objective behind
the job fair is to see that senior citizens live with dignity. Many
senior citizens become depressed because they have no means of living,
or they are financially dependent," S Premkumar Raja, trustee and
honorary secretary, NTM, said.

With nearly 700 registered job
seekers, the fair was definitely not low on popularity. But the Trust
wanted more employers. To boost response from prospective job
providers, the Trust signed a Memorandum of Understanding with the
Federation of Karnataka Chambers of Commerce and Industry.

Sixty-one-year-old
Santhosham had read about the job fair and came fully prepared with his
resume. He was looking for an opening in technical or teaching field.

"Earlier,
the recruitment for senior citizens was easy. But due to recession, it
has become very difficult. I want to work as long as my health
permits," said the man who had served the Indian Air Force for 20
years.

For 73-year-old Sumitra, who retired as a nursing
superintendent, a job is a must as she has no pension. "I would be
interested in doing social work, teaching or any managerial work.
Senior citizens are willing to work, but somebody should support and
motivate us. Also, if we are active, we will stay healthy," she said.

H
K Shetty (61) agreed with Sumitra when he said he was looking for a
bank job or an administrative position. With several years in the
banking sector, he wanted to bank on his rich experience in the field.
"After retirement in January this year, this is the first time I am
venturing out to look for a job. I have my own house and stay with my
family. But if I have some work then I can kill time," he said.

Did anyone say old age was an age-old problem?
A BLUE PRINT FOR LIFE
ON
LIVELIHOOD
THE WAY
OF USING RESOURSES
In summary, a person must live, just
as apig, horse,
cow, or sheep must
live. Even insects and other creatures
must live. But the
spice of life is different for each. People
Today like to enjoy
name-brand clothes, jewelry, and popular
makeup. Being this is
in vogue, and people like to make
themselves over. But
true beauty, which is impressive, solemn,
ad composed yet
carefree, comes naturally from within. The
Sutra
on the Treasury of Truth with Parables [Dharmapadavadana
Sutra] expresses this idea, "Wisdom without anger is
uprightness". Life
will have quality only if one strives to
cange one's
personality, ahbits, ideas, and relationships,
mking the good better
as wella s improving, correcting, and
bautifying the
mediocre.
COMPREHENSIVE PALI
COURSE
LESSON 9
Infinitives:
The
infinitive is a form of verb. It expresses the verbal
Notion without referring to a tense of a
particular subject.
In Pāli, It is formed by adding Tuṁ to verb. For example,
dātuṁ = to give
(da=tuṁ= dātuṁ)
Similarly formed are:
Pā+ tuṁ= Pātuṁ, pivituṁ = to drink
Pac=pacituṁ = to cook
Is=icchituṁ = to wish
Bhas=bhāsituṁ = to speak
ā+mant= Āmant= Āmantetuṁ = to address
pucch=pucchituṁ = to ask
khaṇ= khaṇituṁ = to dig
suj=sujituṁ = to cause pain
vand=vandituṁ = to bow down, to worship
paṇam=panāmituṁ = to worship
cur=coretuṁ = to steal, plunder
jay=jayituṁ = to conquer
yuj=yuñjituṁ = to yoke
dam=dametuṁ = to tame
gam=gantuṁ-gamituṁ = to go
bhuj=bhuñjituṁ = to eat
likh=likhituṁ = to write
vad=vadituṁ = to say
kath=khatetuṁ - to speak
nimant=nimantetuṁ =to invite
chind=chindituṁ = to cut
pariesa=pariyeituṁ = to seek
bhaj=bhajituṁ = to associate
parāji= parājayituṁ = to defeat
jiv=jivituṁ = to survive
Vocabulary:
Bodhisatta = would-be-Buddha
Bodhirukkha = Tree of Wisdom
Lokuttara = Supermundane, Transcendental
Yuñjatha = put forth, plunge yourself, Yoke
yourself
Cakkavatti = World Monarch, Emperor
Seṭṭha = Noblest
Bhagavā = Blessed One
Tibhuvana = Three realms of Existence
Āha = Said
Māra = The Evil One
Pacchā = Afterwards, Later
Yogi = Meditator, Mystic
Jeṭṭha = Pre-eminent
Jina = Victor
Lokanāyaka = Leader of the
World
Nātha = Saviour
Bhikkhavo = Monks
Anukampā = Compassion, Mercy
Hitā = Welfare
FREE
ONLINE
TRAINING ON BUDDHISM FOR CHILDREN -21
Beauty and Grey
[A Wise Leader]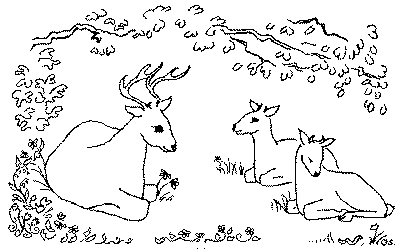 Once upon a time,
there was a deer who was the leader of a herd of a thousand. He had two sons.
One was very slim and tall, with bright alert eyes, and smooth reddish fur. He
was called Beauty. The other was Grey in color, also slim and tall, and was called
Grey.
One day,
after they were fully grown, their father called Beauty and Grey to him. He said,
"I am now very old, so I cannot do all that is necessary to look after this
big herd of deer. I want you, my two grown-up children, to be the leaders, while
I retire from looking after them all the time. We will divide the herd, and each
of you will lead 500 deer." So it was done.
In
India, when the harvest time comes, the deer are always in danger. The rice is
at its tallest, and the deer cannot help but go into the paddies and eat it. To
avoid the destruction of their crops, the human beings dig pits, set sharp stakes
in the ground, and build stone traps - all to capture and kill the deer.
Knowing
this was the season, the wise old deer called the two new leaders to him. He advised
them to take the herds up into the mountain forest, far from the dangerous farm
lands. This was how he had always saved the deer from being wounded or killed.
Then he would bring them back to the low lands after the harvest was over.
Since
he was too old and weak for the trip, he would remain behind in hiding. He warned
them to be careful and have a safe journey. Beauty set out with his herd for the
mountain forest, and so did Grey with his.
The
villagers all along the way knew that this was the time the deer moved from the
low lying farm lands to the high countryside. So they hid along the way and killed
the deer as they passed by.

Grey did not pay attention to his father's wise advice. Instead of being careful
and traveling safely, he was in a hurry to get to the lush mountain forest. So
he moved his herd constantly, during the night, at dawn and dusk, and even in
broad daylight. This made it easy for the people to shoot the deer in Grey's herd
with bows and arrows. Many were killed, and many were wounded, only to die in
pain later on. Grey reached the forest with only a few deer remaining alive.
The
tall sleek red-furred Beauty was wise enough to understand the danger to his moving
herd. So he was very careful. He knew it was safer to stay away from the villages,
and from all humans. He knew it was not safe in the daytime, or even at dawn or
dusk. So he led his herd wide around the villages, and moved only in the middle
of the night. Beauty's herd arrived in the mountain forest safe and sound, with
no one killed or injured.
The
two herds found each other, and remained in the mountains until well after the
harvest season was over. Then they began the return to the farmland country.
Grey
had learned nothing from the first trip. As it was getting cold in the mountains,
he was in a hurry to get to the warmer low lands. So he was just as careless as
before. Again the people hid along the way and attacked and killed the deer. All
Grey's herd were killed, later to be eaten or sold by the villagers. Grey himself
was the only one who survived the journey.
Beauty
led his herd in the same careful way as before. He brought back all 500 deer,
completely safe. While the deer were still in the distance, the old chief said
to his doe, "Look at the deer coming back to us. Beauty has all his followers
with him. Grey comes limping back alone, without his whole herd of 500. Those
who follow a wise leader, with good qualities, will always be safe. Those who
follow a foolish leader, who is careless and thinks only of himself, will fall
into troubles and be destroyed."
After
some time, the old deer died and was reborn as he deserved. Beauty became chief
of the herd and lived a long life, loved and admired by all.
The
moral is: A wise leader puts the safety of his followers first.
A Permanent Online
International Seminar on Buddhism and Buddhist Heritage of Jambudvipa that is
the Great Prabuddha Bharath
Learning to Listen

by Ajahn Chah



During an informal gathering at his residence one evening, the Master
said, `When you listen to the Dhamma, you must open up your heart and
compose yourself in its centre. Don't try and accumulate what you hear,
or make painstaking efforts to retain it through your memory. Just let
the Dhamma flow into your heart as it reveals itself, and keep yourself
continuously open to the flow in the present moment. What is ready to be
retained will remain. It will happen of its own accord, not through
forced effort on your part.

`Similarly, when you expound the Dhamma, there must be no force
involved. The Dhamma must flow spontaneously from the present moment
according to circumstances. You know, it's strange, but sometimes people
come to me and really show no apparent desire to hear the Dhamma, but
there it is — it just happens. The Dhamma comes flowing out with no
effort whatsoever. Then at other times, people seem to be quite keen to
listen. They even formally ask for a discourse, and then, nothing! It
just won't happen. What can you do? I don't know why it is, but I know
that things happen in this way. It's as though people have different
levels of receptivity, and when you are there at the same level, things
just happen.

`If you must expound the Dhamma, the best way is not to think about
it at all. Simply forget it. The more you think and try to plan, the
worse it will be. This is hard to do, though, isn't it? Sometimes, when
you're flowing along quite smoothly, there will be a pause, and someone
may ask a question. Then, suddenly, there's a whole new direction. There
seems to be an unlimited source that you can never exhaust.

`I believe without a doubt in the Buddha's ability to know the
temperaments and receptivity of other beings. He used this very same
method of spontaneous teaching. It's not that he needed to use any
superhuman power, but rather that he was sensitive to the needs of the
people around him and so taught to them accordingly. An instance
demonstrating his own spontaneity occurred when once, after he had
expounded the Dhamma to a group of his disciples, he asked them if they
had ever heard this teaching before. They replied that they had not. He
then went on to say that he himself had also never heard it before.

`Just continue your practice no matter what you are doing. Practice
is not dependent on any one posture, such as sitting or walking. Rather,
it is a continuous awareness of the flow of your own consciousness and
feelings. No matter what is happening, just compose yourself and always
be mindfully aware of that flow.'

Later, the Master went on to say, `Practice is not moving forward,
but there is forward movement. At the same time, it is not moving back,
but there is backward movement. And, finally, practice is not stopping
and being still, but there is stopping and being still. So there is
moving forward and backward as well as being still, but you can't say that
it is any one of the three. Then practice eventually comes to a point
where there is neither forward nor backward movement, nor any being
still. Where is that?'

On another informal occasion, he said, `To define Buddhism without a
lot of words and phrases, we can simply say, "Don't cling or hold on to
anything. Harmonize with Actuality, with things just as they are." '
All India
Lay-Buddhists' Organization(AILBO)
Head office: MahaBodhi Society's Head
Quarters
Kolkata
To,
Sub:
3rd Anniversary Conference & General Body Meeting of AILBO
Dear Dhamma
Brother/ Sister,
After
the 3 years of formation of AILBO, various state units & activists of AILBO are spreading
the message of Buddha in nooks & corners
of our country, as well as converging
all the Buddhistic activities to create a common platform for all the
Buddhists. Our patron Ven Bhante Dr. D. Revatha Thero's guidance &
the efforts of members are creating awareness amongst the masses.
With
all this back-drop the third Anniversary conference of AILBO
is going to be convened at the MahaBodhi Society of India's
Head-quarters, Kolkata on 16th & 17th of September,2009.
The
meeting will deliberate on various aspects of development of Buddhism in
different states & regions.
Ven.
Bhante Dr. D Revatha Thero will preside over & bless the function & Dr.
U. N. Biswas along-with other speakers will discuss different aspects of
Buddhism.
The
delegates are requested to write the
paper on the state of Buddhism in their respective region & the ways & means to propagate it in
masses.
So,
please send your delegate form (attached herewith) duly filled in &
along-with Rs.300/- as delegate fees, by D.D or Money order on the address given
below. The accommodation for 16th & 17th of September
along-with the food arrangements will be provided to delegates at
MahaBodhi Society of India's
head-quarter.
The
delegates who want to present a paper on the subject, should send it before 30thof August, 2009 on the address given below.
Pl.
feel free to write to me, or call on me
in case of any query.
Thanking
you
Dr. Ashok Gaikwad ( Gen. Secretary)
All India Lay-Buddhists' Organization(AILBO)
N-11,C-3/24/3, Hudco,
Aurangabad-431 003 (Maharashtra
state)
Mobile No: 09423 700 789, Phone: 0240 2381 360
Email: samyak_ashok@yahoo.com Yours' in
Dhamma
WordPress database error: [Table './sarvajan_ambedkar_org/wp_comments' is marked as crashed and should be repaired]
SELECT * FROM wp_comments WHERE comment_post_ID = '1045' AND comment_approved = '1' ORDER BY comment_date
Leave a Reply