True love is born from understanding.

Radiate boundless love towards the entire world.
You, yourself, as much as anybody in the entire universe, deserve your love and affection.
Ambition is like love, impatient both of delays and rivals.
Love is a gift of one's inner most soul to another so both can be whole.
Let all-embracing thoughts for all beings be yours.

We will develop and cultivate the liberation of mind by lovingkindness,
make it our vehicle, make it our basis, stabilize it, exercise
ourselves in it, and fully perfect it.
Hatred does not cease through hatred at any time. Hatred ceases through love. This is an unalterable law.
He who loves 50 people has 50 woes; he who loves no one has no woes.
Kindness should become the natural way of life, not the exception.
Speak only endearing speech, speech that is welcomed. Speech, when it brings no evil to others, is a pleasant thing.
One is not called noble who harms living beings. By not harming living beings one is called noble.
Being deeply learned and skilled, being well trained and using well spoken words: this is good luck.
Just as a mother would protect her only child with her life, even so let one cultivate a boundless love towards all beings.
In whom there is no sympathy for living beings: know him as an outcast.

Let us rise up and be thankful, for if we didn't learn a lot today, at
least we learned a little, and if we didn't learn a little, at least we
didn't get sick, and if we got sick, at least we didn't die; so, let us
all be thankful.
Buddha Quotes On Mind And Mastering Yourself
https://tenor.com/view/buddha-glow-zen-brighten-peaceful-gif-11233221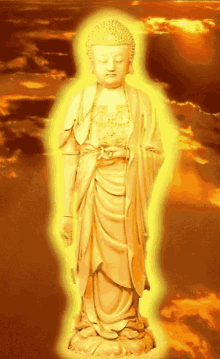 He is able who thinks he is able.

It is a man's own mind, not his enemy or foe, that lures him to evil ways.
Delight in heedfulness! Guard well your thoughts!

Everything is based on mind, is led by mind, is fashioned by mind. If
you speak and act with a polluted mind, suffering will follow you, as
the wheels of the oxcart follow the footsteps of the ox.
There is nothing so disobedient as an undisciplined mind, and there is nothing so obedient as a disciplined mind.

A mind unruffled by the vagaries of fortune, from sorrow freed, from
defilements cleansed, from fear liberated — this is the greatest
blessing.
Know from the rivers in clefts and in crevices: those in small channels flow noisily, the great flow silent.
Whatever's not full makes noise. Whatever is full is quiet.
You are a seeker. Delight in the mastery of your hands and your feet, of your words and your thoughts.

See them, floundering in their sense of mine, like fish in the puddles
of a dried-up stream — and, seeing this, live with no mine, not forming
attachment for states of becoming.
'As I am, so are these. As are these, so am I.' Drawing the parallel to yourself, neither kill nor get others to kill.
All experiences are preceded by mind, having mind as their master, created by mind.

To enjoy good health, to bring true happiness to one's family, to bring
peace to all, one must first discipline and control one's own mind. If a
man can control his mind he can find the way to Enlightenment, and all
wisdom and virtue will naturally come to him.
All wrong-doing arises because of mind. If mind is transformed can wrong-doing remain?

What we are today comes from our thoughts of yesterday, and our present
thoughts build our life of tomorrow: Our life is the creation of our
mind.
The one who has conquered himself is a far greater hero than he who has defeated a thousand times a thousand men.
Transcendental
intelligence rises when the intellectual mind reaches its limit and if
things are to be realized in their true and essential nature, its
processes of thinking must be transcended by an appeal to some higher faculty of cognition.

I will not look at another's bowl intent on finding fault: a training to be observed.

The external world is only a manifestation of the activities of the
mind itself, and the mind grasps it as an external world simply because
of its habit of discrimination and false-reasoning. The disciple must get into the habit of looking at things truthfully.
Mind precedes all mental states. Mind is their chief; they are all mind-wrought.
Quotes By Buddha On Happiness And Joy