11/07/10
Filed under:
General
Posted by:
site admin
@ 2:55 am
LESSON 81 DEMON 07 11 2010 FREE ONLINE eNālandā Research and Practice UNIVERSITY
When one has the feeling of dislike for evil, when one feels tranquil, one finds pleasure in listening to good teachings; when one has these feelings and appreciates them, one is free of fear. - Buddha< ?xml:namespace prefix = o ns = "urn:schemas-microsoft-com:office:office" />
BUDDHA (EDUCATE)! DHAMMA (MEDITATE)! SANGHA (ORGANISE)!
WISDOM IS POWER
Awakened One Shows the Path to Attain Ultimate Bliss
COMPUTER IS AN ENTERTAINMENT INSTRUMENT!
INTERNET!
IS
ENTERTAINMENT NET!
TO BE MOST APPROPRIATE!
Using such an instrument
The Free ONLINE e-Nālandā Research and Practice University has been re-organized to function through the following Schools of Learning :
Buddha's Sangha Practiced His Dhamma Free of cost, hence the Free- e-Nālandā Research and Practice University follows suit
As the Original Nālandā University did not offer any Degree, so also the Free e-Nālandā Research and Practice University.
The teachings of Buddha are eternal, but even then Buddha did not proclaim them to be infallible. The religion of Buddha has the capacity to change according to times, a quality which no other religion can claim to have…Now what is the basis of Buddhism? If you study carefully, you will see that Buddhism is based on reason. There is an element of flexibility inherent in it, which is not found in any other religion.
§ Bhimrao Ramji Ambedkar , Indian scholar, philosopher and architect of Constitution of India, in his writing and speeches
I.
KAMMA
AWAKEN-NESS
II.
ARHAT
TWELVEFOLD CONDITIONED ARISING
III.
IV.
FOUR APPLICATIONS OF MINDFULNESS
V.
FIVE TYPES OF BUDDHIST STUDY AND PRACTICE
MAHAYANA AND HINAYANA COMPARED
VI.
with
Level I: Introduction to Buddhism
Level II: Buddhist Studies
TO ATTAIN
Level III: Stream-Enterer
Level IV: Once - Returner
Level V: Non-Returner
Level VI: Arhat
Jambudvipa, i.e, PraBuddha Bharath scientific thought in
mathematics,
astronomy,
alchemy,
and
anatomy
Philosophy and Comparative Religions;
Historical Studies;
International Relations and Peace Studies;
Business Management in relation to Public Policy and Development Studies;
Languages and Literature;
and Ecology and Environmental Studies
Welcome to the Free Online e-Nālandā Research and Practice University
Course Programs:
Mara (demon)
Mara's assault on the Buddha (aniconic representation: the Buddha is only symbolized by his throne), 2nd century CE, Amaravati, India.
) is the

demon

who tempted

Gautama Buddha

by trying to seduce him with the vision of beautiful women who, in various legends, are often said to be Mara's daughters.

[

1

]

In

Buddhist cosmology, Mara personifies unskillfulness, the "death" of the spiritual life. He is a tempter, distracting humans from practicing the spiritual life by making the mundane alluring or the negative seem positive.

The early Buddhists, however, rather than seeing Mara as a demonic, virtually all-powerful Lord of Evil, regarded him as more of a nuisance. Many episodes concerning his interactions with the Buddha have a decidedly humorous air to them.

In traditional Buddhism four senses of the word "mara" are given.
Klesa-mara, or Mara as the embodiment of all unskillful emotions.
Skandha-mara, or Mara as

metaphor

for the entirety of conditioned existence.
Devaputra-mara, or Mara the son of a deva (god), that is, Mara as an objectively existent being rather than as a metaphor.
Early Buddhism acknowledged both a literal and "psychological" interpretation of Mara. Mara is described both as an entity having a literal existence, just as the various deities of the Vedic pantheon are shown existing around the Buddha, and also is described as a primarily psychological force - a metaphor for various processes of doubt and temptation that obstruct spiritual practice.
"Buddha defying Mara" is a common pose of Buddha sculptures. The Buddha is shown with his left hand in his lap, palm facing upwards and his right hand on his right knee. The fingers of his right hand touch the earth, to call the earth as his witness for defying Mara and achieving enlightenment. This posture is also referred to as the 'earth-touching' mudra.
Mara depicted in the Burmese style, attempting to tempt Buddha.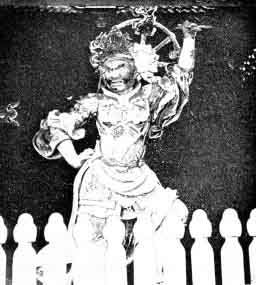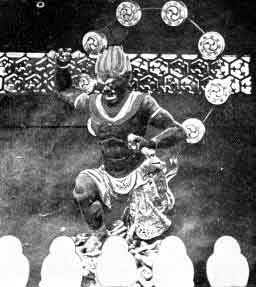 THE DEMON OF LIGHTNING. A Japanese temple statue.THE DEMON OF THUNDER. A Japanese temple statue.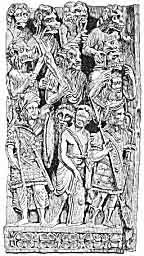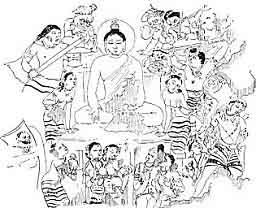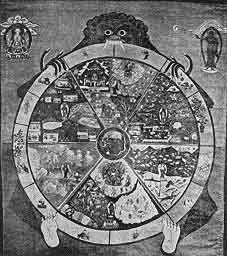 MARA'S ARMY BUDDHA TEMPTED BY MARA'S DAUGHTERS. AN INDIAN WHEEL OF LIFE.
Preserved in the Cave Temples of Ajanta, Central India.
(Reproduced from L. E. Waddell's picture in the J. R. A, S.)
Gandhara sculptures. (Reproduced from Grünwedel.)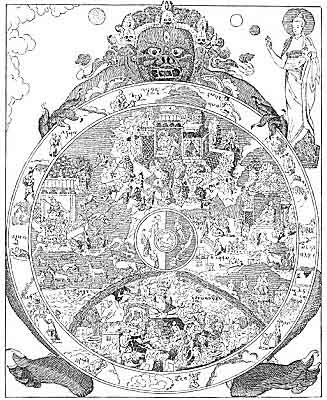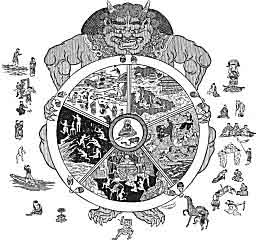 A TIBETAN WHEEL OF LIFE. (Reproduced from Bastian.) A JAPANESE WHEEL OF LIFE. (Reproduced from Bastian.)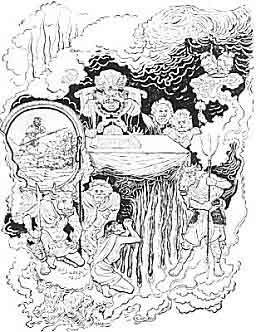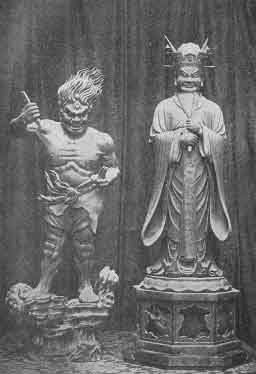 MEIFU, THE DARK TRIBUNAL.
(Reproduced from a colored Japanese illustration in Karma.) KONGO, THE SHERIFF. EMMA, THE JUDGE.
Carved wood, Japanese. (Reproduced from a Japanese art print.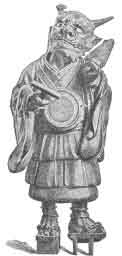 THE DEVIL AS A MONK.
Japanese wood carving of the seventeenth century. Musée Guimet.)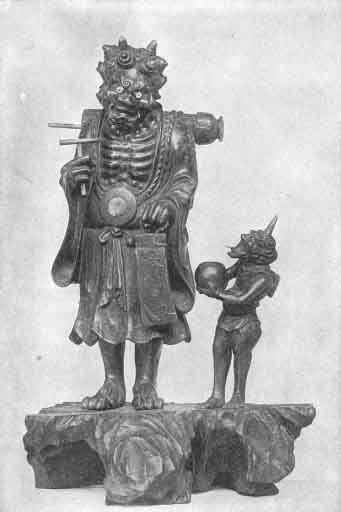 ONI-NO-NEMBUTZU.
The demon repeating Buddha's name, representing greed and hypocrisy. He goes about with a subscription list and a bowl, carried by his little assistant, to collect money.
(After a wood carving in the author's possession.)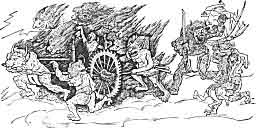 Click to view
HONO KURUMA, THE CART OF HELL, (After an old Japanese painting.)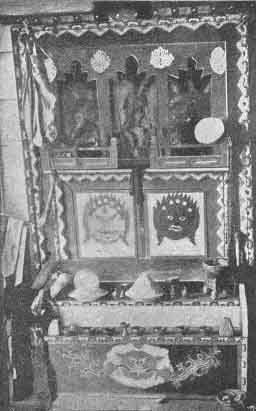 TIBETAN DEVIL'S ALTAR. (From Waddell.)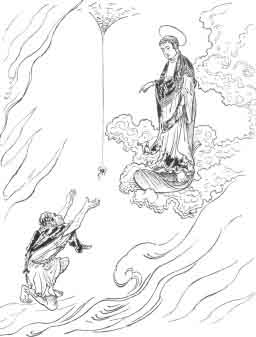 BUDDHA EXTENDING HIS HELP TO A SUFFERER IN HELL.
The goodwill that a poor wretch had shown in his former life to a spider, his only good deed, serves him in hell as a means of escape. (Reproduced from a colored Japanese illustration in Karma.)
Leave a Reply