03/08/14
Filed under:
General
Posted by:
site admin
@ 9:50 pm


1155 LESSON 9314 SUNDAY
FREE ONLINE E-Nālanda Research and Practice UNIVERSITY

Email me at
awakenmedia.prabandhak@gmail.com
chandrasekhara.tipitka@gmail.com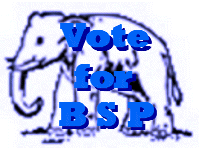 PEOPLE ARE JUST FED UP WITH CONGRESS, OTHER REGIONAL PARTIES AND BJP!
HENCE ACQUIRE THE MASTER KEY!

The Asia-Pacific Journal: Japan Focus
In-depth critical analysis of the forces shaping the Asia-Pacific…and the world.
- See more at: http://www.japanfocus.org/events/view/211#sthash.MtzHBvyt.dpuf
21) Classical English

ENTIRE PEOPLE HAVE TO AWAKEN WITH AWARENESS!FOR THEIR WELFARE, HAPPINESS AND PEACE!AS FINAL GOAL TO ACHIEVE ETERNAL BLISS!

Ms Mayawati had rightly said that there was internal rift between Modi, Advani and Rajnath Singh. Now one of the owners of Stealth Cult RSS's Bahuth Jiyadha Paapi (BJP) Joshi has joined the fight. Therefore, the Sarva Samaj i.e.,All Societies including SC/ST/OBC/Minorities and poor brahmins, baniyas and kashatriyas will vote for BSP ELEPHANT to acquire the MASTER KEY for their welfare, happiness and peace as enshrined in the Constitution's Equal distribution of wealth.
But for the Election Commission's deliberate failure of its responsibility to include all eligible citizens as voters & strategically removed names from the voters list all these years by going door to door in favour of Stealth Cult RSS's Bahuth Jiyadha Paapis (BJP). Videos showing CEC in the Communal Hindutva attire proves this.
2. CEC did not pass orders to drape HAND symbol of Congress and National Flower LOTUS of BJP and the statues of upper caste leaders when their ruled states went for polls as it did with Ms Mayawati's BSP's ELEPHANT symbols and Historical SC/ST/OBC's Icons statues.
3. OPEN SOURCE CODE of EVMs that are not TAMPER PROOF are yet to be made public.

EC Corruption Stealth Cult RSS's
Bahuth Jiyadha Paapi (BJP) Conspiracy, Black Out BSP's Sarva Samaj (All
Society) including SC/ST/OBC/Minorities, Poor brahmins, baniyas &
kshatriya's Campaign.

During the last Uttar Pradesh Assembly
elections as Ms Mayawati of BSP ruled, the CEC ordered for draping all
the BSP ELEPHANT Symbols including the Trunk raised ones (Not BSP
Symbol) along with all historical SC/ST/OBC icons' statues for LEVEL
PLAYING GROUND. After that many Congress, Stealth Cult RSS's Bahuth
Jiyadha Paapi (BJP) ruled states went for polls. But the CEC never
bothered to order for draping Hand and National Flower Lotus Symbols and
their upper Caste leaders' statues.

As the Electronic Voting
Machines are not Tamper Proof, the CEC must publish their SOURCE CODE
& make it an OPEN SOURCE CODE

1. It is Corrupt Election
Commission which didn't Record Expenses Narendra Modi Election Campaign
for Poll Related Expenditure which cost up to Rs.50 crores to Rs.100
crore per rally mobilizing up to a million crowd including cost of live
broadcast.

2. Election Commission didn't STOP Poll Surveys of
Gujarat CM Modi was projection – WITHOUT ANY MENTION OF IMPLEMENTATION
of the CONSTITUTION – Election Commission Ought to have Procured 'THIS
ASSURACE At Least Six Months in Advance' so that Electors are fully
introduced to Policies of Parties Before Casting Their Votes.

3.
There is No Media Coverage of MS MAYAWATI's 35 Lakhs Rally at RAMABHAI
AMBEDKAR on any TV channel when Election Commission should be ensuring
'Equal Opportunity to All Candidates.'
.
4. But it is 'Gross
Misconduct of EC to restrict a Party President with over 3.5 million
followers .' Obviously distinction had to be made between BSP National
President's rally & campaign and Candidates in their own
Constituencies.

5. Evidence of its Misconduct is Confirmed when
Prakash Javdekar provoked BJP Cadre by Blaming Arvind Kejriwal for Lame
Duck Sardar Sarovar Project.

6. It is obviously 'DEMOCRATIC
SCANDAL WHEN PARTIES CAMPAIGN WITHOUT ANY MENTION OF IMPLEMENTATION of
the CONSTITUTION WHEN ELECTION COMMISSION SHOULD INSIST ON COMPLETE
POLITICAL IDEAS OF IDEOLOGY OF REGISTERED PARTIES AT THE TIME OF
REGISTRATION.'

7. Election Commission was Expected to Constitute
in Advance a Supreme Court Judges Led Pannels to Monitor Lies of
Parties & Ensure HONEST CONDUCT OF POLITICAL PARTIES.
DHAMMAPADA FESTIVAL
In Memory of
Venerable Dr.
Acharya Buddharakkhita Bhanteji's
93th Birthday
Abhidhaja Aggamaha Saddhammajotika, Phd, D.Lit.
The Founder President of Maha Bodhi Society Bangalore and its sister organisations

FROM 10-17 March 2014
At Mahabodhi Society , Gandhinagar, Bangalore

ALL
ARE WELCOME
Leave a Reply