10/14/14
Filed under:
General
Posted by:
site admin
@ 4:20 pm
1295 LESSON 15X14 WEDNESDAY
FREE ONLINE E-Nālanda Research and Practice UNIVERSITY
Course Programs in TAMIL

Taking the Dhamma to the SC/STs
http://www.utexas.edu/cola/insts/southasia/faculty/sulo
http://cutn.ac.in/page_content.php?ml_id=NA==&sl_id=MTE=

http://www.nie.edu.sg/profile/rakkappan-velmurugan


http://tamilnation.co/literature/researchintamilstudies.htm

http://southasia.berkeley.edu/contactsdirections

http://nandhivarman.tripod.com/

https://www.academia.edu/3530263/Tamil_traditional_medicinal_system_-_siddha_an_indigenous_health_practice_in_the_international_perspectives


தமிழில் திரிபிடக மூன்று தொகுப்புகள்
மற்றும்
பன்னிரண்டாகவுள்ள மண்டலங்கள்
சுருக்கமான வரலாற்று முன் வரலாறு
ஸுத்தபிடக
வினயபிடகே
அபிதம்மபிடக
புத்தசமய நெறி முறைகளின் பன்னிரண்டாகவுள்ள மண்டலங்கள்
புத்தசமய நெறி முறைகளின் ஒன்பது மண்டலங்கள்
TIPITAKA
திரிபிடக
மற்றும் பன்னிரண்டாகவுள்ள மண்டலங்கள் புத்தரின் 45 ஆண்டுகளுக்கும் மேலாக
போதிக்கப்பட்ட கோட்பாடு தொகுப்பு. அது ஸுத்த (மரபொழுங்கு சார்ந்த
போதனை),வினய (ஒழுங்கு சார்ந்த விதித் தொகுப்பு) மற்றும் அபிதம்ம
(விளக்கவுரைகளின்) உள்ளடக்கு. திரிபிடக இப்பொழுதுள்ள படிவத்தில் தொகுத்து
மற்றும் ஒழுங்கு படுத்தியது, சாக்கியமுனி புத்தருடன் நேரடியான தொடர்பிருந்த
சீடர்களால். புத்தர் இறந்து போனார், ஆனால் அவர், மட்டுமழுப்பின்றி
மரபுரிமையாக மனித இனத்திற்கு அளித்த உன்னத தம்மம் (தருமம்) இன்னும் அதனுடைய
பண்டைய தூய்மையுடன் இருக்கிறது. புத்தர் எழுத்து மூலமாய்த்
தெரிவிக்கப்பட்டுள்ள பதிவுகள் யாவும் விட்டுச் செல்லாபோதிலும், அவருடைய
மேன்மைதங்கிய கெளரவம் நிறைந்த சீடர்கள் அவற்றை ஞாபக சக்தியால்
ஒப்புவித்து, பேணிக்காத்து மற்றும் அவற்றை வாய்மொழியாக தலைமுறை
தலைமுறையாககைமாற்றிக் கொண்டுள்ளனர்.
சுருக்கமான வரலாற்று முன் வரலாறு
புத்தரின்
இறுதி சடங்கிற்கப்புறம் உடனே, 500 மேன்மைதங்கிய கெளரவம் நிறைந்த
அறஹதர்கள் (அருகதையுள்ளவர்கள்) முதலாவது பெளத்த சமயத்தினர் அவை
என்றழைக்கப்பட்ட புத்தர் போதித்த போதனைகளை மறுபடிமுற்றிலும் சொல் அவை
கூட்டினர். புத்தருடன் திடப்பற்றுடன் உடனிருந்த மற்றும் புத்தரின் முழுமை
போதனையுரைகளையும் கேட்டுணரும் வாய்ப்புப் பெற்ற பிரத்தியேகமான சிறப்புரிமை
வாய்ந்த பூஜிக்கத்தக்க ஆனந்தா, ஸுத்த (மரபொழுங்கு சார்ந்த போதனை)
நெட்டுருப்பண்ணி ஒப்புவிவித்தார், அதே சமயம் பூஜிக்கத்தக்க உபாலி, வினய
(ஒழுங்கு சார்ந்த விதித் தொகுப்பு) ஸங்கத்திற்கான நடத்தை விதிகளை
நெட்டுருப்பண்ணி ஒப்புவிவித்தார்.முதலாவது பெளத்த சமயத்தினர் அவையின் ஒரு
நூற்றாண்டுக்குப் பின், சில சீடர்கள் ஒரு சில சிறுபகுதி விதிகளின்
மாற்றம் தேவை என உணர்ந்தனர். பழமையிலிருந்து நழுவாத பிக்குக்கள் மாற்றங்கள்
எதுவும் தேவையில்லை எனக் கூறினர் அதே சமயம் மற்றவர்கள் சில ஒழுங்கு
சார்ந்த விதிகளை (வினய) (ஒழுங்கு சார்ந்த விதித் தொகுப்பு)) சிறிது
மாற்றியமைக்க வலியுருத்தினர்.முடிவில் அவருடைய அவைக்குப் பிறகு வேறான தனி
வேறான புத்தமத ஞானக்கூடங்கள் உருவாக்குதல் வளரத் தொடங்கியது. மற்றும்
இரண்டாவது அவையில் (வினய) (ஒழுங்கு சார்ந்த விதித் தொகுப்பு))
உரியதாயிருந்த விசயம் மட்டும் தான் விவாதம் செய்ப்பட்டது மற்றும் தம்மா
பற்றிய கருத்து மாறுபாடு அறிவிக்கப் படவில்லை. மூன்றாம் நூற்றாண்டு அசோக
சக்கரவர்த்தி காலத்தில் மூன்றாவது அவையில் ஸங்க சமூகத்தின் வேறான தனி வேறான
நடத்தை விதிகளின் அபிப்பிராயங்கள் விவாதம் செய்ப்பட்டது. இந்த அவையில்
வேறான தனி வேறான(வினய) (ஒழுங்கு சார்ந்த விதித் தொகுப்பு)) உரியதாயிருந்த
விசயம் மட்டும் வரையறுக்கப்பபடவில்லை ஆனால் மேலும் தம்மா தொடர்பானதாகவும்
இருந்தது. அபிதம்மபிடக இந்த அவையில் விவாதம் செய்ப்பட்டது மற்றும்
சேர்த்துக் கொள்ளப்பட்டது. ஸ்ரீலங்கா (இலங்கையில்) 80ம் நூற்றாண்டு கூடிய,
நான்காம் அவை என அழைக்கப்படும் இந்த அவை சமயப்பணியார்வமுடைய வேந்தர்
வட்டகாமினி அபைய கீழுள்ள ஆதரவுடன் கூடியது. அது இந்த காலத்தில் தான்
திரிபிடக ஸ்ரீலங்காவில் முதன்முறையாக எழுத்து வடிவில் புத்தசமயத்தவரது
புணித பாளி மொழியில் ஈடுபடுதலானது.
ஸுத்தபிடக, புத்தர் பெரும் அளவு
அவரே வெவ்வேறு சந்தர்ப்பங்களில் வழங்கிய போதனைகள் உளதாகும். ஒரு சில
போதனைகள் அவருடைய மேன்மைதங்கிய கெளரவம் நிறைந்த சீடர்களால்ல கூட
வழங்கப்பட்டுள்ளது (எடுத்துக்காட்டு.ஸாரிபுத்தா,ஆனந்தா,மொக்கல்லனா)
அவற்றில் உள்ளடங்கியுள்ளது. விவரமாக எடுத்துக்கூறி வெவ்வேறு
சந்தர்ப்பங்களில் மற்றும் வெவ்வேறு நபர்கள் மனப்போகிற்குப் பொருந்தும்
பிரகாரம் நீதிபோதனைகள் விவரமாக எடுத்துக்கூறி அதில் உள்ளடக்கியதால் அது ஒரு
மருந்துக் குறிப்பு புத்தகம் போன்றதாகும். முரண்பாடானது என்பது போன்று
அறிக்கைகள் இருக்கக்கூடும், ஆனால் அவைகள் தறுவாய்க்கு ஏற்ற புத்தர் கூற்று
என்பதால் தவறாகத் தீர்மானி வேண்டியதில்லை. இந்த பிடக ஐந்து நிகாய அல்லது
திரட்டுகள் பாகங்களாகப் பிரிப்பட்டுள்ளது. அதாவது:-
திக்க (நீளமான) நிகாய (திரட்டுகள்)
புத்தரால் கொடுக்கப்பட்ட 34 நீளமான போதனையுரைகள் கொய்சகமாக்கப்பட்டது.
மஜ்ஜிம (மத்திம) (நடுத்தரமான) நிகாய (திரட்டுகள்)
புத்தரால்
கொடுக்கப்பட்ட 152 மத்திம ( நடுத்தரமான நீட்சி ) பல்வேறு வகைப்பட்ட
விஷயங்கள் செயல் தொடர்பு உடன் போதனையுரைகள் கொய்சகமாக்கப்பட்டது.
ஸம்யுத்த (குவியல்) நிகாய (திரட்டுகள்)
குவியல்
நிகாய (திரட்டுகள்) என அழைக்கப்படும் நெறி முறைக் கட்டளை ஆணை அவற்றினுடைய
பொருளுக்கு ஏற்ப 56 பங்குவரி குவியலாக கொய்சகமாக்கப்பட்டது. அது மூவாயிரம்
விஞ்சி மிகுதியாக மாறும் தன்மையுள்ள நீளம் ஆனால் பெரும்பாலும் ஒப்பு
நோக்காக சுருக்கமான நெறி முறைக் கட்டளை ஆணை நிரம்பியது.
அங்குத்தர (கூடுதல் அங்கமான) (ஆக்கக்கூறு) நிகாய (திரட்டுகள்)
இறங்குதல்
காரணி, கருத்தைக் கவர்கிற, கீழ் நோக்கி அல்லது ஏறத்தாழ தற்போதைக்கு
உதவுகிற என அழைக்கப்படும் பதினொன்று பங்குவரி, ஒவ்வொன்று
கொய்சகமாக்கப்பட்டது நெறி முறைக் கட்டளை ஆணை கணக்கிடல் ஆக்கை ஒரு
குறிப்பிட்ட கூடுதல் ஆக்கக் கூறு எதிராக அவை முன்னோடி மாதிரி இறங்குதல்
காரணி. அது ஆயிரக்கணக்கான பெரும்பாலும் சுருக்கமான நெறி முறைக் கட்டளை ஆணை
நிரம்பியது. தன்னகம் கொண்டிரு
குத்தக (சுருக்கமான, சிறிய) நிகாய (திரட்டுகள்)
சுருக்கமான,
சிறிய நிகாய (திரட்டுகள்) வாசகம் மற்றும் ஆலோசனை மிக்க மாதிரி தணிந்த
இரண்டு படுகைகள் : தம்மபத (ஒரு சமய சம்பந்தமான முற்றுத் தொடர் வாக்கியம் ,
மூன்று கூடைகள் நூட்கள் ஒன்றின் பெயர் , தம்மாவின் உடற்பகுதி அல்லது
பாகம்), உதான (வார்த்தைகளால்,
மேல்நோக்கிய பேரார்வம், ஆவல் கொண்ட அல்லது
மகிழ்ச்சி கூற்று, சொற்றொடர் , உணர்ச்சிமிக்க உறுதலுணர்ச்சி, மகிழ்ச்சி
அல்லது மனத்துயரம் இரண்டனுள் ஒன்று), இதிவுத்தக ( இது குத்தகனிகாய நான்காம்
புத்தகம் பெயர்), ஸுத்த ( ஒரு சரம், இழை ,: புத்தசமயம், சவுகதநூல் ஒரு
பாகம்; ஒரு விதி, நீதி வாக்கியம் இறங்குதல் காரணி),தேரகாத-தேரிகாத(
தேராக்களுக்கு உரியதானது), மற்றும் ஒரு சரடு ஜாதக ( பிறப்பு , பிறப்பிடம் ,
ஒரு பிறப்பு அல்லது : புத்தசமயம் விவேகம் வாழ்தல் , ஒரு ஜாதக, அல்லது
புத்தரின் முந்திய பிறப்பு கதைளில் ஒன்று.)
இந்த ஐந்தாவது பதினைந்து நூட்களாக பிரிக்கப்பட்டுள்ளது:-
சுருக்கமான பாதை (சமய விரிவுரை)
தம்மபத (மெய்ம்மை பாதை)

உதன (மனப்பூர்வமான முதுமொழி அல்லது ஓரசை நீண்ட நாலசைச்சீர்களான மகிழ்ச்சி)

இதி உத்தக (இவ்வாறாக அல்லது அவ்வாறாக கூறிய போதனைகள்)
ஸுத்த நிபட (சேர்த்த போதனைகள்)
விமான வத்து (வானியல் குடும்பங்கள் தனித்தனியாகத் தங்குதற்கேற்பப் பிரிக்கப்பட்ட பெரிய கட்டிட கதைகள்)
பேடா வத்து (இறந்து போன,மாண்டவர் கதைகள்)
தேராகாதா (சகோதரர்கள் வழிபாட்டுப் பாடல்கள்)

தேரிகாதா (சகோதரிகள் வழிபாட்டுப் பாடல்கள்)
ஜாதகா (பிறப்பு கதைகள்)
நித்தேச (விளக்கிக்காட்டுதல்)

பதிசம்பித (பகுத்து ஆராய்கிற அறிவு)
அபதான (ஞானிகள் வாழ்க்கை)

புத்தவம்ஸ (புத்தரின் வரலாறு)
சாரிய பிடக (நடத்தை முறைகள்)

தமிழ்
ஸுத்தபிடக-திக்க நிகாய
பொத்தபாத ஸுத்த
பொத்தபாதாவின் கேள்விகள்
பொத்தபாதா
புலனுணர்வு, விழிப்புணர்வுநிலை, மனத்தின் அறிவுத்திறம், சிந்தனா சக்தி,
ஆகியவற்றின் இயற்கை ஆற்றல் குறித்து பல்வேறு வகைப்பட்ட கேள்விகள்
வினவுகிறார்.

இப்பொழுது, பந்த்தே, எது முதலாவது எழும்புவது
புலனுணர்வா, அடுத்து ஞானமா ? அல்லது ஞானம் முதலாவது மற்றும் புலனுணர்வு
அடுத்ததா? அல்லது ஒரே நேரத்தில் புலனுணர்வும் ஞானமும் எழும்புகிறதா?

பொத்தபாதா,
முதலாவது புலனுணர்வும் பின்னால் ஞானம் எழும்புகிறது. மற்றும் புலனுணர்வு
எழும்புகிறபோது ஞானம் எழும்புகிறது. ஒரு பிரித்தறியும் நிலை சார்ந்துள்ள
என்னுடைய இந்த ஞானம் எழும்பியது. இவ்வழியான வரம்பின் காரண ஆய்வால் ஒருவர்
எப்படி முதலாவது புலனுணர்வு எழும்புகிறது மற்றும் ஞானம் அடுத்து என்று உணர
முடியும். மற்றும் எவ்வாறு புலனுணர்வு எழும்பியதால், ஞானம் எழும்பிமயது
என்றும்.
பாளி
ஸங்யா நு கொ பந்தே பதமம் உப்பஜ்ஜத்தி பச்சா
ஞானம்? உதஹு ஞானம் 
பதமம் உப்பஜ்ஜத்தி பச்சா ஸங்யா? உதஹு ஸங்யா ச ஞானச
அனுப்பம் ஆசரிமம் 
உப்பஜ்ஜன்தி?'தி.

ஸங்யா நு கொ பொத்தபாதா பதமம்
உப்பஜ்ஜத்தி பச்சா ஞானம். ஸங்யுபாத ச பன ஞானுப்பாதொ ஹோதி. ஸோ ஏவங் பஜானாதி:
இதப்பச்சயா ச ஞானம் உதபாடிதி. இமினா கொ ஏதங் பொத்தபாதா பரிவாவென
வெதித்தப்பம். யதா ஸங்யா பதமம் உப்பஜ்ஜத்தி பச்சா ஞானம். ஸங்யுபாத ச பன
ஞானுப்பாதொ ஹோதி'தி.
>>ஸுத்தபிடக-திக்க நிகாய Sutta Piṭaka >> Digha Nikāya
DN 16 - (D ii 137)
மஹாபரினிப்பண ஸுத்த (அபார வீடுபேற்றுநிலை குறிக்கோள் எய்தல்)
- இறுதி நெறிமுறைக் கட்டளைத்தொகுதி -
இந்த
ஸுத்த (சூத்திரத்தொகுதி ) புத்தர் அவரை பின்பற்றுபவர்கள் பொருட்டு
பற்பலவிதமான கொய்சகமாக்கப்பட்ட மிக முக்கியமான நெறிமுறைக் கட்டளைத்தொகுதி
குழுமத்தை முன்னேற்றமுற்ற இக்காற்கு நமக்கு கொடுத்திறுக்கிறார்,
தமிழ்
(தம்மாவின் உருப்பளிங்கு)
நான்
Dhammādāsa (தம்மாவின் உருப்பளிங்கு) என கருதப்படும் தம்மாவை
வியாக்கியானம் பண்ண (பிரசங்கம் செய்ய) விரும்புகிரேன்,ariyasāvaka
(புனிதமான சீடர்)ஆக ஆட்கொண்டு, ஒருவேளை அவர் தானே விரும்பி உறுதியாக்கிக்
கொண்டால்:
'ஆக எனக்கு, மேலும் niraya (நரகம்) இல்லை, மேலும்
tiracchāna-yoni ( மிருகம சாம்ராஜ்யம்) இல்லை,இன்னும் மேலும் pettivisaya
(ஆவிகள் சாம்ராஜ்யம்) இல்லை, மேலும் பாக்கியவீனம், துரதிருஷ்டம், துக்க
நிலை இல்லை, நான் sotāpanna (புனல் பிரவேசி), இயற்கையாக துக்க நிலையில்
இருந்து விடுவிக்கப்பட்டவன், sambodhi (முழுக்க தூக்கத்திலிருந்து
விழிப்பு) ஆக சேர இருத்தல் உறுதி.
மற்றும் என்ன, Ānanda
(ஆனந்தா), தம்மா மீதான அந்த பிரசங்கம் Dhammādāsa (தம்மாவின் உருப்பளிங்கு)
என கருதப்படும் தம்மாவை வியாக்கியானம் பண்ண (பிரசங்கம் செய்ய)
விரும்புகிரேன், ariyasāvaka (புனிதமான சீடர்) ஆக ஆட்கொண்டு, ஒருவேளை அவர்
தானே விரும்பி உறுதியாக்கிக் கொண்டால்:
'ஆக எனக்கு, மேலும் niraya
(நரகம்) இல்லை, மேலும் tiracchāna-yoni ( மிருகம சாம்ராஜ்யம்) இல்லை,
மேலும் pettivisaya (ஆவிகள் சாம்ராஜ்யம்) இல்லை, மேலும் பாக்கியவீனம்,
துரதிருஷ்டம், துக்க நிலை இல்லை, நான் sotāpanna (புனல் பிரவேசி),
இயற்கையாக துக்க நிலையில் இருந்து விடுவிக்கப்பட்டவன், sambodhi (முழுக்க
தூக்கத்திலிருந்து விழிப்பு) ஆக சேர இருத்தல் உறுதி தானே?
இங்கு,ஆனந்தா,புனிதமான சீடர் Buddhe aveccappasāda (புத்தர் இடத்தில் தன்னம்பிக்கை)உடைய வராக குணிக்கப் படுகிரார்.

பாளி

தம்மாதாஸ

தம்மாதாஸங்
நாம தம்மா-பரியாயங், யேன ஸம்மன்னாகதொ ஆரியஸாவகொ ஆகன்கமானொ அட்டணாவ
அட்டாணங் ப்யா - கரெய்ய: கின-நிரயோ-மி கின-திர்ச்சான-வொனி கின-பெட்டிவிசவொ
கின் அப்பாவ-துக்கதி-வினிபாதொ, ஸோதாப்பன்னொ - ஹமஸ்மி அவினிபாதொ-தம்மொ நியதொ
ஸம்போதி பரயனொ'தி.

கதமொ ச ஸொ, ஆனந்தா, தம்மாதாஸொ தம்மா-பரியாயவொ, யேன
ஸம்மன்னாகதொ ஆரியஸாவகொ ஆகன்கமானொ அட்டணாவ அட்டாணங் ப்யா - கரெய்ய:
கின-நிரயோ-மி கின-திர்ச்சான-வொனி கின-பெட்டிவிசவொ கின்
அப்பாவ-துக்கதி-வினிபாதொ, ஸோதாப்பன்னொ - ஹமஸ்மி அவினிபாதொ-தம்மொ நியதொ
ஸம்போதி பரயனொ'தி?

இத்'ஆனந்தா, ஆரியஸாவகொ புத்தே அவெச்சப்பஸாத ஸம்மன்னாகதொ
ஹோதி


>>ஸுத்தபிடக-திக்க நிகாய Sutta Piṭaka >> Digha Nikāya
போதிசத்தா மேன்மை பொருந்திய நேர்த்தி வாய்ந்த மனிதர் ஸுத்த நீதி வாக்கியம்
- விழிப்புணர்வு மேல் ஆஜரா கிருத்தல் -
( மஹா+ ஸதிபத்தான)
Mahāsatipaṭṭhāna Sutta
— Attendance on awareness —
[ mahā+satipaṭṭhāna ]


இந்த ஸுத்த நீதி வாக்கியம் ஆழ்நிலைத் தியானத்திற்கு முக்கியமான தொடர்புள்ளதென விசாலமாக ஆய்ந்த கருத்து
This sutta is widely considered as a the main reference for meditation practice.
தமிழ்
உத்தேஸ (ஆயத்தப்படுத்தல்)
I. மெய்யார்வ தியான ஜாக்கிரதை ஸ்தாபித்தல்
A.
உள்ளுயிர்ப்பு மற்றும் ஒரு தடவை மூச்சு வாங்கிவிடுதல் பிரிவு ( வினை
அடிப்படை, ஒரு சில சமய சம்பந்தமான அப்பியாசம் பாடம் அல்லது ஆழ்நிலைத் தியான
செயல்முறை சார்ந்த நியதி வழி, நீடமைதி, நினை விழந்த நிலை மெய்மறந்த
மகிழ்ச்சி மற்றும் நாலடி பாதை எய்துதல்).
B. ஒழுக்க நடை பாதை பிரிவு ( நான்கு இரியாபத அங்கஸ்திதி இருக்கின்றது, அதாவது: நடத்தல், நிற்றல், உட்கார்ந்திருத்தல், சயனிப்பு)
C.முழு விழிப்புடனிருக்கிற, உணர் திறன், உணர்வு பிரிவு.
D. பின்வருங் காலத்துக்குரிய எதிர்நோக்கு ஆசை பிரிவு.
E.மூலக்கூறு
அல்லது அடிப்படையான பொருள், அடிப்படை மெய்ம்மை, வண்ணம், நாச்சுவை, ஒலியலை,
புலங்கொளி மூலப் பொருள்,உடலைச் சார்ந்த அடிப்படை மெய்ம்மை அல்லது மூன்று
உயிரின உடற் கசிவுப்பொருள் சளி, காற்று மற்றும் பித்தநீர், தகனம் செய்த
பிந்திய உடல் சிதைவெச்சம் உடற்பகுதியான மூலக் கூறு தசை, இரத்தம்,
எலும்புகள்: ஒரு புனித திருச்சின்னம், ஒரு உயிரினப்படிவம், ஒரு மாழை.
F.ஒன்பது கல்லறை எலும்புகளைக் கொட்டும் மதிலகச் சுற்றுநில இடம்.
Note: infobubbles on all Pali words
Pāḷi
Uddesa
I. Kāyānupassanā
I.காயானுபஸ்ஸன
A. Ānāpāna Pabba
A.ஆனாபான பப்ப (கம்மத்தானங்)
B. Iriyāpatha Pabba
B.இரியாபத பப்ப
C. Sampajāna Pabba
C.ஸம்பஜான பப்ப
D. Paṭikūlamanasikāra Pabba
D.பதிகுலமானஸிகார பப்ப
E. Dhātumanasikāra Pabba
E.தாதுமானஸிகார பப்ப
F. Navasivathika Pabba
E.நவஸிவதக பப்ப
II. Vedanānupassanā
English
Introduction
I. Observation of Kāya
I.Fixing the attention, earnest meditation
A. Section on ānāpāna
A.Section
on the Basis of action. This term is applied to certain religious
exercises or meditations, by means of which samādhi, jhāna and the four
Paths are attained. Each of these is based on a certain formula or rite,
also called kammaṭṭhānaṃ
B. Section on postures
B.Section on Way of deportment. There are four iriyāpathas or postures, viz. walking, standing sitting, lying down.
C. Section on sampajañña
C.Section on Knowing, understanding, conscious.
D. Section on repulsiveness
D.Section on To expect, await, desire
E. Section on the Elements
E.Section
on Primary or elementary substance; principle, element, material; a
property of a primary substance, as colour, taste, sound; an organ of
sense; a bodily principle or humour of which there are three, phlegm,
wind and bile; a constituent of the body, as flesh, blood, bones; the
remains of a body after cremation; a sacred relic; a fossil; a metal
F. Section on the nine charnel grounds
II. Observation of Vedanā
உத்தேஸ (ஆயத்தப்படுத்தல்)
அத்தகைய எம் வல்லமைமிக்க சவுகதநூல் இயற்கை ஆற்றல்:
எந்த
நான்கு?இங்கு பிக்குக்களுக்களா, ஒரு பிக்கு kāye kāyānupassī (உடலை உடல்
கண்காணிப்புடன்) கவனித்து வசிக்கிரார் ātāpī sampajāno satimā,வேறு
வழியில்லாமல் பிரபஞ்சம் நோக்கி எச்சரிக்கையுடன் இருக்க
ஏகாந்தமாயிருக்கிரார். வேறு வழியில்லாமல் பிரபஞ்சம் நோக்கி
எச்சரிக்கையுடன் இருக்க ஏகாந்தமாயிருக்க Vedanāsu vedanānupassī
உறுதலுணர்ச்சி கண்காணிப்புடன் வசிக்கிரார். வேறு வழியில்லாமல் பிரபஞ்சம்
நோக்கி எச்சரிக்கையுடன் இருக்க ஏகாந்தமாயிருக Citte cittānupassī viharati
ātāpī sampajāno satimā, சித்த நலம் கருதி ண்காணிப்புடன் வசிக்கிரார்.
மனத்தால் இயக்கப்படுகிற அபூர்வமான வினயா(ஒழுக்கம்) காக்க வேறு
வழியில்லாமல் பிரபஞ்சம் நோக்கி எச்சரிக்கையுடன் இருக்க ஏகாந்தமாயிருக்க
கண்காணிப்புடன் வசிக்கிரார்.
பாளி
எவங் மெ ஸுத்தங்
கதமெ
சத்தாரோ ?இத பிக்க்காவெ,காயெ காயானுபஸ்ஸி விஹாரதி ஆதாபி ஸம்பஜானொ ஸதிமா,
வினய்ய லோகெ அபிஜ்ஜா தொமனஸம். வேதனாஸு வேதனானுபஸ்ஸி விஹாரதி ஆதாபி ஸம்பஜானொ
ஸதிமா, வினய்ய லோகெ அபிஜ்ஜா தொமனஸம். சித்தெ சித்தானுபஸ்ஸி விஹாரதி ஆதாபி
ஸம்பஜானொ ஸதிமா, வினய்ய லோகெ அபிஜ்ஜா தொமனஸம். தம்மெஸு தம்மானுபஸ்ஸி
விஹாரதி ஆதாபி ஸம்பஜானொ ஸதிமா, வினய்ய லோகெ அபிஜ்ஜா தொமனஸம்.
மிஷனரிகள் ஆப்பிரிக்கா வந்தபோது அவர்களிடம்
பைபிள்
மற்றும் நம்மிடம் நிலம் இருந்தது. அவர்கள் பிரார்த்தனை செய்யலாம் என்று
கூறினார்கள்: எங்கள் கண்களை மூடிக்கொண்டோம். நாங்கள் திறந்த போது நம்மிடம்
பைபிள் மற்றும் அவர்களிடம் நிலம் இருந்தது.

- (டெஸ்மண்ட் டுட்டு)
பிராமணர்கள் பாபிலோனியாவிலிருந்து இந்தியா வந்த
போது, அவர்களிடம் மனுஸ்மிருதி மற்றும் நம்மிடம் நிலம் இருந்தது .
அவர்கள், "வழி பாடு செய்யலாம் என்று கூறினார்கள்": எங்கள் கண்களை
மூடிக்கொண்டோம். நாங்கள் திறந்த போது நம்மிடம் மனுஸ்மிருதி மற்றும்
அவர்களிடம் நிலம் இருந்தது.


http://ayyothidhasapandithar.blogspot.in/2010/10/c-iyothee-thass-pandit.html
PANNDITHAR .KA. AYOTHIDHASAR
Pandit
Ayothidasar in the last decade of the 19th Century was a Writer,
Journalist, Social reformer, Siddha Physician, Tamil and Buddhist
Scholar. He edited and published THAMIZHAN a journal devoted to social
reform for eight years. He opposed Brahminism Vedic rituals,
untouchability. He championed communal representation, Women's Rights,
self-respect, Rationalism etc., unfortunately the world of Tamil scholar
purposely ignored contribution to Tamil Life and Thought.
Only
AD suffered this ignoring. Subramania Bharathiyar, V.O.Chimdambaram
Pillai, Singaravelach Chettiar, Pandit U.V. Saminatha Iyer,
Thiru.V.Kalyanasundara Madaliar, Pandithurai Thevar, Mahavidwan Raghava
Iyengar who lived during the same period in the Madras Presidency were
hounoured for theirs scholarship and patriotism. Ayothidasar's many
field contributions did not receive due recognition because he belonged
to the Paraiyan caste.
The neglect Ayothidasar suffered was worse
than physical violence. The higher-caste intellectuals in Tamil Nadu
were adopt in practicing this variety of concealed violence.
We
are presenting before you the history of Tamil Nadu 100 years ago which
was ignored by this casteist intellectuals of Tamil Nadu.

European
merchants came to India in the later half of the 17th century. They
began as Traders but in course of time conquered and ruled large parts
of the country including Madras State
During 1870's Englishmen
came to India in large numbers to construct roads and bridges. Railway
lines were laid and new departments like post and telegraph, police,
military etc were created.
They lived in colonies and with their
families they required the services of interpreters, gardeners,
servants, cooks and watchmen. They also required grooms for their
horses. Because the post required physical labour people belonging to
the dominant castes did not offer their services. Englishmen ate beef
and that was an important reason why people from the dominant castes.
Kept away from such services.
The depressed classes of TN the
sons of the soil who were ignored by the caste ridden society were
selected to do these jobs. The men who lived in the slums in and around
Madras were selected to lay railway lines, run postal services and
construct buildings. This resulted in the growth of big slums in Egmore,
Chetput, Teynampet, Althottam etc.
The depressed classes who
lived in these slums organized associations like Panchamar Maha Jana
Sabhas to forge unity among themselves and improve their living
conditions. They demanded facilities for education for their children
and employment for themselves. They also requested the Govt. to allot
lands to the Depressed classes for cultivation.
The British Govt.
accepted their demands and either directly or through Christian
Missionaries implemented them. On behalf of the DC's many journals were
published in the Madras Presidency.
When Sir Thomsa Munro was
Governor of Madras Mr. george Harrington was led under him as the Heal
of the state Construction Dept. Thiru. Kandappan served under him. He
was a Tamil Scholar and also Siddha Physician. He possessed a plam-leaf
copy of the great Tamil work, TIRUKKURAL. He understood its importance
as a classic of world literature and so he carefully preserved the copy.
Kandappan's
son Kandasamy who lived in the Thousand Lights area in Madras was also a
Siddha Physician. His wife gave birth to a male child on 20.05.1845 and
the child was named Kathavarayan. He was also initiated into the
hereditary profession Siddha Medicine. Later he joined Ayothidasar
Pandit's Village School. He developed great respect for his teacher and
adopted his name.
English officials used to go to Nilgiris Hills
during summer George Harrington took his Butler Kaudappan and his family
members with him to Ooty Ayothidasar married Dhanalakshmi sister of
Rettamalai, Srinivasan who was his relation.
Ayothidasar started
Advaita Philosophy during his stay at Ooty and formed the Advaithanandha
Sabha to propogate Advaita Philosophy Col. H.S. Olcott, President of
the International Theosophical society had started 5 free schools for
Panchama children in the centre of Madras. He also became acquainted
with Rev. John Rathinam who started a school for the oppressed in
Madras. He formed Dravidar Kazhagam in 1882 and started the journal
'Dravida Pandian' in 1885. Ayothidasar's friendship with the two persons
mentioned above introduced for reaching changes in his thinking.

Dr. T. DHARMARAJAN
St. Xavier's College, Palayamkottai
When
the Mahajana Sabha (Madras) conducted its General Body Meeting.
Ayothidasar moved a resolution containing some demands. The opposition
to his demands opened his eyes.
Did he make revolutionary demands?
No, he requested that Pariahs may be allowed entry into Siva and Vishnu
Temples. He also sought facilities for educating pariah children. These
were ordinary demands but a 100 years ago they met with stiff
opposition. Entrenched casteism opposed his very ordinary demands.
"You
may call yourself a HINDU. But Siva and Vishnu are not your deities.
Karuppasamy and Sudalamadan are your deities. Be satisfied with
worshipping them" said caste Hindus. It was a defining moment in his
life.
The palm leaf manuscript Naradiya Sangs Thelivu" narrates
the history of Buddhism and how it was destroyed in the land of its
birth. When he studied of his outlook changed.
In 1890's he accepted Buddhist teachings. In 1898 July he went to Colombo with company of Col.Olcott and became a Buddhist.
"Buddhism was the religion of my concestors and I here returned to it", wrote Ayothidasar.
He
returned to Madras and founded the "south Indian Sakkiya Buddhist
Sangh" at Royappettah (Madras). Its branches were started at
Tiruppathur, Thangavayal, Marikuppam, Bangalore, Rangoon (Burma) etc.
Meetings
were held every Sunday. Singaravelar, Prof. Lakshmi Narasu, A.P.
Periyasamy Pulavar, Appaduraiar and Swapna Sundari spoke in these
meetings. They exposed Vedic religion and Brahminism and supported
rationalist ideas. He rewrote the history of the oppressed classes when
Brahminism had subjugated in a stealthy manner.
Dr. RAJ GOWTHAMAN
PUDUCHERRY
Ayothidasar lived a life of struggle with Buddhism as parallel religion he countered Brahminism orthodoky.
When
he said that Brahmin are steeped in casteism and non-Brahmins are
victims of casteism, he was not indulging in speculation – he was
speaking the TRUTH. He said on the basis of strong evidence that the
untouchables were once followers of Buddhism. Brahminism punished
recalcitrant individuals and denounced them as casteless persons and
people of low birth. Thevaram, the Tamil Saivite hymn described fighters
against Brahminism as "people of low birth".
When one fights
Brahminism he is immediately branded as a person of low birth. When an
army cannot do Brahminism can achieve easily and quickly. Just as a
virus kills a person Brahminism. Annihislates whole society, the sons of
the soil. Ayothidasar understood this and opposed it.
Mr. PA. EZHILARASAN
Editor, Resurgence, Chennai
Ayothidasar
came to the conclusion that Hinduism is the source of casteism and its
attendant evils. He searched for a counter culture and discovered
Buddhism. He para pharased the teachings of Buddhism and wrote
insightful commentaries. He not only pointed out the short comings of
Hindhuism, but also explained how Buddhism was supers on Hinduism .
Prof. T. DHARMARAJAN:
Ayothidasar
did not search for Buddhism in Buddhist Viharas and mutts. He searched
for it among the people. He found out two sources of Buddhism in Tamil
Nadu.
1) The oral traditions, customs and usage prevalent among the Tamils.
2)
The songs and Tales of Buddhism were recorded in palm-leaf manuscripts
and preserved palm-leaf by the lower mungs of the people. He studied the
collections of Tamil ethical poems (THIRUKKURAL) and came to the
conclusion that these represented 'Tamil Buddhism'. Ancient Siddha texts
proved to be sources of Buddhism.
RAVIKUMAR, M.L.A. VCK
Whenever
Ayothidasar wrote about Buddhism he always referred to it as Tamil
Buddhism because Buddhism is our State has a deep history behind it. Dr.
Romila Thapar who has studied Buddhism in India has said that Tamil
Buddhism is still an open field and it has to be thoroughly studied and
researched.
Buddha's spoke about Love, Tolerance, Equality,
Rationalism etc which were concepts meant for the liberation of the
oppressed people. He sowed the seeds of liberation theology; but it was
not harvested by the suppressed people.
He founded a journal, oru
paisa Tamilan and the first issued was published on 19.6.1907 from
Royapettah. The journal was expected to provide a link with all the
branches of Sakkya Buddhist Sangh and explain the principles and
practices of Buddhism to its followers.
There are persons who cannot
differentiate among the higher casts, the middle castes and the lower
castes. Some philosophers, mathematicians, scientists and writers joined
together to educate the people about the Right path, Honesty etc and
they co-operated in the publication of oru paisa Tamilan Articles on
Buddhist principles and practices along with news reports on events
effecting the lives of the people were published in the journal. Current
events were analysed and discussed. Articles on Women's Education
Prices of Essential Commodities and Book Reviews were published.
The
journal worked tirelessly for the empowerment of the DC's. It was
popular with Tamilians living in the Madras Presidency and also outside
the state.
It was during this period that ideas like Anti-Brahminism,
Dravidian Ideology, Rationalism etc were discussed by all sections of
the people in the Presidency. The Dravidian Movement gathered the stands
and united them into a full fledged political ideology.

THOL. THIRUMAVALAVAN M.P.
Leader, VC, Chennai.
"The
DC's are the sons of the soil they are the original inhabitants of this
hoary land" declared Pandit Ayothidasar when the British Govt included
DC's in the religious category of the HINDUS he objected strongly and
declared that they are not Hindus. They are the original inhabitants and
they should be designated as Adhi Tamilan.
Tamils today are
known for their passionate adherence to Tamil (language), Tamil
Nationality and Tamil Nationalism. It will not be an exaggeration to say
that the foundation for the fierce nationalism of the Tamil people was
laid by Pandit Ayothidasar.
V. GEETHA:
Research Worker,
Chennai
I
felt deeply thrilled when I read Ayothidasar's book Aathivedham. Though
Ayothidasar studied and wrote continuously his book (Aathivedham)
reveals his total personality. He wrote the life of Buddha in a special
manner.
He included Buddha's teachings and thoughts in his
narrative of Buddha life he maisted the question Why Pariah's were
suppressed at many places in the book. Who are the true Brahmins and who
are the false Brahmins? Who are the real Brahmins and who act as
Brahmins? Ayothidasar asked these questions frequently and gave the
answers he instructs us as to how to read the Indian History. He writes
about the history and identity of the Parisahs. He explains how the word
Pariah has become a term of abuse in the present day. He writes about
Human Rights. His book AATHIVEDHAM is a stupendous achievements.
Buddhism
belongs to Tamil soil, Tamil Nadu. You cannot write Tamil history
without discussing the part played by Buddhism in the history of the
Tamils. He says Buddha's Life is Buddhism. Buddha wanted people to live a
life of dignity and honour. For that they should enjoy human mights
which is the same thing as DALIT rights. He also thought about how to
create the environment for the empowerment of the Dalits.
How to
live without caste pride or humiliating the so-called lower castes? How
to create an inclusive society based on Equality, Tolerance and
Humanism? He mentions some incidents from the life of Buddha and exhorts
us to create a Humanistic Society.
Pandit Ayothidasar and Dr.
Ambedkar studied the Life of Buddha written by Aswagosh. Both studied
books written in the Pali language. Ayothidasar's writings stand
testimony to the fact that he did not base himself on Tamil writings
alone.
Ayothidasar always emphasized labour. It was an integral
part of his campaign to eradicate caste. The so-called higher castes do
not work and do not respect those who do physical work. He has written
in many places that labour created knowledge. In his book Aathivedham he
emphasizes the importance of labour. He associate labour with values.
He asks: Do you work honestly and efficiently? Dr. Ambedkar also
emphasized the importance of labour.
PO VELSAMY:
Scholar and Writes, Erode
Before
Ayothidasar started writing there were not history books. But he wrote
extensively about Aryans and Dravaidians Researches in the Indus Valley
Civilization started only afterwards. He pointed out that Aryans came
from outside and so they are 'foreigners'. Other scholars who wrote
about Buddhism based themselves on books written in the English
Language. But Ayothidasar who knew Pali and Prakrit languages studied
original Buddhist sources and wrote his books.
DALIT EZHIL MALAI:
CHENNAI
(Ex-Minister, GOI)
"Ayothidasar's
writings contributed to revival of Buddhism in the Madras Presidency.
Dr. Ambedkar understood this and began from where he left. There are
many instances to prove the above statement. He visited Madras on three
occasions and also visited the Madras Christian College where
Ayothidasar student, Lakshmi Narash taught. Ayothidasar had proved that
the DC's were originally Buddhists. Dr. Ambedkar accepted it and decided
to embrace Buddhism.
Dr K. THANGAVELU:
Chennai
Ayothidasar
was an outstanding Rationalist Scholar and Writer. He wrote 37 books. He
belonged to the SC and caste it forces in the state suppressed his
books. His name was not mentioned. He quoted from books which were no
longer available to modern scholars. In any case they could not fault
his arguments.
. THOL. THIRUMAVALAVAN :
"Dalits are not HINDUS.
They are Ancient Tamils. They have the ability to rule the country and
they must rule" said Ayothidasar. "Immigrants have seized power and they
should be driven out. Sons of the soil should rule the country" said
Ayothidasar.
He recorded these thoughts before Periyar EVR,
before the great revolutionary leader Dr. Ambedkar. He was a great
pioneering leader".
. RAVIKUMAR:
Ayothidasar's importance lies
in the realm of culture. He wrote accurately about the history of the
so called SC's. He wrote again and again that untouchability came to be
practices only a few centuries ago in Tamilnadu. This has been proved.
Thiru. CHICKANNA :
President,
Adivasigal Seva Sangam, Ootty
These
lands belonged to Ayothidasar. They destroyed his mutt. Two statues of
Buddha were installed there. After Ayothidasar's death there was nobody
to look after the statues. We removed the statues and kept them in the
Tulsimadam. Even now you can see them in the Tulsimadam.
J. BALAKRISHNAN, Poet, Ootty
Ayothidasar
used the Tulsimadam as a place of meditation. Sometimes he conducted
free Siddha Medical Camps there. Toda hill tribes used to meet him and
get medical treatment.
R.ASOKAN, S/o. K. RAJARAM AYOTHIDASAR
Ayothidasar's
Tulasimadam has been captured by the followers of HINDUTVA and his name
has been suppressed. A manimandapam should be constructed in his memory
in NILGIRIS – OOTY. His statue should be installed and the Govt.
college in Ooty should be named after him. We appeal to the Hon. Chief
Minister of TN to do the needful.

"We shall revive Tamil Buddhism is the light of Ayothidasar's Teachings and liberate the suppressed
people of TAMILNADU.



Bala J
We
may say that great minds think alike when two scholars who lived in two
different times and places reach a similar conclusion on the same
problem. The traditionally educated nineteenth century Tamil scholar,
Pandit Iyothee Thass as well as the twentieth century western educated
intellectual from Maharashtra, Babasaheb Ambedkar, embraced Buddhism to
show that it was the only way to annihilate the caste system. Both of
them identified that the caste system had originated with the fall of
Buddhism; therefore, believed the revival of Buddhism could perhaps
liberate the people from the evil system of caste.
Pandit
Iyothee Thass (1845-1914)* was born in a Panchama (Scheduled caste) family in Royapettah in
Chennai. He was a Siddha practitioner and a well-versed Tamil scholar
having scholarly expertise in the traditional knowledge on astrology and
palm-leaf manuscript reading. In 1870, Iyothee Thass founded Adhvaidhananda Sabha
(considered to be the first institution-building activity in his life),
in Uthagamandalam, where he was brought up. In 1891, he established an
organization called the Dravida Mahajana Sabha, and on 1st
December 1891, he organised the First Conference on behalf of the Sabha
at Ooty in Nilgiris district. In that conference, ten resolutions were
passed including the one on enacting a criminal law to punish those who
humiliated untouchables by calling them Pariahs, creating separate
schools and providing scholarships for matriculation education for
untouchable children; providing employment for educated untouchables,
and representation for untouchables in District Boards and Municipal
Boards (Tamilan, 14 October 1908).
The
resolutions were sent to the Indian National Congress and the
Mohammedans' Association on 21st December 1891. In 1896, Reverend John
Ratnam and Iyothee Thass jointly started a journal called Dravida Pandian.
Another interesting piece of information is that, in 1882, Reverend
John Ratnam and Iyothee Thass established a movement under the name of Dravida Kazhagam, (G. Aloysius, Nationalism without a Nation in India,
Oxford, 2000); but this fact has been concealed so that no one now
remembers Iyothee Thass as the pioneer of the Dravidian movement or
anti-Brahmin movement.
Returning to Buddhism
Pandit Iyothee Thass
Pandit
Iyothee Thass exhorted Dalits to embrace Buddhism for annihilating the
system of caste. With this objective he constructed an alternative
history with the help of Tamil literature and folk traditions of Tamil.
He demonstrated that the untouchables were the native Buddhists and
untouchability was imposed upon them because they opposed the orthodox
practices exemplified by the Hindu Brahmins. He asserted that Buddhism
was the first anti-Brahmin movement in Indian history. So he called on
the Panchama (Scheduled caste) to return to their original religion, Buddhism.
In 1898,
Iyothee Thass visited Sri Lanka along with Panchama School Head Master
Krishnasamy and there he converted himself to Buddhism. The Theosophist, (a monthly journal of the Theosophical Society based in Adyar, Chennai) records it in the following words:
Pandit
C. Iyothee Thass, he was one of the two gentlemen whom the Colonel
[Olcott] took to Ceylon in 1898 as representative of the Panchama
Community of Madras. Both of them were admitted into Buddhist fold by
the High Priest Sumangala, and thus began a new era in the history of
the unfortunate Panchamas [Dalits] of Southern India.
After
embracing Buddhism, he soon founded 'The Sakya Buddhist Society' in
1898, at Royapettah, Madras. In 1907, he started his journal Oru Paisa Tamilan
as an organ of this organisation. From 1907 all his social and
religious activities were recorded in the journal until his death on 5
May, 1914. Iyothee Thass had close association with Colonel Henry Steel
Olcott (an American military officer, who founded the Theosophical
Society) and the Theosophical Movement in Adyar. Col. Olcott writes:
The
problem of the origin and religious heredity of the Pariahs of southern
India was so important, that I was determined to bring the communities
into relation with the High Priest Sumangala, so that in case they were
proved to have been original Buddhists their communities might be
brought into close connection and under surveillance of the Buddhists of
Ceylon. (Theosophist Magazine, April-June 1914, p. 315)
The
Sakya Buddhist Society's branches were founded not only in Thiruppattur
and Vellore in Madras presidency, but were established even overseas,
such as in Natal in South Africa, Rangoon and Sri Lanka where Panchama (Scheduled caste) had
earlier migrated as labourers. Similarly, the branches of the Sakya
Buddhist Society were established in Champion Reefs, Marikuppam, Kolar
Gold Fields near Bangalore, then part of the princely state of Mysore,
where Panchama (Scheduled caste) had settled as mine workers. The oppressed people saw the
colonial rule as an opportunity to come out from the caste oppression.
They did not want mere reformation but worked for the annihilation of
caste by uprooting the Hindu hegemony through returning to their
original religion of Buddhism.
Sakya Buddhist Society started organising regular lectures on Buddhism called Buddha Dhamma Pirasangam
(preaching of Buddhism doctrines) in the evenings. These lectures were
held until midnight. The office bearers of every branch of the society
regularly published reports about the activities of their society in Tamilan.
Many intellectuals devoted themselves to spreading the principles of
Buddhism under the leadership of Iyothee Thass. Large numbers of people
participated in the Buddhist rituals, functions and celebrations. The
cultural life of Panchama (Scheduled caste) became Buddhist and Buddhist rituals were
practiced in the life events of birth, marriage and funeral. The names
of those who converted to Buddhism were also published in Tamilan
(24 Aug, 1912). To cite an example of how successful the efforts of the
society were, Panchama (Scheduled caste) there got themselves categorised as a separate
category of 'Buddhists' in the 1911 Mysore decennial census report.
Casteless identity construction
In 1881,
when the colonial Government planned to carry out the second census,
registration officials classified Depressed Classes as a new category
within the Hindu religion. At the time, Iyothee Thass gave a memorandum
to the British India Government requesting that the people of Depressed
Classes in Tamil speaking land should be considered as Adi-Tamilar and
not as Hindus. In subsequent decades the census department was keen on
categorizing people on the basis of established customs and religion
which meant the Hindu varna system. So every caste started establishing
their caste associations in order to aggrandize their caste status in
the census enumeration. It is not an exaggeration but a historical fact
that every non-Brahmin caste equated their caste position either with
Kshatriya or with Vaishya. But Iyothee Thass called on the untouchables
to record their religion as Buddhism, which denounced the varna system.
He called Panchama (Scheduled caste) as Casteless Dravidians (Sathi Pethamatra Dravidar) because they were outside the system of caste.
Iyothee Thass termed the native inhabitants who followed Buddhism as Yatharththa Brahmana
(actual Brahmins). Before the invasion of the Aryans, these native
Budhdhists were the priests themselves. But the invading Aryans copied
some ritual practices (not all) of the native Budhdhists and started to
cheat the people out of selfish motives. So they were called Vesha Brahmana
(pseudo Brahmins) by Iyothee Thass. He was also very critical of
'non-Brahmin' as a political category. He wondered how, while practicing
the tenets of caste-based Hindu rituals, they could claim that they are
non-Brahmins.
Oru Paisa Tamilan and Tamilan
Oru Paisa Tamilan, 3 July 1907
A Tamil weekly was started on 19th June 1907 bearing the name Oru Paisa Tamilan (after a year the name was changed to Tamilan). It was edited, published and owned by Pandit Iyothee Thass. The average circulation of the weekly was 500. The Tamilan
is the most renowned journal in Dalit print history because of its rich
content and ideology. The four-page weekly was published every
Wednesday in tabloid size. He wrote a series of articles on social and
religious issues. The journal carried letters to the editor, articles,
memoranda, circulars, etc. His activities were focused on reviving and
reconstructing Tamil Buddhism among the Tamils.
Iyothee
Thass's role in the history of Dalit emancipation is very important. He
tried half a century before Ambedkar to interpret history, religion and
literature of the Tamils from the point of view of Buddhism which was
once popular and prevalent in the south (Aloysius, Nationalism without a Nation in India,
p. 58.) Iyothee Thass used many sources for his interpretation like
Tamil literature, translations from Pali texts, folk tales, proverbs,
colonial data, etc.
Iyothee
Thass dreamed of a casteless society. He came to the ideological
conclusion that Tamil Buddhism was the right tradition to achieve this
ideal. He wrote the history of India in the Inthirardesa Sarithiram,
in which he argued that before the invasion of the Aryans, Indians were
living peacefully without caste, following the doctrines of Buddhism.
They had divisions like Brahmana, Vyshya, Kshatriya and Sudra but it was
only a division based on labour and there was no graded status
according to their profession. The uncivilized Aryans changed this mere
division of labour into a caste division based on birth for their
betterment. He reinterpreted many rituals, mythologies and traditions
from the viewpoint of Buddhism.
The readers of the Tamilan
were mostly new form of labourers working in mines and domestic jobs.
During the second half of the 19th century, new occupations developed in
India under the aegis of colonialism; for example, in mines, the army,
tea estates and so on. The landless Depressed Classes started utilizing
these new opportunities to free themselves from the caste-ridden
agriculture system. So they willingly migrated wherever they got an
opportunity. The modern work culture provided space for reading and
induced them to think and work for their community. Tamilan
had identified these new generation (non-agricultural labourers) as its
readers. From the list of subscribers, we may surmise that the journal
was circulated not only in the Tamil region but also in South Africa,
Burma, Sri Lanka, Fiji, Mauritius, Singapore, Malaysia, Tanzania, etc.,
where Tamil people, especially lower castes had earlier migrated and
settled for jobs.
Remembering Iyothee Thass
During
the crucial time of modernization of Indian society, Iyothee Thass, a Panchama (Scheduled caste) intellectual was able to use one of the tools of modernity i.e.,
print medium, to express his views and opinions. So far in Indian
historiography only two views – nationalistic and imperialistic – are
given importance; but during the same period there existed an
independent view – that of Panchama (Scheduled caste)s – which was neglected in all
historiography. Using print for the mobilization of Panchama (Scheduled caste)s is quite
interesting because in popular understanding, Dalits are seen as
illiterate and uneducated. Here it is important to list out a few
opinions of Iyothee Thass which occupied a prominent place in the Tamilan.
He questioned the claim of the Indian National Congress that it was the
sole representative of Indians. He never believed that Home Rule would
bring any change in Panchama (Scheduled caste)s life. He stressed social transformation
rather than political transformation.
Tamilan, 2 September 1908
Iyothee
Thass tried to construct a unique political identity for the
untouchables – such as Adi-Tamilar, Tamilan, Buddhist and so on. It is
clear from the writings of Iyothee Thass that he considered the divisive
and oppressive character of the caste system as antithetical to the
spirit of nationalism. Dalits with their seemingly graded lower position
in the hierarchical social structure had to take the position wherein
they had to support the British. This is not a unique phenomenon in
Tamil Nadu alone; the same happened among Dalits in Maharashtra where
they resisted the Swadeshis and also in Bengal where the Namashudras
supported the British openly. Panchama (Scheduled caste)s were very clear that this was the
right time for them to claim social and political rights and Iyothee
Thass, as a modernist, concentrated on the spiritual realm to carry
forward those struggles.
* May 05, 2014, was the centenary memorial day of Pandit Iyothee Thass.
~~~
Bala J
did his Ph.D in Madras Institute of Development Studies on Panchama (Scheduled caste)s'
Print Culture History. For the last five years he has been working as an
Assistant Professor in the Department of Journalism, Madurai Kamaraj
University.
http://www.sundaytimes.lk/140914/plus/taking-the-dhamma-to-the-dalits-117240.html




Taking the Dhamma to the Dalits
As
we commemorate the 150th birth anniversary of the Anagarika Dharmapala
on September 17, the following articles look at his pioneering work in
South India and his mission to free Lankans from the colonial yoke
View(s):
It
is well known that in 1891, Anagarika Dharmapala initiated the first
revival of Buddhism in India, the land of its birth where most of the
people who were attracted to him belonged to the upper strata of
society. What is less known is that Anagarika Dharmapala inspired a mass
movement of South Indian Dalits including Tamils to embrace Buddhism,
half a century before Ambedkar.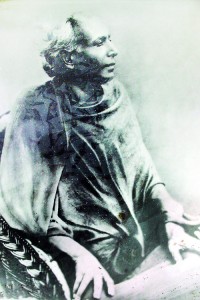 Anagarika's earliest connection with India had been with South India.
In fact, it was to the Theosophical Society in Adyar in Madras that he
made not only his first Indian visit at the age of 20 in the company of
Madame Blavatsky and Col. Olcott, but it was also the place from where
he began his great career of dharmaduta activities.
Dharmapala built on contributions made by Thass. Even before
Dharmapala visited Sarnath, Benares and Buddha Gaya, Pandit Iyothee
Thass (Das) (1845–1914), born to a Dalit "pariah" family in Madras
initiated a social transformation of the down-trodden in South India.
In 1886, Thass had issued a revolutionary declaration that
untouchables were not Hindus. Following this declaration, he established
the Dravida Mahajana Sabha in 1891. During the 1891 census, he urged
Dalits to register themselves as "casteless Dravidians" instead of
identifying themselves as Hindus. Thass argued that Tamil Dalits were
originally Buddhists.
In the meantime, Anagarika Dharmapala had formed the Maha Bodhi
Society on May 31, 1891 first in Colombo, and later established its
headquarters in Calcutta with the intention of restoring Buddhist
shrines in Buddha Gaya. This became the single most important event in
the history of the Buddhist revival in India. Two months later, he took
four Ramanna Nikaya monks to Buddhagaya. They were the first modern
Dharmaduta monks from Sri Lanka to propagate the dhamma in India.
In January 1892, the Maha Bodhi journal was established. Although it
was a demi-quarter size journal of 8 pages, it attracted worldwide
attention. In fact, it was this journal that led to the invitation for
Dharmapala to attend the Parliament of World Religions in Chicago, USA
in 1893.
A hundred years later, this writer got the opportunity to make a 10 minute presentation at the Parliament of World Religions.
In October 1892, a branch of the Maha Bodhi Society was formed in
Akyab (presently known as Sittwe in the island of Arakan (presently
known as Rakhine in Myanmar) when Dharmapala visited Akyab with Col.
Olcott. The donations given by Arakan Buddhists at the Maha Bodhi
Society there helped Dharmapala to hire a house in Calcutta where the
Maha Bodhi Society work was carried out until May 1904 and then closed
for a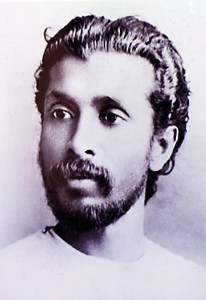 Young Dharmapala
time. In February 1894, Dharmapala visited Bangkok as the guest of
Prince Rajaski, and a branch of the Maha Bodhi Society was formed with
the help of Prince Vivit and other Princes.
Iyothee Thass who established several schools for the panchama caste
in Madras came into contact with Col. H.S. Olcott, President of the
International Theosophical Society who had also started free schools for
panchama children in Madras. Thass now requested Olcott's assistance
for the re-establishment of 'Tamil Buddhism'. Olcott then wrote to the
Venerable Hikkaduwe Sumangala Nayaka Thera, the Principal of Vidyodaya
Pirivena and a leading figure of the Sri Lanka Buddhist revival. In the
presence of Dharmapala and another Buddhist monk who had arrived from
Sri Lanka, a public meeting to form a Dravidian Buddhist Society for the
'lower' castes was held in Madras.
Thass then proceeded to Sri Lanka with a delegation of prominent
Dalits, and met Hikkaduwe Sumangala Nayaka Thera at a large gathering of
Buddhists. The delegates from Madras observed the Five Precepts at the
Vidyodaya Pirivena. With the blessings from Sumangala Nayaka Thera,
Thass returned to Madras and started the "Sakya Buddhist Society" (also
known as the Indian Buddhist Association).
The Sakya Buddhist Society began its activities in 1898 with
religious meetings on Sundays, lectures on religious and social issues
and the members taking the Five Precepts. Dharmapala received in 1898 an
invitation to attend a meeting held on 8th August 1898 in Royapettah in
Madras convened by Col. Olcott and Dr. Ayothee Thass. He attended the
meeting which paved the way for many from South India to turn to
Buddhism.
A year later, Dharmapala received another invitation to come to
Madras to open a branch of the Maha Bodhi Society in South India. A
Buddhist Young Men's Association was now formed with Anagarika
Dharmapala and Thass as joint secretaries. The Sakya Buddhist Society
monks conducted Buddhist rituals for the large numbers of pilgrims who
visited the Maha Bodhi Society; thus it soon became an international
Buddhist centre.
A small Vihara was built in Perambur in Madras with Rs. 3,000 sent by
Dharmapala out of the funds donated to him by Mrs. Mary Foster. The
Maha Bodi Society office was located there. Earlier, Dharmapala had
encouraged the Sinhalese monk Ven. Nilwakke Somananada Thera to learn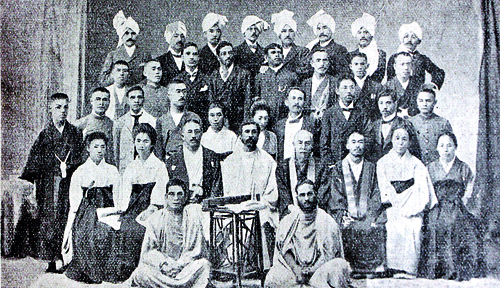 Dharmapala
(seated-centre) with representatives from different countries at a
meeting at the Mahabodhi Society Headquarters in Calcutta. Pix
courtesy– recently launched coffee table book on the life of Anagarika
Dharmapala
Tamil with the intention of bringing him to South India to propagate
the Dhamma. Somananda Thera became the first resident monk of the
Perambur Vihara, and was the first resident dharmaduta monk in Tamil
Nadu. He also excelled as a Buddhist scholar. He translated the
Dhammapada into Tamil which is known to be the first translation of the
Dhammapada into Tamil. He also translated several other Buddhist books
and many pamphlets into Tamil. These books and pamphlets were published
by the Perambur Vihara. Within a short period of time, the Perambur
Vihara became a very active Buddhist centre in Tamil Nadu.
Soon after starting the Perambur Vihara, Vesak was celebrated in 1900
for the first time in South India – just four years after Vesak was
celebrated in Calcutta. A Tamil booklet on the 'Life and Teaching of
Bhagavan Buddha' was released on this historic day. By this time, a
large number of Tamils in South India had developed an interest in
Buddhism, so that 2,000 copies of its second edition were printed, soon
after its first release.
Thass established a weekly magazine called Oru Paisa Tamizhan ('One
Paisa Tamilian') in Madras in 1907, which served as a newsletter linking
all the new branches of the Sakya Buddhist Society. The magazine
discussed issues relating to his new "Tamil Buddhism", and Indian
history from a Buddhist point of view. The new Tamil Buddhist community
in South India thus identified themselves as being the original Indian
Buddhists who had been put down by the Brahmin caste and were now only
making a return to their earlier Buddhist heritage. According to Thass,
the pariahs were originally Buddhists and owned the land which had later
been robbed from them by Aryan invaders.
Thass was thus, the pioneer of a new Tamil Buddhist movement in South
India. He gave Buddhism a mass base, not only in Tamil Nadu, but also
in parts of Burma and South Africa where Untouchable migrant labourers
from South India were settled.
An active member of the Mahabodhi Society Prof. P. Lakshmi Narasu, a
Tamil who became a Buddhist founded the Madras Buddhist Association.
Prof. Narasu wrote the book 'The Essence of Buddhism' in 1907. The
introduction to the book was written by Anagarika Dharmapala and the
book went into several editions and was also translated into Japanese
and Czechoslovakian.
It was later the basis for a popular Tamil book by Appaduraiyar Putharathu Aru­laram ("Buddha's Compassionate Reli­gion").
When the Buddhist delegation from Sri Lanka attended the Annual
Conference of the Indian National Congress in 1923, Appaduraiyar joined
the Sri Lanka delegation to press for a resolution to transfer Bodh Gaya
to the Buddhists. In the 1920s, a "Ceylon Tamil Buddhist Association"
inspired by the South Indian Tamil Buddhist revival and in close
collaboration with Sinhalese Buddhists was sponsoring the propagation of
Tamil Buddhist literature.
It was Dharmapala who 'kindled the fire' and attracted at the
beginning, a large number of intellectuals to turn to Buddhism and
inspired the continuation of the mass movement in South India although
Thass pioneered the Tamil Buddhist movement in South India. Activities
initiated by Dharmapala were often carried out even without Dharmapala's
physical presence while he was engaged in diverse activities and
campaigns in different parts of Asia including Japan, and in Europe and
the US.
He stood for all Lankans; not just for the Sinhala-Buddhists

There is, sometimes, an erroneous conception among non-Buddhists that
Anagarika Dharmapala spoke only for the Sinhala Buddhists. After 150
years, the socio-cultural change that occurred involving all races and
religions inhabiting this island is taken for granted. Truly, no one
thinks about it.
As we celebrate the 150th birth anniversary of the man who turned the
tide, the ethnic and religiously different citizens here feel this
celebration is only for the Sinhala Buddhists. They are not a part of
this celebration.
It is true that Dharmapala took up the lost reins of Emperor Ashoka
and brought Buddhism back into circulation, especially in India. It was a
stupendous effort and takes pride of place in Dharmapala's c.v. Yet,
let us ask ourselves, what did he do for us here in this island? For all
the people who call themselves Sri Lankans? Ceylonese 150 years ago;
for the Christians, Hindus, Muslims and others?
As Elizabeth Barrett Browning said in her beautiful poem 'How do we love
thee – let me count the ways', let us count some ways in which we
changed, recollecting that we were then ruled by the all-powerful
British with methods that would make all in her colonies English –
except in the colour of their skin.
All Lankans (Ceylonese) no longer had to register their children's
birth in a church and be given English names. With one powerful stroke,
they had penetrated the deepest village, exchanging English names for
ethnic ones.
Dharmapala gave a start by changing his own. David Hewavitarne became
H. Dharmapala. The next generation of Lankans had one English name and
one local name, and now they all have traditional names – Buddhists,
Hindus, Christians, Muslims. Only a few preferred to remain with English
names.
All races abandoned dressing like the British, especially womenfolk
and took up their own Asian wear. Dharmapala introduced the low country
women to an early version of the saree.
All, except a very few abandoned calling their parents Mummy, Daddy and began calling their parents according to old traditions.
It was no longer a shame to eat rice and curry, hoppers, string
hoppers, dosai, buriyani and wattalappam in elite homes and public
places .Otherwise it was English courses starting with soup and ending with English puddings.
These and more are now considered so normal that no one thinks who
made the servile Lankans (Ceylonese) change en masse? Famous journalist
of yesteryear D.B. Dhanapala in his book '10 Patriots' described the
impact Dharmapala had on him even as a little child. On hearing of the
lion roaring, he felt ashamed, he wrote, to bear an English name; he
asked his father to immediately give him a Sinhala name as he was
Sinhala. Not that only Sinhala counted.
So we celebrate the services of one man who made the changes with
fearless wrathful oratory which was directed at his own Sinhala race
constituting over 80 per cent of the population. A change resisted with
all the power of the British whose sun, they felt, would never set. And
for which Dharmapala was punished, with the judicial murder of his
brother Edmund under the guise of Martial Law, and house arrest and
exile for him in India for five long years.
Today, the non Sinhala Buddhists too are what they are, here in Sri Lanka, due to his efforts.
- M.P.
A clarion call in danger of being used for racial disharmony
By Mala Hewavitarne Weerasekera
As we remember the Anagarika Dharmapala on his 150th birth
anniversary, a true understanding of the man and his message to the
people must be conveyed. His clarion call to the Sinhala people is in
grave danger of being misinterpreted and misused by elements out to
cause religious and racial disharmony.
The period in which the Anagarika emerged as a stalwart and
nationalist was a time of martial law. Though highly involved in the
revival of Buddhism especially at Buddha Gaya, he moved very closely
with other religious leaders in a joint struggle on behalf of all people
of this country.
Renowned writer Gunadasa Amarasekera has written that Anagarika
Dharmapala's national political action was mainly two-fold: firstly, his
struggle to liberate the Sinhalese people from the weak mindset of
aping the foreign rulers and embracing Western values and culture;
secondly, a socialist struggle to rebuild a society with high values.
This, Amarasekera named as an economic struggle.
His famous call to the people "Sinhalaini Nagitive" (Sinhalese wake
up!) often taken out of context as a racial instigation was really to
shake the Sinhala community out of their lethargy to join forces with
the other communities. He often held the Tamil and Muslim communities as
examples of a more energetic people. He called for unity of action with
a view to self-rule and freedom from colonial dictates.
The Anagarika held Tamil Leader Sir Ponnambalam Ramanathan in very
high esteem. He said, "The day you are taken away from Ceylon, from that
day there will be no one to defend the poor, neglected Sinhalese. They
are a doomed people with no one to guide and protect them." These were
his comments after listening to Ponnambalam Ramanathan's speech at the
Legislative Assembly of 1915.
The harshness of colonial rule and how it affected his near and dear
ones is further illustrated in the stories of the 1915 riots.
As the Anagarika Dharmapala was in India, the colonial rulers
arrested his brother Edmund on a false pretext and sent him to jail in
Jaffna. There he contracted enteric fever. He had been on a mat on the
floor with no treatment. Five days before his death the colonial rulers
permitted his younger brother Dr. C. A. Hewavitarne to attend to his
dying brother – but it was too late!
Edmund Hewavitarne died in November 1915, five months after he was sentenced to a life of "Rigorous Imprisonment".
A large gathering honoured Edmund Hewavitarne as a patriot at his
funeral. A 13-page petition was sent to the British authorities by his
widow Sujatha Hewavitarne together with petitions and affidavits of
leading monks and lay persons of different communities and by Mallika
Hewavitarne (mother of Edmund and the Anagarika). Sir Ponnambalam
Ramanathan carried the petition addressed to the Secretary of State for
the Colonies, Andrew Bonar Law asking that Edmund Hewavitarne's name be
cleared, to London. It was upheld.
Governor Sir Robert Chalmers, KCB, was recalled to Britain for his
mishandling of the riots. The new Governor Henry William Manning
apologized on behalf of the British Empire to Mrs Edmund Hewavitarne for
the miscarriage of justice. He and Lady Manning later became personal
friends of the Hewavitarne family.
When he was 29, the Anagarika participated in the World Congress of
Religions in Chicago in 1893 "representing diverse religions". His was a
vision against colonial rule for the development of his country.
(The writer is a grand-niece of the Anagarika)
Leave a Reply