03/04/17
Filed under:
General
Posted by:
site admin
@ 6:25 pm
2157 Sun 5 Mar 2017 LESSON
Maha Bodhi Society
14, Kalidasa Road, Gandhinagar,

Bengaluru-560009, Karnataka,

Tel:080-22250684, 97316 53108
Email: info@mahabodhi.info www.mahabodhi.info

The President, monks and members of

Mahabodhi Organisations heartily invite you with family and friends to
DHAMMAPADA FESTIVAL

.

96th Birth Anniversary of Most Venerable Acharya Buddharakkhita
02-03-1922 - 23-09-2013

Abhidhaja Aggamha SaddhammaJotika, Phd,D.Lit.

Founder of Mahabodhi Organisations, Bengaluru and its sister organisations
09th March, 2017
to

12th March, 2017

Program Highlights

* Upasampada - Bhikkhu ordination of 12 monks
* One day free medical campand health chexk up
* Hospital Dana Service
* Full day chanting and meditation at Bodhi Rasmi pagoda
* Seminar on Dhammapada in Kannada and English
* 423 Dhammapada gatha recitation ny Monks of Mahabodhi Monastic Institution
* Release of Publications in Kannada and English
* Release of Documentary film on Kathina and English
* Launching of new project Mahabodhi Meditation and Cultural Center, Bodhgaya
* Opening of SANGAYANA - Buddhist Library to the public.

ALL ARE WELCOME FOR THE CELEBRATION
http://www.yourepeat.com/watch/?v=GQg7EzPeg5Q http://indiatoday.intoday.in/…/narendra-modi-…/1/896837.html Shameful jhumla from danga Modi
Murderer of democratic institutions (Modi) said that Ganga had called
him, as every sinner when he do sin himself goes to Ganga to wash. Since
Modi is biggest sinner and criminal and arrogant GANGA called him in
order to wash his sins, but he did not happen to catch a whiff of Mother
Ganga which is stinking. This feku refused to wear head-cap
offered by a Muslim clergy when he was CM of Gujarat. Nobody has ever
seen Mahatma Gandhi, Sardar Patel and Pandit Nehru wearing this kind of a
cap. I have to accept my own values. I live with my values. Trevor
MODI, AKHILESH, PAPPU, BARKHA, KANHAIYA, SITARAM, KEJRIWAL, LEFT,
CONGRESS, UMAR KHALID, ANIRBAN, RAJDEEP, RAMA NAGA, LALU YADAV, SAGARIKA
, SHEHLA RASHID, JNU-MAOISTS, MAOISTS ETC ARE VULTURES OF A FEATHER
FLOCK TOGETHER TO FEED ON THE BODIES OF SARVAJAN SAMAJ VOTERS. THEY ARE
JATHI FAMILYWAADI PARTIES WHO ARE MURDERERS OF DEMOCRATIC INSTITUTIONS.
CHIPS OF THE OLD RAKSHASA SWAYAM SEWAKS OF CHITPAWAN BRAHMIN BLOCK.



News Feed

Navaneetham ChandrasekharanJust now · http://indianexpress.com/…/demonetisation-digital-payments…/ After DEMONetisation of Murderer of democratic institutions (Modi): As cash comes in, digital deals show sharp dip
The decline in digital transactions in two successive months goes
against Modi's stated objective of scrapping high-value currencies —
that of moving towards a "less cash" economy. THE SURGE in
digital transactions during the DEMONetisation period is seeing a sharp
reversal with data for February showing an accelerated pace of decline
in electronic transactions. February 2017 saw a month-on-month decline
of 21.3 per cent in the volume of electronic transactions, higher than
the 9.1 per cent fall seen in January 2017 over December 2016.
According to data released by the Reserve Bank of India, the decline in
value terms also accelerated in February over January 2017. The decline
in electronic payments is being seen as reflective of the improved cash
availability situation over the last couple of months since 500 and
1000-rupee notes were scrapped on November 8 last year. The
decline in digital transactions in two successive months goes against
Modi's stated objective of scrapping high-value currencies — that of
moving towards a "less cash" economy. The biggest fall in usage
was seen for cheque payments, use of debit and credit cards at point of
sale terminals and mobile banking, that had emerged as preferred modes
of payment following the lack of availability of cash during the
DEMONetisation period. The data shows that in volume terms,
transactions through electronic payment modes fell 21.3 per cent from
870 million in January 2017 to 684 million in February. In value
terms, the decline was 16.7 per cent from electronic transactions valued
at Rs 97,011 billion in January 2016 to Rs 80,765 billion in February
2017. In fact, the value of digital transactions in February slipped below that in November when demonetisation was announced. The decline in transactions in value terms in January 2017 over December 2016 stood at only 6.8 per cent.
Even as February had three transaction days less in comparison to
January 2017, the pace of decline shows that consumers have begun to
move back to their traditional payment method.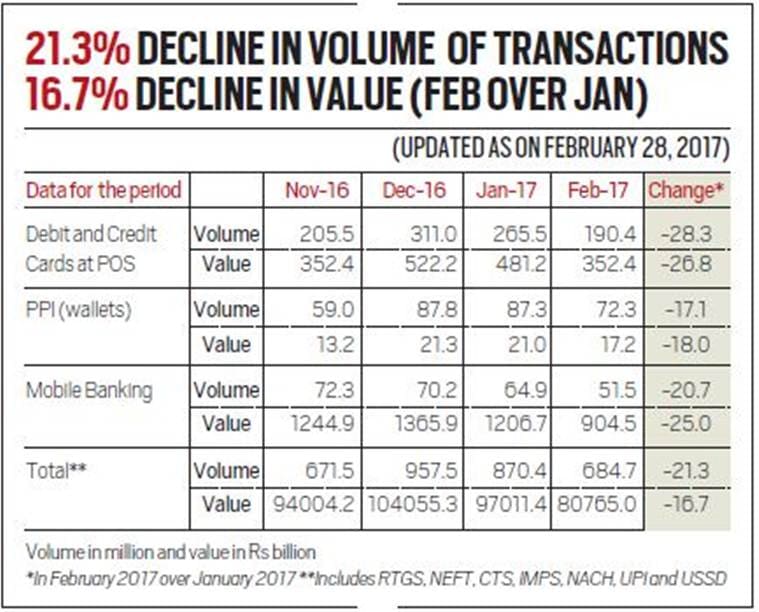 A
senior government official told The Indian Express that DEMONetisation
was a great opportunity to drive the digital transaction ecosystem. He,
however, added that people would go back to old habits as and when the
cash supply eases. "Currently, both cash and digital payments have
convenience but cash comes without a cost, whereas digital has a cost
attached to it. If that's not dealt with, cash will become more
convenient by default and people will go back to using it when supply in
the economy is normalised. For this, some tweaking of policy is
required so that digital payments become a habit," the official said.
The decline in February was seen across various payment modes that
people had adopted for their payments at the time of DEMONetisation.
While the volume of transactions through NEFT fell 20.4 per cent, that
for cheque payment fell 22.9 per cent over the previous month. Volume of
transactions through the use of debit and credit cards at PoS terminals
fell sharply by 28.3 per cent while that through mobile banking also
declined by 20.7 per cent. In January, the decline in usage of
cheque, NEFT and debit and credit cards at PoS was much lower. While the
cheque usage fell by only 2.8 per cent over December 2016, that for
NEFT and card usage at PoS fell by 1.5 and 7.8 per cent respectively.
Electronic payment methods had picked up significantly in November and
December 2016 following Modi's decision to DEMONetise the old Rs 500 and
Rs 1,000 notes. In December 2016, transactions through
electronic payment methods had peaked and the volumes jumped to 957
million (684 million in February) following the cash crunch and the slew
of incentives announced by Modi to promote digital payments.


The
decline in digital transactions in two successive months goes against
the government's stated objective of scrapping high-value currencies —
that of moving towards a "less cash" economy.

http://www.yourepeat.com/watch/?v=xKCHfdCrxi8


Narendra Modi's PHANTOM Mode Activated…

http://makeagif.com/gif/narendra-modi-singham-music-video-LCsoue
Leave a Reply