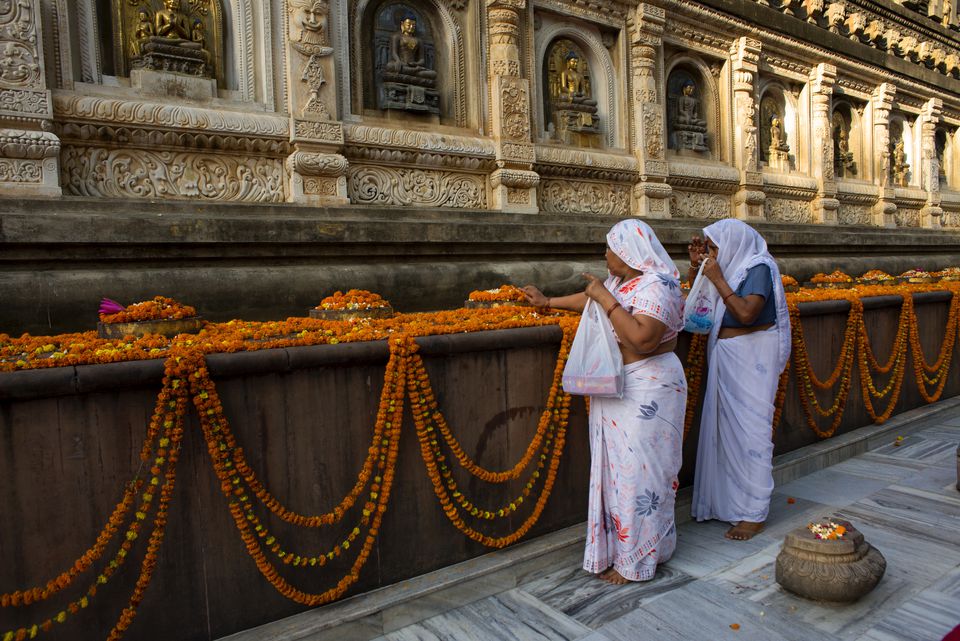 Buddha Jayanti, also known as Buddha Purnima, celebrates the birthday
of Lord Buddha. It also commemorates his enlightenment and death. It's
the most sacred Buddhist festival.
Buddhists regard Lumbini (which
is now part of Nepal) to be the birthplace of Buddha. Named Siddhartha
Gautama, he was born as a prince into a royal family sometime in the 5th
or 6th century BC. However, at the age of 29 he left his family and
began his quest for enlightenment after seeing the extent of human
suffering outside the walls of his opulent palace.
He became enlightened at Bodhgaya in the Indian
state of Bihar, and is believed to have lived and taught mostly in
eastern India. Buddha is believed to have passed away at Kushinagar in
Uttar Pradesh, at the age of 80.
Many Hindus believe Buddha to be the ninth incarnation of Lord Vishnu, as indicated in scriptures.
When is Buddha Jayanti?
Buddha Jayanti is held on a full moon in late April or May each year. In 2018, Buddha Jayanti falls on April 30. It will be the 2,580th birth anniversary of Lord Buddha.
Where is the Festival Celebrated?
At the various Buddhist sites across India, particularly at Bodhgaya and Sarnath (near Varanasi, where Buddha gave his first sermon), and Kushinagar. Celebrations are widespread in predominantly Buddhist regions such as Sikkim, Ladakh, Arunachal Pradesh, and north Bengal (Kalimpong, Darjeeling, and Kurseong) as well.
The festival is also celebrated in Buddha Jayanti Park, Delhi.
The park is located on Ridge Road, towards the southern end of Delhi Ridge. The closest metro train station is Rajiv Chowk.
How is the Festival Celebrated?
Activities
include prayer meets, sermons and religious discourses, recitation of
Buddhist scriptures, group meditation, processions, and worship of the
statue of Buddha.
At Bodhgaya, the Mahabodhi Temple wears a festive look and is
decorated with colorful flags and flowers. Special prayers are organized
under the Bodhi Tree (the tree under which Lord Buddha attained
enlightenment). Plan your trip there with this Bodhgaya travel guide and read about my experience of visiting the Mahabodhi Temple.
A large fair is held in Sarnath in Uttar Pradesh. The relics of the Buddha are taken out in public procession.
An International Buddha Poornima Diwas Celebration,
organized by the International Buddhist Confederation (IBC) in
conjunction with the Indian Ministry of Culture, was held at Talkatora
Stadium in Delhi for the first time in 2015. The event was attended by
various international guests, monks, and members of parliament. It is
now an annual event.
The National Museum in Delhi
also brings the mortal remains of Buddha (what are believed to be some
of his bones and ashes) out for public viewing on Buddha Jayanti.
In
Sikkim, the festival is celebrated as Saga Dawa. In Gangtok, a
procession of monks carries the holy book from Tsuklakhang Palace
Monastery around town. It's accompanied by the blowing of horns, beating
of drums, and burning of incense. Other monasteries in the state also
have special processions and masked dance performances.
What Rituals are Performed During the Festival?
Many
Buddhists visit temples on Buddha Jayanti to listen to monks give talks
and recite ancient verses. Devout Buddhists may spend all day in one or
more temples. Some temples display a small statue of Buddha as a baby.
The statue is placed in a basin filled with water and decorated with
flowers. Visitors to the temple pour water over the statue. This
symbolizes a pure and new beginning. Other statues of Buddha are
worshiped by offerings of incense, flowers, candles and fruit.
Buddhists
pay special attention to Buddha's teachings Buddha Jayanti. They give
money, food or goods to organizations that help the poor, elderly, and
those who are sick. Caged animals are bought and set free to show care
for all living creatures, as preached by Buddha. The usual dress is pure
white.
Non-vegetarian food is normally avoided. Kheer, a
sweet rice porridge is also commonly served to recall the story of
Sujata, a maiden who offered the Buddha a bowl of milk porridge.
What to Expect During the Festival
Buddha Jayanti is an extremely peaceful and uplifting occasion.
https://teenatheart.com/buddha-purnima-vesak-festival-history-slogans-messages-essay-paragraph-significance-images-activities/