October 16, 2006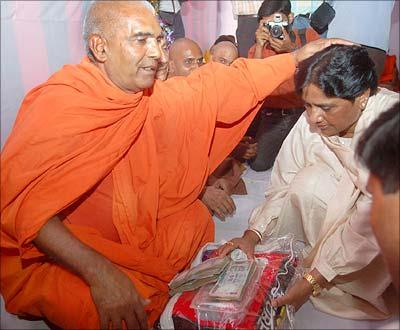 | | |
| --- | --- |
| Mayawati: Original Inhabitant of Jambudvipa that is The Great Prabuddha Bharath 'queen', now Brahmin messiah | |
Chhatrapati Shahu Maharaj
April 141891 – December 6 1956

Mayawati rally in Bangalore today
Special Correspondent
Bangalore: Uttar Pradesh Chief Minister Mayawati arrived here on Saturday on a two-day visit to the State. She will address a rally of the Bahujan Samaj Party (BSP) at the Palace Grounds on Sunday. Ms. Mayawati, who is the president of the BSP, came by a private aircraft from Lucknow. She was received by State BSP president B. Gopal, the former Minister P.G.R. Sindhia and office-bearers of the party.
The BSP leader waved to the waiting crowd comprising party workers and sympathisers along with members of the uniformed Bahujan Volunteer Force and then proceeded to a nearby hotel.
Photographers and television channels had to be content with taking pictures from a distance, and no reporter was allowed to go near the leader. However, the party's media managers took reporters to the hotel from where they had to return without meeting the Chief Minister after an hour's wait.Satishchandra Misra, MP, tried to convince the security personnel to allow the reporters to meet Ms. Mayawati. Looked tired, Ms. Mayawati came out of her room, posed for the photographers and went back inside.
The security was so tight that Mr. Sindhia and Mr. Gopal had to wait outside. They were allowed to meet her after an hour. While Mr. Sindhia will join the party at Sunday's rally, sources said that the former Deputy Chief Minister M.P. Prakash would meet Ms. Mayawati on Sunday.
Saturday, December 22, 2007
BSP turns Bangalore blue for Mayawati rally on Sunday
The BSP did not win a single seat in the 2004 assembly elections though it contested all the 224 seats, but it managed to eat into the vote share of the Congress in several constituencies.
BSP turns Bangalore blue for Mayawati rally
Bangalore, IANS:
The BSP did not win a single seat in the 2004 assembly elections though it contested all the 224 seats, but it managed to eat into the vote share of the Congress in several constituencies.
India's IT hub has been swamped with Bahujan Samaj Party's (BSP) blue flags, banners, buntings and hundreds of cut-outs of party chief and Uttar Pradesh Chief Minister Mayawati to welcome her to Bangalore for the party's rally on Sunday. < ?XML:NAMESPACE PREFIX = O />
The BSP's success in mobilizing huge financial and human resources for the rally has taken many by surprise as it does not have much of a presence in Karnataka, party's state unit chief B. Gopal said.
"Other parties will get a shock after Sunday's rally. We have sold 10 million coupons for Rs.1 each to meet the expenses of the rally," Gopal said.
"We are spending Rs.2 million for the pandal, dais and other requirements for the rally at the Palace Grounds," he added.
The palace is about five kilometres form the city centre and is the political parties' favoured venue for rallies.
"Publicity expenses will come to around Rs.1 million and an equal amount will be spent on food for the party workers who have already started assembling in the city from various parts of the state," Gopal said.
The party expects more than 400,000 people to attend the rally.
"From Bangalore city alone we expect 100,000 people and from Bangalore rural district and nearby districts such as Kolar another 100,000. From Mysore and other areas within 150 km from Bangalore, we expect 150,000 and from far away places in north Karnataka another 100,000," Gopal said.
Like in Uttar Pradesh, the party is wooing people from all caste groups in Karnataka.
"Brahmana Samudaya (an organization of upper caste Brahmins) has made arrangements to serve food for several thousands of our workers and supporters," he said.
"We have already received 100 quintals of food grain, six quintals of vegetables as donation and expect another six quintals of vegetables to reach us by Saturday evening," Gopal said.
The BSP did not win a single seat in the 2004 assembly elections though it contested all the 224 seats, but it managed to eat into the vote share of the Congress in several constituencies.
The party plans to field its nominees in all constituencies in the next polls expected in April/May 2008.
Satish Chandra Mishra, who is credited with rallying Brahmin votes in Uttar Pradesh for Mayawati in the recent assembly election, will accompany her for the Bangalore rally, Gopal said.
Delhi, Mumbai, Kolkata, Bangalore, London
Sunday, December 23, 2007
Sindhia sees a big future for BSP

By Our Special Correspondent
Bangalore, Dec. 21: Former minister, P.G.R. Sindhia will formally join the Bahujan Samaj Party on Sunday at a huge rally to be addressed by Uttar Pradesh chief minister, Ms Mayawati.
Mr Sindhia told reporters on Friday that he was leaving the Janata parivar with a heavy heart but after a lot of thought. He was suspended from the Dal(S) by party president, H.D. Deve Gowda after he opposed Mr Kumaraswamy's elevation as chief minister bypassing senior party leaders.
Mr Sindhia asserted that he was not joining the BSP anticipating a big post or other benefits but because he felt it could become a major party in the south.
Meanwhile, BSP leaders denied any plans of tying up with the Congress party for the forthcoming Assembly polls. State Congress chief, Mallikarjun Kharge had earlier hinted at an electoral understanding with the BSP saying it would help both parties. He said in Tumkur while on his way to Chitradurga to launch the party's Janandolan programme, that since the two parties had the support of the poor, minorities and the dalits, it was better to have a tie-up.
Mr Kharge had referred to Ms Mayawati's support to the Congress-led UPA government at the Centre to buttress his argument that an electoral understanding was possible. It seems that the party high command had warned him terming the move as undesirable. There is also a view that BSP leaders might have objected to this. Soon after reaching Chitradurga, he was made to deny his statement on the tie-up.
In Bangalore, local BSP leaders strongly criticised talk of a pact saying the Congress had done nothing for the poor and dalits in all the years in power. They did not seem too keen on allowing the Congress to benefit from the popularity of the BSP in Uttar Pradesh.
Mayawati to address BSP rally in Bangalore on Sunday
By ANI
Saturday December 22, 07:22 PM
Bangalore, Dec.22 (ANI): Uttar Pradesh Chief Minister and Bahujan Samaj Party chief Mayawati will address a mammoth convention of her party workers at the Palace Grounds here on Sunday.
The convention, which commences at 11 a.m., will aim to strengthen the BSP's base in Karnataka.
BSP buntings and hoardings have been put up across the city in anticipation of Mayawati's visit, which will take place amidst tight security.
Bangalore Police have pulled out all stops to ensure elaborate security arrangements. State General Secretary Jigani Shankar was quoted as saying that the BSP would like to use Karnataka as its gateway to south India.
The BSP expects to eat into the votebank of the Congress, targetting the backward classes, the Dalits and the minorities. The party leadership in the state says that it is keeping its political options open in the run-up to Assembly elections in the state. (ANI)
Leave a Reply