(Pocket-lint) - With virtual reality headsets
becoming more popular and platforms like Facebook and YouTube
supporting 360-degree photos and videos, it's no surprise to see more
360 cameras coming to market.
There is now a
range of capable cameras available at wildly different budgets. Each has
their own appeal, so the choice really comes down to budget and what
you want the camera for. Something small you can slip in your pocket and
take on a jaunt or an action camera that can survive being dropped,
bashed and used underwater?
Take a look at our list of the best VR and 360 cameras available to buy, whatever your budget.
Best 360 camera for video capture
GoPro Max
We
check 1,000s of prices on 1,000s of retailers to get you the lowest new
price we can find. Pocket-lint may get a commission from these offers.
Read more here.
6K spherical video capture capabilities
Voice control and live-streaming
OverCapture user-friendly video editing system
1,600mAh battery
Hypersmooth video stabilisation
When
it comes to video, especially action-cam footage, GoPro has always
managed to produce incredible results. The GoPro Max is another camera
from GoPro making waves.
Video capture capabilities
This
device possibly offers the best 360 video capture capabilities of any
device we've seen. Likely because it's capable of capturing 6K video at
30fps. Where the GoPro Max really shines though is in usability. GoPro's OverCapture video editing system allows users to easily create brilliant footage from their recordings.
This OverCapture
tech even offers the ability to flatten 360 videos to make them
viewable on any device - including TVs and create a "tiny planet"-like
view or make sharp transitions at certain points.
The results are something pretty special and set this 360 camera apart from the crowd.
Durability and flexibility
Like
other cameras in the GoPro range, the GoPro Max is a flexible and
durable camera. This device is waterproof up to 16 feet and can be used
underwater and with some abuse - making it suitable for use with
watersports.
A removable 1,600mAh battery and a
USB-C port that supports fast charging make it pretty flexible too. A
touchscreen even lets you see what you're capturing and widens its
appeal.
360 video makes a lot of sense in
extreme sports areas and with the sort of footage GoPro fans will be
capturing. It's therefore easy to see why GoPro created the Max (itself a
soft reboot of the older Fusion camera) and where it sits in this
market. As such, it's well worth considering.
The GoPro
Max offers some of the best results we've seen in terms of capture
quality. It's also easy to use with the OverCapture functionality on a
smartphone. It boasts a great feature list and impressive
specifications, but it does come with a pretty hefty price tag.
Conclusion
GoPro's
expertise when it comes to action cameras has come to bear brilliantly
on the Max — it's great for filming whatever activities you'd want it
to, and is also adaptable. When you need 360 footage, it'll produce the
goods, but can also film all sorts of other quality video.
Pros:
User-friendly video editing system
Tripod mounting as standard
Waterproof and durable build
Excellent footage results
Touchscreen so that you can see what you're capturing
Cons:
One of the more expensive 360 camera options
Most feature-rich 360 camera
Insta360 One R
We
check 1,000s of prices on 1,000s of retailers to get you the lowest new
price we can find. Pocket-lint may get a commission from these offers.
Read more here.
5.7K 360 capture or 4K wide-angle
H.265 encoding with "advanced image processing"
FlowState Stablisation" - offers "gimal-like" stablisation
The
Insta360 One R is one of those devices that tries to offer you the
world on a stick. It's a feature-packed camera that comes in various
editions with bundles that include different lenses or attachments and
extras. There's even an aerial edition that'll fit certain Mavic drones.
It
comes with an "invisible" selfie stick and a multitude of capture
options that make things interesting. Everything from night shot
capabilities to HDR mode, bullet time, starlapse, timelapse and more. It
has a compact frame that can be made waterproof with the accompanying
housing.
Capture quality
360-degree field of view
Upto 5760 x 2880 at 30FPS
HDR and standard video modes, timelapse, timeshift, bullet time and more
100Mbps video bit rate
The
Insta360 One R offers some impressive capture quality. Considering all
the recording options you get, it seems to do a lot of things and does
them well.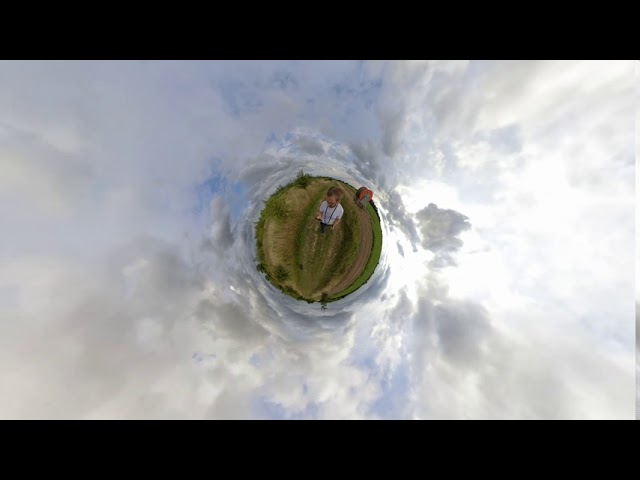 It
also has swappable lenses and different mounting options meaning you
can use it to capture all sorts of footage, whatever you're planning on
recording. Whether action shots using a helmet mount or chilled out
strolls through the country with a selfie stick.
We
enjoy interesting modes like "bullet time" where you swing the camera
around your head like you're wielding a mace, capturing a surrounding
view of yourself and the environment. Other capture options include
everything from HDR footage to timelapses.
Video and image sharing
You can edit it all within the app or the Insta 360 Studio and there's a detailed guide explaining how to do that. From there you can then easily share it on your favourite social media platform without much fuss.
In
the free video editor, you can add keyframes and move between various
views including tiny planet, fish eye, standard view and more. The
software isn't as powerful as something like DaVinci Resolve, but it's
good enough to allow for editing, speed ramping, tweaking and even
cutting out background noise from your audio.
Conclusion
The
Insta360 One R manages to pull off being a jack of all trades without
much in the way of compromise. A brilliant little camera with a lot to
offer and plenty of highlights too.
Pros:
A multitude of capture modes and footage options
Easy to use free editing software
Swappable lenses and mounting options
Cons:
Some elements of the software and UI can be a faff
Most affordable 360 cam
Samsung Gear 360 (2017)
We
check 1,000s of prices on 1,000s of retailers to get you the lowest new
price we can find. Pocket-lint may get a commission from these offers.
Read more here.
IP53 (Dust and Splash-proof)
Various capture modes including video, photo, time-lapse, looping video and landscape HDR
1,160 mAh battery
Wi-Fi 802.11 a/b/g/n/ac (2.4/5GHz), Wi-Fi Direct, Bluetooth v4.1, USB 2.0 (Type-C)
The Samsung Gear 360 is part of the company's "Gear" range of smart products designed to accompany the various Samsung flagship phones
available. As such, this 360 camera works well with both the Samsung
Gear VR (to view the photos) and the latest Samsung phones via the accompanying app.
Despite
this, the camera is actually pretty capable, easy-to-use and boasts a
number of specifications that make it interesting. It's also one of the
most affordable 360 cameras available.
Capture quality
360-degree field of view
4K video capture (up to 4096 x 2048 at 24FPS), 15MP photos (5472 x 2736)
Micro SD card slot compatible with upto 256GB
The
Samsung Gear 360 uses two 360-degree lenses to capture either 4K video
or 15MP images through a variety of capture modes including video,
photo, time-lapse, looping video and landscape HDR. The results are
fairly good, especially for the price of this camera.
However,
like many of the other 360 cameras out there, the fully stitched images
are quite clear close-up, but distant objects are fairly blurry. The
stitching itself though is well done and the split between the two
images is often barely visible.
This camera pairs with a range of Samsung phones and will also work with Apple iPhones,
but frustratingly won't work with other Android devices. If you have a
compatible smartphone you can access a live view of the camera for
capturing purposes, as well as access to a wide range of different
settings and tweaks.
You
don't need a phone to capture images or video if you don't want to
though. A small monochrome screen on the device allows you to easily
power on the camera and switch between the basic capture modes as well
as settings to snap photos on the go.
We also
like the addition of the tripod mount underneath which allows you to put
the camera to more adventurous uses if you should feel the need.
The Samsung Gear 360 is IP53-rated,
making it dust and splash proof, but not fully waterproof like the
GoPro Max. It is compact and ergonomically well designed though, making
it easy to take with you. It's small enough to fit nicely in your pocket
and pop it out when you need it.
Video and image sharing
130-minute battery life when recording 2560 x 1280 at 30fps
Sharing via connected Samsung phone
The
Samsung Gear 360 captures images and video that can be shared via the
app on your smartphone. It can also be accessed, processed, edited and
shared on PC or Mac with the accompanying Action Director software.
Thanks
to a USB-C connection, it's not only easy to quickly charge this
camera, but also to easily download the images captured on the MicroSD
card. The software can then be used to stitch the captured images into a
360-viewable photo or video and shared from there.
If
you're using the Smartphone app, you can share directly from there. You
can also start a live broadcast via Facebook or YouTube too, though
obviously the latter requires passing the data from the camera to the
phone and then onwards, which results in lower-quality resolutions.
The
Samsung Gear 360 is an easy-to-use camera. Although the photo and video
results aren't necessarily the best, the price point of this device and
flexibility of its features and settings make it pretty appealing.
Conclusion
The
stitching of images and videos is also surprisingly impressive and a
much speedier process than the Acer Holo 360 - especially when using the
Action Director software on PC.
Pros:
Quick image and video processing via Action Director software
USB Type-C charging/interface port
Great ergonomics and compact design
Includes tripod mount
Cons:
Only compatible with Samsung phones and Apple iPhones
Most premium 360 camera
Garmin VIRB 360
We
check 1,000s of prices on 1,000s of retailers to get you the lowest new
price we can find. Pocket-lint may get a commission from these offers.
Read more here.
Tripod mounts and grips included
Four microphones for spatial audio recording
Single and dual lens capture
Various photo modes including single shot, burst, timelapse, 360-degree front and back
Wi-Fi, Bluetooth and NFC connections
Waterproof to 10 metres
Built-in sensors for G-Metrix data overlays
The Garmin VIRB 360 is simultaneously both one of the most expensive and most interesting 360 cameras on our list.
This
camera is an impressive little box of tricks. Packed into the fat
little body is some high-end tech. This includes not only two 360-degree
lenses capable of capturing 5.7K footage and 15MP photos but also a
mass of other tech too. There's GPS, GLONASS, barometer and
accelerometer sensors designed to capture data as you record and
four microphones for spatial audio recording too.
This
gives you the power to create some pretty impressive footage using this
camera, not just in quality, but also in the information you include.
Videos look pretty awesome with speedometers and other G-Metrix data
overlays visible during playback. Especially if you're planning on doing
something sporty with the camera.
The Garmin
VIRB 360 is also designed to be rough and rugged. This 360 camera is
waterproof to 10 metres, though Garmin doesn't reveal what, if any,
IP-rating the body supports. Still, it shows it's capable of recording
in wet environments and will stand up to some abuse.
In
the box, Garmin has included two attachments which allow you to connect
a tripod using the usual screw mount. A small and capable, hand-held
tripod is also included which allows for some nifty and steady shooting
if you can find somewhere to stand it.
This
camera also includes another attachment which allows you to connect the
camera to GoPro style mounts - opening up a world of possibilities for
attaching to helmets, suction cups, handlebars and much more besides.
Capturing
is as simple as pressing a button on top to take photographs and
pushing a slide on the side to record video. An LCD screen on top gives
you easy access to change basic settings and flip between capture modes
too. The result is an easy-to-use camera that's a joy to play with.
Voice
control is also an option saying "OK, Garmin" allows you to give verbal
commands. You can then ask the camera to start/stop recording, take
photos and more besides.
Capture quality
5.7K/30FPS, unstitched or 4K/30FPS, stitched
15 MP photo capture
Automatically stitched photos and videos
We
were suitably impressed with the capture quality of the Garmin VIRB
360. It's not surprising that with such impressive specs under the hood,
this camera is capable of not only capturing high-quality video but
images too.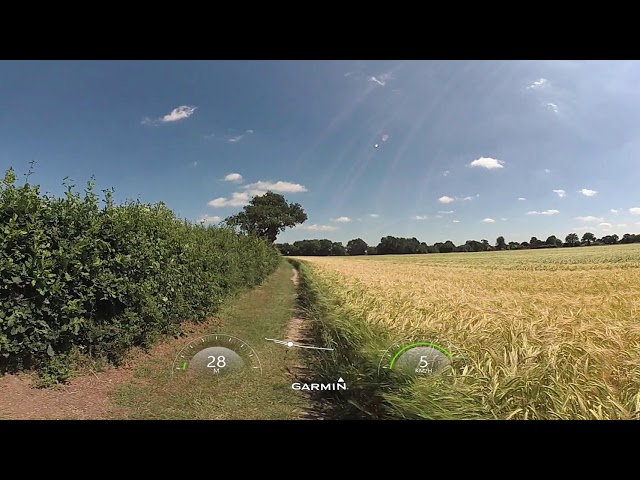 As
well as recording 360-degree video at a maximum of 5.7K, the Garmin
VIRB 360 also has a number of other capture options that include
standard stills from either lens, burst mode, timelapse capture and
slow-motion too.
It's easy to grab imagery and
video footage with just a couple of clicks and the camera automatically
does all the legwork in processing what you've snapped too.
We
did experience some minor issues with stitching occasionally with
photos (people missing parts of their heads) but this is fairly common
on these sorts of cameras and is often forgivable. Otherwise, the
quality of the footage and imagery is pretty reasonable.
None
of these cameras is yet mind-blowing in terms of the end results.
Despite the specifications, the technology is not quite there yet and
you can easily see the degradation in quality the further into the
distance you look, but this camera still has a lot going for it.
The
Garmin VIRB includes spherical stabilisation capabilities and footage
can be edited to reduce shake and wobble with a simple couple of clicks.
The results are remarkable too. It's the ease-of-use, brilliant capture
capabilities and flexibility where this 360 camera really shines.
As if that wasn't enough, the camera is also capable of recording for up to an hour on a single charge. Spare batteries and dual chargers are available to purchase to keep on recording if you so wish too.
Video and image sharing
Spherical stabilisation capabilities
Free desktop editing software
Mobile app for settings tweaks and sharing on the go
For
us, one of the highlights of the Garmin VIRB 360 is almost certainly
the way it handles stitching of images and videos. This processing is
done automatically on the device meaning it's almost seamless.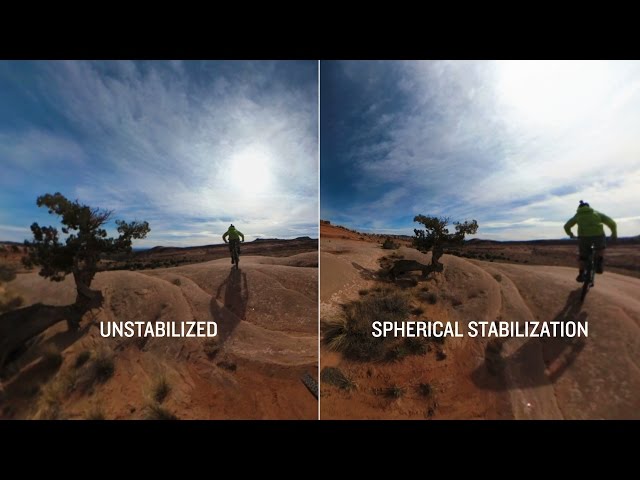 You can choose to use the iOS or Android app to share content while you're out and about or use the free desktop software
to edit footage once you're back home. But even importing photos and
videos from the device onto your PC or Mac you'll find their already
stitched and ready for viewing or sharing to Facebook, YouTube or
wherever else you wish to use them.
There's a
Google Cardboard functionality built right into the app too, meaning you
can pop your phone into a VR headset and view footage you've captured
in full 360-degree glory.
There's a lot of
flexibility here. Apple users can even live stream via the smartphone
app, so there are plenty of different ways to capture and share
content.
The Garmin VIRB 360 is one of the
best 360-degree cameras we've seen. It's flexible, capable and powerful.
We loved the automatic stitching and the easy-to-use accompanying app
and software that make it a breeze to easily create and share your
content.
Conclusion
Stand-out
features include powerful video stabilisation, brilliant G-Metrix data
overlays, easy editing and spatial audio recording.
For
us though, the best feature is likely the one you'll take for granted -
the automatic stitching and processing. This is seamless and results in
content that can be viewed and shared as soon as it's exported. This
means it can be seen without any dull waiting around for the camera to
process the footage beforehand like we experienced with other cameras
we've tested.
Pros:
Automatic on-camera stitching and footage processing
Easy-to-use interface
Simple pairing and controls via Wi-Fi, Bluetooth and NFC
Free app and desktop software makes editing and sharing a breeze
Waterproofing and rugged design
Flexible mounts and adapters mean you can potentially stick it to anything
Cons:
Most durable 360 camera
We
check 1,000s of prices on 1,000s of retailers to get you the lowest new
price we can find. Pocket-lint may get a commission from these offers.
Read more here.
Nikon KeyMission 360
1,050mAh Lithium-Ion battery
Approximately two hours of charging time
198-gram bodyweight
Bluetooth 4.1/IEEE 802.11b/g Wi-Fi
microSD/microSDHC/microSDXC memory card compatible
NIKKOR 1.6 mm f/2.0 lenses
If
an action camera and a 360 camera got together and had a baby, this
would be the result. The Nikon KeyMission 360 features a rugged, durable
and robust body housing some capable NIKKOR 1.6 mm f/2.0 lenses and the
ability to capture UHD 4K footage or 23.9MP 360-degree stills.
If
you're into extreme sports or want a 360 camera that's capable of
functioning underwater, in snowy/freezing conditions or just stand up to
rough handling then this might well be it.
The Nikon KeyMission 360 is IP6X and IPX8 rated
meaning this camera is capable of withstanding a multitude of
environments and rough handling. It's dustproof, shockproof,
weatherproof and waterproof too.
The camera's
durable body allows it to be dropped up to two metres, used underwater
up to 30 metres for 60 minutes and resist temperatures ranging from
-10°C to 40°C. All these specs certainly make it an ideal candidate for
extreme sports use or a great alternative if you're a bit of a clumsy
buffoon.
There are multiple accessories available
including everything from suction cups to chest mounts, selfies sticks,
grips and more. Meaning you can use this 360 camera for pretty much
anything you can imagine. It also supports a standard tripod mount,
making it flexible and easy to use with a variety of mounts and
attachments.
This
camera also comes with a build-it-yourself cardboard headset you can
use with your smartphone to view the images and videos in VR - for a
more immersive view of the footage you've captured too.
Capture quality
Standard, timelapse, looping and superlapse video capture
7744 x 3872 still images (approx 23.9MP)
MP4 (Video: H.264/MPEG-4 AVC, Audio: AAC stereo)
2160/24p, 1920/24p, 960/30p, 640/120p, 320/240p video capture
The Nikon KeyMission
360 captures images up to a resolution of 7744 x 3872 (approx 23.9MP)
and video at a maximum of 2160p at 24 frames per second. The results are
fairly impressive and comparable with the other high-end cameras on
this list.
This
360 camera offers a number of capture modes including standard,
timelapse, looping and Superlapse video capture. It also supports a
self-timer which allows you to set up the camera ready for photographs
or video and capture footage just the way you want.
Built-in
Vibration Reduction technology uses information about the camera's
position in the world to counter camera shake and stabilise imagery.
This, in theory, should result in smooth video performance and clearer
photos. Our experience during testing shows video performance that isn't
quite as stable as we've seen with the Garmin VIRB, but this camera is a
lot more affordable.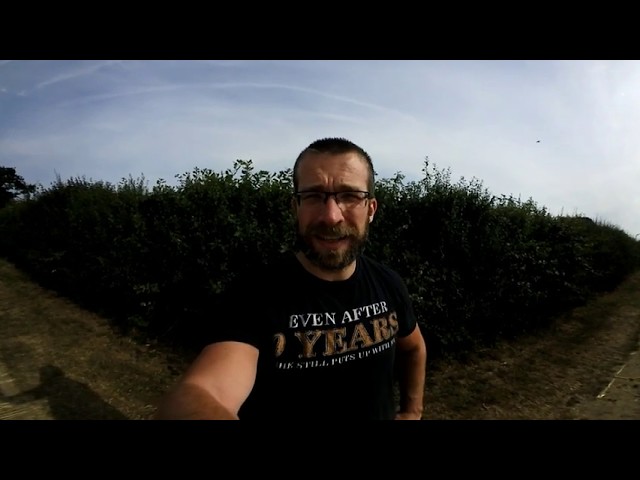 Like
the Garmin VIRB, this camera has separate buttons for video and photo
capture, making it easy to ensure you're pressing the right button for
the results you're after. The video button doubles as the power button,
which can make things a bit fiddly at times but otherwise it's fairly
user-friendly.
Video and image sharing
Automatic in-camera stitching
Self-timer capable
Auto-download options
A
highlight to the design of the Nikon KeyMission 360 is the power under
the hood. This camera supports automatic in-camera stitching that
processes photographs and videos seamlessly.
You
can then use the accompanying app to download captured footage directly
to your smartphone or plug it into a computer to access it from there.
The Nikon KeyMission 360 is compatible with the SnapBridge 360/170 app for iPhone and Android devices.
This app allows you to connect to the camera to access and tweak
settings, download images and work the camera as a remote control. We
found the app could be a bit flakey and not as user-friendly as others
we've tried, but automatic pairing via Wi-Fi and Bluetooth is a breeze.
There are some occasional connection issues, but nothing that prevents
you from using the camera manually.
We
had some issues with video capture during our testing. Some
experimenting combined with a thorough reading of the manual revealed
that you need a microSDXC memory card with an SD Speed Class rating of 6
or faster in order to properly capture video footage. Lesser rated
cards lead to recordings stopping unexpectedly.
The
app allows you to manually or automatically download images and videos
from the camera to your phone. They can then be shared from your phone
straight to social media. This sharing is fairly easy, but sometimes
held back by the problems with app connectivity.
Downloading
to your computer and sharing from there is also easy and the fact the
stitching is automatic really makes life a lot simpler. There's also a
desktop utility for basic editing and tweaks available to download for free.
The
Nikon KeyMission 360 is an interesting option for those looking for a
durable and rugged 360-degree camera. It's built to withstand all sorts
of punishment and weather situations making it perfect for extreme
sports in all manner of conditions. We found the video capture to not be
quite as good as other 360 cameras we've tested. Video stabilisation
isn't as good as the Garmin VIRB, for example, but the price of this
camera makes it far more accessible.
Conclusion
This
camera is also flexible and able to work with a wide variety of
accessories and mounts. Meaning you can put it to use in whatever
activity you're planning on. It takes pretty impressive 360-degree
imagery and is a really capable device for the money.
Pros:
Automatic in-camera stitching of photos and video
Ability to download images directly to your phone
Durable design that's dustproof, shockproof, weatherproof and waterproof too
Affordable price point compared to other 360 cameras on this list
Cons:
No live streaming capabilities
Smartphone app connection is flaky and unreliable
In-app settings are somewhat limited