06/18/16
1899 Sun 19 Jun

2016
LESSONS


Attachments area
from





INSIGHT-NET- Online A1 (Awakened One) Tipiṭaka Research & Practice University
in Visual Format (FOA1TRPUVF)
on Free Online Electronic Visual Communication Course
TO
https://awakenmediaprabandhak.wordpress.com/
sarvajanow@yahoo.co.in
Classical Buddhism (Teachings of the Awakened One with Awareness) belong to the world, and everyone have exclusive rights:JC

is the most Positive Energy of informative and research oriented site propagating the teachings of the Awakened One with Awareness the Buddha and on Techno-Politico-Socio
Transformation and Economic Emancipation Movement followed by millions
of people all over the world in 105 Classical languages.


Rendering exact translation as a lesson
of this University in one's mother tongue to this Google Translation and
propagation entitles to become a Stream Enterer (Sottapanna) and to attain Eternal Bliss as a Final Goal.
As
Dana Service on the occasion of Birthday and all auspicious occasions
of your family and friends Donate Breakfast/Meals to all the Monks of
Maha Bodhi Society
14, Kalidasa Raod, Gandhinagar, Bengaluru 560009 India
Tel: 09731635108, 0943158020

Email: info@mahabodhi.info
www.mahabodhi.info
Celebrating 60 years of Dhamma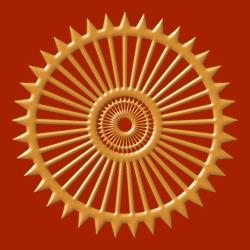 Service

Diamond Jubilee of

MAHA BODHI SOCIETY, BENGALURU
Inauguration of
BODHI RASHMI PAGODA
Please Watch:
https://www.youtube.com/watch?v=zTfQjs0bjow&hd=1
for


Bodhi Rasmi Pagoda 2016-4:27 Mins
Published on Jun 14, 2016
NAMO BUDDHAYA!
The preparation for the coming inauguration of new meditation pagoda BODHI RASMI POGADA is happening in full swing.
The pagoda will be inaugurated at 10 AM on Sunday 26th June 2016 at Mahabodhi Dhammaduta Vihara Narasipura, Bengaluru.
Here
we share a beautiful video of the enshrinement of holy relics of
Bhagavan Buddha and Arahant Bhantes and Holy Tipitaka in to the pagoda.
This program was conducted on the occasion of 95th Birth Anniversary of
Most Ven. Acharya Buddharakkhita Bada Bhanteji during Dhammapada
Festival in March 2016.
We heartily invite you and your friends to be part of this historic event on 26th June 2016.
With metta
Maha Bodhi Society, Bengaluru.INDIA
Built in memory of

Most Venerable Dr. Acharya Buddharakkhita
26-06-2016

At Mahabodhi Dhammaduta Vihara Narasipura Village, Bengaluru North

in Classical English,Kannada- ಶಾಸ್ತ್ರೀಯ ಕನ್ನಡ,Telugu-ప్రాచీన తెలుగు
Maha Bodhi Society
14, Kalidasa Raod, Gandhinagar, Bengaluru 560009 India
Tel: 09731635108, 0943158020

Email: info@mahabodhi.info
www.mahabodhi.info
We cordially invite you with family and friends

to attend the auspicious program of

Inauguration of the
BODHI RASHMI PAGODA
Awakenement of Holy Umbrella and
Diamond Bud on the top of the Pagoda

Inauguration of the

Bodhi Prakara
On Sunday, the 26th June 2016

At


Mahabodhi Dhammaduta Vihara
Village: Narasipura Matthahalli P.O
Alur Road, Dasanapura Hobli,
Bengaluru North -562123, India
In the sacred memory of


Most Venerable Dr. Acharya Buddharakkhita
Founder of Mahabodhi Organisations
Week-long Patthana Chanting
18-25 June 2016
Yours,

President, Monks and Members
Mahabodhi Organisations

1899 Sun 19 Jun

2016
LESSONS

from





INSIGHT-NET- Online A1 (Awakened One) Tipiṭaka Research & Practice University
in Visual Format (FOA1TRPUVF)
on Free Online Electronic Visual Communication Course
& Thaatha, Paati, Appa Amma, Sashi Mama, Shifu Mami, Harshith, Pranay & Vinay
Tipitaka
The Pali Canon


Sutta Piṭaka

— The basket of discourses —


[ sutta: discourse ]


http://liveanddare.com/types-of-meditation/

Master Your Mind, Master Your Life
Types of Meditation – An Overview of Meditation Techniques
in Classical English,
http://www.accesstoinsight.org/tipitaka/
The Tipitaka (Pali ti, "three," + pitaka,
"baskets"), or Pali canon, is the collection of primary Pali language
texts which form the doctrinal foundation of Theravada Buddhism. The
Tipitaka and the paracanonical Pali texts (commentaries, chronicles, etc.) together constitute the complete body of classical Theravada texts.
The Pali canon is a vast body of literature: in English translation
the texts add up to thousands of printed pages. Most (but not all) of
the Canon has already been published in English over the years. Although
only a small fraction of these texts are available on this website,
this collection can be a good place to start.
The three divisions of the Tipitaka are:
The collection of texts concerning the rules of conduct governing the daily affairs within the Sangha — the community of bhikkhus (ordained monks) and bhikkhunis
(ordained nuns). Far more than merely a list of rules, the Vinaya
Pitaka also includes the stories behind the origin of each rule,
providing a detailed account of the Buddha's solution to the question of
how to maintain communal harmony within a large and diverse spiritual
community.
The collection of suttas, or discourses, attributed to the Buddha
and a few of his closest disciples, containing all the central teachings
of Theravada Buddhism. (More than one thousand sutta translations are
available on this website.) The suttas are divided among five nikayas (collections):

The collection of texts in which the underlying doctrinal principles
presented in the Sutta Pitaka are reworked and reorganized into a
systematic framework that can be applied to an investigation into the
nature of mind and matter.
http://www.buddha-vacana.org/suttapitaka.html

Sutta Piṭaka

— The basket of discourses —


[ sutta: discourse ]
---

The Sutta Piṭaka contains the essence of the Buddha's teaching
regarding the Dhamma. It contains more than ten thousand suttas. It is
divided in five collections called Nikāyas.
---
[dīgha: long] The Dīgha Nikāya gathers 34 of the longest
discourses given by the Buddha. There are various hints that many of
them are late additions to the original corpus and of questionable
authenticity.
[majjhima: medium] The Majjhima Nikāya gathers 152 discourses of the Buddha of intermediate length, dealing with diverse matters.
[samyutta: group] The Saṃyutta Nikāya gathers the suttas
according to their subject in 56 sub-groups called saṃyuttas. It
contains more than three thousand discourses of variable length, but
generally relatively short.
[aṅg: factor | uttara: additionnal] The Aṅguttara
Nikāya is subdivized in eleven sub-groups called nipātas, each of them
gathering discourses consisting of enumerations of one additional factor
versus those of the precedent nipāta. It contains thousands of suttas
which are generally short.
[khuddha: short, small] The Khuddhaka Nikāya short texts
and is considered as been composed of two stratas: Dhammapada, Udāna,
Itivuttaka, Sutta Nipāta, Theragāthā-Therīgāthā and Jātaka form the
ancient strata, while other books are late additions and their
authenticity is more questionable.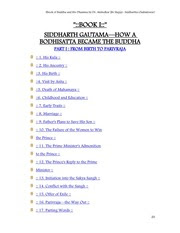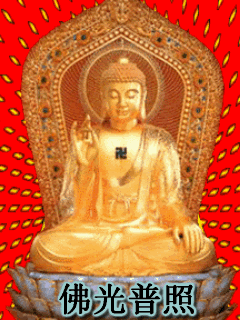 Leave a Reply