08/26/09
Filed under:
General
Posted by:
site admin
@ 1:10 am
VR1
(WE
ARE ONE)
+ve
NEWS
Wealth is lost nothing is lost
Health is lost something is lost
Precepts (Character, morality self-discipline) is lost
everything is lost
Statues installation: UP Govt files answer
Lucknow: The Uttar Pradesh Government today answered to the reply
sought by the Supreme Court over the installation of BSP poll symbol
and BSP supremo Mayawati. Now the apex court has asked the petitioner
to keep his/ her stand in the matter.

The UP Government has claimed that the state assembly has approved the
decision of installing statutes in the park; hence the Supreme Court
should not intervene in the case.

The Government said that the statues are being installed according to
the will of the Kanshiram where he desired that the statues of Mayawati
should be installed where his statues are installed.

It is learnt that a petition was filed in the Supreme Court stating
that the UP Government were misusing money of the people, installing
BJP's poll symbol and statues.
Gold Buddha statue recovered in Uttar Pradesh
Allahabad, Aug 23 (IANS) Police in Uttar Pradesh's Allahabad city
Sunday arrested two men and recovered a stolen 3.5-kg pure gold Buddha
statue from their possession.

Vishnu Kumar and Pappu were arrested in the Trans-Yamuna area and the 8-inch statue was recovered from them.
"During interrogation, they confessed they had stolen the statue
from an ancient temple in Kushinagar and the international value of the
statue is Rs.3.5 crore (Rs.35 million)," Deputy Inspector General of
Police (Allahabad range) Chandra Prakash told IANS over phone.
The information has been sent to the Kushinagar police and the
information is expected soon about from where the statue was stolen, he
added.
ONLINE TRAINING ON PRECEPTS
AND TRADE-63
Introduction
Buddhist economic ethics–that is Buddhist
values with regard to wealth and economic activity, either within society or
within the sangha–are often slighted in Western scholarly studies of Buddhism
even though they play a significant role as a part of overall Buddhist
philosophy regarding social life and even enlightenment itself. This is due
perhaps partly to an implicit interpretation of Buddhism among some scholars as
being a religion focused primarily upon an individualistic pursuit of
enlightenment rather than also a set of practiced social, political, and
economic ethics. To an extent of course this characterization holds true, for
at least a part of both the Theravāda and Mahāyāna
traditions. Yet it also ignores clearly developed Buddhist attitudes and values
toward economic activities, some explicitly expressed in the various Vinaya
codes for monks, others less explicitly, but still clearly enough, in various
stories and sūtras which
lay out general principles of behavior for lay believers.
This paper offers an outline of the
development of Buddhist economic ethics using examples from early Theravāda Buddhism in India and
the Mahāyāna tradition as it evolved
in India, medieval China, and medieval and early modern Japan, in order to
illustrate the pattern of continuities and transformations these ethics have
undergone. By "economic ethics" the paper refers to four broad areas:
(1) attitudes toward wealth, i.e., its accumulation, use, and
distribution, including the issues of economic justice and equality/
inequality; (2) attitudes toward charity, i.e., how and to whom wealth
should be given; (3) attitudes toward human labor and secular
occupations in society; and (4) actual economic activities of temples and
monasteries which reflect the lived-practice of Buddhist communities' economic
ethics. By "Buddhist," the paper refers to mainline Buddhist thinking
in history, as represented by the various Vinaya codes, sūtras and stories, and
economic activities of major sects, monasteries, and temples.
Since I will be dealing with a range of
"Buddhisms" as they developed in various times and places, I have
relied upon previous scholarly work to help define what the general trends of
the economic ethics of these various "Buddhisms" were. This approach
assumes that there was no one Buddhist economic ethic for all of these
different times and places, just as there is no one "Buddhism." Yet
through an examination of the economic ethics of these different
"Buddhisms," certain continuities and differences
between them become clear. Moreover, the presence of these continuities would
seem to allow us to make a number of tentative conclusions about what the
development and nature of these various Buddhist economic ethics as a whole
might share. These can be summarized as follows:
JIVAKA PRESUMPTIVE HEALTH
PROTECTION CENTRE
Medicinal and Aromatic Plants—Future Opportunities
During the past 30 years, medicinal
and aromatic plants in the United States
have moved from essentially unknown, minor agricultural plants into crops that
many farmers consider producing as an alternative to usual plantings of food
and feed crops. The attraction of medicinal and aromatic plants as worthy farm
crops has grown due to the demand created by consumer interest in these plants
for culinary, medicinal, and other anthro­pogenic applications. As racial
diversity in the US has
expanded, immigrants from countries in which herbs and herbal medicines are
commonly used to flavor foods and treat illnesses have introduced other
Americans to a diverse range of plant materials. Indeed, market trend surveys
indicate that mainstream American consumers will purchase 75% of the ethnic
foods during the next decade (Packaged Facts 2004a).
Farmers growing medicinal and aromatic
plants, similar to farmers in other agricultural systems, begin each growing
season with hopes for success in producing a crop that brought to market will
more than repay the expense of production. Yet, in addition to traditional
cropping uncertainties of weather, pests, and other limitations, the medicinal
and aromatic plant farmer also faces changes in consumer interest,
international trade policies, and other issues that control demand. For these
reasons, an understanding of future opportunities in the medicinal and aromatic
plant industry (WHO 2003) is necessary to enable US growers to envision and
invest in medicinal and aromatic crops that will meet market demands.
HISTORICAL PERSPECTIVES
The initiation of medicinal plant and
aromatic production, as a gathering or cultivation of plant materials, is lost
to history, but most likely began at or near the time of the first afflictions
and the recognition that smell­ing, chewing, and/or eating some plant materials
could provide relief from nausea, pain, and/or other infirmities. Those plants
containing the unique chemical profiles that offered pain relief, pleasant
aromas, and enhanced food flavors would soon be renowned and much valued by
early humans, leading to associations among certain aliments, plants, and
"feeling better" (Friedman and Adler 2001). Thus, these plants, now known as
medicinal and aromatic plants, and their extracts became the main source for
medicines, seasonings, colorings, preser­vatives, and other similar items used
in societies, sustained by myths and traditions developed to explain the almost
"magical" powers of selected species and to transmit the accumulation of
acquired knowledge about these species before the era of written records.
As continued experimentation with
various plant materials demonstrated the benefits of having specific plants
immediately available for use in medical treatment and food flavoring,
husbandry of these plant species undoubtedly started. Although the collection
of plants probably remained the primary source of medicinal and aromatic plant
material for a considerable period of time, cultivation and growth of plants
could be expected to have begun in small garden plots and botanical
collections. As human migration led to settlements within vari­ous ecosystems,
species having medicinal and aromatic properties specific to those regions
would be discovered, leading to a collection of plant materials with a variety
of uses and the initiation of trade among neighboring groups for unavailable
plant materials. This initial exchange of plant material could be expected to
spread and with the passage of time lead to overland and sea trade routes,
including those that brought plant materials from Asia to Europe to meet the demand for spices as seasonings
and medicines. New insights into the causal agents of poor health were acquired
during the 18th and 19th centuries (such as the germ theory developed by Pasteur and Koch,
use of disinfectants by Lister, plus the work of many others), but medicinal
and aromatic plants remained the primary pharmaceutical agents into the early
1900s (Craker et al. 2003; Craker and Gardner 2006).
Technological innovations and
political and social forces at the beginning of the 20th century caused
a rapid decline in the use of plants as medicine. The development of sulfa
drugs in the 1930s and the synthesis of organic chemicals in the 1940s produced
additional sources of medicines and, indeed, became the preferred method for
treatment in some countries, especially in America where the 1910 Flexner
Report (Flexner 1910) and the American Medical Association (AMA 2006) indicated
only trained physicians using allopathic medi­cines should be allowed to
practice medicine. At the same time, Western societies, modernized by the
industrial revolution, became infatuated with the social and economic changes
following World War I and identified with the new, synthesized chemical
medicines, requesting these in place of herbal medicines and resulting in a
decline in the use of plants and plant extracts until the mid-1970s (Craker et
al. 2003). By the middle of the 20th century, medical practitioners and
consumers were demanding scientific proof of efficacy through double-blind
clinical trials in contrast to the traditional use and mythological
associations linked with medicinal plant materials.
The decline in the use of herbal
preparations as medicines can be inferred from the decline in listing of
medicinal species in the U.S. Pharmacopeia and National Formulary (USP_NF
1916-2006) beginning in the early 1900s (Fig. 1). At the start of the 20th century, over
40 percent of the listed drugs (mostly crude extracts) originated from plants,
but by the mid-1970s, the listing of plant materials had decreased to less than
5% of the drugs in the Pharmacopeia and Formulary. In the
intervening years, the American concept of medicine had evolved from a
collection of plant materials with a mixture of constituents to a medication
containing only one chemical formula (Craker and Gardner 2005). The collection
of laws and regulations, originally developed to protect the public from
worthless health products, unsanitary manufacturing practices, and unscrupulous
sales people, limited access to phytomedicines and medical practitioners that
used phytomedicines (Masiello 1999).
With decreased demand, interest in the
cultivation of medicinal and aromatic plants in the United States
decreased. The US Department of Agriculture, which published cultivation guides
for farmers growing me­dicinal aromatic plants in the first half of the 1900s,
failed to provide such guides in the latter half of the 20th century
(Craker et al. 2003). A sampling of horticultural and garden books published in
the early 1900s fre­quently contains cultivation information on aromatic and
medicinal herbs, but similar books published as late as the 1980s mention these
crops only briefly and focus on culinary herbs. Few research articles on
medicinal and aromatic plants were published in the scientific literature from
the 1940s to the 1990s (Fig. 2). Most current research on medicinal and aromatic
plants is focused on the medicinal uses and botany (Fig. 3).
Plants in the US
Pharmacopeia and Formulary. Data collected by a count of plants and
plant extracts listed in the Pharmacopeia and Formulary for
publica­tion years listed.
Scientific publications on medicinal
plants and traditional medicine in Africa.
Data from other global regions and for individual plants demonstrate the same
trend. Publication count from those listed PubMed (a service of the US National
Library of Medicine), each point represents the sum of the previous five years.

Research
interests in medicinal plants for 2006. Data collected by a count of abstracts
published during 2006 in the Medicinal and Aromatic Plants Abstracts, National
Institute of Science Communication and Information Resources, The Council of
Scientific & Industrial Research, New Delhi, India (Doreswamy 2006).
Issues in New Crops and New Uses
The revival of US
interest in culinary herbs appears to have been initiated by a revival of
interest in natural products in the 1960s and driven by demographic changes in
the population. For example, the current popula­tion growth rate among those of
Asian and Hispanic origin, cultural groups acknowledged to enjoy more highly
spiced foods than cultures of European origin, leads all ethnic groups at 61%
(US Census 2000). In addition, an aging American population (US Census 2000)
began to use medicinal and aromatic plants to stimulate aging taste buds and,
for health reasons, as substitutes for salt. Changes to the family structure in
which both parents worked led to increased use of prepared foods that contained
more spices. As consumers became more worldly oriented and more knowledgeable
about health during the 1980s and 1990s, interest in organic and natural foods
placed new emphasis on the benefits of using medicinal and aromatic plants. The
expansion of this American interest in medicinal and aromatic plants was
promoted by observations on the use of alternative medicines in China
during President Nixon's visit to that country in 1972.
While conventional medicine
establishments generally disapproved of the revival of herbal medicines in the
US (Fontanarosa and Lundberg 1998; Browne 2005; Winnick 2005), consumers began
to explore and use these products as evidenced by the enhanced market for
dietary supplements during the 1990s, increasing in sales from less than $1
billion annually in the early 1990s to over $4 billion annually by the end of
the 1990s (Huff 2006). With passage of the Dietary Supplement Health and
Education Act (DSHEA) in 1994 (FDA 1994), sales of supplements, many of which
are herbal products, continued to increase despite warnings about lack of
efficacy and health hazards from the conventional medicine system in the US
(Cupp 1999; Klepser and Klepser 1999) (Fig. 4). The aging population of the US, which
needed increased health care, discovered herbal medi­cines were an attractive
alternative to the comparatively high costs of conventional medicines (Powers
2006). The use of herbal medicines in the US by
regular and occasional users increased from 2% of the population in 1990 to 37%
in 2000 (WWF 2000). Yet, this development in the US is in
contrast to most other countries that had remained committed to the use of
herbal medicines as part of their health care system throughout the 20th century. In
most areas of Africa and Asia,
the traditional healer continues to be the main source of medical care into the
21st
century,
primarily due to the relatively high cost of conventional medicines and the lack
of trained physicians (Craker and Gardner 2006).
Globalization of trade in the late
1990s and early 2000s and concerns about the conservation of genetic diversity
affected the cultivation of medicinal plants. As demand for medicinal species
in the US grew,
domes­tic and foreign growers increased production. Quality standards for plant
material increased with processors and consumers demanding clean (no physical
nor chemical contaminating adulterants), consistent (dependable production and
bioactive levels), and certifiable (identifiable for origin and history)
products (Khan et al. 2005). Research on medicinal and aromatic plants
initiated in the 1980s and 1990s led to improvements in production of plants,
extraction of bioactive constituents, and confirmation of medicinal
applications (Khan et al. 2005).
Yet, some aspects of globalization
have been challenging for medicinal and aromatic plant growers. For example,
the production of cultivated American ginseng (Panax quinquefolium L.,
Araliaceae) shifted from the traditional center in Wisconsin to Canada (Table 1) during the 1990s and then
more recently to China.
Table 1.Production of
American ginseng.
American ginseng production
(t)z

Location

1985

1992

2004

Wisconsin

471

523

227

Canada

93

303

1012

China

-?-

272

+++
Growers in each production center have
been affected by changing market places. Where possible, American growers of
ginseng have increased planting of wild-simulated versus field grown ginseng in
efforts to maintain market share. Similar production shifts, yet unidentified,
may also be occurring or occur for other medicinal and aromatic species (Harry
2001).
In the late 1990s and early 2000s, a
number of new medicinal and aromatic plant products were brought to market.
Cosmeceuticals, products formulated to improve the health and appearance of the
skin, contain a number of plant extracts, such as Aloe barbadensis, Celastrus
paniculatus, Cyperus scariosus, Ginkgo biloba, Myrtus
caryophyllus, and Withania somnifera, to protect and rejuvenate the
upper layers of the skin (L'amar 2006). In 2004, US
consumers, primarily aging "baby boomers" wanting to avoid visual signs of aging,
spent $12.4 bil­lion on cosmeceuticals (Barret 2005). The development,
marketing, and sales of health and wellness drinks (herbal and flavored teas
and energy, health, functional, and sports drinks that often contain herbal
extracts) exploded after 2000, with total sales of several billion dollars in
current markets (Table 2) (Lipson 2005; Mintel 2004a,b; Packaged Facts 2006).
Consumer choice spending has lead to interest in natural products for animal
care (feed and non-feed items labeled natural or organic), significantly
increasing demand during the past few years (doubling from 2002 to 2003 and
expected to reach $1 billion in the US by 2009) (Packaged Facts 2004b) for
medicinal and aromatic plants with a history of traditional veterinary use (Pieroni et al.
2006).
THE FUTURE
Demand for medicinal and aromatic
plants in the United States
can be expected to continue for the near future, although the rate of sale
increases for many medicinal and aromatic plant materials will probably not
match those exhibited during the 1990s. While the global market for medicinal
and aromatic plants can be estimated to be at least US$60 billion (WHO 2003),
exact market figures and market trends are difficult to ascertain due to herbal
materials in a vast array of products being sold through a large number
outlets, ranging from entrepreneurial sales over the internet to mass market
sales in supermarkets and natural product stores. In addition, favorable or
unfavorable press reports (Brody 1990, 1999; Browne 2005) about a particular
herbal product can cause an especially strong growth or a rapid decline in
interest and sales (Blumenthal et al. 2006; Craker and Gardner 2006; Google
Trends 2006). Most market surveys (Blumenthal et al. 2006; Dainells 2006;
Hartman Group 2006) suggest only a slow increase in overall demand within the US for
medicinal and aromatic plants, as compared with the 1990s. If the US
medical establishment fully accepts medicinal plants as part of the mainstream,
conventional medicine system (following the example of Asian and European
countries), sales could be expected to significantly increase.
Over the near future, continued
globalization of trade and markets along with ethnobotanical exploration can be
projected to continue to bring awareness of new plant materials for home,
medicinal, and industrial use. In addition to the demand created by population
diversi­fication and aging in the past 10 years (US Census 2000), the
relatively high cost of medical treatment in the US (Craker and Gardner 2006; Schippman
et al. 2005, 2006) and the failure of conventional medicine to have satisfac­tory
treatments for aliments, such as those associated with obesity and diabetes
(Table 3), and currently incur­able afflictions, such as HIV, cardiovascular
and degen­erative diseases, and cancer (JTF 1999), have stimulated many
healthcare consumers to test alternative medicines (AARP 2007). The search for
disease cures have led to global cooperation and extended research efforts on
the cultivation and improvement of such medicinal plants as Artemisia annua for
treatment of malaria, a disease estimated to be responsible for almost three
million deaths annually over the past 30 years, as synthesized drugs became
ineffective (IPBO 2004; WAC 2004).
Table 2. Health and
wellness market drinks.
| | |
| --- | --- |
| Drink | Estimated market (million $) |
| Specialty & herbal teasz | 500 |
| Energy drinksy | 1400 |
| Sports drinksy | 2721 |
| Functional drinksx | 8749 |
Issues in New Crops and New Uses Rising incomes
in Asia are
likely to raise the standard of living of residents, increasing demand for
additional medicinal and aromatic plants as the population suffers from the
detrimental affects of ageing, weight gain, and other medical problems that
frequently occur in relatively prosperous societies (Gross 2001).
The increase in demand for medicinal
and aromatic plants will likely continue to threaten native species in some
localities. Price differentials between wild and cultivated plants due to a
desire for the wild material or the unavailability of cultivated plant material
currently encourages unsustainable collection practices in some localities (WWF
2000), especially in economically depressed regions that lack resources for
protecting plants (ITC 2001; Schippman et al. 2002). The financial gains for
collecting and selling local plant material frequently represent a substantial
share of total income for many medicinal plant collectors in several regions
(Schippmann et al. 2005, 2006). As an example, collection of wild ginseng
(valued at $2 million in 2002) (DOF 2006) in West Virginia can be a
considerable addition to budgets of poor families (average income <$10,000)
(CBPP 1997). In many instances, a switch to cultivated species to protect
endangered species is problematic due to the difficulty of duplicating the
demanding environmental requirements of wild species in cultivated fields and
due to the socio-economic impact on native cultures and local economies when
cultivation is shifted to large scale production outside the local area (Leaky
and Izac 1997; Schippman et al. 2002, 2005; Shanley and Luz 2003). In addition,
consumer concern about protection of endangered species and prosperity of
native cultures (FAO 2003), factors that may decrease or increase medicinal plant
purchases, respectively, will most likely require labeling to demonstrate
ethical wild-crafting practices and fair-trade (a guarantee of a just financial
return to the grower/collector for work).
Continued loss of habitat in the
future due to deforestation and development can be expected to remain a threat
to many medicinal and aromatic species in both developing and industrialized
countries (Shanley and Luz 2003; Schippmann et al. 2006). In tropical areas
such as Amazonia and West Africa, changing land use from logging, ranching,
mining, and agriculture have been identified as responsible for changes in
forest com­position and structure (Uhl et al. 1991; Ekpe 2002), frequently
creating environments unfavorable to growing native medicinal and aromatic species
and posing detrimental affects on traditional healthcare (Ekpe 2002). Such
destruction in natural ecosystems and the resultant losses in medicinal and
aromatic species will surely increase pressure for preservation and cultivation
of endangered flora. Shortages of available plant material for collection in
the natural environment of medicinal and aromatic plants can be expected to
lead to increased costs for plant material until cultivation systems are in
place. Estimates suggest the number of plant species used for medicinal
purposes, most of which are collected in the wild, is more than 52,000
(Schippman et al. 2002).
In current medicinal and aromatic
plant markets, the demand is for organic products, matching the de­mand for
organic foods (Adam 2005; Hartman Group 2006) and suggesting that the current
base of customers for medicinal and aromatic plant products are the same as
those that purchase organic foods (Hartman 2007). As consumers become more
involved with health and wellness, future medicinal and aromatic plant markets
will need to respond to this demand by consumers for quality plant material,
most likely produced sustainably and uncontaminated by either synthetic
pesticides or by genetically modified organisms. As processors ex­pand to meet
the demand, global trade in medicinal and aromatic plants can be expected to
increase to make available certified organic plant material needed for the
development of new formulations and marketing concepts (Hartman Group 2006).
Sales of medicinal and aromatic plant combinations and herbal drinks have
posted market gains during the past few years (Ferrier et al. 2006) by offering
the liveliness and vigor of youth, the promise of vitality, simplicity, and
sustainability that can be expected to remain key market concepts in selling
medicinal and aromatic products in the near future (Hartman Group 2006).
Sales of organic non-food items (most
of which could be expected to contain medicinal and aromatic plants or plant
extracts) increased by one-third in 2005 (OTA 2006). The Nutrition Business
Journal (NBJ 2007)
Table 3. Obesity and
diabetes in the US.
| | |
| --- | --- |
| Designation z | Population(%) |
| Overweight (BMI ≥ 25) | 64.5 |
| Obese (BMI ≥ 30) | 30.5 |
| Severely obese (BMI ≥ 35) | 4.7 |
| Diabetes | 7.0 |
reports that sales of dietary
supplements, many of which contain medicinal plant materials, increased by 4.5%
to $21.3 billion in 2005, with sales forecast to grow 1.5 to 2 times faster
than that of the US economy. Aromatic plants and plant extracts have become
extensively used in flower arrangements and the fragrance industry. The market
for candles and home fragrances, many of which contain aromatic plants and/or
plant extracts, reached an estimated $8.4 billion in 2004, a growth of 14.1%
from 2003 (Unity Marketing Inc. 2005) that has primar­ily been attributed to
the popularity of aromatherapy and scented candles (Elson 1999). Incense, made
from a combination of fragrant gums, resins, woods, and spices has an estimated
market value in the US
of $17 million ($12.4 million imports and $4.6 million exports) (Knight et al.
2001).
In addition to a role in traditional
and in alternative and complimentary medicinal markets, medicinal and aromatic
plants maintain a role in both over-the-counter and prescription drugs in
conventional medicine. An estimated 25% of conventional pharmaceuticals are
derived from medicinal plants (Farnsworth 1988). The estimated global market
for plant derived drugs was $18 billion in 2005, and is expected to grow to $26
billion by 2011, with the US and Canada
accounting for over 50% of the market demand (Pharmalicensing.com 2006). Of new
interest is the development of plant-made pharmaceuticals where plants are
being used to produce thera­peutic proteins that could be used for treating
diseases. Currently, common food and feed crops, such as alfalfa, barley, corn,
rice, and safflower, are being used to produce the proteins that are
subsequently isolated from the plant material. Although these products are not
yet on the market, they may offer medicinal plant growers and processors new
business opportunities in the future.
In the past few years, the
conventional American medical system seems to have done a "U-turn" and ac­cepted
the use of medicinal and aromatic by patients (Fig. 5). Yet, inconsistent
product quality, due to genotypic variation within plant species and
environmental effects that alter constituent levels and distribution, remains
an issue for use of medicinal and aromatic plants that growers and processors
can expect to continue to face in the immediate future. Quality is frequently
judged by color, aroma, taste, and effect of the plant material, although the
levels of various chemical constituents may also be analyzed in facilities
equipped or associated with testing laboratories. Additional terminology
associated with medicinal and aromatic plants and used in an effort to judge
quality aspects include organic (produced according to certification rules,
including without the use of synthetic fertilizers or pesticides) (USDA 2006),
wild-crafted (collected in the natural environment with no human contact before
harvest), woods-grown (planted in natural environment with protection and care
during growth), and commercial (produced with the possible use of synthetic
pesticides or fertilizers).
Good agricultural practices, good
collection practices, and good manufacturing practices have been de­veloped to
help growers, collectors, and processors to produce and maintain quality
medicinal and aromatic plant material (WHO 2003; FDA 2004). In the future,
these guidelines are likely to be revised and become one
The American
"U-turn" in acceptance of alternative medicines. Modified from Winnick (2005).
Issues in New Crops and New Uses of the standards
for quality determination. Such practices should help reduce adulterants and
contaminants in medicinal and aromatic plant materials brought to market. Such
adulterants (extraneous and fake plant material, counterfeit goods, synthetic
drugs, and other non-specific materials) are frequently a health hazard and
deprive the consumer of expected benefits.
CONCLUSIONS
In the US
and world markets, demand for medicinal and aromatic plant materials should
continue into the foreseeable future. Current and future changes in
demographics (age, culture, incomes, diseases, and other hu­man conditions),
public concern about healthcare (availability and expense), and familiarity
with plant products (press reports, advertising, education, and scientific
reports) can be expected to bring more people to sample and commit to using
medicinal and/or aromatic plant products. Acceptance of alternative and
complimentary medicines by conventional medical systems should reassure those
questioning the use of plant materials, enhance demand for medicinal plants,
and help establish a partnership between conventional and alternative medicines
for the benefit of the consumer. Rising consumer interest in use of natural and
organic products (Kroner 2006), in protection of endangered species (FAO 2003),
in intellectual property rights of native populations (Persley 1997), and in
the value of fair trade (Brinckmann 2004) will most likely continue, bringing a
need to validate plant sources and, in some instances, a preference for cultivation.

Consumer interest in medicinal and
aromatic plants is continuing to change in the US
marketplace as seg­ments of society become more aware of the possible
relationships between good health and healthy living. The concept of Western
medicine in which health is defined as absence of disease and all body systems
functioning is moderating and becoming more adjusted to the idea of balance
within the mind and body. As consumers become better informed about issues of
food, health, and nutrition, they also become better informed about the
controversies and concerns surrounding conventional medicine, genetically
engineered products, pesticide contaminated food, and similar issues. Such
consumers frequently choose or move towards a life-style likely to bring them
into organic and natural food stores and to try alternative medical care (SPINS
2004). Increased use of medicinal and aromatic plants will most likely be part
of this evolution.
A BLUE PRINT FOR LIFE
ON
EMOTIONS
THE WAY
OF LOVE AND AFFECTION
With love there is strength; there is hope; this is because love is
an instinct, common to human beings and all living things. Buddhism will not
deny or object to love as long as it is in accord with the law, morality, and
the laws of human ethics. Buddhism neither approves nor rejects love.But
advocates Middle Way
for life. Love must be purified with compassion and guided by wisdom. Love must
be accomplished with good and beauty; love must be supported by moral
behaviour. Life stems from love; we must add dignity and beauty to life with
pure, true, and compassionate love.
FREE
ONLINE
TRAINING ON BUDDHISM FOR CHILDREN -23
King
Banyan Deer
[ Teaching]
Out of compassion and gratitude, King Banyan Deer the
Enlightenment Being, taught the King of Benares.
He advised him to climb the five steps of training, in order to purify his
mind. He described them by saying, "It will benefit you, if you give up
the five unwholesome actions. These are:
destroying life, for this is not compassion;

taking what is not given, for this is not generosity;

doing wrong in sexual ways, for this is not loving-kindness;

speaking falsely, for this is not Truth;

losing your mind from alcohol, for this leads to falling down the
first four steps."
He further advised him to do wholesome actions, that would
bring happiness in this life and beyond. Then King Banyan Deer, and both herds,
returned to the forest.
In the fullness of time, the pregnant doe, who had stayed
with Banyan's herd, gave birth to a fawn. He was as beautiful as a lotus
blossom given as an offering to the gods.
When the fawn had grown into a young buck deer, he began
playing with Branch Deer's herd. Seeing this, his mother said to him,
"Better to die after a short life with the great compassionate one, than
to live a long life with an ordinary one." Afterwards, her son lived happily
in the herd of King Banyan Deer.
The only ones left unhappy were the farmers and villagers
of the kingdom. For, given total immunity by the king, the deer began to
fearlessly eat the people's crops. They even grazed in the vegetable gardens
inside the villages and the city of Benares
itself!
So the people complained to the king, and asked permission
to kill at least some of the deer as a warning. But the king said, "I
myself promised complete immunity to King Banyan Deer. I would give up the
kingship before I would break my word to him. No one may harm a deer!"
When King Banyan Deer heard of this, he said to all the
deer, "You should not eat the crops that belong to others." And he
sent a message to the people. Instead of making fences, he asked them to tie up
bunches of leaves as boundaries around their fields. This began the Indian
custom of marking fields with tied up leaves, which have protected them from
deer to this very day.
Both King Banyan Deer and the King of Benares
lived out their lives in peace, died, and were reborn as they deserved.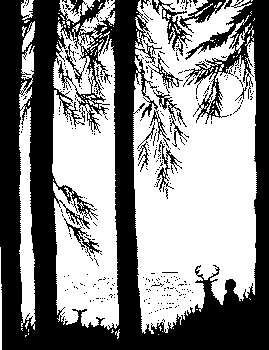 The moral is: Wherever it is found,
compassion is a sign of greatness.
A Permanent Online
International Seminar on Buddhism and Buddhist Heritage of Jambudvipa that is
the Great Prabuddha Bharath
Let Your Aim be Nibbana
by Ajahn Chah
A
talk Ajahn Chah gave while visiting the U.S. in 1979
August 7, 2005


At this time please determine your minds to listen to the dhamma. Today is the
traditional day of dhammasavana. It is the appropriate time for us, the
host of Buddhists, to study the dhamma in order to increase our mindfulness and
wisdom. Giving and receiving the teachings is something we have been doing for
a long time. The activities we usually perform on this day, chanting homage to
the Buddha, taking moral precepts, meditating and listening to teachings,
should be understood as methods and principles for spiritual development. They
are not anything more than this.
When it comes to taking precepts, for example, a monk will proclaim the
precepts and the laypeople will vow to undertake them. Don't misunderstand what
is going on. The truth is that morality is not something that can be given. It
can't really be requested or received from someone. We can't give it to someone
else. In our vernacular, we hear people say 'The venerable monk gave the
precepts" and "We received the precepts." We talk like this here
in the countryside, and it has become our habitual way of understanding. If we
think like that, that we come to receive precepts from the monks on the lunar
observance days, and that if the monks won't give precepts then we don't have
morality, that is only a tradition of delusion that we have inherited from our
ancestors. Thinking in this way means that we give up our own responsibility,
not having firm trust and conviction in ourselves. Then it gets passed down to
the next generation, and they too come to 'receive' precepts from the monks.
And the monks come to believe that they are the ones who 'give' the precepts to
the laity. In fact, morality and precepts are not like that. They are not
something to be 'given' or 'received'; but on ceremonial occasions of making
merit and the like, we use this as a ritual form according to tradition and
employ the terminology.
In truth, morality resides with the intentions of people. If you have the
conscious determination to refrain from harmful activities and wrongdoing by
way of body and speech, then morality is coming about within you. You should
know it within yourself. It is OK to take the vows with another person. You can
recollect the precepts by yourself. If you don't know what they are, then you
can request them from someone else. It is not something very complicated or
distant. So really, whenever we wish to 'receive' morality and dhamma, we have
them right then. It is just like the air that surrounds us everywhere. Whenever
we breathe, we take it in. All manner of good and evil are like that. If we
wish to do good, we can do it anywhere, at any time. We can do it alone, or together
with others. Evil is the same. We can do it with a large or small group, in a
hidden or open place. It is like that.
These are things that are already in existence. But as to morality, it is
something that we should consider normal for all humans to practice. A person
who has no morality is no different from an animal. If you decide to live like
an animal, then of course there is no good or evil for you, because an animal
doesn't have any knowledge of such things. A cat catches mice, but we don't say
it is doing evil, because it has no concepts or knowledge of good or bad, right
or wrong. These beings are outside the circle of human beings. It is the animal
realm. The Buddha pointed out that this group is just living according to the
animal kind of kamma. Those who understand right and wrong, good and evil, are
humans. The Buddha taught his Dhamma for humans. If we people don't have
morality and knowledge of these things, then we are not much different from
animals, so it is appropriate that we study and learn about them and make
ourselves able. This is taking advantage of the precious accomplishment of
human existence and bringing it to fulfillment.
The profound dhamma is the teaching that morality is necessary. Then when there
is morality, one should pursue dhamma. Morality means the precepts as to what
is forbidden and what is permissible. Dhamma refers to nature and to humans
knowing about nature, how things exist according to nature. Nature is something
we do not compose. It exists as it is, according to its conditions. A simple
example is animals. A certain species, such as peacocks, is born with its
various patterns and colors. They were not created like that by humans or
modified by humans; they are just born that way, according to nature. This is a
little example of how it is in nature.
All things of nature are existing in the world - this is still talking about
understanding from a worldly viewpoint. The Buddha taught Dhamma for us to know
nature, to let go of it and let it exist according to its conditions. This is
talking about the external material world. As to namadhamma, meaning the
mind, it can not be left to follow its own conditions. It has to be trained. In
the end, we can say that mind is the teacher of body and speech, so it needs to
be well trained. Letting it go according to its natural urges just makes one an
animal. It has to be instructed and trained. It should come to know nature, but
should not merely be left to follow nature.
We are born into this world, and all of us will naturally have the afflictions
of desire, anger and delusion. Desire makes us crave after various things and
causes the mind to be in a state of imbalance and turmoil. Nature is like that.
It will just not do to let the mind go after these impulses of craving. It only
leads to heat and distress. It is better to train in dhamma, in truth.
When aversion occurs in us, we want to express anger towards people, and it may
get to the point of physically attacking or even killing people. But we don't
just 'let it go' according to its nature. We know the nature of what is
occurring there. We see it for what it is, and teach the mind about it. This is
studying dhamma.
Delusion is the same. When it happens, we are confused about things. If we just
leave it as it is, then we remain in ignorance. So the Buddha told us to know
nature, to teach nature, to train and adjust nature, to know exactly what
nature is.
For example, people are born with physical form and mind. In the beginning
these things are born, in the middle they change, and in the end they are
extinguished. This is ordinary; this is their nature. We cannot do much to
alter these facts. We train our minds as we can, and when the time comes we
have to let go of it all. It is beyond the ability of humans to change this or
get beyond it. The dhamma that the Buddha taught is something to be applied
while we are here, for making actions, words and thoughts correct and proper.
It means he was teaching the minds of people so that they would not be deluded
in regard to nature, to conventional reality and supposition. The Teacher
instructed us to see the world. His dhamma was a teaching that is above and
beyond the world. We are in the world. We were born into this world; he taught
us to transcend the world, not being prisoner to worldy ways and habits.
It is like a diamond that falls into a muddy pit. No matter how much dirt and
filth covers it, that does not destroy the radiance, the hues, and the worth of
it. Even though the mud is stuck to it, the diamond does not lose anything, but
is just as it originally was. There are two separate things.
So the Buddha taught to be above the world, which means knowing the world
clearly. By 'the world' he did not mean so much the earth and sky and elements,
but rather to the mind, the wheel of samsara within the hearts of people. He
meant this wheel, this world. This is the world that the Buddha knew clearly;
when we talk about knowing the world clearly, we are talking about these
things. If it were otherwise, then the Buddha would have had to be flying
everywhere to 'know the world clearly.' It is not like that. It is a single
point. All dhammas come down to one single point. Like people, which means men
and women. If we observe one man and one woman, we know the nature of all people
in the universe. They are not that different.
Or learning about heat. If we just know this one point, the quality of being
hot, then it does not matter what the source or cause of the heat is, the
condition of 'hot' is such. Knowing this one point, then wherever there may be
hotness in the universe, it is like this. So the Buddha knew a single point,
and his knowledge encompassed the world. Knowing coldness to be a certain way,
when he encountered coldness anywhere in the world, he already knew it. He taught
a single point, for beings living in the world to know the world, to know the
nature of the world…. Just like knowing people…. Knowing men and women, knowing
the manner of existence of beings in the world. His knowledge was such. Knowing
one point, he knew all things.
The dhamma which the Teacher expounded was for going beyond suffering. What is
this 'going beyond suffering' all about? What should we do to 'escape from
suffering'? It is necessary for us to do some study; we need to come and study
the thinking and feeling in our hearts. Just that. It is something we are
presently unable to change. If we can change it, we can be free of all
suffering and unsatisfactoriness in life, just by changing this one point, our
habitual world view, our way of thinking and feeling. If we come to have a new
sense of things, a new understanding, then we transcend the old perceptions and
understanding.
The authentic dhamma of the Buddha is not something pointing far away. It
teaches self. It teaches about atta, self, and that things are not
really self. That is all. All the teachings that the Buddha gave were pointing
out that 'this is not a self, this does not belong to a self, there is no such
thing as ourselves or others.' Here, when we contact this, we can't really read
it, we don't 'translate' the Dhamma correctly. We still think 'this is me, this
is mine.' We attach to things and invest them with meaning. When we do this, we
can't yet disentangle from them; the involvement deepens and the mess gets
worse and worse. If we know that there is no self, that body and mind are
really anatta, as the Buddha taught, then when we keep on investigating,
eventually we will come to realization of the actual condition of selflessness.
We will genuinely realize that there is no self or other. Pleasure is merely
pleasure. Feeling is merely feeling. Memory is merely memory. Thinking is
merely thinking. They are all things which are 'merely' that. Happiness is
merely happiness; suffering is merely suffering. Good is merely good, evil is
merely evil. Everything exists 'merely' thus. There is no real happiness or
real suffering. There are just the merely existing conditions. Merely happy,
merely suffering, merely hot, merely cold, merely a being or a person. You
should keep looking to see that things are only so much. Only earth, only
water, only fire, only air. We should keep on 'reading' these things and
investigating this point. Eventually our perception will change; we will have a
different feeling about things. The tight conviction that there is self and
things belonging to self will gradually come undone. When this sense of things
is removed, then the opposite perception will keep increasing steadily.
When the realization of anatta comes to full measure, then we will be able to relate
to the things of this world, to our most cherished possessions and
involvements, to friends and relations, to wealth, accomplishments and status,
just the same as we do to our clothes. When shirts and pants are new, we wear
them; they get dirty and we wash them; after some time they are worn out and we
discard them. There is nothing out of the ordinary there; we are constantly
getting rid of the old things and starting to use new garments.
So we will have the exact same feeling about our existence in this world. We
will not cry or moan over things. We will not be tormented or burdened by them.
They remain the same things as they were before, but our feeling and
understanding of them has changed. Now our knowledge will be exalted and we
will see truth. We will have attained supreme vision and authentic knowledge of
that Dhamma which we ought to know. The Buddha taught the Dhamma that we ought
to know and to see. Where is the dhamma that we ought to know and see? It is
right here within us, this body and mind. We have it already; we should come to
know and see it.
For example, all of us have been born into this human realm. Whatever we gained
by that we are going to lose. We have seen people born and seen them die. We
just see this happening, but don't really see clearly. When there is a birth,
we rejoice over it; when someone dies, we cry for them. There is no end. It
goes on in this way, and there is no end to our foolishness. Seeing birth, we
are foolhardy; seeing death, we are foolhardy. There is only this unending
foolishness. Let's take a look at all this. These things are natural
occurrences. Contemplate the dhamma here, the dhamma we should know and see.
This dhamma is existing right now. Make up your minds about this. Exert
restraint and self-control. Now we are amidst the things of this life. We
shouldn't have fears of death. We should fear the lower realms. Don't fear
dying; rather, be afraid of falling into hell. You should be afraid of doing
wrong while you still have life. These are old things we are dealing with, not
new things. Some people are alive but don't know themselves at all. They think,
what's the big deal about what I do now, I can't know what is going to happen
when I die. They don't think about the new seeds they are creating for the
future. They only see the old fruit. They fixate on present experience, not
realizing that if there is fruit, it must have come from a seed, and that
within the fruit we have now are the seeds of future fruit. These seeds are
just waiting to be planted. Actions born of ignorance continue the chain in
this way, but when you are eating the fruit, you don't think about all the
implications.
Wherever the mind has a lot of attachment, just there will we experience
intense suffering, intense grief, intense difficulty. The place we experience
the most problems is the place we have the most attraction, longing and
concern. Please try to resolve this. Now, while you still have life and breath,
keep on looking at it and reading it, until you are able to 'translate' it and
solve the problem.
Whatever we are experiencing as part of our lives now, one day we will be
parted from it. So don't just pass the time. Practice spiritual cultivation.
Take this parting, this separation and loss, as your object of contemplation
right now, in the present, until you are clever and skilled in it, until you
can see that it is ordinary and natural. When there is anxiety and regret over
it, have the wisdom to recognize the limits of this anxiety and regret, knowing
what they are according to the truth. If you can consider things in this way,
then wisdom will arise. But people generally do not want to investigate.
Whenever suffering occurs, wisdom can arise there, if we investigate.
Wherever pleasant or unpleasant experience happens, wisdom can arise there. If
we know happiness and suffering for what they really are, then we know the
Dhamma. If we know the Dhamma, we know the world clearly; if we know the world
clearly, we know the Dhamma.
Actually, for most of us, if something is displeasing, we don't really want to
know about it. We get caught up in the aversion to it. If we dislike someone,
we don't want to look at their face or get anywhere near them. This is the mark
of a foolish, unskillful person; this is not the way of a good person. If we
like someone, then of course we want to be close to them, we make every effort
to be with them, taking delight in their company. This is foolishness, also.
They are actually the same, like the palm and back of the hand. When we turn
the hand up and see the palm, the back of the hand is hidden from sight. When
we turn it over, then the palm is not seen. Pleasure hides pain, and pain hides
pleasure from our sight. Wrong covers up right, right covers wrong. Just
looking at one side, our knowledge is not complete.
Let's do things completely, while we still have life. Keep on looking at
things, separating truth from falsehood, noting how things really are, getting
to the end of it, reaching peace. When the time comes, we will be able to cut
through and let go completely. Now we have to firmly attempt to separate
things, keep trying to cut through.
The Buddha taught about hair, nails, skin and teeth. He taught us to separate
here. A person who does not know about separating only knows about holding them
to himself. Now while we have not yet parted from these things, we should be
skillful in meditating on them. We have not yet left this world, so we should
be careful. We should contemplate a lot, make copious charitable offerings,
recite the scriptures a lot, cultivate a lot: cultivate impermanence, cultivate
unsatisfactoriness, cultivate selflessness. Even if the mind does not want to
listen, we should keep on breaking things up like this and come to know in the
present. This can most definitely be done, people. One can realize knowledge
that transcends the world. We are stuck in the world. This is a way to
'destroy' the world, through contemplating and seeing beyond the world so that
we can transcend the world in our being. Even while we are living in this
world, our view can be above the world.
In a worldly existence, one creates both good and evil. Now we try to practice
virtue and give up evil. When good results come, then you should not be 'under'
that good, but be able to transcend it. If you do not transcend it, then you
become a slave to virtue and to your concepts of what is good. It puts you in
difficulty, and there will not be an end to your tears. It does not matter how
much good you have practiced, if you are attached to it, then you are still not
free, and there will be no end to tears. But one who transcends good as well as
evil has no more tears to shed. They have dried up. There can be an end. We
should learn to use virtue, not to be used by virtue.
To put the teaching of the Buddha in a nutshell, the point is to transform
one's view. It is possible to change it. It only requires looking at things,
and then it happens. Having been born, we will experience aging, illness, death
and separation. These things are right here. We don't need to look up at the
sky or down at the earth. The dhamma that we need to see and to know can be
seen right here within us, every moment of every day. When there is a birth, we
are filled with joy. When there is a death, we grieve. That's how we spend our
lives. These are the things we need to know about, but we still have not really
looked into them and seen the truth. We are stuck deep in this ignorance. We
ask, when will we get the chance to see the Dhamma; but it is right here to be
seen in the present..
This is the Dhamma we should learn about and see. This is what the Buddha
taught about. He did not teach about gods and demons and nagas, protective
deities, jealous demigods, nature spirits and the like. He taught the things
that one should know and see. These are truths that we really should be able to
realize. External phenomena are like this, exhibiting the three
characteristics. Internal phenomena, i.e., this body, are like this, too. The
truth can be seen in the hair, nails, skin and teeth. Previously they
flourished. Now they are diminished. The hair thins and becomes gray. It is
like this. Do you see? Or will you say it is something you can't see? You
certainly should be able to see with a little investigation.
If we really take an interest in all of this and contemplate seriously, we can
gain genuine knowledge. If this were something that could not be done, the
Buddha would not have bothered to talk about it. How many tens and hundreds of
thousands of his followers have come to realization? If one is really keen on
looking at things, one can come to know. The Dhamma is like that.
We are living in this world. The Buddha wanted us to know the world. Living in
the world, we gain our knowledge from the world. The Buddha is said to be Lokavidu,
one who knows the world clearly. It means living in the world but not being
stuck in the ways of the world; living among attraction and aversion, but not
stuck in attraction and aversion. This can be spoken about and explained in
ordinary language. This is how the Buddha taught.
Normally we speak in terms of atta, self, talking about me and mine, you
and yours, but the mind can remain uninterruptedly in the realization of anatta,
selflessness. Think about it. When we talk to children, we speak in one way; when
dealing with adults, we speak in another way. If we use words appropriate to
children to speak with adults, or use adults' words to speak with children, it
won't work out. In the proper use of conventions, we have to know when we are
talking to children. It can be appropriate to talk about me and mine, you and
yours, and so forth, but inwardly the mind is Dhamma, dwelling in realization
of anatta. You should have this kind of foundation.
So the Buddha said that you should take the Dhamma as your foundation, your
basis. Living and practicing in the world, will you take yourself, your ideas,
desires and opinions, as a basis? That is not right. The Dhamma should be your
standard. If you take yourself as the standard, you become self-absorbed. If
you take someone else as your standard, you are merely infatuated with that
person. Being enthralled with ourselves or with another person is not the way
of Dhamma. The Dhamma does not incline to any person or follow personalities.
It follows the truth. It does not simply accord with the likes and dislikes of
people; such habitual reactions have nothing to do with the truth of things.
If we really consider all of this and investigate thoroughly to know the truth,
then we will enter the correct path. Our way of living will become correct.
Thinking will be correct. Our actions and speech will be correct. So we really
should look into all of this. Why is it that we have suffering? Because of lack
of knowledge, not knowing where things begin and end, not understanding the
causes; this is ignorance. When there is this ignorance, then various desires
arise, and, driven by them, we create the causes of suffering. Then the result
must be suffering. When you gather firewood and light a match to it, and then
you expect not to have any heat, what are your chances? You are creating a
fire, aren't you? This is origination itself.
If you understand these things, then morality will be born here. Dhamma will be
born here. So prepare yourselves. The Buddha advised us to prepare ourselves.
You needn't have too many concerns or anxieties about things. Just look here.
Look at the place without desires, the place without danger. Nibbana paccayo
hotu - the Buddha taught, let it be a cause for Nibbana. If it will be a
cause for realization of Nibbana, then it means looking at the place where
things are empty, where things are done with, where they reach their end, where
they are exhausted. Look at the place where there are no more causes, where
there is no more self or other, me or mine. This looking becomes a cause or
condition, a condition for attaining Nibbana. Then practicing generosity
becomes a cause for realizing Nibbana. Practicing morality becomes a cause for
realizing Nibbana. Listening to the teachings becomes a cause for realizing Nibbana.
Thus we can dedicate all our Dhamma activities to become causes for Nibbana.
But we are not looking towards Nibbana. We are looking at self and other and
attachment and grasping without end. This does not become a cause for Nibbana.
When we deal with others and they talk about self, about me and mine, about
what is ours, then we immediately agree with this viewpoint. We immediately
think, "Yeah, that's right!" But it's not right. Even if the mind is
saying, right, right, we have to exert control over it. It's the same as a
child who is afraid of ghosts. Maybe the parents are afraid, too. But it won't
do for the parents to talk about it; if they do, then the child will feel he
has no protection or security. "No, of course Daddy is not afraid. Don't worry,
Daddy is here. There are no ghosts. There's nothing to worry about." Well,
the father might really be afraid, too. If he starts talking about it, then
they will all get so worked up about ghosts that they'll jump up and run away,
father, mother and child, and end up homeless.
This is not being clever. You have to look at things clearly and learn how to
deal with them. Even when you feel that deluded appearances are real, you have
to tell yourself that they are not. Go against it like this. Teach yourself
inwardly. When the mind is experiencing the world in terms of self, saying,
'it's true', you have to be able to tell it, 'it's not true'. You should be
floating above the water, not be submerged by the floodwaters of worldy habit….
The water is flooding our hearts… if we run after things, do we ever look at
what is going on? Will there be anyone 'watching the house'?
Nibbana paccayam hotu - one need not aim at anything or wish for
anything at all. Just aim for Nibbana. All manner of becoming and birth, merit
and virtue in the worldly way do not reach there. Making merits and skillful
kamma, hoping it will cause us to attain to some better state, we don't need to
be wishing for a lot of things; just aim directly for Nibbana. Wanting sila,
wanting tranquility - we just end up in the same old place- it's not necessary
to desire these things - we should just wish for the place of cessation.
It is like this. Throughout all our becoming and birth, all of us are so
terribly anxious about so many things. When there is separation, when there is
death, we cry and lament. To me, oyyy, I can only think, how utterly foolish
this is. What are we crying about? Where do you think people are going anyhow?
If they are still bound up in becoming and birth, they are not really going
away. When children grow up and move to the big city of Bangkok, they still
think of their parents. They won't be missing someone else's parents, just
their own. When they return, they will go to their parents' home, not someone
else's. And when they go away again, they will still think about their home
here in Ubon. Will they be homesick for some other place? What do you think? So
when the breath ends and we die, no matter through how many lifetimes, if the
causes for becoming and birth still exist, the consciousness is likely to try
and take birth in a place it is familiar with. I think we are just too fearful
about all of this. So please don't go crying about it too much. Think about
this. Satte kammam vipassati - kamma drives beings into their various births -
they don't go very far. Cycling back and forth through the round of births,
that is all, just changing appearances, appearing with a different face next
time, but we don't know it. Just coming and going, going and returning in the
round of samsara, not really going anywhere. Just staying there. Like a mango
that is shaken off the tree/ like the snare that does not get the wasps' nest
and falls to the ground: it is not going anywhere. It is just staying there. So
the Buddha said, Nibbana paccayam hotu; let your only aim be Nibbana. Strive
hard to accomplish this; don't end up like the mango falling to the ground and
going nowhere.
Transform your sense of things like this. If you can change it, you will know
great peace. Change, please; come to see and know. These are things one should
indeed see and know. If you do see and know, then where else do you need to go?
Morality will come to be. Dhamma will come to be. It is nothing far away;
please investigate this.
When you transform your view, then you will realize that it is like watching
leaves fall from the trees. When they get old and dry, they fall from the tree.
And when the season comes, they begin to appear again. Would anyone cry when
leaves fall or laugh when they grow? If you did, you would be insane, wouldn't
you? It is just this much. If we can see things in this way, we will be OK. We
will know that is just the natural order of things. It doesn't matter how many
births we undergo, it will always be like this. When one studies dhamma, gains
clear knowledge, and undergoes a change of world-view like this, one will
realize peace and be free of bewilderment about the phenomena of this life.
But the important point, really, is that we have life now, in the present. We
are experiencing the results of past deeds right now. When beings are born into
the world, that is the results of past actions appearing. Whatever happiness or
suffering beings have in the present are the fruits of what they have done
previously. It is born of the past and experienced in the present. Then this
present experience becomes the basis for the future, as we create further
causes under its influence, and the future experience becomes the result. The
movement from one birth to the next also happens in this way. You should
understand this.
Listening to the dhamma should resolve your doubts. It should clarify your view
of things and alter your way of living. When doubts are resolved, suffering can
end. You stop creating desires and mental afflictions. Then, whatever you
experience, if something is displeasing to you, you will not suffer over it,
because you understand its changeability. If something is pleasing to you, you
will not get carried away and become intoxicated by it, because you know the
way to let go of things appropriately. You maintain a balanced perspective,
because you understand impermanence and know how to resolve things according to
Dhamma. You know that good and bad conditions are always changing. Knowing
internal phenomena, you understand external phenomena. Not attached to the
external, you are not attached to the internal. Observing things within
yourself or outside of yourself, it is all completely the same.
In this way, we can dwell in a natural state, which is peace and tranquility.
If we are criticized, we remain undisturbed. If we are praised, we are
undisturbed. Let things be in this way, not being influenced by others. This is
freedom. Knowing the two extremes for what they are, one can experience
well-being. One does not stop at either side. This is genuine happiness and
peace, transcending all things of the world. One transcends all good and evil.
Above cause and effect, beyond birth and death. Born into this world, one can
transcend the world. Beyond the world, knowing the world - this is the aim of
the Buddha's teaching. He did not aim for people to suffer. He desired people
to attain to peace, to know the truth of things and realize wisdom. This is
dhamma, knowing the nature of things. Whatever exists in the world is nature.
There is no need to be in confusion about it. Wherever you are, the same laws
apply.
The most important point is that while we have life, we should train the mind
to be even in regard to things. We should be able to share wealth and
possessions. When the time comes, we should give a portion to those in need,
just as if we were giving things to our own children. Sharing things like this,
we will feel happy; and if we can give away all our wealth, then whenever our
breath may stop, there will be no attachment or anxiety because everything is
gone. The Buddha taught to 'die before you die', to be finished with things
before they are finished. Then you can be at ease. Let things break before they
are broken, let them finish before they are finished. This is the Buddha's
intention in teaching the Dhamma. Even if you listen to teachings for a hundred
or a thousand eons, if you do not understand these points, you won't be able to
undo your suffering and you will not find peace. You will not see the Dhamma.
But understanding these things according to the Buddha's intention and being
able to resolve things is called seeing the Dhamma. This view of things can
make an end of suffering. It can relieve all heat and distress. Whoever strives
sincerely and is diligent in practice, who can endure, who trains and develops
themselves to the full measure, those persons will attain to peace and
cessation. Wherever they stay, they will have no suffering. Whether they are
young or old, they will be free of suffering. Whatever their situation,
whatever work they have to perform, they will have no suffering, because their
minds have reached the place where suffering is exhausted, where there is
peace. It is like this. It is a matter of nature.
The Buddha thus said to change one's perceptions, and there will be the Dhamma.
When the mind is in harmony with Dhamma, then Dhamma enters the heart. The mind
and the Dhamma become the indistinguishable. This is something to be realized
by those who practice, the changing of one's view and experience of things. The
entire Dhamma is paccatam. It can not be given by anyone; that is an
impossibility. If we hold it to be difficult, then it will be something
difficult. If we take it to be easy, then it is easy. Whoever contemplates it
and sees the one point does not have to know a lot of things. Seeing the one
point, seeing birth and death, the arising and passing away of phenomena
according to nature, one will know all things. This is a matter of the truth.
This is the way of the Buddha. The Buddha gave his teachings out of the wish to
benefit all beings. He wished for us to go beyond suffering and to attain
peace. It is not that we have to die first in order to transcend suffering… We
shouldn't think that we will attain this after death… we can go beyond suffering
here and now, in the present. We transcend within our perception of things, in
this very life, through the view that arises in our minds. Then, sitting, we
are happy; lying down, we are happy; wherever we are, we are have happiness. We
become without fault, experiencing no ill results, living in a state of
freedom. The mind is clear, bright, and tranquil. There is no more darkness or
defilement. That is someone who has reached the supreme happiness of the
Buddha's way. Please investigate this for yourselves. All of you lay followers,
please contemplate this to gain understanding and ability. If you have
suffering, then practice to alleviate your suffering. If it is great, make it
little, and if it is little, make an end of it. Everyone has to do this for
themselves, so please make an effort to consider these words. May you prosper
and develop.
Evam.





COMPREHENSIVE PALI
COURSE
LESSON 9
Exercise 2
Translate into Pāli
1.
Strive to conquer the evil and to gain happiness.
Akusalaṁ jayituṁ
ceva sukhaṁ ca labhituṁ
Yuñjatha.
2.
The meditator seels to conquer the mind.
Yogi cittaṁ jayituṁ pariyesati.
3.
He will tame the mind, not the body.
So cittaṁ
damessati, na kāyaṁ.
4.
I will go to the monastery to worship the noblest of seers.
Ahaṁ isīnaṁ seṭṭhaṁ paṇāmetuṁ vihāraṁ
gamissāmi
5.
I went to Rajagaha to worship the Blessed One, and
to associate with
monks.
Ahaṁ Bhagavantaṁ vandituṁ Rājagahaṁ gacchiṁ
samaṇehi ca bhajituṁ.
6.
In the three realms of existence The Awakened One,
Is the Pre-eminent. He
is the Saviour of all beings.
Tibhuvanamhi Buddho jeṭṭho hoti, so ca sabbessaṁ
sattānaṁ Nātho.
7.
Afterwards the boys went to the monastery to train
themselves on the
Teachings of the Awakened One.
Pacchā dārakā
Buddhassa Dhammesu sikkhituṁ
vihāraṁ gacchiṁsu.
8.
The king saluted at the feet of te Lord of
Compassion.
Bhūpati karuṇāya adhipatissa pāde vandi.
9.
I wish to ask about meditation to gain the Truth.
Ahaṁ saccaṁ labhituṁ
bhācanaṁ ārabbha
pucchituṁ icchāmi.
10.
Men and women go to the monastery to seek the
Three Refuges.
Purisā ca itthiyo ca Tisaraṇaṁ pariyesituṁ vihāraṁ
Gacchanti.