04/12/08
Vote For BSP

Online edition of India's National Newspaper
Sunday, Apr 13, 2008
BSP contesting all seats
Special Correspondent
Sindhia releases first list, party to circulate a 20-page appeal
THE FIRST LIST: BSP general secretary P.G.R. Sindhia releasing the party's first list of 50 candidates in Bangalore on Saturday. Veer Singh (left), MP; M. Muniyappa, BSP State unit president, and Trisul Pani Patil, BSP State general secretary, are with him.
BANGALORE: The Bahujan Samaj Party (BSP) will contest all 224 seats in the coming elections to the Legislative Assembly.
Releasing the first list of 50 candidates here on Saturday, the BSP national general secretary P.G.R. Sindhia said the party national president and Uttar Pradesh Chief Minister Mayawati will tour the State in three phases starting from May 5.
Mr. Sindhia said the party would circulate a 20-page "appeal" issued by Mayawati in lieu of a party manifesto. The appeal would be printed in various languages spoken in Karnataka and would be given at the doorstep of voters by the party workers in the State.
Asserting that the party had a vision for the State, Mr. Sindhia said: "The party follows a philosophy and even in the elections, the party will not waver from it. We have no political enemies but we do have an ideology to follow which makes us different from the other parties."
He said: "We will post a surprising result in the elections and we have the means to do it. we have invisible voters who are motivated by our philosophy." Mr. Sindhia said Ms. Mayawati would address eight public meetings in the State. On May 5, she would speak in Chamarajanagar, on May 12 in Bellary and Chitradurga, and on May 17 and 18 in Bidar and Gulbarga.
The party would launch its campaign on April 13 at its party office which would be attended by all district level presidents and office-bearers.
The party leaders, including Mr. Sindhia, would start touring the State from April 19. Mr. Sindhia and State general secretary Pani Patel would tour 80 constituencies together. BSP State unit president Marasandra Muniyappa would tour 80 other constituencies.
Following is the list of BSP candidates: N. Mahesh (Kollegal-SC), Shamsuddin M. Patil Ganihar (Sindhagi),Vaijanath Suryavamshi (Aurad-SC), Sridhar Kalaveer (Sakleshpur-SC), R. Muniyappa (Mahadevapura-SC), M. Muniyappa (Devananalli-SC), Jigani Shankar (Anekal-SC), Parimala Nagappa (Hanuru), V. Srinivasan (Pulikeshinagar-SC), Sayyad Zulfikar Hashmi (Bidar), Mundargi Nagaraj (Hagaribommanahalli-SC), Sayyad Roshan Mullah (Shiggaon), Chandrakantha Gaddagi (Gulburga Rural-SC), D. Shobha Bellary (Hubli-Dharwad East-SC), Babusaheb Kasimnavar (Kalghatgi), Umesh Hegade (Yellapura), Panduranga Swamy (Holalkere), Venkatesh Nayak (Molakalmuru-ST), Varaprasad (Mandya), R. Manjunath (Bangalore South), J. Jayappa (Shikaripura), M.V. Kotresh (Soraba), A. Appayyanna (Byatarayanapura), Vishwanath. C (Mahalakshmi Layout), G. Bette Gowda (Yeshwanthpur), A. Papanna (BTM Layout), M.S. Mukram (Channapatna), Obanna Poojar (Chellakere-ST), H.J. Kantharaju (Hiriyur), Mohan Kumar (Hosadurga), Umesh (Turuvekere), Lingaraju (Tiptur), D. Muralidhar (Koratagere), V. Narayanaswamy (Bangarapet-SC), R.S. Kumar (Malur), Sajjad (Kolar), H. Narayanappa (Mulabagilu-SC), N. Muniswamy (Chintamani), Suresh (KGF-SC), Murugan (Gandhinagar), S.K. Sajid Ahmed (Hebbal), K.P. Narasimharaju (Shantinagar-SC), Venkatesh (Bommanahalli), Vivek Menon (Sarvajnanagar), Srinivasa Murthy (Chamarajanagar), Nisarga Nagaraju (Malleswaram), K.V. Srinivasappa (Rajajinagar), Hennur Srinivas (Pavagada-SC), Guruppaji (T. Narasipura) and Mahadevappa (Nanjangud).
Sunday, April 13, 2008
Watch out for bogus voting, EC tells staff
From Shruba Mukherjee, DH News Service, New Delhi:
The Election Commission is understood to have warned its Karnataka-bound poll observers about the possibilities of bogus voting and appeasement of voters with liquor and money, especially in northern Karnataka during the forthcoming Assembly elections.

In a special briefing session for the 224 general and 61 expenditure observers here on Saturday, Chief Election Commissioner N Gopalaswami reportedly cautioned them about 'troubled spots' like Udupi, Dharwad as well as some localities around Bangalore.
Apprehending that the strong mining lobby in northern Karnataka might spend huge sums of money during the elections, the CEC asked the Expenditure Observers to report to the EC every third day on the expenditure incurred within their assigned constituencies.
Working on reports that a number of breweries in neighbouring Goa have got huge orders, the CEC asked the observers to be particularly careful about the supply of liquor in Karnataka before and during the polls. To prevent overflow of liquor to the poll-bound state, the EC has also asked the Goa-Karnataka border to be sealed.

Peculiar problems
Since Karnataka would be the first state to go to polls with delimited constituencies the CEC also mentioned about some peculiar problems particularly in Municipal Corporation areas as there would be too many polling booths within a small area.
There would also be 3,000 auxiliary poll stations in and around Bangalore and Mysore and the observers would have to take special care about those centres, he said adding that they would have to train the static micro-observers who would be deployed inside the polling stations to observe and ensure the purity of the polling process.
Central Government/Public Sector employees would be utilised to the extent possible as Micro observers and they would be deployed along with the Central Forces. The observers were also asked to ensure that the process of displaying publ-icity material of the parties at public places was transparent as the local authorities might be biased in favour of certain parties.
He also assured the observers that their reports to the EC on the discrepancies or irregularities during the poll process would not be accessible through Right to Information Act as in that case their security would be at stake.
The observers would reach the allotted consti-tuencies one day before the last day of nomination and stay there till the end polls.
STATE POLLS
*EC worried over strong mining lobby
*State told to seal border with Goa to prevent liquor flow
*Observers must train micro-observers to be deployed inside booths
*Observers must ensure transparent publicity material display
*Observer reports not to be made public
BSP's first list
DH News Service, Bangalore:
Mayawati's Bahujan Samaj Party (BSP) will show surprising results in the coming elections and will be one of the deciding factors in the formation of the State government, the BSP National General Secretary P G R Sindhia said in Bangalore on Saturday.

Speaking to presspersons he said the party supremo Mayawati would participate in the election campaigning and tour all over the State for four days. She would address public meetings on May 5 in Chamarajnagar, on May 12 in Bellary and Chitradurga districts, on May 17 in Belgaum and Dharwad districts and on May 18 in Bidar and Gulbarga districts.
Releasing the first list of 50 candidates, Sindhia said workers who had served the party for the last 15 years including three former legislators had figured in the list. The second list would be released in the next three days, he said.
NRI joins BSP: Vivek Menon, a businessman who has returned from the US, joined the BSP.

List of candidates

Kollegal (SC) - N Mahesh, Sindgi - Shamshuddin M Patil Ganihar, Aurad (SC) - Vaijanath Suryavamshi, Sakleshpur (SC) - Sridhar Kaliveer, Mahadevapura (SC) - R Muniyappa, Devanahalli (SC) - M Muniyappa Koramangala, Anekal (SC) - Jigani Shankar, Hanur - Parimala Nagappa, Pulkeshinagar (SC) - V Srinivasan, Bidar - Syed Zulfikar Hasmi, Hagri Bommanahalli (SC) - Mundargi Nagaraj, Shiggaon - Dr Syed Roshan Mulla, Gulbarga Rural (SC) - Chandrakanta Gaddagi, Hubli - Dharwad East (SC) - D Shobha Bellary, Kalghatgi - Babusaheb Kasimnavar, Yellapur - Umesh Hegde, Hollallkere - Panduranga Swamy, Molkalmur (ST) - Dr Venkatesh Nayak, Mandya - Varaprasad, Bangalore South - R Manjunath.

Shikaripura - J Jayappa, Soraba - M V Kotresh, Byatarayanapura - M Appayanna, Mahalalakshmi Layout - C Vishwanath, Yeshwanthpur - G Bettegowda, BTM Layout - A Papanna, Channapatna - M S Mukaram, Challakere (ST)- Dr Obanna Pujar, Hiriyur - H K Kantaraju, Hosdurga - Mohan Kumar, Turvekere - Umesh, Tiptur - Lingaraju.
Korategere (Reserved) - Dr D Muralidhara, Bangarapet (Reserved) - V Narayanaswamy, Malur - Dr R S Kumar, Kolar - Sajjad, Mulbagal (SC) - H Narayanappa, Chintamani - N Muniswamy, KGF (SC) - Suresh, Gandhinagar - Murugan, Hebbal - S K Sajid Ahmed, Shantinagar - K P Narsimharaju, Bommanahalli - Venkatesh, Sarvajnanagar - Vivek Menon, Chamarajnagar - Srinivas Murthy, Malleswaram - Nisarga Nagaraju, Rajajinagar - K V Srinivasappa, Pavagada (SC) - Hennur Srinivas, T Narasipura - Guruppaji, Nanjangud - Mahadevappa
Vote For BSP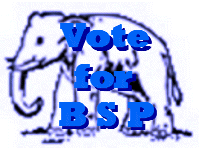 Decision to be implemented strictly in higher educational institutions : Chief Minister
New Delhi: April 10, 2008 The Uttar Pradesh Chief Minister Km. Mayawati has hailed the historical decision taken unanimously by Constitution Bench of the Supreme Court through which it upheld reservation facility for the O.B.C. candidates in the central higher educational institutions. Through this decision, the bench upheld the law providing 27 per cent reservation to the O.B.C. candidates in the central higher educational institutions. She said that the State Government fully agreed with the decision and welcomed it. She said that this decision had legitimised the reservation facility provided to the O.B.C. candidates in the higher educational institutions. This reservation arrangement would be strictly implemented in the admissions in the higher educational institutions of Uttar Pradesh, she pointed out. The C.M. was addressing media representatives here today. She said that apart from that, she would also write a letter to the Government of India requesting it to provide reservation facility to the economically poor among backward classes, religious minorities and upper caste people in the higher educational institutions and ask to amend the Constitution. She said that the Centre was being requested to take immediate action in this regard. She assured the Government of India on behalf of her party and the State Government that if the Union Government took any step in this direction, the State Government would support it to the hilt. Km. Mayawati said that U.P. had already been ensuring reservation in higher educational institutions which conformed to today's decision of the Supreme Court. After today's decision of Supreme Court it was the responsibility of Centre to ensure the reservation to O.B.C. in admission in all higher educational institutions run by Union Government. Besides, the implementation of the system of reservation should be ensured in such states where it had not been implemented so far. As far as the question of keeping creamy layer among the O.B.C.s out of reservation facility was concerned, the Central Government should re-define creamy layer in view of galloping prices lest the genuinely socially and economically weak candidates belonging to the O.B.C.s were deprived of the reservation facility, she added. **********

Online edition of India's National Newspaper
Saturday, Apr 12, 2008
BSP first list in three days: Sindhia
Special Correspondent
---
Party to launch campaign tomorrow
To field candidates in all constituencies
---
Bangalore: The State unit of the Bahujan Samaj Party will launch its campaign for the coming Assembly elections on April 13 and Uttar Pradesh Chief Minister Mayavati will participate in the party's election meetings on four days.
Going to the polls with its simple declaration "Sarvajan Sukhaya — Sarvajan Hitaya," the party will field candidates from all the 224 Assembly constituencies, the former Minister and campaign committee chairman P.G.R. Sindhia said here on Friday. The places where Ms. Mayavati would attend meetings were yet to be decided.
Addressing presspersons, Mr. Sindhia said the first list of candidates for the first phase of elections would be announced in three days. The party workers would distribute a 20-page appeal by Ms. Mayavati to over 10 lakh households during the campaign.
Mr. Sindhia alleged that parties were indulging in distribution of money, saris and rice to voters and they were also hoarding liquor to be supplied to them. Mr. Sindhia said that he had complained to the Election Commission urging it to initiate action against the violators of the model code of conduct.
Mr. Sindhia reiterated his stand that he would not contest in the elections and that his Kanakapura constituency has been merged with Sathnur and Ramanagara constituencies. However, he would undertake a month-long election tour.
He hoped that the percentage of votes for his party would reach double digit in the coming elections and a large number of Muslims and Brahmins have become supporters of the party
Poll panel's opinion on Janata Darshan sought
Special Correspondent
Model code of conduct is not clear on the issue
---
Governor did not hold Janata Darshan since April 2
Officials told not to deliver speeches on Ambedkar Jayanti
---
BANGALORE: The office of the State Chief Electoral Officer has sought the opinion of the Election Commission on holding of Janata Darshan by Governor Rameshwar Thakur on Saturdays.
Mr. Thakur had not held the Janata Darshan since the announcement of the schedule for the Legislative Assembly lections in the State on April 2.
Sources said the model code of conduct was not clear on the issue of holding of Janata Darshan by the Governor. "We have written to the Election Commission and waiting for the reply," an official said.
No speeches
Chief Secretary Sudhakar Rao and officials of the Social Welfare Department have been instructed not to deliver speeches on Ambedkar Jayanti on Monday in view of the enforcement of model of code of conduct.
The officials have been instructed to only garland the statue of Dr. Ambedkar on that day.
Similarly, Union Ministers have been instructed against participating in official functions of the Government in the State.
Union Minister of State in Prime Minister's Office Prithviraj Chavan and Union Science and Technology Minister Kapil Sibal did not participate in two functions organised in the city last week on account of model code of conduct.
Two suspended
Two officials of the Hubli-Dharwad Municipal Corporation have been suspended for violating the model of code of conduct. The two officials participated at a programme to unveil a statue of Basaveshwara in Hubli recently. The matter has been referred to the Election Commission for action, the official said.
New airport
Asked about the model of code of conduct coming in the way of the inauguration of Bangalore International Airport at Devanahalli, the official said the Bangalore International Airport Limited has not approached the Chief Electoral Officer on the issue. "We will take stock of the issue only after the BIAL approach us," the official said.
Service voters
There are 60,000 voters in the State serving in Defence forces.
The voters categorised as "service voters" have been given freedom to exercise their franchise from the place of their convenience in the country.
To ensure that every official on election duty casts vote, the Election Commission has decided to introduce a new system of postal ballot — Registered Post Acknowledgement Due — in the coming elections in the State.
According to the new system, persons deputed on election duty, including police personnel, would cast their voters through registered post, instead of the old certificate of posting. The new system would be effective and each and every person on election duty will get an opportunity to vote, the official said.
Officials on election duty would have to fill-up Form 12 in which they would furnish details of the constituency they belong to and their respective departments.
They would also have to provide a copy of their appointment letter and electoral photo identity card, if any.
A postal ballot will then be given to the personnel, who will mark their preferences. The respective Deputy Commissioners will collect the ballot papers; sort them out based on the constituency they belong to and despatch them to those constituencies through registered post, the official said.
P.G.R. Sindhia complains to poll panel
Special Correspondent
Bangalore: General secretary of the Bahujan Samaj Party P.G.R. Sindhia has complained to Chief Election Commissioner N. Gopalaswami over election norms being flouted in some pockets of the State.
He said while some political parties were distributing money to people attending public meetings, some were distributing rice to voters.In another instance reported in Channapatna, a prospective Congress candidate who is the owner of an apparel unit at the place had stored 650 saris to woo voters. This has since been confiscated by the local Tahsildar.
At Hebbal in Bangalore, a prospective BJP candidate has opened a free dosa camp, and at Basavanagudi, morning walkers were being provided free breakfast by a prospective Congress candidate.
Saturday, April 12, 2008
Parimala Nagappa joins BSP
Bangalore, DHNS:
Parimala Nagappa, widow of former minister H Nagappa who was killed in captivity by forest brigand Veerappan, quit the JD(S) and joined the Bahujan Samaj Party (BSP) on Friday.
Announcing her decision to join the BSP at a press conference in Bangalore, Parimala said that "she was forced to quit the JD(S) in the changed election scenario."
Parimala, who met BSP supremo Mayawati at New Delhi on April 9, said she was joining the party as she liked the BSP's ideologies. "I am joining the BSP as it is also the wish of my followers and workers of Hanur constituency in Chamarajnagar district," she said.
BSP National General Secretaries Veersingh and P G R Sindhia and State President Marasandra Muniyappa, who welcomed her to the party, said she had joined the party without pre-conditions. "Our leader Mayawati has welcomed her into the party and we are happy to have her with us," Sindhia said.

Along with Parimala, Andappanavar (Congress), Devadutt, Jabbar Pasha and Bannur Kumar of JD(S) also joined the party. "Many more members are expected to join the party soon," Sindhia added
BSP to field 20 Brahmins
DH News Service, Bangalore:
Mayawati's BSP has decided to field Brahmin candidates in 20 of the 224 constituencies that it will contest in the State.
"There is a wrong impression that our party is only for the Dalits. It is for all and that is why our election slogan is Sarvejana Hitaya Sarvejana Sukhaya," the BSP National General Secretary P G R Sindhia said in Bangalore on Friday.
Addressing reporters he said the party was firm on contesting on its own in all the 224 constituencies and will not enter into alliance with any party.

The BSP MP Veersingh said the party would follow the party supremo's principles of "jaat todo aur samaj jodo" (shun casteism and unite society) in Karnataka elections. "We will give a fair representation to all castes and communities in our party list," he said.
Seat sharing
BSP State President Marasandra Muniyappa said the party would earmark 30 per cent of the seats for Lingayats and Vokkaligas, Other Backward Classes (37 per cent), Dalits (23 per cent) and Muslims (12 per cent).
The first list of candidates and the party's manifesto would be released in the next few days, he said.
Sindhia also has plans to distribute a 20-page booklet informing people why they should vote for the BSP.
Campaign
The party would begin its campaign on April 13 after a meeting of all district leaders in Bangalore on that day. Mayawati would participate in the campaigning for all the three phases of elections in Karnataka, Muniyappa said.
Muniyappa reiterated that he is not going to contest the assembly elections.
'Identity crisis' for BBMP voters
DH News Service, Bangalore:
Hundreds of voters who were waiting to get their photo identity cards were upset on Friday as the Bruhat Bangalore Mahanagara Palike (BBMP), which had announced that it will start a drive to issue voters' photo identity cards from Friday, did not commence the process.
Deccan Herald was flooded with calls from its readers, who complained that they were being misled by BBMP officials with regard to the issue of photo identity cards. "When we enquired with the BBMP PRO about the confusion, he said the cards would be issued at a later stage, and could be used only for the next elections. If it is not for the coming elections, what was the hurry in making the announcement?" asked Anil Kumar from Nagarabhavi.
Vasant Kumar from Koramangala said he received the same response from the office of the Chief Electoral Officer. "We do not know why these officials make announcements when they are not sure of implementing them," he asked.
Bangalore District Electoral officer B S Ramprasad said that though the process of issuing the cards had begun on Friday, the cards would actually be issued from Saturday. Late on Friday night, the Palike sent a list of locations where voters can get the photo cards on a continuous basis from April 12 to May 5.

The cards will be issued in the following places on Saturday, between 8.30 am and 6.30 pm.
Rajarajeshwarinagar: Govt Tamil Primary School, Peenya Plantation, HMT; K N Geetha Kannada Lower Primary School, Lakshmidevinagar.
Mahalakshmi Layout: Govt Middle School, BDA Building, Krishnandanagar Slum; East West Nursery and Primary School, 13th Cross, Mahalakshmi Layout.
Malleshwaram: Govt Model Primary School, 3rd Main, Mathikere; Indian Preparatory School, 4th Cross, Maruti Badavane, Malleshwaram.
Shivajinagar: BDA Office, Sankey Road; Corporation Girls School, Narayana Pillai
Road.

Shantinagar: Govt Higher Primary School, Appareddy Palya; Shantiniketan Nursery and Primary School, 5th Cross, Bazaar Street, Neelasandra.

Rajajinagar: Anganwadi Centre, 9th Cross, Indiranagar Slum; BBMP Ward Office, Sharada Colony, Basaveshwaranagar.

Govindrajnagar: Sarvodaya Vidyalaya, 10th main, Binny Layout, 2nd Stage; 38th Ward Office, Nagarabhavi Main Road.

Vijaynagar: Karnataka Vidya Samsthe, C Block, Kempapura Agrahara; Nammura Model Primary School, 1st Main Road, Deepanjali Nagar; Govt Lower Primary School, Opp BEO Office, North Side.

Anekal: Guru Bhavan; Govt Higher Primary School, Hebbagodi
Places for receiving nomination papers
DH News Service, Bangalore:
The Bangalore Urban district deputy commissioners on Friday issued an order earmarking places for receiving nomination papers from candidates for seven assembly constituencies falling in the district.
The names of constituencies and places where nominations will be received are:
Yelahanka, Bangalore North taluk panchayat office; Byatarayanapura, Bruhat Bengalore Mahanagara Palike Joint Commissioner's office in Byatarayanapura; Yeshwanthpura, Bangalore North taluk office on KG Road; Dasarahalli, BBMP Joint Commissioner's office in Dasarahalli; Mahadevapura, BBMP Joint Commissioner's office in Mahadevapura; Anekal, taluk office of Anekal; Bangalore South, office of deputy divisional officer, Bangalore South taluk.
From April 16
As per the calendar of events announced by the Election Commission, nomination papers will be received from April 16 between 11 am and 3 pm for the first phase of polling scheduled for May 10.

The last date for filing of nominations is April 23.