04/03/09
Filed under:
General
Posted by:
site admin
@ 2:49 am
LESSON 34


---
---
With an eye on national stage, BSP may field 500 candidates
New Delhi: The party that fields the most candidates in the coming
general election may not be the Congress party or the Bharatiya Janata
Party (BJP), but the Bahujan Samaj Party (BSP), which sees this as a
long-term strategy to build a national presence—a move dismissed by the
party's political opponents.
BSP plans to contest in 500 of the 543 Lok Sabha constituencies in the five-phase general election that starts on 16 April.
To be sure, a similar approach in 2004 didn't help the party much in
terms of the number of representatives it sent to Parliament. That
year, it won 19 of the 435 seats it contested, all in Uttar Pradesh,
the same state where the party was elected to power three years later,
in 2007.
"In the beginning, there was a similar situation in Uttar Pradesh,
wherein many people taunted the party saying that it could not win a
single seat despite fielding so many candidates. But then through the
years, the party gained and now has a sizeable vote share," said
Chander Bhan Prasad, a Scheduled Caste activist.
The BJP plans to field candidates in 430 constituencies. The
Congress didn't comment specifically on whether it would field more
than 500 candidates. "As of now, we are fielding around 400 candidates.
But the final lists are yet to be released," said Tom Vadakkan,
secretary, All India Congress Committee (AICC).
A BJP spokesperson said that in a democracy, "every party has a
right to field as many number of candidates that they want to. While
our allies and friends will be contesting on around 100 seats, BJP will
be fielding candidates on the remaining seats".
BSP's numbers game would seem to be working if recent state elections are any indication.
According to a study by Marketing and Development Associates (MDRA),
a New Delhi-based research consultancy, the party's vote share rose
from 4.5% to 6.5% in Chhattisgarh; 4.8% to 11% in Madhya Pradesh; 2.5%
to 14% in Delhi; and from 3.2% to 7.6% in Rajasthan. While the later
figures are based on the November 2008 assembly elections in these
states, the earlier ones are based on the 2004 general election.
THREE BASKETS STUDU CIRCLE, a psephologist with the Centre for the Study of
Developing Societies, said the BSP could be a significant player in
these states. "They may be able to influence more than 50% seats in all, from
constituencies based in these states."
According to Prasad, the BSP spent most of the past decade focusing
on its growth within Uttar Pradesh. "Now this really is the time for
the party to spread its wings."
According to Mahesh Rangarajan, BSP's aim is to take its vote share
to around 50%. "It is very likely that they will substantially raise
their vote share and there is a good chance that BSP will emerge as number one largest party in the coming elections."he added.
A BSP leader from Kerala, A. Neela Lohithadasan Nadar, said that the
main message the party plans to take to the people is the projection of
Mayawati, the party's chief and the chief minister of Uttar Pradesh, as
India's prime minister. "We are also telling the people that both the
Congress as well as the Left have failed to bring development to the
state. We hope to win more than 50% seats," added Nadar.
BSP announces list of candidates from Punjab, J&K
New Delhi, Apr 2- Bahujan Samaj Party today
announced the names of 18 candidates for Punjab and Jammu and Kashmir
for the coming Lok Sabha elections.
Among the 13 names announced today for Punjab, J K N Chibber will contest from the Amritsar constituency.
Other candidates include Sukhvinder Singh Sukkhi from Hoshiarpur,
Keval Krishan Chauhan from Anandpur Sahib, Gurnam Singh Sevak from
Fatehgarh Sahib, Kehar Singh from Ludhiana, Surjit Singh from Jalandhar
and Dipak Joshi from Patiala.
From Sangrur, the party has fielded Madanjit Singh, Chaudhary Nek
Chand from Bhatinda, Resham Singh from Faridkot, Swarn Singh from
Gurdaspur, Surender Singh Sahi from Khadur Sahib and Guridev Singh
Mansaiya from Ferozepur.
In Jammu and Kashmir, the five candidates are Chaudhary Hussein Ali
from Jammu, Rakesh Wazir from Uddhampur, Gulab Mustafa Kasana from
Baramulla, Yusuf Baig from Srinagar and Nisar Ahmed Khan from Anantnag.
99.99
percent of Aboriginal Inahbitants of Jambudvipa, that is, the Great
Prabuddha Bharath will once again become Buddhists after 2009 Lok Sabha
election. Prabuddha Bharatha Matha Mayawati will become the Prime
Minister and the process will start. For the simple reason that some
religions believed in souls of human beings, but animal have no souls
and hence thay can do whatever they wished to do to the animals. Now in
Prabuddha Bharath there are 1st, 2nd, 3rd and 4th rate souls.And the
fifth category does not have any soul and hence they do whatever they
wish to do. The Buddha did not believe in any soul but all are equal.It
is just a matter of time where everyone will feel that all are equal.
READ CAREFULLY IF U R BUDDHIST
How India Will Become Once Again Buddhist?
Various types of Buddhists in India
At the moment, we have got various kinds of Buddhists. Firstly,
there are the original Buddhists, who are there for centuries, mostly
concentrated in Laddhak, Sikkim and North East. Secondly, the
successors of missionaries from foreign lands like Anagarik Dharmapal,
who not only resurrected Buddhism in India, but also motivated Swami
Vivekananda to attend Chicago Conference along with him. Thirdly, there
are those who became Buddhists under influence of Dharmapala, like
Kosambi, Rahul, Kashyap etc. from whom very few may now be alive.
Fourthly, there is a vast mass who became Buddhists after Dr.
Ambedkar's appeal and mass conversion. In addition, there are two kinds
of Refugee Buddhists, one group is followers of H.H. the Dalai Lama,
and others are the neglected Chakma Refugees, who, I believe, have been
mostly driven out, very much in contrast to Kashmiri Pundits Refugees.
Here we like to talk about those who became Buddhists because of
Teachings of Dr. Ambedkar. They are said to be 68 lakhs, as per census
of 1991, in a population of about hundred crores, which comes to less
than one per cent. If we have to fulfill the dream of Dr. Ambedkar, to
make India Buddhist, at least there should be 30 to 40 crores of
Buddhists.
Within these 68 lakh Buddhists, there appeared various sects also,
though I feel that various castes among the people who embraced
Buddhism has mostly disappeared. There are Manuvadis who do not like
that the Buddhists should consolidate. They are projecting the Buddha
as Hindu. Enough has been written about this tendency.
There are some who follow Shri Goenka ji, who runs Vippasana
Centers. His followers, in most parts, are lost to Ambedkarism. This is
because most of them have dissociated themselves from the Amedkarite
movement. (There are exceptions, salutes to them.) There is nothing
wrong, per se, in Vippasana. But they think, Vippasana is the only
teaching that the Buddha taught. There are followers of Osho, who run
Dhyana Centers. Their activities are such that the majority of
population disapproves. There are some Ambedkarites praising Osho also.
These two groups, the Goenka and Osho followers are condemned by
authors like Yashvant Manohar as "pollutions" among the Ambedkarite
movements.
If these two groups could concentrate on the Social aspects and
Egalitarian teachings of the Buddha, and advise their followers to
denounce the caste as the Buddha did, and later his followers of all
the sects, including highly maligned Vajrayanis, did, and as the
followers of Ambedkar are trying to do, perhaps the days for Buddhism
in India would be bright. Unfortunately, their activities are either
not very clear, or are in consonance with the Manuvadis. These are two
groups, who are well supported by the Buddhist community outside India.
It is here we have to warn our friends outside India to take care that
they are not playing in the hands of Manuvadis.
There are Trilokya Boudha Maha Sangha people, trying to propagate
the Dhamma. Whatever may be their activities outside India, they are
doing reasonably good job. Though some may say, their type of religion
is not the same as Dr. Ambedkar taught.
The Creed of Buddha
Dr.
Ambedkar, the greatest Indian of modern times, gave Buddhism to India
after it had disappeared about thousand years ago. Millions accepted
this "new" religion. It was new in the sense, it was almost forgotten
and the tenets advocated at one time by the Buddha, got mixed up with
the so called "Hinduism". During his last days, he was asked about the
rituals, principles and other peculiarities of this religion. To all
such questions, he said, he would reply in next meeting at Bombay, in
the middle of December 1956. That day never arose.
The followers started following the religion as per what they
perceived was proper in their own thoughts. So it got more and more
corrupted. Therefore, some people decided to chart out a "Code of
Conduct" for the followers of Buddhism.
Spread of Buddhism
Dr. Ambedkar had said, he would make India Buddhist again. (mee bharat buddha maya karen) Who
were these people, Ambedkar had in mind? Whom was he to teach his
religion. Obviously, all the poor depressed and deprived people of this
land divided by tradition into thousands of castes, the SCs, STs, OBCs,
and other smaller deprived under-privileged groups. But his dream was
not fulfilled. Not only the OBCs and others did not join his religion,
but not even all the SCs joined it. So there are two aims facing the
todays Ambedkarites. First is to spread the religion to the masses, and
second is to teach what is "proper" Buddhism of Ambedkar's mind, which
needs to be followed. Faced with this dual task, we have to analyze how
we are behaving. We have also to decide our priorities.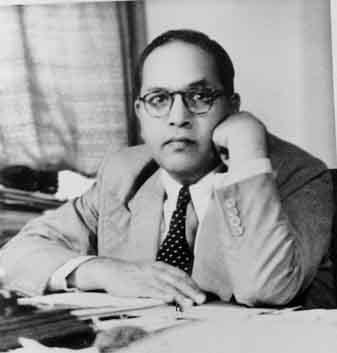 Ambedkar's religion not same as traditional Buddhism
During conversion days, Dr. Ambedkar was interviewed by "Tarun Bharat" of Nagpur, asking him which 'yana' he
professes. Dr. Ambedkar said his propagation of Buddhism depends upon
the original teachings of the Buddha. The traditional teachings have
been corrupted during the course of time by the views of various
Teachers of different sects. I am putting forward the teachings in
proper perspective. I happened to be present during a part of this
interview, which was well documented and well published. 'Tarun Bharat'
correspondent said "then we can call this a 'Bhim yaan'. Ambedkar said 'No! If you want to give it a new name, you may call it "Nava yaan", but what I propagate is according to original teachings of Buddha, and are based on rational thinking."
Buddha and His Dhamma
Later, he put all his teachings in "Buddha and His Dhamma". Unfortunately, the world leaders of Buddhism do not accept the book as "Standard". Therefore,
it is necessary to discuss this point with the world authorities and
try to come to some understanding. It must be understood, for followers
of Ambedkar, the book is like a gospel. In the light of this fact, if
there is proper understanding, the things will improve and Buddhism
would spread.
I have no objection to have various sects being present
simultaneously and they coexist, provided that they do not form the
part of Hinduism.
What is the gist of Brahmanism
We have been hearing various terms like "Brahmanism, brahmanya, brahman vaad, manuvaad, sanatanism, orthodoxy" etc. Now a days, all these words are replaced by "hindutwa" or some new terms like "bharatyatwa" or "rastriyatwa" or "national" and so on and so forth, used in different shades of meanings.
The cardinal tenets of "Hindutwa"
Some differentiate "Hindutwa" (1)
of Aribindo and Vivekananda, (2) of Sawarkar and (3) of RSS propounded
by Golwalkar. We feel all this discussion is an eyewash to hoodwink the
masses. Neither of them started it, and their interests in interpreting
it differently, if at all they did as claimed, had arisen out of
political needs of the time. The writings of Raosaheb Kasbe amply show
this. For our purpose, "Hindutwa" of any and all types have certain cardinal points, and they are:
1. Chaturvarna
This
is the main feature. The society must be divided into four water tight
compartments of Varnas, which now became castes, with the entry only
through birth. This was divinely ordained system, made by god. It is
the duty of human beings to follow this system without expecting any
returns from it. Your duty is only to do the "karmas," i.e. the deeds related to following the"chaturvarna". This is the divinely ordained "dharma". When this "dharma" gets dormant, god takes birth to punish the evil, i.e. those who disturbed the "dharma"and preserve those who are "sadhus", i.e. those who follow this "dharma".
It must not be confused with the division of labour. It is division of
labourer, and also the division of labourer's progeny, because you are
not allowed to marry outside your own caste, and you are also required
to follow the calling of your ancestors, how so ever it may be
fearsome. It is better to die doing what your ancestors had been doing,
than to follow others' profession. Because it is always better to die
in your own inferior "dharma" than a better one of others',
which is always fearsome. It means the daughter of a prostitute must
become a prostitute and son of a pimp must become a pimp, as Ambedkar
put it. A scavenger's son may take education and become a doctor but he
must earn his living not by working as a physician but must earn his
livelihood by scavenging. Only he must become an expert in scavenging.
Remember Gandhi's advice to an educated dalit boy. This is the summary
of "Chaturvarna." Even now there are supporters to this theory.
2. Supremacy of god
As
the theory of caste is put forward by god almighty himself, it can not
be challenged. After all god is the one who has created the universe.
Not even a leaf of a tree moves without his wish. How is this theory
put into action by god? Of course, according to the deeds of the past
life's deeds. If you have followed the "chaturvarna" in the past life, you have accumulated enough virtue to make you, that is, your "atma", to have a body of a higher "varna". After all, you are of no consequence. It is your "atma" that is the thing of great importance. It is your "atma" which is "real you". It is separate from your body. Though you are not your "atma", the "karmas",
that is the deeds of chaturvarna, have to be followed by the body. It
is very simple theory. When you die, it is the body that dies. The "atma" goes to another body, just like you change your shirt,"atma" changes its garment. This "atma" does
not die, it can not be cut by weapons, neither it can be burned by
fire, nor it can be desiccated by wind. What ever physical birth you
are having now is due to your deeds in previous birth. If you did "good
deeds" meaning respecting caste rules, you would be born in higher
caste, otherwise you would be born in a lower one. The idea is that you
must not grumble about your present situation, it is all arranged by
the God himself taking into consideration the deeds of your previous
birth.
3. Belief in Infallibility of "Sastras"
It
is very essential to make this rule so that God and Chaturvarna could
be supported, because all the above is stored in Brahmin's books,
prohibited to others.
4. Belief in visit to holy places
Also necessary to keep the supply line of provisions to priestly class, so that they can go on writing "sastras" for the governing of rest of the society, and
5. Bath in "Ganga" washes all sins
Very essential to empower the priests to lure masses, specially the OBCs to visit the "tirthas",
the places of pilgrimage, spread all over the country. Very useful
device to deprive the dalitbahujan of what ever has been accumulated by
him during the year and also to indoctrinate him in Manu's way of
thinking.
These were the mechanisms used by the Brahmins to dominate the
Bahujans. And these were the very things opposed by the Buddhists of
all sects, creeds and colours from times immemorial. It was Dharmakirti
who mentioned these criteria in sixth or seventh century. As long as
this is avoided, I have no objection to coexistence of different sects.
India can not become Buddhist without political power
There
are many who quote Ambedkar advocating social awakening first can only
give political power. That is very true, but I feel, that stage is now
over. Now is the stage to Unite all "Dalitbahujans" and capture the
political power. India can only become Buddhist through political
power. Let us remember the examples of Ashoka, Kanisha, Harsha and
Palas.
Dr. Ambedkar had said, he would make India Buddhist again. (mee bharat buddha maya karen)
NOW
BSP (Bahujan Samaj Party) have that quality to become give INDIAN Prime
minister. Buddhist, Phule, Shahu, Ambedkar Ideology person to INDIA.
Bahen Mayawatiji doing great job now for Buddhist, If you think no one
can do that kind of job after the Baba Saheb Ambedkar for Buddhist
Dhamma, Bahenji doing well we have to support him by VOTE.
Then only the Baba Saheb Ambedkar Dream become fulfill.
Make it in REAL
Tell to Everyone VOTE BSP
May be your 1 VOTE can make change in your life
May be your 1 VOTE can give you real Freedom
May be your 1 VOTE can give you real Political Power
Don't forget to VOTE BSP (Bahujan Samaj Party)…
Say : "Baba ka Hathee Aaya, hai BSP ne laya Hai"
Small Part of Ambedkar Movement
"BOOM THE BEST"
"Jai Bhim Ka Nara Gunjega Duniya Ke Kone Kone me"
"Baba ka Hathi Aaya, hai BSP ne laya Hai"
This artical Writer by
Dr. K. Jamanadas, in
http://www.ambedkar .org/
Congress, BJP manifestos will go into dustbins, says Mayawati

Manas Dasgupta

AHMEDABAD: Bahujan Samaj Party president Mayawati on Tuesday said both
the Congress and the Bharatiya Janata Party were shedding "crocodile
tears" for the poor and the downtrodden.

Ms. Mayawati said BJP's prime ministerial candidate L.K. Advani's
"sudden concern" for black money stashed in foreign banks was nothing
but an election stunt.

She was addressing a public meeting here to launch her party's
election campaign in Gujarat.

Referring to the Congress manifesto, she wondered what prevented that
party in power in Centre for the last five years to take such welfare
steps for the poor and the weaker sections of society. "You should
understand that it is only for your votes that the Congress is
suddenly showing concern for you."

Ms. Mayawati also criticised the previous NDA government at the
Centre. She said that during their rule Mr. Advani could have taken
steps to unearth black money.

She said both these major parties and their allies made "big promises"
in their manifestos to "lure the people and mislead society." After
the elections, the manifestos would be thrown into waste paper
baskets.

The BSP would contest all the 26 seats in the Lok Sabha from Gujarat.
It selected candidates from all sections of society to establish its
principle of "equality" for all. The party was the only solution for
the overall development of society, as both the Congress and the BJP
governments had "ditched" the people.

She also held the two major parties responsible for the growth of
insurgency and naxalism in the country.

Ms. Mayawati said she was for giving reservation in both government
and private jobs to the needy, irrespective of caste and creed,
including religious minorities, but such a step could be taken only if
the Constitution was amended.

She claimed she had written several letters to Prime Minister on the
issue, but to no avail. If the party was voted to power at the Centre,
it would take steps to amend the Constitution.
Mayawati launches poll campaign in Himachal
Una (Himachal Pradesh), April 2 (IANS) Uttar Pradesh
Chief Minister and Bahujan Samaj Party (BSP) chief Mayawati Thursday
charged both the Congress and the Bharatiya Janata Party (BJP) with
misleading the people, as she launched her party's Lok Sabha election
campaign in Himachal Pradesh.
Addressing a rally in this Himachal Pradesh town, she said her party was for the welfare of all sections of society.
"Since Independence, the Congress and the BJP fooled the people
with empty promises. If our party comes to power (at the centre), it
would work for the welfare of 'Sarv Samaj' (entire society). We don't
believe in vote-bank politics based on religion and caste," she said,
adding that the BSP had given representation to all communities.
"Our party will work for the welfare of all sections of society by
ending discrimination against the lower castes, the poor among the
upper castes and the minority communities," she said.
The BSP chief said her party had no pre-poll alliance with any political party in the hill state.
"Our party has no pre-poll alliance with any political party (in
the state). We would contest on all the four (Lok Sabha) seats alone,"
she said, announcing the names of the party candidates for these seats.
Mangat Ram Sharma is the candidate from the Hamirpur seat, Narinder
Singh Pathania from Kangra, Lala Ram Sharma from Mandi and Som Nath
from Shimla (Reserved).
The BSP has not been able to make its presence felt in Himachal
Pradesh despite having fielded candidates on all the 68 state assembly
elections in 2007. It could win just one seat in Kangra.
Vijay Singh Mankotia, a Congress rebel who led the party during the
assembly elections, had already announced his retirement from active
politics.
Mankotia, a former legislator from Kangra, joined the BSP in July
2007 after he was suspended from the Congress for criticising state
leaders and the party high command.
Sources in the BSP said the party is facing leadership crisis in the state after the exit of Mankotia.
Himachal Pradesh has a good number of the Scheduled Castes
(1,721,657), the Scheduled Tribes (274,288) and other backward classes
voters, but the BSP has so far failed to make inroads in the state.
The state, which has a total of 4,541,072 voters, will go to the polls May 13.
What is BSP's new name?
Uttar Pradesh Chief Minister Mayawati's supporters have coined a new
name for their party - not just Bahujan Samaj Party but also the Best
Secular Party (BSP).
Busy campaigning for the party, BSP activists in Lucknow can be seen
these days carrying flags with the `new name' - minus the original
name.
BSP news : Mostly BJP, RLD and SP leaders Join BSP in UP
Mostly BJP, RLD and SP leaders Join BSP
in UP
http://www.nhatky. in/mostly- bjp-rld-and- sp-leaders- join-bsp- in-up-12326458
Former BSP leaders join hands ahead of LS
polls
http://ibnlive. in.com/news/ former-bsp- leaders-join- hands-ahead- of-ls-polls/ 87185-37. html
7 Oppn legislators formally join BSP
http://timesofindia .indiatimes. com/Lucknow/ 7-Oppn-legislato rs-formally- join-BSP/ articleshow/ 4220657.cms
Maudood Madani joins BSP, to contest Lok
Sabha from Amroha
http://www.indianmu slims.info/ news/2009/ feb/01/maudood_ madani_joins_ bsp_contest_ lok_sabha_ amroha.html
Shahid Siddiqui: Why I joined the BSP
http://world. rediff.com/ news/article/ www/news/ 2008/jul/ 20inter.htm
Afzal Ansari joins BSP,to contest from
Gazipur
http://www.nowpubli c.com/world/ afzal-ansari- joins-bsp- contest-gazipur
Akhilesh Das joins BSP
http://news. indiainfo. com/article/ 0805101359_ das/148969. html
SP rebel leaders Agarwal, Verma join BSP
http://www.samayliv e.com/news/ sp-rebel- leaders-agarwal- verma-join- bsp/99730. html
SP, RLD, BJP leaders join BSP in UP
http://www.thaindia n.com/newsportal /india-news/ sp-rld-bjp- leaders-join- bsp-in-up_ 100162646. html
Father, son join BSP
http://www.telegrap hindia.com/ 1080529/jsp/ nation/story_ 9335165.jsp
Poll panel notice to BJP candidate for inflammatory remarks
New Delhi, April 2, The Election Commission Thursday issued a notice
to Anant Kumar Hegde, the Bharatiya Janata Party (BJP) Lok Sabha
candidate from Uttar Kannada, for making inflammatory remarks in a poll
meeting.
The poll panel said it has come to its notice that Hedge conducted a
election meeting in Mundgod in his constituency March 21, where he made
a statement that "if Muslims do not stop violence, it will be difficult
to celebrate Id-Milad".
In a statement issued here, the Election Commission said Hegde's
remarks violate the model code of conduct and also invite punishment
under the Indian Penal Code (IPC) and Section 125 of the Representation
of People Act, 1951.
"Now, therefore, the commission has decided to afford you an
opportunity to explain your stand why action should not be taken
against you for the said violation of the provisions of the model code
of conduct and other laws made in this behalf," the poll panel said in
its notice to Hegde.
The panel has given the BJP leader two days to submit his response.