04/13/09
Filed under:
General
Posted by:
site admin
@ 6:43 am
LESSON 42
Kindly visit:
http://ibnlive.in.com/videos/89994/kings-and-queens-mayawati-the-dalit-queen.html
"Sarv Jan Queen" weaves magic on campaign trail
VARANASI, India (Reuters) - As the helicopter swooped down a
cloudless sky, a tide of "untouchables (SC/STs)" surged forward for a glimpse of
their new champion — a 53-year-old woman billed as India's
potential prime minister.
The woman smiled and offered a windshield-wiper wave, sending the
crowd into raptures. They sang songs in her praise and raised their
hands in the air, as if in deference to a goddess who has descended
from the sky.
This is Mayawati, a daughter of "Scheduled Castes" or people formerly known
as "untouchables9SC/STs", whose inventive caste-based politics in this general
election is the hope of change for millions born into the poverty and
wretchedness of the lowest rungs of the Hindu social hierarchy though they are the aboriginal inhabitants of Jambudvipa, that is, the Great Prabuddha Bharath.
"No one feels for you the way our party does," Mayawati told a weekend rally in this northern holy town of Hindu gurus.
Hop scotching India by helicopter ahead of a staggered general
election beginning Thursday, Mayawati is seeking to replicate across
the country her stunning landslide victory in local polls in Uttar
Pradesh in 2007.
A key swing state, Uttar Pradesh is the single largest source of
seats in parliament and Mayawati is positioning herself as Prabuddha Bharath's first Scheduled Caste prime minister.
"Mayawati will getall the 80 seats this time in the state which
will allow her to leverage better as a Sarv jan (Entire people) leader," says political
commentators.
One of nine children, Mayawati managed to study law and become a
teacher through a government quota scheme for SC/STs before being
mentored by the BSP's founder.
But Mayawati, affectionately called "Behenji", or respected sister,
is an icon for most of India's 170 million aboriginal people she is
trying to mobilise.
Yet SC/ST alone are not enough to win Mayawati power.
Mayawati won the state election with an unlikely alliance of SC/STs
and the priestly Brahmins, the cream of the caste system. She is now
trying to replicate that alliance in other states.
The national parties — the ruling Congress and the opposition
Bharatiya Janata Party — have little presence in the state. Many SC/STs think Mayawati is simply unstoppable now.
"There is little to come in the way of Behenji," said Mangat Ram, a SC farm hand.
From the mountain heights of Kashmir to the palm-fringed beaches of
Kerala, from Nagaland in the remote north-east to the Maharashtra
heartland, India will this week throw itself headlong into the world's
largest and most extraordinary election.
Here, in the planet's biggest, if imperfect, democracy, candidates from 1,055
parties will be seeking the support of more than 714 million registered
voters – a number that has jumped by 40 million since the last election in
2004. Across India's 35 states and "union territories" there will
be 800,000 polling stations ready to receive voters, while six million
police will be on duty to try to maintain order. Such is the sheer scale of
this enterprise that the voting is to be staggered over a month with five
separate polling days. The result will be announced in mid-May.
Among some of the leading players in this political carnival are a movie star
turned politician, whose rallies lure countless thousands of the poor,
desperate for him to transform his on-screen Robin Hood heroism into
real-life action; a "Sarv Jan Queen Mayawati", whose support among so-called
Untouchables(SC/STs) could carry her to the prime minister's official residence; There are wealthy and
poor, old and young, high-caste and low, nationalists and those who want to
separate from India. There are those who preach peace, and those who promise
violence. There are dozens of languages and many different scripts.

MAYAWATI'S LAST MINUTE APPEAL
BSP Supremo Mayawati has issued her last-minute appeal to voters yesterday.
India goes through the first phase of voting on April 16. In the
States concerned, all campaigning will have to stop at 5 p.m. on April
14th.
We still have a chance from April 14th evening till early morning of April 16th,
to talk in person which will have a profound effect. Let us talk just
for a couple of minutes to as many of our friends and relatives as
possible, at home or office or on 'phone, about the points in
Mayawati's appeal. Let us please focus our attention to disinterested
voters, undecided voters, new voters of 18 years and older, seeking
them out at any and every constituency that we are familiar with. Let
us talk only on points that appeal to them most. You may have your own
points in addition. I have found the following topics of interest to
voters in the constituencies that I am familiar with in the States of
Kerala, Tamil Nadu and Maharashtra:
We are living in an era of unprecedented corruption. Just a few
years ago, the Congress Prime Minister Narasimha Rao was charged and
convicted for bribing four Members of Parliament to save him from a
non-confidence motion. Just a few years ago, Jagatguru Sankaracharya
Jayendra Saraswati of South India was arrested and jailed for murdering
a temple employee who had tried to expose corruption. And early this
month came the shocking revelation by the Swiss Government of $ 1456
billion (equal to Rs 75 lakh crores) invested by Indian nationals, long
believed to be from dishonest industrialists, scandalous politicians
and corrupt IAS, IRS and IPS officers.
Please remember that the additional votes that we earn for BSP in
our last minute efforts go to add to our share of votes in this
national election. Getting votes is as important as winning seats. BSP
is a movement which remains to grow.
With all my best wishes,
P.P. Lakshman
May 13, '09
11 Fort George Hill, Apt 9G
New York, NY 10040
email:pplakshman08@ gmail.com
tel: 917-664-6566
India braces for mother of all electoral battles
The Bahujan Samaj Party (BSP) of Uttar Pradesh Chief Minister
Mayawati is a dark horse. The Scheduled Caste politician is not hiding her desire
to be prime minister where the BSP will grab a huge chunk of Uttar Pradesh's
80 valuable Lok Sabha seats.
Political activists admit that the increasingly fragmented verdicts
in parliamentary elections have given smaller parties the importance
they lacked earlier.
"Ten years ago, if one had 10 MPs, nobody would care. Now each MP is
important. So smaller parties are playing as hard as they can get. So
they want to maintain their independent grouping so that they can
maximise their bargaining power," a Congress strategist told IANS.
The strategist, THREE BASKETS STUDY CIRCLE, admitted that, the BSP, would clinch more than 272 seats in
this election.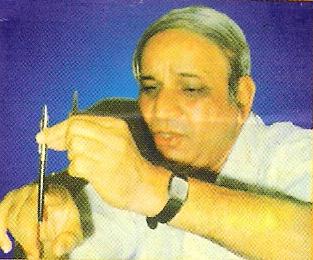 From Manyawar kanshiram Sahab's Malaysia speech -by Prof. Dr. Suresh Mane National General Secretary BSP
"…Capturing the Master Key

Babasaheb has said that
"political power is the master key using which you can open all the
doors of your progress and self respect".


Our friends from Maharashtra had been fighting since 25 years for
changing the name of Marathwada university. They had to do this because
they do not have the political master key. In 1989 Rajiv Gandhi came to
Lucknow and he laid down the foundation stone for the Dr Ambedkar
University. On one hand the Congress party is refusing to change the
name of Marathwada university in Maharashtra and on the other hand the
same Congress party is laying down a stone for the Dr Ambedkar
University at Lucknow. Why this has happened? The people of Uttar
Pradesh have never raised a demand for Dr Ambedkar Univesity at
Lucknow. This was the demand of people from Maharashtra.Then why is
this demand of people from Maharashtra being fulfilled in Uttar
Pradesh? Why was congress so eager to start a Dr Ambedkar University at
Lucknow? This had happened because the people of Uttar Pradesh were
extending their hand towards the political master key. Therefore the
ruling class wanted to hide the master key in guise of the university.

By capturing the power in UP we have formed not just one university but
many universities for which the people from Maharashtra have been
fighting for long time. In 1994 we laid a foundation stone for Shahu
Maharaj university at Kanpur. In 1996 we formed Mahatma Phule
university and Dr Babasaheb Ambedkar university. Apart from this we
acquired 200 acre land at Noida for Gautam Buddha Univesity. We created
17 new districts to fasten the process of development and more
importantly to honour our heroes by giving their names to these newly
formed districts. It becomes very clear from this that you can use
'caste' to acquire political master key and make use of this master key
to secure a life of self respect and take them along the path of
progress…."
Jai
Bheem. 14th April 2009 Bhaba Saheb. Dr. Ambedkarji Birthday. This
occasion Bahujan Samaj Party Tamilnadu, Mr. K. Armstrong, State
Convener, planned to celebrate as World Family Social Culture Day @
venue follows
Venue: Babha Saheb Dr. Ambedkar Memorial Hall, R.A. Puram, Chennai
Time: 10 AM to 6 PM
Note: Any one can join this occasion with your family
Program:
Dr. Ambedkar Kavasam Video Show
Gana Bala orchestra – Dr. Ambedkar Song
Tamil Cultural Events – Silambattam , Olylattam, Poikkal Kuthirai
Sakthi Kalai Kuzhu Program
Decorated Vehicles – Dr. Ambedkarji Rally
Posted By K Jeysankar BE, MBA, BL.,
---
Phulpur:
The state's ruling Bahujan Samaj Party (BSP) has fielded a Brahmin,
Kapil Muni Karwaria. 'With three Patel candidates, we are confident of
a split in these votes and that will help us,' said a BSP leader.
Mayawati says Central Govt. discriminatory
From ANI

Varanasi/Kolkata, Apr 13: Uttar Pradesh
Chief Minister Mayawati said that her party pulled out from the United
Progressive Alliance Government-led by Congress party as it
discriminated in releasing funds for the state.
"With deep heart I have to say
that the Central Government has not financially
helped us with even a single rupee. And because of this, we were forced
to withdraw our support to the Central Government," Mayawati told a
public rally here on Sunday.
Uttar Pradesh, which sends largest number of MPs to the Lok Sabha, will witness a quadrilateral contest.

The BSP, the Samajwadi Party, the Congress party and the Bharatiya Janata Party (BJP) are the main contenders.

The elections in Uttar Pradesh would be held in five phases: April 16, 23, 30 and May 7 and May 13.


4/12/2009 01:32:00 AM
|
with

As
individuals have properties, Political parties also have properties.
Each party has a value of plenty of crore. To get exemption in tax,
each party files IT every year and the values of some top leading
parties are provided below
Congress – 288 crore
Congre
ss
is the India's richest party and have a value of 288 crore. But to the
sources near them says that, the growth of their value has not
increased since 2003. Still they lead to be the richest party.
BJP
is the second richest party and have a value of 111.8 crore. They are
not even half to that of congresses value, but have been consistently
showing increase in their value.
SamajWadi – 77.07 crore
SamajWadi is the third richest party and it has a value of 77.07 crore. The growth percentage is 40 percent approximately.
Bahu
jan Samaj Party – 44.06 crore
Mayawati's Bahujan Samaj Party has a value of 44.06 crore and the growth percentage is 32 percentage approximately.
Marxist
Communist- 107.89 crore
The current value of the party is 107.89 crore and the growth percentage is 16 percent approximately.
India Communist – 6.25 crore
This is the party which has low value regarding their value. The growth percentage is increasing in slow manner currently.
Funds in Swiss banks and the overseas trips of Indian ministers
It is important the the PM answers this issue of his
ministers travelling to tax havens so often and not giving reports to PMO
.
Is he not a weak PM keeping quiet when minsters were
not reporting to him even about their trips
1. 71 of the 78 UPA ministers [ besides the PM] have made
786 foreign trips spending about 3,798 days and travelling 1.02 crore Km in
1287 days.
2. The ministers of UPA have done foreign
travel that will to log enough miles to circle the earth 256 times.
3. Large number of Congress ministers have
visited Italy again and again [Ambika Soni spent 23 days in all in personal
trips to Italy of which 11 days were not
disclosed to PMO.]
4. No less than twenty ministers visited Italy !
5. Most ministers go to Italy then to Switzerland
and then to Italy & In
between if time permits, visit India
6. All ministers who visit Italy also visit Switzerland ? Why? Dal me Kuch Kala
Hai!!
7. Arjun
Singh has spent two and half months
in several countries and Ashwini Kumar for 3 months. Kapil Sibal has
toured USA six times and spent 18 days on a trip to Malaysia and
China.?
8. Renuka Chowdhury totaled 112 days abroad
with "personal trips to Chicago and Singapore.
10.Praful Patel travelled
125 days on personal visit and 57 days on official visits and [Fatmi ofÂ
RJD] travelled 14 days on official visit and 181 days on personal visit.
All this is till
November 2008— last year
Most importantly Many of them have not given reports
to PMO on their personal trips which sometimes are side trips of official trips. This
makes Manmohan as a very weak PM since his own ministers even from Congress did
not consider the need to report to himRajiv
Gandhi wanted a Government on the move . This UPA government
was definitely one which was not just moving but flying to and from Tax Havens.It
is time PM releases the full travel list of his ministers, particularly to
various tax havens .
SOURCE for
data India Today Feb 18-2008
The estimates of the money stashed abroad can be inferred from a
pioneering study sponsored by Ford Foundation. It is titled —Illicit Financial Flows from
Developing Countries: 2002- 2006 — Global Financial Integrity [GFI] By Dev Kar
and Devon-Cartwright Smith-a project of Ford foundation
[Source: http://www.gfip. org/storage/ gfip/executive% 20-%20final% 20version% 201-5-09. pdf]
Financial flows in the
context of this report includes the proceeds from both illicit activities such
as corruption (bribery and embezzlement of national wealth), criminal activity,
and the proceeds of licit business that become illicit when transported across
borders in contravention of applicable laws and regulatory frameworks (most
commonly in order to evade payment of taxes).
a) In 2006, the most recent year of the Global
Financial Integrity-[GFI] study, developing countries lost an estimated $858.6
billion to $1.06 trillion in illicit financial outflows.
b) Even at the lower end of the range of estimates,
the volume of illicit financial Â
flows coming out of
developing countries increased at a compound rate of 18.2 percent over the 5
year period analyzed for the study.
c) On average, for the five-year period of this
study, Asia accounts for approximately
50 percent of overall illicit financial flows from all developing countries.
d) This report shows that
the average amount stashed away from India annually during 2002-06 is
$27.3 billion. It means that during the 5 year period the amount stashed away
is 27.3×5=136.5 billion. It is not that all these amounts had gone to Swiss. It
has gone to different tax and secret shelters. The share of Swiss banks in
dirty money being a third of the global aggregate, some $ 45 billion out of the
136.5 billion stashed away from India
would have been hoarded in these years in Swiss banks. [Pp-30-Source as above]
e)The important point is that
this is only for 5 years. More amounts were stashed away during the Nehruvian
socialist regime. So the loot for 55 years would be several times the about
money. In fact in those days the Indian rupee commanded a better value per
Dollar. So fewer rupee could get more dollars. So the estimation that the
Indian money stashed away may be of the order of $1.4 trillion.
f)This amount of USD 1.4 trillion is Rs 70 Lakh Crores when
our national income is around Rs. 50 Lakh crore
++++++++++++ +++++++++ +++++++++ +++++++++ +++++++++ +++++++
Amar Singh contributed millions to Clinton
Foundation

Aziz Haniffa in Washington ,
DC | December 19, 2008 | 09:23
IST
Samajwadi Party General
Secretary Amar Singh contributed anywhere from $1 to $5 million to the Clinton
Foundation, and so did industrialist Lakshmi Mittal, chief executive of
ArcelorMittal, according to information released by the non-profit organisation
set up by the former President Bill Clinton to fund a variety of charitable
activities around the world, including combating the scourge of HIV/AIDS.
The Foundation raised a total of $492 million since its inception in 1997
through the end of 2007, from 205,000 donors, including foreign governments,
other charitable foundations, trade groups like the Confederation of Indian
Industry (which gave anywhere from $500,000 to $1 million), businesses, and
individuals who gave as little as $10 each.
The list did not release
specific figures, but only provided a range of the contributions made, and
neither did it list the occupation or countries of resident of the individual
donors. So, it could not be ascertained whether Singh and Mittal gave $1
million or $5 million, or somewhere in-between, as with the CII, whether it
gave exactly $500,000 or a $1 million or somewhere in-between.
The figures showed that
the Foundation received more than $40 million from Saudi
Arabia ($10 to $25 million range) and other Gulf
countries, including Kuwait
and Qatar and from Oman , Brunei ,
Norway and Italy .
Earlier, it had refused to
disclose details of who the contributors were saying it wanted to maintain
their confidentiality, but with President-elect Barack Obama naming former
First Lady and Senator Hillary Clinton as his Secretary of State designate, a
memorandum of understanding had been hammered out between the Obama and Clinton
teams that the Foundation would not only release these names but also submit
future Foundation activities and paid speeches by the former President to an
ethics review.
Under the terms of the
agreement, Clinton
was also to absolve himself from the day-to-day operations of his annual
Clinton Global Initiative to which several foreign governments and
organisations had pledged funds and that the State Department would be kept
informed about new contributors, which going forward were unlikely to include
foreign governments.
The Foundation's CEO Bruce Lindsay and attorney Cheryl Mills, according to the Associated
Press, had also met with senior aides to Senator John Kerry, incoming
chairman of the Foreign Relations Committee and the ranking Republican on the
panel, Senator Richard Lugar and apprised them of the MOU between them and the
Obama team.
Several television networks like ABC News and CNN echoed the
sentiments expressed by the AP report that 'the list also underscores
ties between the Clintons and India, a connection that could complicate
diplomatic perception of whether Hillary Clinton can be a neutral broker
between India and Pakistan in a region where President-elect Barack Obama will
face an early test of his foreign policy leadership'.
The report noted
that
Singh, an Indian political leader had 'hosted Bill Clinton during a
visit to India in 2005 and met Hillary Clinton in New York in September
to
discuss the Indo-US civil nuclear deal'.
The AP also said,
"Some of the donors have extensive ties to Indian interests and could
prove troubling to Pakistan ,"
and noted that "tensions between the two nuclear nations are high since
last month's deadly terrorist attacks in Mumbai."
In an exclusive interview with rediff.com,
when he visited the US
in September, Amar Singh said the specific purpose of his trip at that particular
time was to meet with Hillary Clinton to among other things to urge her to push
for the consummation of the Indo-US nuclear deal.
He said, "I have had
a very close relationship with Hillary Clinton. I had not met her for long. I
had a dinner appointment with her yesterday night (September 12), where we
spent some quality time together for more than two hours. So, that was the sole
purpose of my visit because I thought that I should seize this opportunity to
come and interact with her."
When asked how this relation was formed, Amar Singh had said, "Our
relationship was formed long time back. We met together in India through Sant
Chatwal (New York-based multi-millionaire hotelier and close friend of the
Clintons) and thereafter it developed gradually and Mr Clinton came all the way
to Lucknow to attend a dinner for me and then in all the Clinton program
initiative meetings he has been calling me and interacting with me."
http://www.rediff. com///news/ 2008/dec/ 19amar-singh- gave-millions- to-clinton- foundation. htm

Indian
Industrialists Donation to Clinton
Foundation
Amar Singh, Lakshmi
Mittal, CII among major donors to Clinton Foundation New York, IANS:
Industrialist Lakshmi Mittal, politician Amar Singh, hotelier late Lalit Suri,
corporate houses Reliance and Ranbaxy, media house India Today group and
Confederation of Indian Industry figure in the list of prominent donors to the
Clinton Foundation..

Several Indian big-wigs, including industrialist Lakshmi Mittal, politician
Amar Singh, hotelier late Lalit Suri, corporate houses Reliance and Ranbaxy,
media house India Today group and Confederation of Indian Industry figure in
the list of prominent donors to the Clinton Foundation, according to the
information made public on Thursday.
Though the exact amounts
donated were not released, steel-tycoon Lakshmi Mittal and Samajwadi Party
leader Amar Singh fall in the category wherein they donated between one million
to five million US dollars. So did Tulsi R. Tanti-headed Suzlon Energy Limited,
which is based in Amsterdam ,
and is a leading supplier of wind turbines.
A close friend of the
Clinton family, successful Indian American entrepreneur Vinod Gupta, donated
between quarter million to half a million US dollars, so did hotelier Lalit
Suri who died in October 2006. Ajit Gulabchand, chairman and managing director
of Hindustan Construction Company (HCC) also made a similar donation.
The list of donors was
released by the William J. Clinton Foundation, established by the former US President,
Bill Clinton, as part of an agreement with the president-elect, Barack Obama,
under which he nominated the former First Lady, Hillary Clinton, as his
Secretary of State.
"As soon as Senator
Clinton was nominated to be Secretary of State, the Foundation staff began
working with President-elect Obama's transition team to ensure that not even
the appearance of a conflict of interest existed between the Clinton
Foundation's operations and Senator Clinton's anticipated service as Secretary
of State," the Foundation said in a statement issued in New York .
The Foundation is involved
in charitable work particularly in the underdeveloped world and in Africa . A large number of its donors are from outside the
US .
The biggest donors include the Children's Investment Fund Foundation, UNITAID,
Bill and Melinda Gates Foundation, Kingdom
of Saudi Arabia and government of Norway .
President Clinton's
efforts are unprecedented and go above and beyond what the law requires and are
intended to allow the important work of the Foundation to continue.
The Confederation of
Indian Industry (CII) donated between half a million to one million US dollars,
according to the list released by the Clinton Foundation. Major Indian and
Indian American donors in the category of $100,000 to quarter million include
the India Today group, Lata Krishnan, Mike Patel, Raani Corporation, Ranbaxy
Pharmacuticals and Reliance Europe Limited.Â
http://www.deccanhe rald.com/ Content/Dec19200 8/foreign2008121 9107645.asp? section=updatene ws
J.Venkata Subramanian
You may Leave quick comments on other posts of J.Venkata Subramanian@ jharkhand.wordpress .com/?s=Venkata+ Subramanian

---