04/14/11
Filed under:
General
Posted by:
site admin
@ 2:58 am
227 LESSON 14 04 2011 Atthinukhopariyaayo Sutta Is There a Criterion FREE ONLINE eNālandā Research and Practice UNIVERSITY and BUDDHIST GOOD NEWS letter to VOTE for BSP ELEPHANT for Social Transformation and Economic Emancipation to attain Ultimate Bliss-Through http://sarvajan.ambedkar.org-POLITICS is SACRED with GOOD GOVERNANCE-Hon'ble C.M. greets people on Ambedkar Jayanti

THE BUDDHIST
ONLINE GOOD NEWS LETTER
LESSON 227
COURSE PROGRAM
Atthinukhopariyaayo Sutta: Is There a Criterion?
The Pali title of this sutta is based on the PTS (Feer)
edition.
[1] "Is there, monks, any criterion whereby a monk,
apart from faith, apart from persuasion,[2]
apart from inclination, apart from rational speculation, apart from delight in
views and theories, could affirm the attainment of enlightenment:[3]
'Birth is destroyed, the holy life has been accomplished, what was to be done
is done, there is no further living in this world'?"
"For
us, Lord, all things have the Blessed One as their root, their guide, their
refuge. It would be well, Lord, if the meaning of these words were to be made
clear by the Blessed One.[4]
Hearing it from the Blessed One, the monks will remember it."
"There
is such a criterion, monks, whereby a monk… could affirm the attainment of
enlightenment… What is that method?
"In
this, monks, a monk seeing an object with the eye recognizes within himself the
presence of lust, hatred or delusion, knowing 'Lust, hatred or delusion is present
in me,' or he recognizes the absence of these things, knowing 'There is no
lust, hatred or delusion present in me.' Now, monks, as regards that
recognition of the presence or absence of these things within him, are these
matters to be perceived by faith, by persuasion, by inclination, by rational
speculation, by delight in views and theories?"
"No,
indeed, Lord."
"Are
not these matters to be perceived by the eye of wisdom?"[5]
"Indeed,
Lord."
"Then,
monks, this is the criterion whereby a monk, apart from faith, apart from
persuasion, apart from inclination, apart from rational speculation, apart from
delight in views and theories, could affirm the attainment of enlightenment:
'Birth is destroyed, the holy life has been accomplished, what was to be done
is done, there is no further living in this world.'"
[Similarly
for ear, nose, tongue, body (touch), mind.]
Pabbajja and Meditation
Course 1
Dear Upasakas and Upasikas,
Greetings from Bangalore Maha
Bodhi Society.
We have organized a 10 Day
Pabbajja and meditation program from 8 to 18 May 2011. I am herewith
enclosing the writeup and application form and rules.
We invite you to attend this
meditation course. Bada Bhante Venerable Acharya Buddharakkhita will be conducting
this course. The course will conclude with celebration of Lord Buddha's 2600 th
Enlightenment Year – SAMBUDDHATVA JAYANTI on 17th May 2011.
You are most welcome to be part
of us.
Thanking you
Yours truly,
Ananda Bhante
General Secretary
Maha Bodhi Society, Bangalore,
India.
email : bhante36@yahoo.com
POLITICS is SACRED with GOOD GOVERNANCE

Babasaheb Dr Bhimrao Ambedkar 120th Jayanti
POLITICS is SACRED with GOOD GOVERNANCE
Press Information Bureau
(C.M. Information Campus)
Information and Public Relations Department, U.P.
Hon'ble C.M. greets people on Ambedkar Jayanti
Lucknow : April 13, 2011
The Hon'ble Chief Minister of Uttar Pradesh Ms.
Mayawati ji has extended her heartiest
felicitations and
good wishes to the people of the State on the 120th
birth anniversary of the architect of the Indian
Constitution, Bharat Ratna Param Pujya Baba Saheb
Dr.
Bhim Rao Ambedkar.
In a greeting message, the Hon'ble Chief Minister
ji said that Baba Saheb Dr. Ambedkar struggled for
the
cause of SC/STs, backwards, have-nots, religious
minorities and the exploited people. He ensured
several
provisions in the Constitution to provide social
justice
and equal opportunities to all, irrespective of
their caste
and creed. She said that the contribution of Baba
Saheb
Dr. Bhimrao Ambedkar for the betterment and
welfare
of the people suffering from injustice and
exploitation
since centuries owing to social system based on
inequality would always be remembered.
Ms. Mayawati ji said that on the occasion of his
birth anniversary we should make resolve to fulfil
his
dreams by following the path shown by him. It
would
be a true homage to him, she added.
*********
A
grateful nation
Pays its
glowing tributes
To the
Messiah of the SC/STs,
The
Exploited and the Negleted, and the
Architect
of the Indian Constitution
Bharat
Ratna Parampujya
Baba
Saheb Dr. Dr. Bhimrao Ambedkar
On the auspicious occasion of his
"120th
Birth Anniversary (14 April, 2011)"
Notable
Steps taken by the Ms. Mayawati Ji – led Uttar Pradesh Government to perpetuate
the memory of Parampujya Baba Saheb Dr. Bhimrao
Ambedkar, till date
1. To honour Baba
Saheb Dr. Bhimrao Ambedkar and
Immortalise his memory the foundation stone of a
Magnificent " Dr. Bhimrao Ambedkar Memorial" laid on 15
August, 1995 at Lucknow.
2. Agra University
named after Baba Saheb Dr. Bhimrao
Ambedkar on 24 September, 1995 and financial
Assistance given to improve Dr. Ambedkar Hostel,
Gokulpura, Agra.
3. A new district,
Ambedkar Nagar, created after the name of
Baba Saheb Dr.
Ambedkar on 29 September, 1995 in
UP's Faizabad division. All offices including collectorate,
Brought within a single campus for the first time in the
State.
4. Stadium named
after Dr.Ambedkar in Varansi in 1995.
5. Inauguration of Dr.
Ambedkar Uttar Pradesh Police
Academy, Moradabad on 6 April, 1997.
6. Establishment
of Dr. Ambedkar Park at Saharanpur on 11
April, 1997, at Agra on 25 May, 1997 and at Gautam
Buddh Nagar on 27 August, 1997.
7. Creation of Dr.
Ambedkar Gaurav Puraskar on 14 April,
1997
8. Construction of
Dr. Ambedkar Ecology Museum and
Dr. Ambedkar Environmental Complex on 14 April, 1997
At Lucknow.
9. Establishment of
Dr. Ambedkar Institute of Technology for
Handicapped on 10 May, 1997 at Kanpur.
10. Decision taken
to name the state air strip at Meerut after
Dr. Bhimrao Ambedkar on 16 May, 1997.
11. Establishment of
Dr. Ambedkar Government Degree
College at Unchahar, Rae Bareli and construction of
Dr. Ambedkar Inter College building on 3 June, 1997.
12 Christening
of Dr.Ambedkar Agricultural Engineering
Degree College, Etawah on 19 June, 1997
13 Installation
of a Bronze statue of Dr. Ambedkar in
Hazratganj, Lucknow on 4 July, 1997,
14. Establishment
of Dr. Bhimrao Ambedkar Birth Centinary
Degree College, at Dhansari, Aligarh on 12
July, 1997
15. Installation
of Dr. Bhimrao Ambedkar's statue in
Kanpur (Company Bagh) on 26 July, 1997,ucknow
(Gomti
Nagar) on 16 July 1997, Gorakhpur and
Kushinagar on 1
Septemebr, 1997, Nawabganj on 26 July, 1997,
Bijnor on
2 April, 1997 and Ambedkar Sansthan, Ballia on
7
September, 1997.
16. Creation
of a separate Ambedkar Village Development
Department (Ambedkar Gram Vikas Vibhag) to
ensure
Proper monitoring and speedy implementation
of
Schemes under Ambedkar Gram Yajana.
17. Dr. Bhimrao
Ambedkar Hospital established at Basti on
02 September, 1997 and at Faizabad on 05
September,
1997.
18. Ramabai
Ambedkar Government Girl's Inter College,
Kota, Saharanpur established on 13
September, 1997.
19. steps taken
for effective implementation of
"Dr.
Ambedkar Vishesh Rozgar Yojna" to ensure
Employment,
specially for the members of SC/ST.
20. Dr.
Ambedkar Inter-state Bus Station dedicated to the
People
at Lucknow on 25 October 2002.
21. Establishment
of Dr. Ambedkar P.G. Hostelfor S/C
Students
pursuing higher studies at Lucknow.
22. Establishment
of Baba sahib Dr. Bhimrao Ambedkar
Medical
College in Banda district of Bundelkhand region
On
29 January, 2008.
23. Dr.Ambedkar
Community Tube Well Scheme becomes
Operation
from 14 MARCH, 2008.
24. In each
SC/ST basti under Dr.Ambedkar Gram Sabhas,
Setting
up of multi-purpose community centres initiated.
As
many as 2000 such community centres proposed to
be
Set up
this year.
25 Dr.
Ambedkar Samajik Partvartan Sthal, Gomti Nagar,
Lucknow
dedicated to the people on 14 April, 2008.
26. Unveiling
of the statues of Baba sahib Dr. Bhimrao
Ambedkar
and ramabai Ambedkar installed at Samajik
Parivartan
Prateek Sthal, Gomti Nagar, Lucknow on
14
April, 2008.
27. Unveiling
of Dr. Bhimrao Ambedkar's ststue installed
in Bauddh Vihar Shanti Upvan, Bijn0r Road,
Lucknow on
14 April, 2008.
28. Establishment
of Multi-super Speciality Hospital
after the
Name of Dr. Bhimrao Ambedkar at Noida in gautam
Buddh Nagar district on 13 May, 2008.
29. Establishment6
of Dr. Bhimrao Ambedkar Government
Degree
College, Odanya, Padariya, mainpuri on 13 May,
2008.
30. establishment
of Dr. Bhimrao ambedkar Government
Degree College, Anaugi, Kannauj on 13 May,
208.
31. Located
in Dr. Bhimrao Ambedkar samajik Parivartan
Sthal, Gomti Nagar, Lucknow, Dr. Bhimrao Ambedkar
Vihar, Dr. Bhimrao Ambedkar samajik Parivartan
Gallery,
Dr. Bhimrao Ambedkar Smarak Drishya Sthal,
Dr. Bhimrao Ambedkar Samajik Parivartan
Pratibimb
Sthal, Samajik Parivartan Sangrahalay and
public utility
Premises dedicated to the people on 25 June,
2009.
32. Construction
of Dr. Bhimrao Ambedkar International
Sports
Stadium at Gomti Nagar, Lucknow.
33. Construction
of a 50-seat Dr. Ambedkar SC/ST Hostel in
Greater
Noida.
34. Inauguration
of 'Dr.Ambedkar Krishi Urja Sudhar Yajna'
On 15
January, 2010.
35. Named after
Baba Sahib Dr. Bhimrao Ambedkar, free-of-
Charge boring
scheme becomes operational.
36. 'Dr. Ambedkar
Dalmau Ganga Setu', the newly
Constructed
bridge in Rae Bareli district over the Ganga
River dedicated to the people on 4 March, 2010.
37. Dr. Bhimrao
Ambedkar Gomti park dedicate to the
People on
6 December, 2010 in Lucknow.
38. Dedication
of one of country's largest, Dr. Bhimrao
Ambedkar auditorium in Lucknow on 15
January, 2011 to
The people and unveiling of the statue of
hon'ble Baba
Saheb Dr. Bhimrao Ambedkar installed in the
auditorium
Premises.
Every
policy of Uttar Pradesh Govt. is based on ' Sarvajan
Hitay & Sarvajan Sukhay'
Cong, BJP trying to do away with SC/ST
reservation: Maya
Madurai : BSP leader and Uttar Pradesh Chief Minister Mayawati has
alleged that both Congress and BJP were trying to do away with
reservation system introduced by B R Ambedkar for the uplilftment of
SCs and STs.
Accusing the two parties of failure to
improve the socio-economic
conditions of SC/STs and other oppressed classes, she claimed BSP was
the only party that followed the footsteps of Ambedkar and fulfilled
his dreams of social transformation in general and SC/ST emancipation
in particular.
Addressing an election meeting in
support of her party candidates in
the April 13 Tamil Nadu Assembly polls, she said her government had
done a lot for economically poor among the upper castes in Uttar
Pradesh besides helping the oppressed classes.
In Uttar Pradesh, there was reservation
for poor people of the upper
caste also. Her party was dependent on not only SC/STs, but poor and
middle class people of all the castes, Mayawati said.
She asked the people of Tamil Nadu to teach a lesson to the Congress,
DMK and AIADMK and make BSP a force in the state.
Will the RSS cooperate to handover the MASTERKEY to
Ms Mayawati as the Prime Minister of PraBuddha Bharath as desired by
Dr.Ambedkar, the father of the Constitution by wholeheartedly accepting the
same. Instead of talking about merit, they must accept distribution of wealth
to all sections of the society, including, land, healthy seeds, education, job opportunities,
with good governance without corruption.
UP government claimed that the
data issued by the National Crime Records
Bureau had proved that crimes against SC/ST and women in UP had
substantially decreased.

Uttar Pradesh is the most
populous state in the country and has a large number of SC/ST population.
The state government is taking effective action under prevention of crimes
against SC and ST Act in the cases of harassment of these sections," an
official statement issued by the government on Saturday said.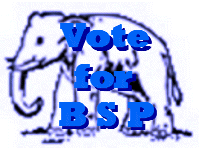 Sarvajan Hitay Sarvajan Sukhay
Vote for BSP in Elephant Symbol
Oust Dravidian parties from TN: Mayawati

CHENNAI: BSP national
president Mayawati has appealed to the people of
Tamil Nadu to reject Dravidian parties and put the BSP in power in the
State. Claiming that all the other parties in India were intent on
doing away with the reservation that Ambedkar had given the SC/STs,
she said that the BSP was the only party that would be able to stop
them from doing so
.


She claimed the BSP was the only party that could
establish a rule
blind to caste divisions.
She also promised the people of TN that she would
commission statues
of SC/ST/OBC icons, such as Ambedkar, Jothibha Phule and Narayan Guru, if
her party were to form the government in Tamil Nadu after the coming
Assembly elections.
"If awareness and revolution have to come to the
people of Tamil Nadu,
they have to vote the BSP into power in the State," said Mayawati. The
Congress, BJP and all other parties were trembling as her party had
chosen to contest elections in Tamil Nadu, she added. "That the BSP
would capture power in the State was only a matter of time", she said.
Mayawati also said she would bring to Tamil Nadu
the political
practice of convincing the upper castes to give reservations and
concessions to people from poor backgrounds, irrespective of their
caste, like she had done in UP.
2. Dr. Ambedkar Vihar, Lucknow;

3. Samta Mulak Chauraha and Ambedkar
Chauraha: Having two roundabouts and 2 crossings at Samtamulak
Chauraha; statues of SC/ST icons to be installed
Samajik
Parivartan Prateek Sthal, Lucknow;

2 acres on Gomti embankment for Rs 7 crores
.
Kanshiram Sanskritik Sthal Area
:
LDA carves out 80 acres from Smriti Upvan, built for Kargil martyrs
which costs Rs 90 crores.
4. Kanshi Ram Smarak Sthal
(Memorial), Lucknow;
Over 42 acre for Rs 370 crores
5. 13 Mall Avenue, Lucknow;

Manyawar Kanshi Ram Yaadgar Vishram
Sthal: Guesthouse on 13, Mall Avenue, initially allotted to
Mayawati. 2 halls, 12 rooms, garden which cost Rs 12 crores.
6. Manyavar Kanshi Ram
Eco Garden, Lucknow;

Over 4,800 square meters for Rs 4 crores.
7. Ramabai Ambedkar Maidan, Lucknow;

51 acre, for Rs 54 crores. Construction began in August 2007.
8. Gautam
Buddha Samta Moolak Sthal, Gautam Buddha Nagar;

Buddha Sthal and Sharda Canal Front
Development Area: 6,000 square meters on VIP Road in Alambagh
which costs Rs 90 crore. Statue of Buddha under a canopy 100 stone
columns, each with an elephant head
.
Eco
Park Area
: 30 acres which costs Rs 50 crores.
9. Buddha Vihar Shanti
Upvan, Lucknow;

Buddha Shanti Upwan Area: 18
acre at Kanpur Road which cost Rs 15.15 crores.

10. Smriti Upvan, Lucknow.
Prerna Sthal
:

U.P. to have special
force for monuments, parks
LUCKNOW: A well-equipped special security
force is to be constituted
now to protect the Mayawati Government's monuments, parks, statues and
memorials erected in memory of SC/ST icons in Lucknow and Gautam Buddha
Nagar (Noida). A Bill to this effect, titled State Special Zone Security
Force Bill, 2010, was tabled in the Uttar Pradesh Vidhan Sabha on by
Parliamentary Affairs Minister Lalji Verma.
The "special zone" in the Bill has been
defined as areas where the
memorials, parks and statues have been erected by the State Government.
These are:
1. Dr. Bhimrao Ambedkar
Samajik Parivartan Sthal (Centre for Social Change), Lucknow
BSP
supporters at the Ambedkar Centre for Social
Changes on Sunday.
Built during Mayawati's first tenure on 23 acres at a cost of Rs 150
crores. In 2007, she started building it afresh in 150 acres in Gomti
Nagar for Rs 500 crores. It has an elephant gallery with 60 stone
statues.
WELCOME
ELEPHANT SYMBOL
2. Dr. Ambedkar Vihar,
Lucknow;
3. Samta Mulak Chauraha and
Ambedkar
Chauraha: Having two roundabouts and 2 crossings at Samtamulak
Chauraha; statues of SC/ST icons to be installed
Samajik
Parivartan Prateek Sthal, Lucknow;
2 acres
on Gomti embankment for Rs 7 crores.
Kanshiram Sanskritik Sthal Area :
LDA carves out 80 acres from Smriti Upvan, built for Kargil martyrs
which costs Rs 90 crores.
4. Kanshi Ram Smarak Sthal
(Memorial), Lucknow;
Over 42
acre for Rs 370 crores
The Hindu
Uttar Pradesh Chief Minister Mayawati pays floral tribute to her mentor
and Bahujan Samaj Party founder, Kanshi Ram, at the newly built Kanshi
Ram memorial in Lucknow
5. 13 Mall Avenue, Lucknow;
Manyawar
Kanshi Ram Yaadgar Vishram
Sthal: Guesthouse on 13, Mall Avenue, initially allotted to
Mayawati. 2 halls, 12 rooms, garden which cost Rs 12 crores.
6. Manyavar Kanshi Ram
Eco Garden, Lucknow;
Over
4,800 square meters for Rs 4 crores.
7. Ramabai Ambedkar Maidan,
Lucknow;
51 acre,
for Rs 54 crores. Construction began in August 2007.
8. Gautam
Buddha Samta Moolak Sthal, Gautam Buddha Nagar;
Buddha
Sthal and Sharda Canal Front
Development Area: 6,000 square meters on VIP Road in Alambagh
which costs Rs 90 crore. Statue of Buddha under a canopy 100 stone
columns, each with an elephant head.
Eco
Park Area: 30 acres which costs Rs 50 crores.
9. Buddha Vihar Shanti
Upvan, Lucknow;
Buddha Shanti Upwan Area: 18
acre at Kanpur Road which cost Rs 15.15 crores.
10. Smriti Upvan, Lucknow.
Prerna
Sthal:
Ms Mayawati is not
just a politician, but a leader who leads a movement for Social Transformation
and for economic emancipation. She practices these through the Dhamma of the
Buddha.She will be called as the Mother Maha Mayawati when she gets the
MASTERKEY to rule PraBuddha Bharath. It is just a matter of time
Vote
BSP Elephant for Change
offering the MASTER KEY for the peace, happiness and Welfare of Entire
People.< ?xml:namespace prefix = o ns =
"urn:schemas-microsoft-com:office:office" />
BSP will return to power by
winning still more seats in the next Vidhan Sabha elections.
This will only enthuse
BSP workers.
According to the union home
ministry Uttar Pradesh ranks very low in the matter of crime against women and
the people of SC/ST.
The present government
has reduced poverty and unemployment and given impetus to industrialisation.
It is popular for its Development
works and enforcement of law and order.
Situation all over the
country remained calm because of things under control in the State following
the Ayodhya Verdict.
Central government
requested to take the strictest measures to root out terrorism.
The Rule of Law
Law and order situation
state, frightened by the jungle-raj of the previous S.P. government, people
elected the absolute-majority govt. of BSP by placing total faith in its
policies and programmes. It was then and there it was chosen to have a govt. Of
the rule of law for every situation because of the belief that there was no
alternative to it to ensure the progress of the state. Therefore, the moment
after getting into power the first task was to improve the law and order
situation at every level; and it could be said with confidence that there has
been a very notable improvement in the law and order situation, with efforts in
comparison to those of all previous governments. The living proof of it is the
continuous of peace and order in the state in the wake of 'Ayodhya/Babri Masjid
Judgement'. Its positive corollary was peace and order throughout the country
and no violence occurred anywhere in this regard.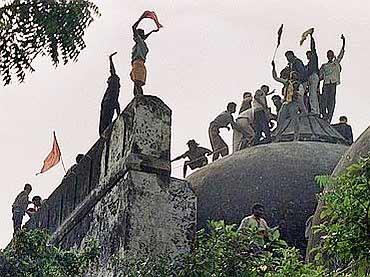 Further, while a major
part of the country is grappling with the problem of 'Naxalism' just the
reverse of it, peace prevails in Uttar Pradesh on this score. The reason of it
is; the govt. of BSP has not looked at this problem only as a law and order
problem but given complete attention to its social and economic aspects i.e.,
it was responded to militancy with development. With several solid measures
taken by the govt., the forecast corporation has been instructed to give back
50% of the net revenue obtained from Tendu leaves to their pickers in order to bring about
improvement in their economic status. Besides instructions have been issued to
give the utmost priority to improving facilities of health, education,
electricity, drinking water, lease allotment, ration distribution etc in the
naxal-affected areas.
BSP government has decided
to declare the remaining villages in naxal-affected areas as Dr.Ambedkar
village in order to link them with all development activities. The BSP state
govt. Is fully sensitive to the SC/ST and the 'vanvasis' and benefited about
10,000 eligible persons by allotting leases under the Forest Rights Act.
In addition, another serious
problem viz. Namely is 'terrorism'. Terrorism is nation-wide problem, for the
extermination of which the central govt. Have to adopt the strictest of
measures. It is believed that it will not be possible to put a check on acts of
terrorism unless; the borders of our country are secured. BSP govt. Is fully
aware of its responsibility to tackle the problem but the central govt. ought
to furnish correct and uncontested intelligence on terror and offer full
support to states instead of being just content with giving some general type
of information or advice. It is further believed that all state govt. Will not
be able to check terrorist activities, until and unless the central govt. lifts
itself up the party politics and equips every
state with the most modern arms and implements to match the weapons held
by the terrorists.
Not this alone, in view of the sensitivity of a huge
state like Uttar Pradesh the centre should earmark sufficient companies of
central security forces to protect important places of religious and tourist
interests. BSP govt. has written several times to the centre about it. Further
the UP state has not been provided with the means like central security forces
and other facilities etc. As has been done by the central govt. In respect to
Maharashtra following that Mumbai terror incident, which has not happened till
date despite repeated request.
Hon'ble members of opposition parties, who have been
raising questions regarding law and order under BSP govt., especially certain
criminal incidents of the last few days, must peep inside their fearts before
interrogating the govt. On its methods of administration.
BSP govt. Has established the rule of law in every sphere.
It is sincerely expected to know from the hon'ble member of the opposition
whether they can cite the instance of any govt. Present or earlier in power
which has thrown its own ministers, MPs or legislators behind the bars, without
delay found violating the law. They won't say anything about it because if they
do they will have to point to the BSP
govt. of Uttar Pradesh only which has taken strict legal actions against its
own party members in defence to the law without fear or favour.
As far rape and other recent incidents, during BSP govt.
Are concerned, it could only be said that regardless of the status of the
persons involved, it is the matter of the flawed traditions and upbringing
where mothers and sisters are not
respected and dishonoured. However, it has been the govt. of BSP only which has
adopted harsh legal measures against the 'principle criminals' however powerful
and influential people belonging to opposition party they might have been.
There are several such instances before you which is not repeated her. Not only
this, corrupt officers, found shielding criminals or being casual about it have
not been spared, whereas governments of other parties have made scapegoats of
mostly innocent persons. Even if the criminal is apprehended, the legal
proceedings are so dilatory or defence is so jejune that the criminal gets out
of the jail in a short period and justice is meted out to the aggrieved
after a fairly long period. As a result,
the victim is sometimes persuaded to take the law into his own hands. There are
several examples before you. It is also added that most of the cases which have
occurred, so far, in Uttar Pradesh are, somehow or other rooted in personal enemity
or may be attributed to the recent Panchayat elections, against which the govt.
has taken timely action.
So far as statistics of crime are concerned, UP figures
very low in comparison to most of the states in the country. In fact, even according to the data released
by the 'National Criminal Documentation Bureau, Home Ministry' on account of the
rapes for the year 209, Uttar Pradesh ranks very low. Statistical data reveal
that while the rate of rate is 1.4 per lakh of population in congress-ruled
Andra Pradesh, 5.3 Assam 2.5 Haryana 2.6 Delhi and 2.6 Chandigarh; in the BJPruled
states Chhatisgarh the crime rate was 4.3, Madhya Pradesh 4.2 and Orrisa 2.5.
However, comparatively this rate is only 0.9 in Uttar Pradesh, whereas the
average national rate is 1.8. It is explicitly clear that the incidence of rape
is even less that half of the total such incidents occurring all over the
country.
Why, indeed if the congress-ruled state of Delhi were to
be compared with victimisation of women in Uttar Pradesh it would clearly show
that the rapes commissioned in Delhi in 2010 as pre one lakh population the
rate of the crime works out to 2.83 whereas in Uttar Pradesh 0.67. Similarly,
molestation of women during 2010 in Delhi was 3.39 as against 1.38 in Uttar
Pradesh. Despite all this, the din being raised by the leaders of the opposition
party and different organisations and commissions over certain incidence of
rape , to say the least, most unfortunate.
While BSP government has taken prompt and harsh steps against those committing
rapes and such like crimes it may be reminded the leaders of the opposition
parties of 'Phoolan Devis' belonging to the mallah community who continued to
be subjected to all kinds of exploitation during the rule of the Congress party
and other feudal forces for a very long period. Governments of all opposition
parties remained mute and blind to all this, which forced Phoolan Devi to take
the law into he own hands leading tro the 'behmani massacre' in 1981 under
congress rule and leaving behind a trail of many dead and a number of widows in
subsequent criminal activities.
Later, in time, after the formation of the NDA
government, 'this woman' was murdered in Delhi in broad daylight and the
perpetrators of this crime are still roaming free. Clearly, all the governments
of the opposition parties are to be blamed for this. So also, why have the
leaders who are indulging in all kinds of dramatics for the protection/security
of women's rights not come forward to see that full justice is done in such
cases like Tandoor affair and the murders of Jessica Lal, Priyadarshini Mattoo
and Ruchika? Indeed, it has been the general public which has had to get down
to the streets to advocate their cause.
Apart from this you may be aware that a few days back in
the Bihar state, the BJP-supported government failed to provide justice to the
victim of a BJP legislator's exploitation, due to which the victim has to take
the matters in her own hands. But as opposed to this, the BSP government has
left no stone unturned to punish the culprits as per the law. The recent
example of it the "Allahabad Karelli case". Asa soon as the BSP Government took
charge in 207, strict actions were taken against those culprits. Today all the
criminals involved in the act are behind the bars. The reason of putting these
facts is to prove that the BSP government is fully capable of providing justice
to the persecuted. BSP government never forgives the culprits, however high and
holding important positions whether in the opposition or in the ruling party.
Even in the police and administration, as in the case of Banda and Kanpur,
those who failed to fulfil their duties were subjected to strict action against
them. The responsibility of this lies with the previous governments whose
officers and representatives misused the government missionary to serve their
own selfish, political and personal ends, turning corrupt, careless and
irresponsible. The impact of losses caused by them are now being faced by BSP
government. BSP govt. However, dare say that it will convert these corrupt
officers in to honest ones. It might take sometime to deal with the amlady as
thw disease has taken deep roots in the system.
The people in the opposite parties have been raising
questions that despite having a Scheduled Caste Chief Minister at the head of
the government, the SC/STs are not safe, whereas the BSP government has shown
better results in the Scheduled Castes and Scheduled Tribes. As per the report
from the National Crime Research Bureau, in UP, the crimes committed against
SC/ST are much lower in comparison to other regions.
In UP the crime rate against the SC/ST is 3.8 per lakh
population, whereas the crime rate in Rajastan is 7.5, Orissa 4.2, MP 4.3,
Bihar 4.0 & AP 5.4. In UP the disposal of the cases have been 94.8%,
whereas all the other regions combined have registered only 74.1% cases. As
many as 3217 known criminals, involved in crimes against SC/ST were punished as
against 5934 throughout the country.
The crime committed against SC/ST were instantly registered,
pursued and disposed off in time. During BSP governance, no cases against SC/ST have been withdrawn. BSP
government has also not spared any miscreant who have been found forcing
themselves on the SC/ST, minorities and other tribes. Judgements on these cases
number much higher in BSP government in comparison to other governments.
Development based on
"Sarvajan Hitay – Sarvajan Sukhay" policy.
Along with the law and
order, BSP government has been honouring the Great Saints, Gurus and leaders
from the SC/ST Samaj, specially – Mahatma Joyiba Phule, Chatrapati Sahu ji
Maharaj, Narayana Guru, Baba Saheb Dr. Bhimarao Ambedkar & Manyawar Shri
Kashiram Ji. BSP government has been following their teachings & has also
been running administration based on the policy of "Sarvajan Hitay – Sarvajan
Sukhay". BSP has nade progress in all directions and regions specially with the
cooperation of the poor, deprived, SC/ST
and cultural minorities. They have been given preference in all matters and
schemes such as : 1. Dr.Ambedkar Gram Sabha Vikas Yojna. 2. Savutribai Phule
Balika Shiksha Madad Yojna. 3. Mahamaya Garib Balika Ashirvad Yojna "Sarvajan
Hitay". 4. Shahri Garib Makan (slum area) Malikana Haq Yojna. 5. Manyawar Shri
Kashiram Ji Shahri Garib Awas Yojna. 8. Niji Nalkoopon Ke Urjikaran ki
NayiYojni. 9. Dr. Ambedkar Nihsulk Boring Yojns. 10. UP Mukhyamantri Mahamaya
Garib Artik Madad Yojna. 11. Dr. Ambedkar Krishi-Urja Sudhar Yojna. 12. UP
Janhit Guarantee Kanoon. 13. Mukhyamantri Mahamaya Sachal Aspatal Yojna. 14.
Gram Panchayat Sachivalaya Sthapna.
Along with this, important decisions to eradicate poverty
and unemployment, encourage various small and large scale industries to benefit
farmers, labourers, workers, layers, youth, women, businessmen, and people from
various fields have been taken.
A buffer stock of all kinds of fertilizers has been
maintained for farmers and cane farmers so that particularly these farmers do
not face any inconvenience in occupying seeds and fertilizers. Besides, seeds
of progressive breeding have been supplied. Along with this, an arrangement for
kisan credit card to the farmers for farming loan has been made on priority
basis. In this regard, on the occasion Ms.Mayawati's birthday under the
Jan-kalyankai Karyakram, this year 70226 Kisan Cridit Cards have been distributed
throughout the state, by means of which a combined loan of Rs.206 crores has
been made available to the farmers.
At the same time, for irrigation and farming purposes,
electricity, on fixed rosters, is being provided, canals and tube wells are
being run on full capacity. During the current crushing season, BSP government
has given historical and never before raise in sugarcane prises by
Rs.40/quintal to the cane farmers. According to thisn for early maturing
varities Rs.210, normal varieties Rs.205 and non competent varieties Rs.20 per quintal has been fixed. Sugar mills
have been instructed to keep running till the sugar cane crops stand in the
field. Along with it is ensured that timely payment to the farmers is being
made for their harvest. Cases have been registered against those sugar mill
owners who ahve failed to run their mills on due time.
Similarly, under the cases of land acquisition BSP
government has taken few historical decisions under which the policy of
rehabitaliization of the affected farmers is also under process. The affected
farmers will get Rs.20,000/ acre annually for 33yrs, along with araise of
Rs.600 which will be exclusive of the compensation. An arrangement of giving a
one time amount of Rs.2,40,000/ acre has been made for the affected farmers,
who have denied the annual payment. On the condition of acquiring land an
option of obtaining 25% of equity shares has been given to the farmer. 0.7% of
the acquired land will be allotted to the related farmers for housing purpose.
The area of the said land either 120 sqmtr or more will be decided by the
concerned department. A provision has been made for the affected farmers under
which they are given a reservation of 17.5% under the plot allotment scheme.
Honouring the saints,
Gurus, & Great Leaders.
BSP government
has felicitated the various Saints, Gurus & Lraders born under the SC/ST
and Other Backward Castes. But opposite parties having communal mentality are
not able to digest this.
Power Development
The opposition parties have
raised some questions on the power supply in the state. In this reagard it
cleared that the problem of power supply is not new to the state which actually
is a result of the ignorance of the previous long time ruling parties & their
supporting parties. It is due to this that the government is suffering with
less supply than the daily demand. But inspite of limited resources it is tried
to fulfil the demands of the farmers, common people & industries, we are
buying power on a rate of Rs.7 to 8 per unit. The main reason being that the
previous government did not establish any power units. Moreover the BJP
government, during their rule, sold out :Unchahaar & Tanda Thermal Power
Projects" to NTPC for peanuts. But after BSP
government took the charge, it took effective measures to eradicate the
problem of power were taken in the state.
In this regard the process of establishing new power
houses and refurbishing of the old ones with better capacities is going on. As
a result of the efforts being made in this direction, by the end of 11th
Five Year Plan, there will be sure rise of 6151 megawatt in power generation.
Under this the new units to be established in the state,
i.e., the "Parichcha Tepeeya Vistar Yojns", Hardus Ganj Pariyojana (500 MW),
Anpara-D (1000 MW), along with these in Private sector, Anpara-C(1200MW), Sri
Nagar Jaleeya Pariypjna (330 MW) & under MOU route (450 MW) are included.
Besides these, under the 12th Five Year Plan
scheme, a decision has been taken to establish the following new units in the
state government sector. Panki Tapeeya Vistar Yojna (250MW), Hardua Tapeeya
Vistar – stage II (660 MW), Obra-C Tapeeya (1320MW) & Anpara E Tapeeya
(1320MW), total 3550MW.
Similarly, under the 12th Five Year Plan, in
the joint sector 2 new units of 3300 MW & in private sectors, under various
models units of 19540 MW are being worked upon.
Under all the above said measures taken, in the coming
days, the state government is fully functional to resolve the people's power
cut problem from the state.
Strategy of Total
Development
Fast progress has been
registered in regard to development of villages and cities under 'Dr.Ambedkar
Geam Sabha Vikas Yojna' and 'Manyawar Shri Kanshiram Ji Shehri Samagra Vikas
Yojna' and other schemes. Besides, govt. Of BSP has strived to create in the
state an environment, free from injustice, free from crime, free from fear,
free from corruptionand prone to development in all matters and had requested
the central govt. For a special economic package of '80 thousand crore'., in
view of the shattered economy under the earlier govt. About which the centre
has been negative so far – for the development of the most backward regions of
the state such as Poorvanchal, Bundelkhand and other backward areas so that
education, electricity, water, health could be procided to the people living
below the poverty line here. And yet, BSP govt. Has sufficiently developed the
backward regions in the state. BSP govt. Has completed many historic improvement
tasks of public welfare, which have also
been referred to in large measures in the address of the Governor that is is
not repeated.
BSP govt. Has always been serious about the all-round
development of the state. However, UP being still one of the largest states ,
has written several times to the Central govt. To carve out Poorvanchal,
Bundelkhand and western UP as separate states for a comprehensive development
of their backward areas, but no reply
has been received from Central govt. To make these regions separate
states. Immediately a special session will be convened of Vidhan
Sabaha to approve the proposal for onward transmission to the Central govt. In
short the BSP govt. Will exercise not a moment's delay in this matter.
Disaster's Relief
Every year UP state,
especially the Poorvanchal region is devastated by floods, the main cause of
which is Nepal. BSP govt. Has been exhorting the Centre by writing repeatedly
to find out a permanent solution to the problem but no action has been taken
till adte. In fact, last year some neighbouring states had released large
quantities of water during the monsoons.
Demand For Central Aid
Assistance was also solicited from the Centre, after the Mumbai pattern, to
deal with terrorist activities, but the Centre's response has been negative
here also. The Centre's attitude has been the same about the naxal menace.
Decision was also taken to include certain castes
belonging to backward classes in the satate such as Scheduled Castes such as 1)
Kahar, Kasyap, 2) Kewat, Mallah, Nishad 3) Kumhar, Prajapati 4) Dheevar 5) Bind
6) Dhar, Rajdhar 7) Dheemar

Batham 9) Turha 10) Goda 11) Manjhi 12) Macchua
13) Loniya 14) Noniya 15) Loniya-Chauhan 16) Dhankar, Pal etc. The Central
govt. Has been approached several times to extend reservation to them but even
here the Centre is silent. Here it is mentioned, especially, about the SP govt.
Which had made only a sham effort (drama) to include these castes in the list
of SCs. Consequently, neither these castes be included in the SC list nor could
they avail themselves of the benefits earmarked for the backward classes.
Social Harmony
It is among the
priorities of BSP govt. to protect the life, limb and faithof the religious
minority, especially Muslim community. Immedeately BSP got into power the first
time in 1996, a separate 'Uttar Pradesh Minority Welfare Department' – a first
time in the country for the uplift of minorities .BSP govt. as well, accorded
the benefit of reservation in education and govt.services to the backward
sections among the Muslims. For the first time, again, the 'UP Madarasa
Education Board' was constituted by BSP govt. and so far 100 Madrasas have been
brought on to grant-in-aid list. Many more schemes to enhance their educational
and economic status have been introduced. An 'Urdu Arabic and Persian
University' has also been established by the govt. in Lucknow but for the
reason of financial constraints the govt. cannot do much more, though it
feverently wishes to do so.
But when it comes to the govt. of the other parties the
number in govt.services has come down from 33 to 1 or 1.5. The maximum number
of Hindu-Muslim riots was during the congress rule. In fact during BJP rule
behind the curtain of communal riots a climate of fear has been created for
them. As far as SP party, on coming into power in UP it pocketed their votes
but did nothing tangible to further their interests except wind-beggary.
On the other hand BSP govt. from the beginning of its
rule took note of the uplift of SC/STs and other neglected classes, setting up
separately three departments namely 'Uttar Pradesh SC/ST Welfare Department',
'Uttar Pradesh Backward Class Welfare Department' and 'Uttar Pradesh Disabled
Welfare Department'. Ministers were also appointed separately for these dept.
And many historic steps were conceived
and implemented for the good of these sections of the society.
Control of Price-rise-
For the galloping dearness
throughout the country, it is not the state govt. but the Congress lead UPA
government's wrong economic and import-export policies which are entirely
responsible. Along with Uttar Pradesh the people all over the country are
suffering on account of the flawed policies of the Central govt. intended to
benefit the capitalists and the rich. Not only this, tghe irresponsible
statements of the hob'le ministers of the Centre from time to time have also
fanned the fire of price-rise, giving full opportunity to unscrupulous 'hoarders and profiteers' to hike prices of food grains and other edibles. It would be,
thus, more appropriate for the opposition parties to raise voice against the
Central govt. instead of making uncalled for comments on the state govt.
All concerned officers in the state have been given
strict instructions to keep the prices of edibles under control in the state
and to take condign measures against hoarders and profiteers, a fact, known to
all. A drive is on against hoarders profiteers. During the current financial
year, ended December about 31,000 shops were raided and more than 120 FIRs
registered. About 50 people were arrested. 0.4 thousand ration shops suspended
and licences of about 2500 cancelled.
Reality of Central Aid
About the reality of the Central and about which a good
lot has been said during the decisions,
especially by the hon'ble members of the Congress party. The Centre does no
favour by providing aid to the states. Indeed, under the constitutional system
it is the Centre's obligation to give the assistance. It is the rights of the
states to obtain such aid. It si known to all that the Central taxes flowing
from the states are made available to the states under the prescribed formula.
It may also be noted, in this connection, that the
maximum contribution to the Central revenue s and yet the Centre is not giving
the state government its due share. The Central government has not given any
extra assistance which might have helped the development of state. The truth is
that a sizeable share of the amount on account of centrally sponsored schemes
has not been paid to Uttar Pradesh during the last three years. Insistent and
persistence entreaties have been assiduously ignored.
As against a total of Rs.33,000 crores due to the state
by war of central assistance, during the current financial year, only about
Rs.18,800 vrores have been released until December 2010 by the Centre while the
fiscal year is just about to end. Thus, even if the due share were to be made
available by the Central government, it would necessarily take time to spend it
and if it were not possible to utilize this amount, it would be adjusted by the
Centre in the amount earmarked for allotted the next year. Evidently. Uttar
Pradesh will have to pay for the centre's non-cooperative policy.
Likewise the Central
government has not taken any positive decision, till date on BSP government's
demand for a special economic assistance package of Rs.80,000crore to achieve
total development of the state and speed up the pace of progress in Poorvanchal
and Bundelkhand with a view to removing regional imbalances.
There are, in fact several such schemes/projects in which
the Centre has discriminated against the govt.of BSP. For example, many
irrigation related projects of several states are being implemented as central
projects, whereas notwithstanding BSP's reperated requests not one single
irrigation project has been included in central agenda. Not only this, under
PMGSY the work to access bustees, with a population of more than one thousand,
with link roads has been completed in the state . Thereafter, BSP govt. decided
to provide road linkage to bustees with a population with one thousand.Proposals to the effect
were made available to the Central govt. quite sometime back which have not
been approved till date. On the contrary, linkage of suchmajras in other states
has already received the go-ahead signal form the Centre.
Frankly, there are many more schemes/projects, on account
of which the Central Govt. pats its own back, claiming their implementation but
the burden of the expenditure thereon is shoved onto the shoulders of the state
govt. For example, disbursement of scholarships to OBC students is the
responsibility of the Centere. But the required amount is not forthcoming from
the centre. Thus, the central commitment to reimburse the amount of these
schiolarships to the state has not been honoured.
Quality of Construction
Works-(to be contd.)
Quality parameters have been kept in mind during the
large scale constructions of road & bridges. Not only this, but strict and
immediate actions have been taken against the culprits, as and when complaints
were received.
In relation with the same issue, it is also reminded that
the quality of all the construction work done by the collusion of engineers,
contractors & the people close to the govt. under the previous SP rule,
which is quite clear in front of the people of entire state.
Along with this, the construction work being done under
the govt. of Congres party fell off the face when in September 2008, the bridge
under construction by the National Highway Authority in the capital city
Lucknow on Faizabad road suddenly collapsed leaving behind innumerable
casualities. BSP govt. provided every help to the accident victims, alongwith
which we demanded thorough investigation of the accident from the Central govt.
Till date no one has a clue about the investigation report on the same issue.
Similarly, under the flagship of the BJP, govt. of NDA was constructing roads
by the National Highway Authority, when an honest engineer tried to put the
corruptions going on, into then Prime Minister's knowledge, in November 203,
the engineer was found dead under mysterious circumstances in Bihar.
Special Component Plan (SC
sub-plan)
Everyone is aware that
BSP has been very sensitive about the development of the SC/ST people. This is
the reason why , during the previous govt. session 2002-03, BSP designed the
budget in such a way that the amount fixed for the special component plan is
spent in the development of the SC/ST people & is non transferable to any
other account or for any other purpose. In the similar regard, that ever since
BSP govt. came into rule constant measures have been taken for the Five Year
planning schemes, in the year 2007-08 BSP spent 82.1%, in the year 2008-09 it
spent 98.7% & in the year 2009-10 it spent 96.1% of the total budjet allotted
under the Special Component Scheme. In contrast, to our figures during the 10th
Five year planning scheme, only a total expenditure of 60.7% were made. Exactly
opposite to this, the behaviour & treatment
of other oppositie parties, toward the SC/ST people is not hidden from
the common people. The public cannot forget how the congress party transferred
the Lump sum amount of Rs.750 crore from the Special Component Plan to the
Common Wealth Games.
Similarly, UPA govt. ruled by Congress party
conspired & tried to discontinue the
reservation for the SC/ST in the Higher Educational Institutions & also
tried to impose an Anti SC/ST reservation bill in Lok Sabah. But in both cases
, due to the strict objections raised by BSP government, the Congress
conspiracies wre washed away.
In regards to the SC/STs, the thinking of other parties
is similar to the Congress. The creator of the Constitution Baba sahib Bhimrao
Ambedkar, arranged a reservation bill for the progress/betterment of the
SC/STs. To change this bill, the then BJP ruled NDA, by all means set up a
commission against the bill, which BSP party did not let happen.
Justification of Change in
the State Guest Manual
Regarding certain
amendments introduced in the state guext
manual that the matter has been under consideration for a long time. Different
states have adopted different policies in this regard, in the process of
amendments to the UP guest manual, perusal of manuals of other states was
undertaken including those of Kerala and Karnataka, only after which amendments
were finalised which had been overdue. It appears that hon'ble members of the
opposition have not gone through the manuals attentively of other states as wel
as the amendments incorporated in the state manual else, they would have not
have raised such objections.
A program for inspection by visiting every district in
the state have been formulated with
effect from 1st February, to review the status of law and order,
development and public welfare works to maximise benefits to the people.
Instead of appreciating this, the opposite parties are insinuating and engaging
in abominable politics. With nothing more to say, now they have come to the
level of Chief Minister's sandals.
Through the press/media the answer has already been given to them by the Chief
Minister. Some of the members of the media, newspapers and channels with
castiest mentality, unhappy with BSP and govt. have greatly exaggerated the
issue to be quits. Even before this, when the Chief Minister was in her review
tour of Aligarh and Mahamayanagar districts, all antagonists went, hammer and
tongs after tow of her ministers, namely Thakur Jaiveer Singh form Aligarh and
Sri Jaiveer Singh from Mainpuri even as the allegations against both these Ministers,
according to reports till date, have been found devoid of facts and baseless.
Actually, the allegations against BSP's two ministers appear to be a conspiracy
by the opposition to defame BSP and govt.
Conspiracies of these kind prove that the opposition has
been left with nothing tangible to say against the govt. Perhaps, the
opposition parties do not realise that whenever opposition has attempted to
pull down BSP it has, emerged more invigorated at the grass roots.
The leader of the main opposition party, while speaking
on the motion of thanks to the address of the Governer had said something about
the presence of the leader of the house in order to maintain the tradition. To
this, the response is that instead of dishing out advice to others, he had
better learn to follow the advice himself. It would have suited him well that
when the budget was presented in the house he had been present in the house
keeping with the tradition. It is guessed his answer would be : if he could be away to do some work why couldn't
the Chief Minister have some important govt. work to do ! Her advice to the
leader of the opposition would be : before complaining of dust on other's shoes
look at his own unclean doorsteps.
Among other things, criticism of BSP's govt. by the
opposition parties during the motion of thanks to the address of the Governor
in the hon'ble house has been fully answered and rebutted on all important
issues point by point in order to enlighten the people of the state about the
reality. Before conclusion, Chief
Minister appealed all the hon'ble members of the opposition parties to desist
from levelling fictitious and baseless charges against the government's goal of
speeding up the rate of development and offering to the people better law and
order.
Finally, The Chief
Minister welcomed the motion of thanks to the address of the Governor and
prayed to the Nature that the heinous act by the opposition parties of
violating parliamentary dignity, this time and before, is not repeated and may
the Elements bestow wisdom on them, for the future with this, now it is
stopped.
Thanks
LUCKNOW: The month-long statewide
inspection drive to assess the progress of developmental projects and
implementation of various schemes by chief minister Mayawati
was not only an administrative exercise. If sources are to be believed, the
drive in fact is part of her five point strategy to romp home in the 2012 UP assembly polls.
During her visits, Mayawati also took feedback of the performance of sitting
MLAs and the candidates short-listed for the 2012 assembly polls before making
final announcement. The Ambedkar villages selected for visit also had
substantial Muslim population, sources said and added that she has already
constituted bhaichara (brotherhood) committees at the booth level in districts
to bring castes and communities other than SC/STs, close to the BSP.
Party insiders also said that the BSP supremo is aiming to build an alliance of
SC/ST, most backward classes and Muslims without upsetting the upper castes,
particularly the Brahmins.
According to sources, Maya has chalked out a five point programme for her
mission 2012.
First: If in 2007 BSP's focus was on SC/ST-brahmin-muslim alliance, which
brought it to power with absolute majority, for 2012, the party is aiming at
the combination of SC/ST-muslims-most backward classes. At the same time, BSP
will not say or do anything, which could antagonise any caste or community.
Secondly, Maya wants to declare party candidates one year in advance for polls
due in April-May 2012, so that the latter get enough time to groom their
constituencies.
Maya is of the view that a candidate should not be barred from contesting
election on the basis of criminal record, but party sources said that she is
taking extra care to verify credentials of the candidates selected for 2012
assembly elections before announcing their names.
"We won 2007 election on law and order issue, hence extra care is being taken
to improve the situation," said a senior BSP leader.
The third point in Maya's agenda is to find out a detailed caste configurations
of every constituency, as delimitation has changed the demographic profile and
old equations in comparison to 2007 assembly elections.
Fourth: Maya wants all development work sanctioned for SC/ST dominated areas to
be completed by July this year. Committed SC/ST leaders have been given
important positions at district level in party organisation and have been told
to convince SC/STs that the BSP is the only party they can trust on.
PWD minister Naseemuddin Siddiqui, has been asked to build an alliance of
Muslim-SC/ST-backward classes to score in 89 reserved assembly seats in the
state out of 403 assembly constituencies.
Maya's close confidant and Brahmin face of the party, SC Mishra will continue
to focus on the Brahmins. Swami Prasad Maurya and backward leader Babu Singh
Kushwaha are working among non-Yadav backward classes and most backward classes
(MBCs) close to the BSP
LESSON
225
About Dr B R Ambedkar
Dr B R Ambedkar was born in a caste
which was considered as the lowest of the low. People said that it was a sin it
they offered him water to drink, and that if he sat in a cart it would become
unclean. But this very man framed the Constitution for the country. His entire
life was one of struggles. And his personal life was too sad; he had lost his
first wife and sons. But even though he did not lose his dareness for the
social welfare of people of India. The boy who suffered bitter humiliation
became the first Minister for Law in free India, and shaped the country's
Constitution.
It
is no wonder that everyone called him 'Babasaheb', out of love and admiration. Bhimrao
Ambedkar was the lion-hearted man who fought for equality, justice and
humanity.
Visit http://www.ambedkar.org/ for more detail.
VOICE OF SARVAJAN LUCKY LEAKS
"You must have firm belief in the sacredness of yourgoal.
Noble is your aim and sublime and glorious is your mission. Blessed are those
who are awakened to their duty to those among whom they are born. Glory to
those who devote their time, talent and their allto the amelioration of
slavery. Glory to those who would keep on their struggle for the liberation of
the enslaved despite of heavy odds, carping humiliations, storms and dangers
till the downtrodden secure their human rights". -Babasaheb Dr.Ambedkar. Best
wishes of Baba's 120th Jayanti. – Gopinath, BSP
Son of Soil..Pioneer of Social Justice… Voice of
humanity…We salute the true father of ore nation dr. Babasaheb Ambedkar.- BSP
Dr. Rahul
For a Special person
Its day of celebrations,
Its day to value a special person,
Who taught world the lesson of Self Confidence
Its Dr. Babasaheb Ambedkar..
The Father of Indian Constitution !
May the spirit of Self Confidence and Fight against oppression be with us in this Ambedkar Jayanti.
Wish you all the Happy Ambedkar Jayanti 2011

With Regards
Sandip Patil
Mumbai, 8149645674