09/04/09
Filed under:
General
Posted by:
site admin
@ 6:14 am
VR1
(WE
ARE ONE)
+ve

---
Uttar Pradesh Chief Minister and Bahujan Samaj Party chief Mayawati
called YSR a popular leader and an able administrator. "His position in
south India cannot be filled by anyone," she said.
Tehri Hydro Development Corp to set up plant in UP
Tehri Hydro Development Corporation Ltd (THDCL) will set up a 30-Megawatt (Mw) power plant in Jhansi district of Uttar Pradesh.


The power-starved state today signed
an Implementation Agreement with THDCL for the Dhukwan Hydro Electric Project.
The agreement was signed by UP energy
secretary and UP Power Corporation Ltd (UPPCL) CMD Navneet Sehgal and THDCL
Director (technical) S K Shukla.
The cost of the project, which would
be completed in three years, will be Rs 150 crore and borne by THDCL.
It is proposed downstream of the Mata
Tila dam on the Betwa river. The project will utilise the reservoir created by
Dhukwan dam to generate 120 million units of electricity annually.
The project was hanging fire since
long and the Uttar Pradesh irrigation department had long back carried out a
positive feasibility study.
Sehgal said it would not only aid
power generation efforts of the state but also provide employment opportunities
in the impoverished Bundelkhand region.
"We are preparing a fresh detailed
project report (DPR) and carrying out hydrological studies related to the
project. Other technical specifications will also be added. We hope that the
DPR is approved by May 2010 so that the actual work on the plant can begin," he
added.
The total power generated would be
utilised by Uttar Pradesh and the project involves no rehabilitation,
resettlement and environment impact.
THDCL is a joint venture between the
Centre and the state government in the ratio of 75:25. By 2017, the state
government is planning to ramp up power generation capacity by 25,000 Mw with
the help of private sector.
Several
power projects in the public-private partnership mode have been proposed, while
others like Bara and Karchhna thermal power projects are underway in Allahabad district.
Jaypee Group is setting up these two projects and the company has already
ordered for machinery and equipment for the plants


The Congress will face stiff
competition from parties like the Bahujan Samaj Party, which will probably lead
to the rise of the lower income group.
Mayawati has entered Maharashtra with
most of the suburbs of Mumbai like Mulund, Kandivali etc hosting her party's
candidates. Just like a liberal party's loss in Japan,
India
will also witness a renaissance of sorts, with lower, right winged parties
emerging victorious.

Punjab Newsline
| | | |
| --- | --- | --- |
| Shiromani Akali Dal (SAD) – Bharatiya Janta party (BJP) Alliance | | |

TEJWANT SINGH*
Thursday, 03 September 2009
Enemies make you stronger and allies make you weaker
This
perfectly fits into the context of Shiromani Akali Dal which has become
more and more dependent on Bharatiya Janta party for electoral success.
And now, SAD and BJP combine also gets humiliated by
Congress alone. This is making Congress stronger slowly and steadily.
SAD is not in a position to win considerable number of seats in Punjab
alone but Congress is. This is a reversal in earlier positions. BJP is
also gaining ground in due course of time. It is the time when SAD
needs to do introspection whether alliance with BJP is in its interest
in long term or not!
For every alliance, ideology
should come into play otherwise it looks like opportunist politics. SAD
came into existence to uphold Sikhs' cause and take up the Sikhs' and
Punjab's issues related to religion, politics, language, natural
resources, public welfare etc. BJP on the other hand stands firm on
pseudo-nationalism and don't even agree to give breathing space to
regional languages, regional political parties, minority rights, more
powers to states. Rather, BJP stands for hardcore Hindutva, abrogating
special rights for states like J&K. Here lies a strong
contradiction in ideology. In election after election, BJP puts stress
on suffocating the regional parties and advocates their elimination
from the political scene of the country, yet SAD never raised even a
feeble voice against it. Thus, this alliance is not only denigrating
the SAD vote base but alienating SAD from its core ideology for which
it stands and asserts itself on being different from other parties like
Congress. After few years even SAD leaders would be alien to their
party's line of thinking and basic ideology which they would have never
heard of. They would start considering themselves as Team B for BJP.
Their aim in Parliament has already become just to support BJP on every
issue. Is this the reason why Sikhs formed their own political party?
Even stringent laws like TADA got the support from SAD in parliament
due to BJP whereas they oppose such laws in local political spheres.
But then, of what use is it if they are mere puppets in BJP hands in
country's highest law making body?
If SAD wants to bring all Sikhs under one flag then that flag should not be co-handled by BJP.
Even
then if contemporary SAD leaders feel that alliance partners are
necessary in today's political scenario then they should look for a
party which at least does not contradict with SAD's basic spirit and
ideology. Bahujan Samaj party (BSP) can be a favourable choice in this
case. Vote percentage for BSP in Punjab is quite similar to BJP. BSP
vote-share would further increase once in collaboration with SAD; it
would surely eat a huge chunk from Congress's vote bank.
BJP would die a natural death in Punjab.
This
would lead to multi-dimensional gains for Akalis and Sikhs. BSP does
not pursue anti-minority or anti-regional identity policy in letter or
spirit. Moreover, alliance with BSP would bring Jat Sikhs (Akali vote
base) closer to the so-called lower castes. This would help in further
eradicating the caste ego clash from Punjab's villages. And more
importantly it falls in line with the mundane tenants of Sikhism. It
would attract people from lower strata of society towards Sikhism. They
should feel being treated equally with upper strata within Sikhs.
Akalis should nominate their (BSP's) representatives as ministers
instead of upper castes from BJP. Representation of leaders from lower
strata of society in higher political circles along with traditional
Akali Jat Sikhs would augment their cordial relationship with Akalis
and Sikhs and the institution of Gurudwara. And here lies an
opportunity to reduce various deras' following (which have a
substantial base among lower castes) and clashes within Sikhs. Thus,
there are substantial religio-political gains for Sikhs and Akalis if
they opt for BSP instead of BJP.
And there is no such gain in having a collaboration with right-wing BJP.
Let the sense prevail.
*Tejwant Singh,
Infosys-Contractor,
B.T, Guidion House, Fleet, Hampshire,
United Kingdom-GU51 2QP.
tejwant.bajwa@bt.com
ALMOST EVERY FRAUD involves
VICTIM
sending "CASH" money to a
Fraudster/Scammer.
ABSOLUTELY DO NOT send any money
using Western
Union / Moneygram.
Always deal ONLY locally by meeting
the seller/buyer in person.
READ and UNDERSTAND the methods used
by Fraudsters in the link above.
___BUDDHIST
ECONOMICS___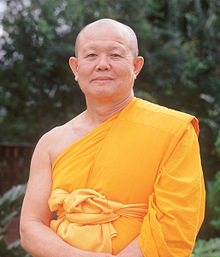 by Phrabhavanaviriyakhun (Phadet Dattajeevo)
ONLINE TRAINING ON PRECEPTS AND TRADE-69
Buddhists often tend to disregard economics completely, because the
monastic way of life idealized by Buddhism is economically very minimalist.
Such neglect of comment concerning economic values is not warranted, however,
because the Buddhist scriptures are in fact rich with advice from the Buddha
regarding sound economic values — and they are applicable to monastic and lay
lifestyles alike.
The availability of teachings, is not, however, the only reason
Buddhists should take an interest in economics. Of all the reasons for
compiling a treatise in Buddhist economics, the most pressing reason Buddhists
have to sit up and take notice of economic issues is because if we don't, abuse
of economic principles will continue to escalate conflict in the world. The
whole history of our planet from ancient times until now has been punctuated by
wars — whether they be world wars or more localized ones — and as Buddhists
see it, the outbreak of war can usually be traced back to financial strife, or
else problems of the abuse of economic knowledge. However, once war breaks out,
the nature of the problem is often distorted to make it look as if it is a
problem of religious or ethnic conflict.
In the West we are accustomed to feeling a sense of relief when we
hear that the economy is booming — however, we sometimes fail to realize what
those economic figures actually reflect in terms of quality of life.
Ironically, all it takes for a country to be considered economically strong is
for its economic figures to look good. If every household in a certain country
or society were wealthy, of course that country or society would have good
economic figures to show for itself. In Thailand, however, the majority of
the population are economically poor. It is only a small minority of population
who are wealthy — thus, how can Thailand possibly be considered
economically strong? If you want to have an accurate picture of the economy of
any country, you have to take a long hard look at the wealth of the majority –
not just at the collective figures. It is the economic status of the majority
which most accurately reflects the true economic state of that country or
society.
Economic values in Buddhism are concerned with quality of life. But
in Buddhism we define quality of life not only in terms of material comfort,
but also in terms of mental wellbeing and ultimately liberation of the mind
from negative latent tendencies. Thus, value is put on sometimes quite abstract
qualities. As in the words of the Buddhist nun, Kuhn Yay Ratana Upasika Chandra
Khonnokyoong who founded Wat Phra Dhammakaya in Thailand:
"with a well-trained group of
people in front of me ready to work for good in society, I fell that I am
already a multimillionnaire — because even if I were to have ten million, I
could still not guarantee being able to train up such a group."
Contrary to popular opinion, the Buddha
never prohibited wealth — but he did prohibit poverty. Happiness appropriate
to a householder (A.ii.69) includes ownership [atthisukha], enjoyment [bhogasukha],
freedom from debt [ananasukha] and blamelessness [anavajjasukha].
Buddhism praises contentment [santu.t.thi] and limited desires [appicchata]
but not poverty. What is important as a Buddhist, however, in the economic
process, whether one is earning, saving or using money, is that one should
never compromise one's principles. Once wealthy, as a Buddhist one should use
one's wealth in a way that supports a wholesome aim in life — not to fritter
away money away aimlessly or in a way that leads to further proliferation of
defilements of greed, hatred or delusion in the mind. It is not to say that
riches cannot buy happiness — but riches used aimlessly may create more damage
than good. Riches, if they are to bring happiness, must be applied to support
the emergence of higher spiritual values — especially virtues and virtuous
people — which according Buddhist economics have more value than anyone can
put a price on.
Originally this book was intended to deal solely with Buddhist
Economics, however after the warlike events of 11 September 2001, the present
author would like to extend the scope of this book to show how the build-up of
economic tensions can be blamed for these sort of incidents. ( to be Contd)
Wealth
is lost nothing is lost
INTERNATIONAL JIVAKA
PRESUMPTIVE HEALTH PROTECTION (IJPHP)

Botanical
Name : Piper Nigrum
Family Name : Piperaceae
Common Name : Black
Pepper, Peppercorns
Part Used : Dried
Unripe Fruits, Usually Known As Peppercorns
Habitat : Extensively
cultivated in hotter and moist part of india.
Product offered : Wholeplant,
Fruits
Uses : Black pepper oil can be used to help in the treatment of
pain relief, rheumatism, chills, flu, colds, increase circulation, exhaustion,
muscular aches, physical and emotional coldness, nerve tonic and fevers. It
furthermore increases the flow of saliva, stimulates appetite, encourages
peristalsis, tones the colon muscles and is a general digestive tonic.
Sometimes it is used in place of cubebs for gonorrhoea. As a gargle it is
valued for relaxed uvula, paralysis of the tongue. On account of its stimulant
action it aids digestion and is especially useful in atonic dyspepsia and
turbid condition of the stomach. It will correct flatulence and nausea. It has
also been used in vertigo, paralytic and arthritic disorders. It has also been
advised in diarrhoea, cholera, scarlatina and in solution for a wash for tinea
capititis. Externally it is used for its rubefacient properties and as a local
application for relaxed sore throat and some skin diseases. Its oleoresin has
bacteriostatic and fungistatic properties.
Health is lost something is lost
FREE
ONLINE TRAINING ON BUDDHISM FOR CHILDREN-30
The Monkey King and the Water Demon
[Attentiveness]
Once upon a time, far away in a deep forest,
there was a nation of 80,000 monkeys. They had a king who was unusually large,
as big as a fawn. He was not only big in body, he was also 'large in mind'.
After all, he was the Bodhisatta - the Enlightenment Being.
One day, he advised his monkey nation by
saying, "My subjects, there are poisonous fruits in this deep forest, and
ponds possessed by demons. So if you see any unusual fruit or unknown pond, do
not eat or drink until you ask me first." Paying close attention to their
wise king, all the monkeys agreed to follow his advice.
Later on, they came to an unknown pond. Even
though they were all tired out and thirsty from searching for food, no one
would drink without first asking the monkey king. So they sat in the trees and
on the ground around the pond.
When he arrived, the monkey king asked them,
"Did anyone drink the water?" They replied, "No, your majesty,
we followed your instructions." He said, "Well done."
Then he walked along the bank, around the
pond. He examined the footprints of the animals that had gone into the water,
and saw that none came out again! So he realized this pond must be possessed by
a water demon. He said to the 80,000 monkeys, "This pond is possessed by a
water demon. Do not anybody go into it."
After a little while, the water demon saw that
none of the monkeys went into the water to drink. So he rose out of the middle
of the pond, taking the shape of a frightening monster. He had a big blue
belly, a white face with bulging green eyes, and red claws and feet. He said,
"Why are you just sitting around? Come into the pond and drink at
once!"
The monkey king said to the horrible monster,
"Are you the water demon who owns this pond?" "Yes, I am,"
said he. "Do you eat whoever goes into the water?" asked the king.
"Yes, I do," he answered, "including even birds. I eat them all.
And when you are forced by your thirst to come into the pond and drink, I will
enjoy eating you, the biggest monkey, most of all!" He grinned, and saliva
dripped down his hairy chin.
But the monkey king with the well-trained mind
remained calm. He said, "I will not let you eat me or a single one of my
followers. And yet, we will drink all the water we want!" The water demon
grunted, "Impossible! How will you do that?" The monkey king replied,
"Each one of the 80,000 of us will drink using bamboo shoots as straws.
And you will not be able to touch us!"
Of course, anyone who has seen bamboo knows
there is a difficulty. Bamboo grows in sections, one after another, with a knot
between each one. Any one section is too small, so the demon could grab the
monkey, pull him under and gobble him up. But the knots make it impossible to
sip through more than one section.
The monkey king was very special, and that is
why so many followed him. In the past, he had practiced goodness and trained
his mind with such effort and attention, that he had developed very fine
qualities of mind. This is why he was said to be 'large in mind', not because
he simply had a 'big brain'.
The Enlightenment Being was able to keep these
fine qualities in his mind, and produce a very unlikely event - a miracle.
First, he took a young bamboo shoot, blew through it to make the knots
disappear, and used it to sip water from the pond. Then, amazing as it may
sound, he waved his hand and all the bamboo growing around that one pond lost
their knots. They became a new kind of bamboo.
Then, all his 80,000 followers picked bamboo
shoots and easily drank their fill from the pond. The water demon could not
believe his green eyes. Grumbling to himself, he slid back under the surface,
leaving only gurgling bubbles behind.
The moral is: "Test the water before jumping in."
A BLUE PRINT FOR LIFE
ON LIFE
THE WAY OF BIRTH AND DEATH
In life, some people understand
nothing but eating,
drinking, and
making merry or struggling for fame and per-
sonal gain. They
are as lacking in consciousness as a walk-
ing corpse. They
have no idea of what to seek for themselves
in life or how to
prepare for the hereafter. They just muddle
along one day at a
time. One must understand how to
live before one
understands how to die. The Dhamma seeks
to make us familiar
with life and death. We need to change
the old negative
mindsets that make us avoid talking about
taboo subjects
such as life and death. Then we should adopt
the correct
attitude toward life and death by practicing and
upholding the
Dhamma. Our lives will truly be happy only if
we can deal with
the attainment of liberation of life and death.
A Permanent Online
International Seminar on Buddhism and Buddhist Heritage of Jambudvipa that is
the Great Prabuddha Bharath
Buddhism wins The Best Religion In The World
award
The
Geneva-based International Coalition for the Advancement of Religious and
Spirituality (ICARUS) has bestowed "The Best Religion in the World" award
this year on the Buddhist Community.
This
special award was voted on by an international round table of more than 200
religious leaders from every part of the spiritual spectrum. It was fascinating
to note that many religious leaders voted for Buddhism rather than their own
religion although Buddhists actually make up a tiny minority of ICARUS
membership. Here are the comments by four voting members: Director of Research
for ICARUS Jonna Hult, said "It wasn't a surprise to me that Buddhism won Best
Religion in the World, because we could find literally not one single instance
of a war fought in the name of Buddhism, in contrast to every other religion
that seems to keep a gun in the closet just in case God makes a mistake. We
were hard pressed to even find a Buddhist that had ever been in an army.
These
people practise what they preach to an extent we simply could not document with
any other spiritual tradition." Tribune de Geneve
Precepts (Character, morality
self-discipline) is lost everything is lost
COMPREHENSIVE PALI
COURSE
LESSON 11
Gerund:
Gerund is a verbal noun; that is, a
verb functioning as
a
substantive or noun. Gerund is formed by adding the
particles:
tvā, tvāna, tūna, tya, and ya to a verbal root or
base.
For
example:
Kar+tvā =
karitvā or katvā, katvāna, katūna, kariya,
Karya,
kayya, = having done, after doing.
Similarly,
pa+tvā = pativā, pitvā etc. = having drunk,
After
drinking.
Gam+tvā =
gantvā, gamitvā, gamya, or gamma = having
Gone, after
going.
dā+tvā = datvā, datitvā, etc.= having given, after giving.
Vocabulary:
Thaptvā (ṭhā) =
seting aside, except.
Paṭṭhāya (ṭhā) =
having gone forward; or starting
With,
beginning with etc.
Sañcicca (cit) =
having intended,; or intentionally.
Upādāya (dā) = having grasped; or firmly holding to,
clinging
to, because of , due to,
dependent upon etc.
Ārabbha
(rabh) = having begun
with, or referring to,
About
etc.
Sandhāya
(dhā) = having put
together; or with
reference
to, concerning,
on
account of etc.
Uddissa
(dis) = having
pointed out; or in the name
Of,
for, etc.
Anvays (i) = having gone
after, or behind, after,
Following etc.
Nissāya
(si) = having
lied on; or leaning on,
` or nearly.
Veneyya
(vini)+ya = having
abandoned, giving up, etc
Āgamma
(gam) = having come, or
owing to, relating
To,
by means of, concerning, etc.
Ghoram =
heinous
Nīvaranaṁ mental hinderance.
Pañcanīvaranāni = five mental hinderances or obstacles.
These are:
1.
Kāmacchanda = Kāma+chanda =
sensual desire
2.
Vyāpada = Ill-will.
3.
Thīnamiddha = Thīna +middha =
sloth and torpor
4.
Uddhaccakukkucca = Distraction and worry.
5.
Vicikicchā = skeptical doubt.
Apāya = world of misery.
Tatheva = likewise, similarly
Domanassaṁ = frustration, depression, sadness
Abhijjhā = covetousness
Paṭivinodetvā = having overcome
ṭhatvā
; (from tiṭṭhati)
= having stood
Uppādetvā
= having arisen, produced
Yojeti = to urge urge, to combine, mix, apply
Chattino = holders of umbrella
Ādāya = after perpetrating
Yojia = inducing
Likhitvā = having inscribed
Guṇaṁ
= virtue
Bujjjitvā = after discovering.
Gahetvā = having held
Note: yo/yā = whatever; sā/tā = that