The word nirvana is so prevalent for English speakers that its true
meaning is often lost. The word has been adopted to mean "bliss" or
"tranquility." Nirvana also is the name of a famous American grunge
band, as well as of many consumer products, from bottled water to
perfume. But what is it? And how does it fit into Buddhism?

The Meaning of Nibbana

In the spiritual definition, Nibbana (or nibbana in
Pali) is an ancient Sanskrit word that means something like "to
extinguish," with the connotation of extinguishing a flame. This more
literal meaning has caused many westerners to assume that the goal of
Buddhism is to obliterate oneself. But that's not at all what Buddhism,
or Nibbana, is about. The liberation entails extinguishing the condition
of samsara, the suffering of dukkha;
Samsara is usually defined as the cycle of birth, death, and rebirth,
although in Buddhism this is not the same as the rebirth of discreet
souls, as it is in Hinduism, but rather a rebirth of karmic
tendencies. Nibbana is also said to be liberation from this cycle and dukkha, the stress/pain/dissatisfaction of life.


In his first sermon after his awakenment with awareness, the Buddha preached the Four Noble Truths.
Very basically, the Truths explain why life stresses and disappoints
us. The Buddha also gave us the remedy and the path to liberation, which
is the Eightfold Path.


Buddhism, then, is not so much a belief system as it is a practice that enables us to stop struggling.

Nibbana Is Not a Place

So, once we're liberated, what happens next? The various schools of
Buddhism understand nirvana in different ways, but they generally agree
that nirvana is not a place. It is more like a state of existence.
However, the Buddha also said that anything we might say or imagine
about nirvana would be wrong because it is utterly different from our
ordinary existence. Nirvana is beyond space, time, and definition, and
so language is by definition inadequate to discuss it. It can only be
experienced.


Many scriptures and commentaries speak of entering nirvana, but
(strictly speaking), nirvana cannot be entered in the same way we enter a
room or the way we might imagine entering heaven. The Theravadin
scholar Thanissaro Bhikkhu said,


"… neither samsara nor nirvana is a place. Samsara is a process of creating places, even whole worlds, (this is called becoming) and then wandering through them (this is called birth). Nirvana is the end of this process."


Of course, many generations of Buddhist have imagined nirvana
to be a place, because the limitations of language give us no other way
to talk about this state of being. There is also an old folk belief that
one must be reborn as a male to enter nirvana. The historical Buddha
never said any such thing, but the folk belief came to be reflected in
some of the Mahayana suttas. This notion was very emphatically rejected in the Vimalakirti Sutta, however, in which it is made clear that both women and laypeople can become enlightened and experience nirvana.

Nibbana in Mahayana Buddhism

One of the distinguishing characteristics of Mahayana Buddhism is the bodhisattva vow.
Mahayana Buddhists are dedicated to the ultimate enlightenment of all
beings, and thus choose to remain in the world in assistance to others
rather than move on to individual enlightenment. In at least some schools of Mahayana,
because everything inter-exists, "individual" nirvana is not even
considered. These schools of Buddhism are very much about living in this
world, not leaving it.


Some schools of Mahayana Buddhism also include teachings that samsara
and Nibbana are not separate. A being who has realized or perceived the emptiness
of phenomena will realize that nirvana and samsara are not opposites,
but instead completely pervade each other. Since our inherent truth is
Buddha Nature, both Nibbana and samsara are natural manifestations of
our mind's inherent empty clarity, and nirvana can be seen as the
purified, true nature of samsara. For more on this point, see also " The Heart Sutta" and "The Two Truths."

The word Vinaya
is derived from a verb that can mean to lead, take away, train, tame,
or guide, or alternately to educate or teach. It is often translated as
'discipline', with Dhamma-vinaya,
'doctrine and discipline', used by the Buddha to refer to his complete
teachings, suggesting its integral role in Buddhist practice.
The Buddha called his teaching the "Dhamma-Vinaya", emphasizing
both the philosophical teachings of Buddhism as well as the training in
virtue that embodies that philosophy. Shortly before his passing, the
Buddha clarified to his disciples through Ānanda:

Now, Ānanda, if it occurs to any of you—"The teaching has lost its
arbitrator; we are without a Teacher"—do not view it in that way.
Whatever Dhamma and Vinaya I have pointed out and formulated for you,
that will be your Teacher when I am gone.

https://tenor.com/view/jai-shree-ram-peace-dancing-gif-14595849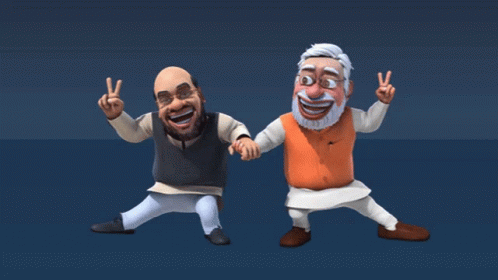 Murderer of democratic institutions (Modi)vaad after gobbling the master Key by tampering the fraud EVMs.VVPATS.
Joining the
controversy regarding the reliablity of Electronic Voting Machines
(EVMs) which have been questioned by political parties, the RSS today
asked the Election Commission (EC) to revert back to tried and tested
paper ballots and subject EVMs to public scrutiny whether these
gadgets are tamper proof. In an editorial titled 'Can we trust our
EVMs?', The Organiser, the RSS mouthpiece, noted it was a fact that
till date an absolutely tamper-proof machine had not been invented and
credibility of any system depends on 'transparency, verifiability and
trustworthiness' than on blind and atavistic faith in its
infallibility. The issue is not a 'private affair' and it involves
the future of India. Even if the EVMs were genuine, there was no
reason for the EC to be touchy about it, the paper commented. The
Government and the EC can't impose EVMs as a fait accompli on Indian
democracy as the only option before the voter.

There were flaws like booth capturing, rigging, bogus voting, tampering
and ballot paper snatching in the ballot paper system of polling
leading the country to switch over to the EVMs and all these problems
were relevant in EVMs too. Rigging was possible even at the counting
stage. What made the ballot papers voter-friendly was that all
aberrations were taking place before the public eye and hence open for
corrections whereas the manipulations in the EVMs is entirely in the
hands of powers that be and the political appointees manning the
system, the paper commented. The EVM has only one advantage —
'speed' but that advantage has been undermined by the staggered polls
at times spread over three to four months. ''This has already killed
the fun of the election process,'' the paper noted. Of the dozen
General Elections held in the country, only two were through the EVMs
and instead of rationally addressing the doubts aired by reputed
institutions and experts the Government has resorted to silence its
critics by 'intimidation and arrests on false charges', the paper
observed, recalling the arrest of Hyederabad-based technocrat Hari
Prasad by the Mumbai Police. Prasad's research has proved that the
EVMs were 'vulnerable to fraud'. The authorities want to send a
message that anybody who challenges the EC runs the risk of
persecution and harassment, the RSS observed. Most countries
around the world looked at the EVMs with suspicion and countries like
the Netherlands, Italy, Germany and Ireland had all reverted back to
paper ballots shunning EVMs because they were 'easy to falsify, risked
eavesdropping and lacked transparency'. Democracy is too precious
to be handed over to whims or an opaque establishment and network of
unsafe gizmos. ''For the health of Indian democracy it is better to
return to tried and tested methods or else elections in future canturn
out to be a farce,'' the editorial said.
— (UNI) — 28DI28.xml

"We should be proud of our medical science, how advanced our country
was at one time. In the Mahabharat, Karna is not born from his mother's
womb, this means there was genetic science at that time. That's how
Karna could be born without a mother's womb.

We worship Ganeshji, there must have been a plastic surgeon in that era
who put an elephant's head on a human body, plastic surgery must have
started then. ( What about Boy's Head on Elephant body) Modi said at the
inaugural function of Sir Harkisondas Nurrotamdas Reliance Foundation
Hospital in south Mumbai on October 25, in the presence of top doctors,
scientists, industrialists, journalists, sports icons and Bollywood
stars.And ironically at a time when Pope Francis has said that the
theories of evolution and the Big Bang are real, and God did not wave a
magic wand to create the universe. There must be many such fields where
our ancestors have excelled."

—From Modi address at the rededication of Sir H.N. Reliance Foundation
and Research Centre, Mumbai.Sanyukta Biswas, 22Law student Gandhinagar
PM
Modi seems to be confusing mythology with scientific facts. The
citation he made would not hold any ground for the simple reason that a
head is not an organ of the body which can be transplanted. It is a
certain part of the body which comprises a link to other vital
functional systems of the body. Therefore, Ganesha's head
transplantation is nothing but a myth. The fact that he cited plastic
surgery as the solution implies that he does not understand that the
right phrase to be used in this context.

Manisha Bhattacharya 52Ceramic artist Akash S

In Mumbai, you have Modi coupling mythology with medical science; in
Haryana, his remotely controlling Rowdy Swayam Sevaks (RSS) chitpavan
brahmin foreigners kicked out from Bene Israel, Tibet, Africa etc., pass
a diktat that women should be stopped from using mobiles…apparently
it leads to rapes!

Madhavi Potukuchi 22Journalism student Pune
Modi
has yet again tried to give a hindutva spin to the whole situation by
saying that modern medicine existed in the times of the Mahabharata.
This seems like nothing but propaganda. In such a diverse country, he
must support all religions but we see that he has yet again taken an
extremely hindutvastan stance by mentioning hindutva mythological
instances only. The contents of his speech, though, weren't a surprise
since it isn't the first of its kind.
Sunita J. 47Homemaker Chennai
I
disagree with what Modi said in his speech because the examples he
cited are neither authentic nor verifiable. The mahabharata and ramayana
is a fictional epic authored by Valmiki and Vyasa who were awakened
aboriginal SC/STs and we don't know if the characters were real or even
existed. Hence, there is no way to justify that Indians were ahead in
the field of medicine and science, as Modi has claimed. Secondly, by
focusing on hindutvasatan mythology, he has ignored other religions and
legends in our country. He is identifying our Prabuddha Bharat as being a
hindutvasatan.
Simran Kaur 22Research analyst Bangalore
The
speech sounded quite meaningless, especially the parts about Lord
Ganesha and Karna. The prime minister must give more importance to the
current research happening in the field of medicine than refer to
fictional stories. It is quite surprising that Mr Modi has on such a
public forum held up mythology and compared it to how advanced science
has become in the 21st century. The common man wants to know about
modern medicine or how the Reliance project can help him. Modi needs to
stop talking about has-beens, something he seems to be doing a lot
lately.
I
disagree with what Modi said in his speech because the examples he
cited are neither authentic nor verifiable. The mahabharata and ramayana
is a fictional epic authored by Valmiki and Vyasa who were awakened
aboriginal SC/STs and we don't know if the characters were real or even
existed. Hence, there is no way to justify that Indians were ahead in
the field of medicine and science, as Modi has claimed. Secondly, by
focusing on hindutvasatan mythology, he has ignored other religions and
legends in our country. He is identifying our Prabuddha Bharat as being a
hindustvasatan.
Raghav Mehrotra 20History student Delhi
As
Prabuddha Bharatians, our identity derives a lot from this mythology
but we need to see the texts in their true meaning and not in a literal
sense. Each anecdote has an important lesson behind it. Taking these
facts in a literal sense is not the true meaning of these texts.
Khushboo Bengani 22English literature student Delhi
Not
all religious beliefs can be given a scientific meaning. It's
preposterous to establish India's credibility in science citing these
instances. Referring to Ganesha's elephant head as evidence of plastic
surgery and Karna's birth as proof of genetic science seems too
far-fetched. Though Karna's birth and Ganesha's elephant head do arouse a
feeling of awe, they go against reason when you think of it rationally.
mythological
origin Like all gods in the hindutva pantheon, ganesh has a
mythological origin. He is the son of shiva and his consort parvati,
both of human form and yet he bears the head of an elephant. The reason
for this closely follows his birth or more appropriately his creation.
He was not born to parvati as mere mortal are. It is said that she was
lonely. shiva was away as was often the case. In her loneliness it
appears she was given to neglect personal hygiene, or maybe it was an
act of pure desperation and determination. She decided to create a child
and did this by forming him, Ganesh, through moulding a substantial
accumulation of her body dirt. And so Ganesh was born and parvati was
happy and occupied.The story goes that one day, while parvati was having
a bath, shiva came home. When he attempted to enter the house though,
he was met with resistance in the form of the boy ganesh. Neither of
them knew they were related. Shiva got angry at not being allowed in
and dealt with the situation by chopping off ganesh's head. It was at
this moment that parvati came out to find what shiva had done. She was
inconsolable but managed to tell shiva that the boy whose head he had
cut off was in fact his son. Angry and upset at the hash he had made of
the situation, shiva decided to fix it. He went out and hunted the first
animal he saw, the elephant, and brought back its head to replace the
boy's. That is how ganesh has an elephant head. He is immersed in water
as parvati decided to create a child and did this by forming him,
Ganesh, through moulding a substantial accumulation of her body dirt.
No
permission for Ganesh fete at public placesStern action would be taken
if any organisation, group or individual arrange pandals violating the
rules, he said. Vinayaka Chaviti falls on August 22 this year. Members
of the Ganesh Utsava Committee, Ganesh Navarathri Utsava Committee,
Vinayaka Mandapa Committee and other organisations, area committees,
colonies associations, traders and individuals have been celebrating the
festival at public places in a grand manner every year by taking
permission from the police."We request the devotees to celebrate
Vinayaka Chaviti at homes in strict adherence to the COVID norms. The
police will not issue permissions for putting up pandals, performing
pujas at public places and for immersion of the idols,"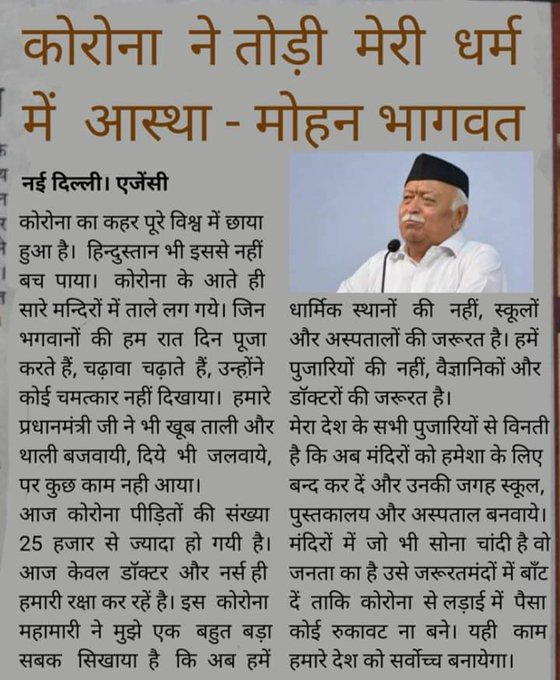 chief
Mohan Mohan Bhagwat said he has lost faith in religion RSS chief Mohan
Bhagwat said that he has lost faith in religion because of the
coronavirus outbreak. The title of the purported report makes this claim
in Hindi — "कोरोना ने तोड़ी मेरी धर्म में आस्था – मोहन भागवत" — and says
that the number coronavirus cases in our country has crossed
Coronavirus Cases 22,863,816.The clipping pins the spread of the
infection on the closure of temples and opening of schools and colleges
in their stead. Apart from the title, the clipping does not carry Mohan
Bhagwat's name in other sections.Twitter user @DR_Ambedkarji shared the
clipping and wrote (archive), "This is the greatest news of today. It
feels good to see RSS and Mohan Bhagwat's fear. This fear should be
there and soon, people should rid themselves of religion. Our children's
futures need to be better. The world has blind faith and is capable of
doing anything. They have freedom."[Translated from: आज का सबसे अच्छा
समाचार मुझे यह लगा R.s.s. और मोहन भागवत का यह डर देखकर अच्छा लगा यह डर
होना चाहिए और जल्दी ही लोगों को धर्म से छुटकारा पा लेना चाहिए जिन्हें
अपने बच्चों को भविष्य सुधारना है बाकी तो दुनिया है अंधभक्त है कुछ भी कर
सकते हैं स्वतंत्र है.]Dharmendra Singh BSP