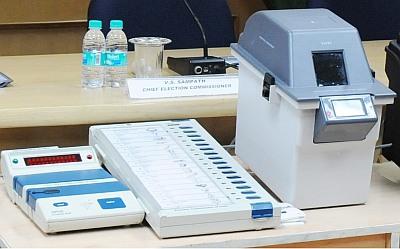 In
October 2013, the Supreme Court, in a landmark verdict, directed the
Election Commission to equip its Electronic Voting Machines with Vote
Verifiable Paper Audit Trial systems, which allows voters to verify that
their votes are cast as intended and serves as an additional barrier to
changing or destroying votes.
Subsequently, the EC introduced VVPAT in 10 assembly constituencies
in Mizoram and one constituency each in Delhi, Madhya Pradesh,
Chhattisgarh and Rajasthan during the elections in these states.
Now, as the nation gears up for Lok Sabha election, the ECI has created
a flutter by announcing that it may not be ready to roll out VVPAT
before 2019.
The poll body says that it will need about 14 lakh
VVPAT machines to introduce the system in all 543 Lok Sabha
constituencies. However, it believes that so many machines cannot be
produced and tested in such a short duration of time.
Under VVPAT, a printer-like apparatus is linked to EVM.
When a vote is cast, a receipt is generated showing the serial number, name and symbol of the candidate.
It confirms the vote and the voter can verify the details.
The receipt, once viewed, goes inside a container linked to the EVM and
can only be accessed by the election officers in rarest of rare cases.
The system allows a voter to challenge his or her vote on basis of the paper receipt for the first time.
As per a new rule, the booth presiding officer will have to record the
dissent of the voter, which would have to be taken into account at time
of counting.
G V L Rao, part of Save India Democracy which exposed the frauds being committed through EVMs, told rediff.com that
the bigger issue was that the government dragged its feet on
sanctioning funds for the introduction of VVPAT despite the Supreme
Court passing its order a year ago.
Rao said, "To begin with
every EVM needs to be kept in a secure environment so that it is cannot
be tampered with. However, what we had found is that these machines were
dumped in an open yard which made it vulnerable to tampering."
"As a result of dumping these machines in the open, many had gone
missing and the ECI has not yet revealed these details to us."
Rao added, "The most important part of this machine is the chip, which
contains the source code. We suggested was that since these machines
were kept in the open, it would be advisable to at least change the
chip. These chips cost not more than Rs 100 each."
"The other
suggestion that we made and was not taken was regarding the maintenance
of the machines. These machines are manufactured by Bharat Electronics
Limited and Electronics Corporation of India. These companies send
engineers to carry out a maintenance check or a first level check.
Shockingly, these are not employees of the above mentioned two
companies. They are agents hired on a contract basis and they conduct
the inspection of these machines before the elections."
"We
suggested that that the job of the first level check be given to the
National Informatics Centre so that the person doing the job has
accountability. We had pointed out that some of these persons who were
hired to conduct this check belonged to software companies that were
being run by politicians."
"The chances of tampering are
higher in such cases. However, the ECI did not agree with us. The
problem is that there is a leap of blind faith in technology and the ECI
blindly trusts everything that the manufacturer does. We have always
pointed out that elections cannot be based on trust."
"It is
necessary to ensure safeguards and more importantly the ECI should have
implemented VVPAT by now. It took them almost four years to acknowledge
that EVMs could be hacked."
"When a person votes there ought
to be a valid receipt of the same, just the way one would get a
statement when cash is drawn out of an ATM. Without a valid record one
cannot go back and check in case there is a problem."