05/10/17
Filed under:
General
Posted by:
site admin
@ 6:49 pm

2224 Thu 11 May 2017 LESSON
http://indianexpress.com/article/india/how-can-sc-issue-gag-order-i-am-like-ambedkars-adopted-son-justice-karnan-4648635/
How can SC issue gag order… I am like Ambedkar's adopted son, says Justice Karnan
The Supreme Court on Tuesday barred the media from publishing any orders passed by Karnan.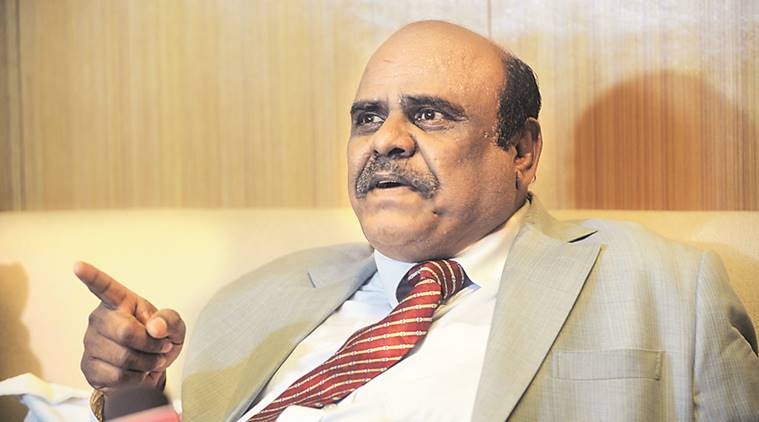 LESS THAN an hour after the Supreme Court sentenced him to jail for
six months, Calcutta High Court Judge C S Karnan announced that he had
issued an order setting aside the apex court's order against him.
"The Supreme Court issued the order at 11 am. At 11.20 am, I issued
an order setting aside the Supreme Court's order. How can they issue
such a gag order to media against publishing my statements," he said,
speaking to mediapersons in his room at the Chepauk government
guesthouse here.
The Supreme Court on Tuesday barred the media from publishing any orders passed by Karnan.
Karnan issued a written statement on his letter pad and claimed it as
an order. He said he had also issued directions to the CBI to register
cases against seven Supreme Court judges under the SC and ST (Prevention
of Atrocities) Act.
"Am I an anti-social element? Am I a terrorist? How can they issue a
gag order, it's illegal. Without hearing my side, they have passed
several orders against me. I am not afraid of arrest or prison. The
general public is behind me. This is a complete failure of the judicial
system. I have seen prisons already," he said. "As a High Court Judge, I
have visited Karur, Sivaganga, Virudhunagar and Kanyakumari prisons,"
he added.
Asked if he was afraid of going to jail, he said: "I am like
Napoleon, an adopted son of Dr Ambedkar… They say I am insane. If I am
insane, how can I be sent to prison?"
Asked if he plans to meet President Pranab Mukherjee,
he said he has no "appellate remedy" regarding withdrawing of his
portfolios. "I already sent representations to the President of India.
So far, no action has been taken in this regard. The Supreme Court order
(against him) is not maintainable in law, I am setting aside the
Supreme Court's gag order against media. This is not an issue between
seven judges and me. It's an issue of corruption in the judiciary, which
is being ignored," he said.
He said he had sent numerous complaints to the apex court against
corrupt judges. "My complaints should have been decided on merit, but it
was not done. Attorney General (Mukul Rohatgi) failed to apprise the
Supreme Court properly," he said.
For all the latest India News, download Indian Express App now
May 10, 2017 at 10:11 pm
It is possible to hack EVMs in less than 90 seconds. EVM-tampering is a "conspiracy to murder democracy" by the Murderers
of democratic institutions (Modi) remotely controlled by just 1%
intolerant, violent, militant, shooting, lunatic, mentally retarded,
number 1 terrorists cannibal psychopaths chitpavan brahmin Rakshasa
Swayam Sevaks (RSS) headed by Mohan Bagawath have converted the whole
country into jail for the 99% Sarvajan Samaj after gobbling the Master
Key by distorting, rigging and tampering the EVMs to win elections as they had no way to prevent the Bahujan Samaj voting in favor of BSP as they believe that Ms Mayawati a Scheduled Caste is just a leader for them and not for Sarvajan Samaj, i.e., all societies. All their tricks have been failed in the past to fool the masses who are growing politically conscious, but technically illiterate. Hence, these corporate-funded manuvadis have resorted to EVM tampering, rigging and distorting to capture the votes of Sarvajan Samaj. They fully succeeded in their mission in this country under the leadership of Modi, a hand-picked man Rakshasa Swayam Sevaks (RSS) and of national and multinational corporate-fraudsters. Now the same multinational corporate-fraudsters are contemplating the use of EVMs in other developing countries.
RSS Mohan Bagawat gang Modi and their chelas, chamchas,
slaves, bootlickers and the own mothers' flesh eaters must be sentenced to five years of rigorous imprisonment, and imposed a fine of Rs
100,000 on each of them under the Scheduled Castes and Scheduled Tribes
(Prevention of Atrocities) Act of 1989 and the amended Act of 2015 for preventing Ms Mayawati, a Scheduled caste to acquire the Master Key as desired by the Chief Architect of our Modern Constitution and democracy Dr BR Ambedkar who is the father of Universal Adult Franchise which is being negated by the fraud EVMs.
["The Election Commission of India has called an all-party meeting on May 12 to discuss allegations of the tampering of the electronic voting machines (EVMs) made by a number of Opposition parties, including the Congress."

(Source:
.)



One can only hope that demand put forward in the resolution passed by the Delhi assembly asking for VVPATs to be used in all future elections and tallying of votes polled in 25 per cent randomly-selected booths with the paper trail generated by VVPAT machines will be conceded by the EC without any further fuss.


And, the Union Government to release necessary funds in a timely manner.]



I/II.

http://www.tribuneindia.com/news/nation/delhi-assembly-passes-resolution-on-use-of-evms-with-paper-trail/404475.html



Posted at: May 9, 2017, 8:44 PM; last updated: May 9, 2017, 8:45 PM (IST)

Delhi Assembly passes resolution on use of EVMs with paper trail



Delhi Chief Minister and AAP convener Arvind Kejriwal arrives to attend the special session of Delhi Assembly in New Delhi on Tuesday.

PTI



New Delhi, May 9



***The Delhi Assembly on Tuesday passed a resolution urging President Pranab Mukherjee and the Election Commission to ensure that EVMs with Voter-Verified Paper Audit Trail (VVPAT) are used in all future elections.*** [Emphasis added.]



***The resolution also called for tallying of votes polled in 25 per cent randomly-selected booths with the paper trail generated by VVPAT machines.*** [Emphasis added.]



Speaking during the one-day special session of the assembly, Deputy Chief Minister Manish Sisodia claimed it is possible to hack EVMs in less than 90 seconds.

He dubbed EVM-tampering as a "conspiracy to murder democracy".



Sisodia said the issue of tampering of Electronic Voting Machines (EVMs) cannot be brushed aside by merely terming it a technical snag.



Urging all political parties to take the issue of EVM-tampering seriously, Sisodia said the election process was the very foundation of democracy and must be protected.



Giving an example of a municipal ward in Chattarpur area where Aam Aadmi Party candidate lost by two votes, Sisodia said there was a difference in the number of polled votes as per the data shared by the Election Commission and the data from the EVM machines.



"How is it possible if there is no issue with the EVMs?" The Deputy Chief Minister also said AAP MLA Saurabh Bharadwaj had demonstrated in the house "how EVMs can be hacked in 90 seconds", adding that it is a serious threat to the electoral process.



On criticism that the EVM used for the demonstration was just a model, Sisodia asked the Election Commission to offer machines lying with it and then the AAP will prove how these can be hacked. — IANS



II.

http://indiatoday.intoday.in/story/after-ec-questions-delhi-assembly-evm-hacking-demo-aap-dares-give-us-a-real-machine/1/949603.html



After Election Commission rejects Delhi Assembly EVM hacking demo, AAP dares: Give a real machine


The AAP has dared the Election Commission to provide it with a real EVM after party MLA Saurabh Bharadwaj gave a hacking demo with a dummy voting machine in the Delhi Assembly.



IndiaToday.in | Edited by Shashank Shantan



New Delhi, May 9, 2017 | UPDATED 18:39 IST



HIGHLIGHTS

1AAP asks Election Commission to provide it with real EVMs.

2AAP MLA gives a live demo on EVM hacking with dummy machine in Delhi Assembly.

3EC has called an all-party meeting to discuss EVM hacking issue.



The Aam Aadmi Party (AAP) has dared the Election Commission to provide it with an original Electronic Voting Machine (EVM) after the central poll panel raised questions over the party's live demo of voting machine hacking in Delhi Assembly today.



AAP MLA Saurabh Bharadwaj presented a demonstration during the Assembly's special session to hack an EVM. However, the voting machine the Greater Kailash MLA used was a dummy of what the Election Commission actually uses during polling.



"Hum toh keh rahe hain aap apni EVM dijiye, motherboard change karna hai…90 second lagte hain (We are asking the Election Commission to provide us a real EVM. It takes just 90 seconds to change the motherboard of the machine.)," Arvind Kejriwal told reporters.


The Aam Aadmi Party said it will participate in the May 12 all party meeting called by the Election Commission to discuss the issue concerning EVMs. The party said it will ask the commission to announce a date for hackathon so that it can prove that EVMs can be tampered with.



Bhardwaj claimed that anyone knowing a 'secret code' can tamper with the EVMs and the code can be fed into the machine while casting vote.



The Election Commission has time and again rubbished allegations that EVMs can be programmed to favour any particular party.



Last week, the Election Commission had said that it will hold an open hackathon for people to try and hack the voting machines in the last week of May. however, dates for the hackathon are yet to be announced.



Last month, the central poll panel had said it may invite experts, scientists, technocrats, and representatives of political parties to hack the machines, which it claims are tamper-proof. The Election Commission had announced a similar challenge in 2009 and no one could hack the EVMs.



WATCH: Full Delhi Assembly session where AAP demonstrated EVM 'hacking'

[Video]



–

Peace Is Doable

EVM
Rigging Demo Great – 15+3 More EC Malpractices
It
was great WORK to demonstrate how EVMs can be easily Rigged.
A.
Easiest way to
RIGG POLLING is SWITCH LIST OF CANDIDATES on EVM LEFT SIDE.
B.
Another way is to
Change The Name of Parties by Programming after Polls, Example Actual Polling –
A-20, Votes B-10 Votes and C-5 Votes – it could be changed to B-20, A-10 and
C-5 Votes.
C.
But Today PRINTING
is FAST & ECONOMICAL – EVMs not required.
[The Idea Of EVMs Came Up When
Printing Was Slow & Manual – Gazattes Were Published after Weeks – Patent Gazettes
Were 6 Months delayed]
There
scores of other malpractices which are OBVIOUS but not PREVENTED BY ELECTION
COMMISSION.
1.
LIST
OF CANDIDATES are not distributed cost only Rs.20 lakh for every household.
2.
List
of CANDIDATES not displayed IN LARGE SIZE outside polling booths.
3.
There
were only TWO PARTY AGENTS in MCD Elections when there were about 10 registered
and recognized Parties were contesting.
4.
EC
Could Have Engaged CIVIL SOCIETY VOLUNTEERS as OBSERVERS.
5.
Polling
agents were not issued AUTHORIZED BADGES who were to observe polling.
6.
The
Polling inside was not well lighted – it was difficult for Voters coming from
SUNLIGHT into Polling Booth and EVM was ENCLOSED in CARD BOARD Partition.
7.
It
was difficult to See The 'SEALING' of Machines and Names of Candidates.
8.
It
was Difficult to NOTICE any FIDDLING with LIST ATTACHED ON LEFT SIDE.
9.
EC
didn't announce the POLLING Result just after Closing Hour. [In PUNJAB RESULT
WAS DELAYED BY 5 WEEKS.] Why can't EC hold elections in Summer – Polling allowed
from 7AM to 4PM and Result declared in 95+% constituency by 6 PM.
10.
5
Week delay could BENEFIT Resourceful Party to WIN OVER Polling Agents of
others.
11.
This
way Resourceful Party could bring its SUPPORTERS early and then Switch LIST.
12.
EC
didn't Monitor POLL EXPENSES – A Party Could 30 Helicopters while less
resourceful DENIED even TV Coverage.
13.




EC could have CONTROLLED POLITICAL DONATIONS –
Pool all the Donations and Distribute EQUITABLY.
14.




EC didn't make it COMPULSORY for Parties to 'REGISTER
ELECTION MANIFESTOS' two months in advance. THIS IS INTENDED TO MINIMIZE POLL
EXPENSES.
15.




EC didn't REGULATE TV Broadcasts – didn't
allow TIME ON DD Channels to less resourceful parties.
Ravinder Singh, Inventor &
Consultant, INNOVATIVE
TECHNOLOGIES AND PROJECTS
Y-77, Hauz Khas, ND -110016, India.
Ph: 091- 9871056471, 9718280435,
9650421857
Ravinder
Singh* is a WIPO awarded inventor specializing in Power, Transportation,
Smart
Cities, Water, Energy Saving, Agriculture, Manufacturing, Technologies and
Projects