05/07/18
2615 Tue 8 May LESSON
Piya Tan's Reflection & sutta class: 9 May 2018 (Wed)-பாஜகவை திணரடிக்கும் 14 கேள்விகள்.
-நக்கீரன்-
Today the SC/ST PoA has been diluted along with the President's
authorities.–
Kathua: A heart-warming development! Trial transferred out of Jammu: Investigation *not* transferred to CBI- "Hang The Accused Or Shoot Us", Kathua Girl's Mother Tells NDTV
No precedent of govt returning collegium's recommendation: SC judge Kurian Joseph
From The Minding Centre (TMC) @ Shenton House
Join our Early Buddhism Community FACEBOOK Page. It may better your life: https://www.facebook. com/dharmafarer/
DICTIONARY OF EARLY BUDDHISM (DEBo 1.0): http://dharmafarer.org/ wordpress/dictionary-of-early- buddhism.
[For more TMC announcements, see after this Reflection.]
REFLECTION R551: "Do bad mindfully" (To download PDF).
[Click here for past Inspirations; Revisioning Buddhism & Index of Reflections]
Do bad mindfully
[Revised edition of fb180506 on Facebook]
In
affluent Singapore, the mass media often report on criminal offence by
executives, doctors, lawyers, academics, Christian pastors and Buddhist
monks for which they had to serve prison time. These are
professionals—can we then say that a profession­al is one who does something better for more money? But "better" here can refer to both good actions as well as bad ones.
Evolution
has taught us to survive the harshest natural and human challenges, but
we have yet to learn to overcome some of our criminal habits. Such
habits do not sprout up overnight, but have been learned and conditioned
from our past. Basically, we have never really been taught about right
and wrong, good and bad. Or worse, we are actually drilled that in our
rat-race society money is might, and might is right.
Learning right
Healthy
moral habits have to be taught from young in a loving way. The key
teaching on this early training is found in the Amba,laṭṭhika
Rāhul'ovāda Sutta (M 61), where the Buddha basically teaches his own son
Rāhula to examine himself on a deep personal level—his thoughts, speech
and deeds—if any of it will harm himself, others or both. "Both" here
is a term for society in general and today we would include the
environment.[1]
Notice
how the Buddha teaches young Rāhula. The Buddha does not command him:
Don't do this, or don't do that! Instead he is taught to be curious
about his mind, speech and body. Let us apply this principle in some
modern circumstances.
Smoke and drink
When
I was I teenager I smoked because my peers did; when I was older I
drank with western Buddhist friends. As I learned to enjoy the smoke, I
noticed that it hurt my eyes, it smelt like an unwashed over-used sweaty
towel, it made me cough, it tasted like chemical. I easily gave it up. I
enjoyed the drink while I was at it, but it actually tasted so bad, we
seem to seep just a bit each time as a dare; I wondered why anyone drank
at all!
Looking
back, I realized I had used some sort of mindfulness approach. I was
being curious about the bad habits I had. I did not really fight them,
but wondered why I even thought of doing them. The question now is how
did these bad habits start? Perhaps we had an urge, or we wanted to get
back at someone, or we were simply bored.
Learning by imitating
We
notice something or someone doing something, and thought it was worth
copying. For example, we notice that when we show anger people were more
likely to agree with us. So we learned a trigger, behaviour, reward,
repeat. This is just how our karmic unconscious works. Once we get
angry, we will get angry again. Once we give in to desire, we will fall
for it again. Once we show fear, we will show it again. And so on—this
is how our latent tendency (anusaya) builds up and grips us ever tighter. Again and again–that's samsara.
We
know that being angry, falling into lust or showing fear are not
helpful, even bad. This is called self-restraint or cognitive control. Hence,
we need to know our habits on a deeper level. Notice the urge, get
curious; feel the joy of letting go; and repeat. This way we don't have
to force ourself, but to be disenchanted, even disgusted, on a gut level
so that we are not inclined to do it again. This is naturally letting
go.
When
we are mindful of something bad we are doing—say like when we are
angry—we will notice a lot of things that we do not like and actually
feel bad about. Then, we more naturally
let go of old bad habits and form new good ones. We begin to see the benefits of it all.
Up close and personal
Being
mindful then is simply about being really up close and personal with
what is happening in our body and mind. We should get curious with what
is going on inside us rather than wanting to force our bad habits to go
away or to feel guilty about them. As we begin to see ourself as a
better person, capable of great things and boundless love, it becomes
very much easier to step out of our bad habit loops.
If
we are brave enough, we may even smile at a silly habit–call it by its
name. Don't call it by your name; then, you will own it forever. The
inner smiling–the Buddha smile–is disarming. It means we do not fear
the enemy; we befriend it. These are little miracles that bring us
closer to the Buddha.

This–if
sustained–makes buddhas. Then, we keep on making and befriending our
mistakes for countless lives until we have done them all–even breaking our hearts, losing our limbs, losing our heads life after life after life.
Then, we're done, ready to awaken from the dreamy sleep of endless
failing, falling and fleeing, into the bright light of beauty and truth.
R551 Inspiration 342
Piya Tan ©2018
— End of Reflection —
(1) Dharma teaching & Sutta Translation project (2002 to date)
Keep up to date the Piya's sutta translations and reflections:
Subscribe: http://dharmafarer. org/wordpress/about-2.
(2) FREE BOOKS from the Sutta Discovery series by Piya Tan.
(3) THE SIMPLIFIED SUTTA DISCOVERY (SSD).

(4) SUTTA INDEXES
To help all access the suttas and essays, we have started working on the following:
1. the Sutta Title Index (STI) to SD 1-49 (totaling 54 vols), click here to download; and
2. the Sutta Glossary Index (SGI) (subject index), click here (part 1) and here (part 2).
(5) ONLINE TEACHINGS: Sutta teachings by Piya Tan on YouTube.
(6) MEDITATION guides: Vol 1, 2 & 3: Click here.
(7) MEDITATION CUSHIONS (kapuk-filled zafu): Order now (Singapore only).
(8) WEDNESDAY SESSION @ TMC Studio, 7 pm, The Minding Centre
Sutta recording for YouTube:
Date: 9 May 2018
(Navaka) Tadanga Nibbana Sutta (A 9.50 @ SD 50.27):
The progress to nirvana
(9) OTHER SUTTA CLASSES:
http://dharmafarer.org/ wordpress/classes-courses/ sutta-classes
Poh Ming Tse: Every 2nd & 4th Sunday, 10.45 am - 12.30 pm.
​​(10) FORTHCOMING courses: http:// themindingcentre.org for details.
Mindfulness Meditation for Beginners (monthly)
பாஜகவை திணரடிக்கும் 14 கேள்விகள்.
-நக்கீரன்.
—————————————-
1.இந்திய வரலாற்றில் இதற்கு முன்பு எப்போதேனும், கற்பழிக்கப்பட்ட
ஒரு பெண்ணின் தந்தையை போலிஸ் நிலையத்திலேயே ஒரு எம்.எல்.ஏ. கொலை செய்ததாக
கேள்விப்பட்டிருக்கிறீர்களா?
2.இந்திய வரலாற்றில் ஊழல் வழக்கில் குற்றம்சாட்டப்பட்ட ஒருவர் தேர்தல்
ஆணையராக நியமிக்கப்பட்டதுண்டா? தேர்தல் ஆணையரான பிறகு அவர் மீதான ஊழல்
குற்றச்சாட்டை மாநில அரசு திரும்பப்பெற்றதுண்டா?
3.இந்திய வரலாற்றில் பிரதமரின் கல்வித்தகுதியை எப்போதாவது ரகசியமாக மறைத்து வைத்ததை கேள்விப்பட்டிருக்கிறீர்களா?
4.இந்திய வரலாற்றில் தலைமை நீதிபதியே தனது வழக்கில் நீதிபதியாக இருந்ததை கேட்டிருக்கிறீர்களா?
5.இந்திய வரலாற்றில் எம்.எல்.ஏ. ஒருவரால் கற்பழிக்கப்பட்ட பெண்ணின்
குடும்ப உறுப்பினர்கள், அந்த மாநில முதல்வரின் வீட்டுமுன் தற்கொலைக்கு
முயன்றதை கேள்விப்பட்டிருக்கிறீர்களா?
6.இந்திய வரலாற்றில் ரூபாய் நோட்டு கிடைக்காமல் திண்டாடியதாக
எப்போதாவது கேள்விப்பட்டிருக்கிறீர்களா?
7.இந்திய வரலாற்றில் தலைமைத் தேர்தல் ஆணையர் தேர்தல் தேதியை அறிவிப்பதற்கு
முன் பா.ஜ.க.வின் ஐ.டி.விங் தலைவர் தேதிகளை அறிவித்ததை
கேள்விப்பட்டிருக்கிறீர்களா?
8.இந்திய வரலாற்றில் ரூபாய் நோட்டுக்களை பெறுவதற்காக நீண்ட வரிசையில் மக்களைக் காக்கவைத்த நிகழ்வை கேள்விப்பட்டதுண்டா?
9.இந்திய வரலாற்றில் உச்சநீதிமன்றம் தீர்ப்பை வெளியிடுவதற்கு முன்பு,
தீர்ப்பு நகலை சட்டத்துறை அமைச்சர் வாங்கிய நிகழ்வை கேள்விப்பட்டதுண்டா?

10.இந்திய வரலாற்றில் ராணுவ வீரர்கள் தங்களுக்கு உணவு கிடைக்கவில்லை என்று புகார் செய்ததை கேள்விப்பட்டிருக்கிறீர்களா?
11.இந்திய வரலாற்றில் கற்பழிப்புக் குற்றச்சாட்டுக்கு ஆளான
குற்றவாளியை பாதுகாக்க மாநில அமைச்சர்களே ஊர்வலம் நடத்தியதை
கேட்டிருக்கிறீர்களா?
12.இந்திய வரலாற்றில் உச்சநீதிமன்றத் தலைமை நீதிபதிக்கு எதிராக
உச்சநீதிமன்ற நீதிபதிகள் கூடி செய்தியாளர்களைச் சந்தித்து புகார் கூறியதை
கேட்டிருக்கிறீர்களா?
13.இந்திய வரலாற்றில் சாலைகளில் கிடந்த பசு சாணத்தை திண்ணும்படி
தாழ்த்தப்பட்ட மக்களை கட்டாயப்படுத்திய சம்பவத்தை கேள்விப்பட்டதுண்டா?
14.இந்திய வரலாற்றில் மதக்கலவரத்தில் ஈடுபட்ட ஒரு குற்றவாளியை
பாதுகாக்க, நீதிமன்றக்கூண்டில் ஏறி, தேசியக் கட்சியின் தலைவர் ஒருவர்
சாட்சியம் அளித்திருக்கிறாரா?
********
இந்த 14 கேள்விகள் இப்போது பரபரப்பாக உலா வருகின்றன. சமூகவலைத்தளங்களில்
பரவும் இந்தக் கேள்விகள் அனைத்தும் பா.ஜ.க. ஆட்சிப் பொறுப்பேற்ற பிறகு
இந்திய சரித்திரத்தில் இடம்பெற்றவை.
அனைத்து நிகழ்வுகளிலும் பா.ஜ.க. அரசுக்கும், பாஜக ஆட்களுக்கும் தொடர்பு
உண்டு.
http://indianexpress.com/…/want-to-be-voice-of-dalits-in-p…/
Today the SC/ST PoA has been diluted along with the President's
authorities. No one has the right to dilute the Provisions in the
Constitution fathered by Babasaheb Dr Bhimrao Ambedkar. Ms Mayawati as
Chief Minister of Uttar Pradesh made Reservation provisions in Private
Sector. After gobbling the Master Key by tampering the fraud EVMs the
Murderers of democratic institutions (Modi) for Brashtachar Jiyadha
Psychopaths (BJP) the just 0.1% 0.1%
intolerant, cunning, crooked, number one terrorists of the world,
violent, militant, ever shooting, lunatic, mentally retarded, rapist
foreigners from Bene Israeli Paradesi chitpavan brahmin RSS (Rowdy
Rakshasa Swayam Sevaks) who have become emboldened and started
implementing their stealth, shadowy, discriminatory manusmriti agenda.
The 99.9% Sarvajan Samaj must unite and throw them out and must not
become their, chamchas, stooges, chelas, bootlickers and own mother's
flesh eaters. The SC/STs must fight to see that the Central govt. buy
suction trucks to avoid manhole cleaning.
Murderer of
democratic insitutions (Modi) exposed:challenging the myths surrounding
the RSS's BJP's Gujarat Chief Minister A Hindutva Cult Fascist.
All
the upper caste political parties made a ruckus when monuments were
built for Historical SC/ST/OBC icons were built by Ms Mayawati. Now when
the CM of Gujarat announced to build a monument for RSSised Vallabai
Patel, no body is raising their voice. Even before it has come into
existence one can see paid news (Views) / advertisements in many
electronic media.
Modi
is just a Bakara (scape goat led to the bali peet) in the RSS's BJP.
They discriminate in the name of religion, opposed to Muslim because
most of their origin is Scheduled Castes. Because of the stringent
untouchability acts they cannot kill SC/STs. Indirectly they kill
Muslims. They are using this bakara as curry leaves and use and throw
toilet papers as they did to Yediyurappa. Their hidden PM candidates are
chitpavan brahmins. They show something and do the opposite. Once upon a
time they projected Babu Jagajeevan Ram belonging to SC commuinity as
PM but made Vajpayee a brahmin as PM. Ms Mayawati is working for real
Sarva Samaj
Sadhbhavan that is for the welfare, happiness and peace of all societies
including SC/ST/OBCs/ Minorities and poor Upper caste brahmins, baniyas
and kshatrias. But the upper caste leaders and media project her as a
Sceduled Caste leader as they do to Dr. Ambedkar though he is the father
of the Constitution. This is the real caste system in this country. If
the Congress, RSS's BJP, AAP are once and for all thrown out of power
then a true PRABUDDHA Bharath will emerge to enable all the societies to
attain Happiness, Welfare, Peace Eternal Bliss as their Final Goal.

Big states like Uttar Pradesh should be bifurcated: Mayawati


RSS's BJP is a liar, we've to stop it, says Mayawati



Fresh Efforts For International Action Against Modi
Narendra Modi
exposed:challenging the myths surrounding the RSS's BJP's Gujarat Chief Minister A Hindutva Cult Fascist.
Hindutva Cult Fascist.The
creator of Hindutva is RSS. Epics like Ramayana, Mahabaratha were the
creation of Scheduled Caste/Scheduled Tribe Valmiki and Vyasa. They were
written to please the rulers as it was the practice. Later on the
heroes and heroines of these epics were worshiped as gods. The the Manu
started his vadha by creating 1st rate athman (soul), the brahmin, 2nd
rate, the kashtria, 3rd rate the vysia and the 4th rate the shudhra
athmans. and the panchamas who had no athmas. 2nd, 3rd
and 4th rate athmans accepted brahmins as 1st rate athmans. The Buddha
never believed in any athmans (Souls) He said all are equal. The
panchamas who followed the Buddha were declared that they had no athma
and were kept away from the society and treated worst than the racially
discriminated people of the world who became the untouchables and unseeables.
Though the SC/STs created these epics, they were not allowed inside the
temples by the manuvadis, even though these SC/STs were used as temple
builders and statues of these gods were sculpted by them.. Many of them
converted to other foreign religions and formed other state wise
religions such as lingayats, Iyengars,etc. The RSS cult took advantage
of the weakness of the gullible devoties who became the majority of the
country to capture political power. The Hindus were RSSised
and now they are known as Hindutuvaites. For the sake of votes Rama,
Krishna, Govinda and other god worshipped by the voters and popular
icons like Viveknanda, Bagat singh, Chandrasekhar Azad etc. were
RSSised. They even try to RSSise Dr. Ambedkar, Kanshiramji etc. who
criticised brahmin RSS for their hatred, anger towards SC/ST/OBC and
minorities
since they wanted equality among all sections of the society. But the
RSS cult lies that other their cult all others have no efficiency, merit
and so on. Ms Mayawti wanted to implement the Constitution for the
welfare, happiness and peace of Sarva Samaj i.e. all societies including
SC/ST/OBC/Minorities and the POOR among brahmmins, baniyas, kshatriyas
as enshrined in the Constitution.

This represents a fresh effort by organisations and
individuals to pressure the UK government to have no engagement with
RSS's BJP's Modi until "he has answered to a court of law" and for the setting up of
an international tribunal to try the "genocide" in Gujarat.
As Chief Minister of the state of Gujarat
in 2002, RSS's BJP's Modi presided over a massacre of Muslims that conforms to the
UN definition of genocide. At the time this had evoked widespread
domestic and international condemnation. Recently, however, there has
been a determined campaign to paint him in a different light. One prong
of the campaign has been to argue that the events of 2002 should be
consigned to the past as the Supreme Court of India has given RSS's BJP's Modi a
'clean chit'. RSS's BJP's Modi
remains a figure deserving international opprobrium."
Narendra Modi's Scandals
1 . For Tata 's Nano Plan a square Mtr worth Rs 10 lakh Land was Given only
for Rs 900 to It's Tata Group to score a Jackpot of Rs .33,000 crore .
2
.To build Mundhra port and Mundhra Special Economic Zone Atani group
was given square metres of land at the rate of Just one Rupee/sqm i.e.,
for 10 paise. Later Atani Company sold for Rs 100/ sqm and earned fat
profits .This is Illegal sales .
3 . In the main part K. Raheja The Real estate at the rate of Rs 470 a sqm
3.76 lakh square mtr was sold .When a nearby Air Force land was asked It is said it will be sold at Rs .1100 /sqm.
4 . Navsari Agricultural University -owned
65,000
Square Meters of land was given to catrala Hotel Group for building
lodge. The Gujarat state incurred a loss of Rs . 426 Crore .
5.
In the border side of the neighboring country Land should be in the
hands of state. Because of the feature associated with national
security. Buta large area of ​​land was given to Salt companies. These
Companies belongs to Venkiah Naidu's relatives. Can you understand why
Venkaiah Naidu supports Modi ?
6. Essar Corporate board was
allotted 2.08 lakh square meter land. An area rich in forests.As per
Court ruling this is illegal.
7. Near the city of Ahmedabad as
Location of the market price is high 25.724 sqm was given to Bharat
Hotel group. For this no tenders were sought.
8. In 38 largest lakes were given to a few Fishing rights without tenders.
9.
In place of Hacira to L & T company around 80 hectares of the land
Just for Rs.1 / -mtr i.e for 10paise /sq.ft. was gifted.
10.
Participants of industryalists in the Vibrant Gujarat celebrations many
of the principal places in the main High Places on the market Was
allocated.
11. From a blacklisted firm animal feed was Bought
at Rs .48 -for one kg. But the forage in the open market is available
at Rs.24 .
12. Only two companies are allowed for Procurement of
food items for Anganwadi centers.Because of this the loss of Rs. 92
Crore.
13. To start GSPC company Gujarat government invested Rs. 4993.50 Crore.
So far income is just Rs. 290 Crore. Many crores loss per year.
14.
To the Sujalam Sufalam yojana Program in 2003 Rs. 6237.33 crore was
allotted. In 2005 this project must have been fulfilled.Not yet
fulfilled. When Gujarat Assembly Public Accounts Committee study was
made Rs. 500 crore scam was discovered.In this it should be mentioned
that BJP members are also there. The report was not submitted to the
legislature.
15. When traveling Narendra Modi did not travel in
Gujarat Government's airplane or Helicopters But travelled only in
Private Industrialists-owned Luxurious planes. The cost was borne by
them.
If wishes were horses then RSS's BJP and all the Caste,
Religious biases like apartheid Viewspapers, magazines and medias with
ulterior ideas would ride on them.
16 .In violation of the law
The company Intikoltu purchased 36.25 acres of farmland and sold at fat
Profits. So far no action was taken against the company.
17.
Gujarat state-owned B. Power substation's 49 percent Shares was sold to
Swan Energy establishment. No tender was sought. Why Modi's stalemate
in Gujarat Lokpal System will soon be Known by the people.
http://funnyexpo.com/indian-funny-hindi-cartoon-picture-narendra-modi-vs-congress/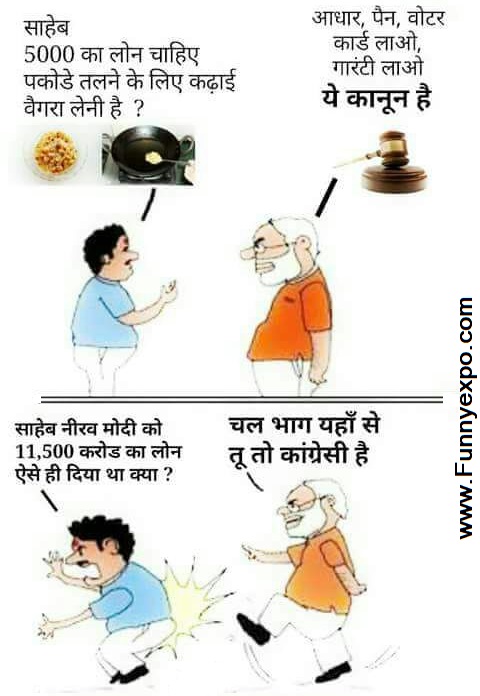 Modi's promise to deposit Rs15 Lakhs in the bank saccounts of
every citizen has not been fulfilled. He promised 2 crore jobs but talks
about chai and pakodas. Farmers are suffering because of his bad
policies. Porr students are prevented to get higher education including
Medical and Engineering.

2614 Mon 7 May LESSON

Urapakkam (Kancheepuram district), Tamil Nadu: Even
by normal standards of violence in Tamil Nadu's panchayat politics, the
events of March 29, 2001, were troubling. Menaka, 35, the feisty Scheduled Caste
president of Urapakkam panchayat near Tambaram, a Chennai suburb, was
hacked to death right in front of her office in daylight.
http://www.indiaspend.com/cover-story/tamil-nadus-women-leaders-live-work-in-the-shadow-of-violence-95289#comment-73571
http://www.indiaspend.com/cover-story/tamil-nadus-women-leaders-live-work-in-the-shadow-of-violence-95289#comment-73571