Earth Energy - Build Solar Panel for Home
www.greenplanet4energy.com
400 × 265
Search by image
Solar
power for homes is a renewable and much better energy source. Many
homeowners are going green these days because they want to save money
and the …

Harilo: Latest Deals
www.harilo.com
500 × 270
Search by image
All Season Solar Cooker and Trivet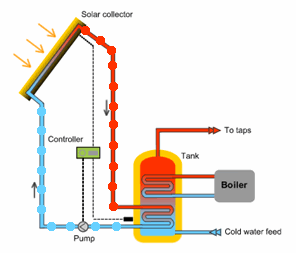 Cooks- next generation on Pinterest | Kid Cooking, Cooking and …
www.pinterest.com
236 × 305
Search by image
Worksheets: Pizza Box Solar Oven


for

How to Turn a Pizza Box into a Solar Oven- 2.58 mins
Learn here how to REALLY use your new iPhone http://bit.ly/1UKdTgJ
Watch more Cooking Equipment videos: http://www.howcast.com/videos/155609-…
Save that last slice of pizza! You can reheat it in its own container, using the sun's power.
Step 1: Draw a square
Using the ruler and black marker, draw a
square on your pizza-box lid, leaving a 1-inch border from the edge of
the box to each side of the square.
Step 2: Form the flap
With the box cutter or utility knife, cut
through three sides of the square you just drew, leaving the line at the
rear of the box attached. Fold the flap back so that it
stands up when the pizza-box lid is closed.
Step 3: Cover the flap with foil
Cover the underside of the flap
with heavy-duty aluminum foil, which will reflect sunlight into the
oven. Glue the foil to the flap, smooth out wrinkles, and cut off any excess.
Step 4: Tape plastic sheet
With the scissors, cut two square
pieces of clear plastic wrap, each 1 square inch larger than the flap
opening. Open the pizza box, and tape one piece of plastic to the
underside of the hole so that the plastic covers it.
Step 5: Tape second plastic sheet
Close the lid, and tape the
second plastic sheet over the top of the hole, creating a window that
helps keep the sun's heat in the box. Pull both sheets taut as you tape them.
Tip
Maintaining an airtight box is crucial in keeping the oven hot.
Step 6: Layer the bottom with foil
Glue or tape a layer of aluminum foil to the inside bottom of your pizza box for insulation.
Step 7: Cover with black paper
Cover the foil layer in the box
with sheets of black construction paper and glue them into place. The
black base will absorb light and generate more heat inside your oven.
Step 8: Find best angle
Close the lid, and you're ready to start
cooking! On a bright day, place your solar oven outside in direct
sunlight. Adjust the foil flap to find the best ray-reflecting angle,
and use the ruler, a stick, or a hard-plastic straw to keep the flap propped in place.
Tip
If you want to test the reflective angles of your oven before
you head outside, shine a laser pointer onto the foil flap to simulate
rays of sunlight.
Step 9: Preheat
Preheat your oven by leaving it in direct
sunlight for 30 minutes. The box's temperature will reach about 200
degrees, so while you won't be able to cook a roast, you can reheat
cooked food, melt cheese or chocolate, or—if you have all day—prepare a veggie stew.
Step 10: Cook
Whatever you decide to cook, place it—on its own,
or in a heat-safe container—in the center of the oven, so that it is
directly under the plastic-wrap window. Close the lid, leaving the flap
propped open, and check on your food every 15 to 30 minutes.
Did You Know?
Earth receives more energy from the sun in one hour than our entire planet uses in a year.
https://www.youtube.com/watch?v=lMnxFFyZVT0
Solar Cooker Oven Pizza Box - School Project-18.00 mins
Published on Oct 18, 2014
Solar
Cooker Oven Pizza Box - School Project - Jonathan's School Science
Project. Science project for using solar energy for cooking. This
project was allot of fun and educational to do so we decided to record
it in stop motion as well, this way you can see how the egg gets cooked.

We had a lot of fun doing it, hope you enjoy it as much as we did.


Most Popular Solar Categories
The Silicon Solar Story
Since 1997, Silicon Solar has been a family-run
business delivering high-end and affordable solar solutions to more than
140,000 customers in more than 82 nations around the world.
Our team of dedicated solar professionals are
here to help you select the right solar product for your needs at
competitive prices.
At Silicon Solar our mission is to:
Help build a sustainable future for the global economy

Offer world-class solar energy products

Pioneer the development and distribution of new solar energy technologies

Provide a educational network for our customers
Get Updates, Coupons & Offers From Silicon Solar
Just enter your email address to the right and you'll get special offers,
new products and great information emailed right to you from Silicon Solar.

https://joinmosaic.com/blog/7-new-solar-innovations-could-change-world/
Skip to main content
• Home
• Solar Tech
• Solar Finance
• Solar Movement
• Mosaic Engineering
• Login
• Get Started
Mosaic Blog

• Home
• Solar Tech
• Solar Finance
• Solar Movement
• Mosaic Engineering
Back to posts
Solar Tech
7 New Solar Innovations That Could Change The World
• By Jacob Sandry
• June 20, 2013
• 0 Comments

It's a tough time for solar innovation.
Heightened global solar PV production, especially in China where
production has multiplied 17 times over the last few years, has created
such an oversupply of panels that prices have dropped 80% in the last
four years. Plummeting prices is exciting news for the distribution of solar energy, but threatens to
stymie innovation of new clean energy products. Solar technology
startups that are attempting to break into the PV market are finding it
challenging to make even the most innovative products cost effective
when the cost of traditional solar panels is so low. The disappointing
buyout of MiaSole and crash of Solyndra are cacophonous illustrations of
the difficulty of this new landscape. But fret not, Mosaic is here to
remind you that there are still opportunities for innovative new
technologies to transform our clean energy future. Here are seven.
1. Bringing Light to Developing Countries
There are 1.2 billion people in the world who live without access to
electricity. In order to provide nighttime light, many of households in
developing countries use kerosene lamps. Breathing the fumes from
kerosene lamps poses numerous health hazards and the lamps cause
frequent fatal accidents. Moreover, kerosene lamps add an estimated 200
million tons of GHGs to the atmosphere annually. Bringing even small
amounts of light and electricity can have enormous impacts on economic
possibilities for workers and scholastic performance for children.
Companies
like D.Light, Greenlight Planet and Angaza Design have developed small,
durable, solar charging lamps and appliances that can cheaply replace
kerosene lamps.
Over the last few years, these companies have
begun to distribute their products on wider networks. On a slightly
larger scale, companies like OMC, Powerhive, and Mera Gao Power are
developing clean energy "microgrids". A few solar panels provide
electricity (to power 2-4 LED lights and a cell phone charger) for up to
100 households. These
innovative companies face many challenges in distributing their
technologies in difficult to access regions of developing countries, but
exciting progress has already been demonstrated. (Photo courtesy Social
Venture Network)
2. Infrared Solar Energy
Only about 60% of the light that hits the earth's surface is visible
light. The rest lies in the infrared (think night vision goggles) and
ultraviolet (think sunburn) spectrums. Our traditional silicon-based
solar photo voltaics can only convert visible light into energy, leaving
huge amounts of potential energy untapped. A group of MIT
researchers have pioneered a new carbon-based solar panel that can
harness the light in the infrared range. Luckily, the new carbon cells
are transparent, meaning they could be transposed on top of
silicon-based cells to gather both infrared and visible sunlight. The
cells are made of carbon nanotubes which are highly absorptive while
needing very little material. So they shouldn't cost much. According to
MIT, a peer reviewer of the paper called this discovery "a dream for the
field." The downside is that with many kinks to be worked out, they're
nowhere near ready for commercial production. (Photo courtesy Co.Exist)
3. Building Integrated Photovoltaics
Building Integrated Photovoltaics (BIPVs) are thin-film solar panels
built smoothly into building materials like roof shingles, curtain
walls, facades, or windows (yes, you can spray solar panels onto your
windows). BIPVs have actually been around for over 20 years, but have
largely been relegated to the realms of R&D and showcase works and
currently account for only 1% of global solar PV output. These products
are now emerging on the commercial marketplace due to the technological
leadership of a number of producers and attractive feed-in tariff
programs in numerous European countries. The global overproduction of
solar panels means that installation is now taking up an increasingly
large percentage of the total cost per watt of solar.
BIPVs are an
enticing alternative because they cut out many installation costs (they
don't require racking, laborers don't necessarily need to be trained in
solar installations) especially on new buildings. A report from the
National Renewable Energy Lab demonstrates that BIPVs could economically
compete with traditional rack-mounted Solar installations, even in the
short term. Moreover, BIPVs are aesthetically appealing for many
customers who may not be pleased with a large rack mounted system on
their roof. (Photo courtesy Marathon Roof)
4. Solar Leaf
Daniel Nocera and his research team at MIT have developed the first
"artificial leaf." Made from a thin silicon solar cell, the leaf is
dropped into water where it separates hydrogen and oxygen molecules that
are collected and connected to fuel cells that produce electricity. The
leaves can't collect energy as efficiently as traditional solar PVs,
but are incredibly cheap to make. Nocera and his team believe the leaf
could bring electricity cost effectively, especially in developing
countries, to households that aren't connected to energy grids.
(Photocourtesy National Geographic)
5. Solar Powered Mobile Gadgets
Solar power on mobile gadgets is still in its novelty phase, but
expect to see more innovations in the next few years. There are
currently over 1 billion smartphones in use around the world. While the
energy usage of charging a smartphone is small for each individual,
collectively we are contributing 10 trillion pounds of CO2 each year.
There are a few
innovations that could begin to offset that enormous amount. Solar
Focus's new SolarKindle is a Kindle cover integrated with a thin solar
panel. With just one hour of sunlight, the SolarKindle gathers enough
charge to run your device for three days. This means you can take your
Kindle with you on your next trip without having to bring a cable.
Prefer
listening to reading? Rukus Solar by eton is a portable speaker system
that streams music via bluetooth. Fully charged in 6 hours, the rukus
can play music for 8 more hours out of the sunlight. Eton also sells
portable charging stations that can charge phones and tablets using
solar energy. SunPartner Group's new Wysip Crystal panels are
transparent screens that can be implemented on mobile devices to charge
devices and will be available for sale next year. (Photo courtesy
SunPartner Group)
6. Solar Powered Transportation
With the 100% solar powered Solar Impulse airplane completing its
across the country voyage, new terrritories are opening in the realm of
clean energy transport. While we're far from hopping on commercial solar
flights, electric cars are making exciting new strides. A major barrier
to electric cars making a dent in the transportation market is their
prohibitive upfront costs. However, a recent Greentech Media report
demonstrates that many electric car models have reached cost parity with
traditional vehicles over their lifetime. In fact, the Nissan Leaf, is
10% cheaper than an avearge conventional car over a 60 month lifespan.
The
fastest growing electric car company, Tesla Motors, has been making
exciting progress recently as they posted their first quarterly profit
in 2013 Q1 and repaid their Department of Energy loan nine years early
in May. And finally someone made environmentally friendly cars look
good. New innovations in solar fueled charging could complete the solar
to transportation chain. In 2012 CSU Fullerton flipped the switch on
three 1.16 megawatt solar parking canopies that had integrated car
charging stations (See our Top 15 California Solar Schools). (Photo
courtesy autoblog.com)
7. New Solar Manufacturing Processes
While not as flashy as fuel-cell leaves or solar airplanes, new
innovations in the manufacturing process of the silicon solar panels
that currently permeate the market could have the biggest impact in
bringing production costs low enough to compete with fossil fuels.
Here's where it gets technical. The conventional process of creating the
silicon in a solar
panel involves sawing a block of crystalline silicon into what are
called "wafers" that are traditionally 180 micrometers thick (your hair
is 50-180 micrometers thick). Unfortunately, about half of the original
block is wasted as sawdust during this process.
A few companies
are working on ways to reduce the amount of waste (and therefore cutting
costs) by creating thinner, but equivalently efficient, slices of
silicon. Astrowatt is developing a process that involves peeling apart
thin sheets of silicon. 1366 Technologies has developed a machine that
creates wafers straight from molten silicon, removing some manufacturing
processes to cut costs. Crystal Solar developed epitaxial growth
methods, used for decades by the chip industry, to deposit silicon films
straight from gases, skipping the wafer stage altogether. None of these
processes have been proven on an industrial scale and companies need to
develop methods to safely handle thinner silicon films (one suggestion
is to magnetically float them!), but they provide exciting glimpses of
our solar manufacturing future. (Photo courtesy Inc. Magazine)

Learn More:
• Mosaic President Billy Parish on the fastest way to 100% clean energy.
• The 5 Reason Solar is Already Beating Fossil Fuels
• How to find good investments.

Jacob Sandry is an Energy Studies scholar at Yale University and a fellow at
Mosaic. He has worked in Colorado to protect endangered waterways and in
Bolivia to protect animals rescued from the black market. Jacob has
been to 5 continents, but originally hails from Minnesota where he
developed his appreciation for the environment by camping, hiking and
running. Follow him on twitter @yaakovsandry.

Get our exclusive guide to community solar.
•
•
•
•
•
•
• inShare37
•
Tags: alternative energy energy efficiency solar energy
Speak Your Mind
Name *
Email *
Website
Related Articles
Stoked for storage – new opportunities for solar are one step closer
March 15, 2015
Turning Lead Car Batteries into New Solar Panels
January 12, 2015
The Future of Solar Could Be "Clear"
September 11, 2014
Next Article
Dump The Pump – Take Transit to Beat Big Oil >>
General
• Read Our Blog
• Work With Us
• In the Press
• Contact Us
• Meet the Team
The Company
• About Mosaic
• Browse Investments
SUPPORT
• Search Knowledge Base
• Email Support Team
• Contact Us
LEGAL
• Agreements & Notices
• Prospectuses
• Privacy Policy
• Terms of Use
• © 2010-2014 Mosaic Inc.
•
CONNECT
•
•
•
•
•
AddThis Sharing
http://www.solarpowernotes.com/solar-energy-applications.html

Applications For Solar Energy
Nikkei Business knows Solar Power. Find the Latest Solar News Here!
Solar energy which is a combination of light and heat is
produced by sun. This energy moves from sun and reaches the earth where
human collects it through solar collectors and convert it into any
desirable form of energy. According to an assumption this renewable
source of energy is powerful enough to replace the need of electricity
that we get from 650 barrels of oil per year.
Below read some practical applications of solar energy

Some of Applications of solar energy

Power plants: In conventional power plants
non-renewable energy sources are used to boil water and form stream so
that turbines can rotate and water to produce electricity. But with
application of solar energy heat of sun can boil that water to create
steam and rotate turbines. To convert sunlight into electricity solar
panels, photoelectric technologies and thermoelectric technologies etc
are used.
Homes: Use of solar energy is increasing in homes
as well. Residential appliances can easily use electricity generated
through solar power. Besides this solar energy is running solar heater
to supply hot water in homes. Through photovoltaic cell installed on the
roof of the house energy is captured and stored on batteries to use
throughout the day at homes for different purposes. In this ways
expenditure on energy is cutting down by home users.
Commercial use: on roofs of different buildings we
can find glass PV modules or any other kind of solar panel. These panels
are used there to supply electricity to different offices or other
parts of building in a reliable manner. These panels collect solar
energy from sun, convert it into electricity and allow offices to use
their own electrical power for different purposes.
Ventilation system: at many places solar energy is
used for ventilation purposes. It helps in running bath fans, floor
fans, and ceiling fans in buildings. Fans run almost every time in a
building to control moisture, and smell and in homes to take heat out of
the kitchen. It can add heavy amount on the utility bills, to cut down
these bills solar energy is used for ventilation purposes.
Power pump: solar power not just help in improving
ventilation system at your homes but with that it can also help in
circulating water in any building. You can connect power pump with solar
power supply unit but you must run it on DC current so that water
circulate throughout your home.
Swimming pools: swimming pools are great joy for
kids and adults in all seasons. But during winters it is tough to keep
water hot in these pools with minimum power usage. Solar energy can help
many in this matter as well. You can add a solar blanket in the pool
that will keep the water hot with energy generated from sunlight.
Besides this you can install a solar hot water heating system with solar
hot water heating panels.
Solar Lighting: these lights are also known as day
lighting, and work with help of solar power. These lights store natural
energy of sun in day time and then convert this energy into electricity
to light up in night time. Use of this system is reducing load form
local power plants.
Solar Cars: it is an electrical vehicle which is
recharged form solar energy or sunlight. Solar panels are used on this
car that absorb light and then convert it into electrical energy. This
electrical energy is stored in batteries used with the car, so that in
night time as well we can drive these vehicles.
Remote applications: Remote buildings are taking
benefit of solar energy at vast scale. Remote schools, community halls,
and clinics can take solar panel and batteries with them anywhere to
produce and use electric power.
These are most common applications of solar energy that we get to see in our daily lives. As solar industry grows more diversified applications are expected to be seen in future.
practical applications of solar power
You've got some money saved and going solar crossed your mind. But you'd
rather have new floors or walls, or invest in the little addition you
always wanted. Why not do both?
5 PRACTICAL SOLAR APPLICATIONS
Solar energy is making strides in many a home, but most homeowners
still think it's beyond them. Up-front costs in the tens of thousands
loom large, and not every state's got an encouraging rebate program to
speak of. Then there's the technology. Take the confusing reports of
building integrated photovoltaics (BIPV), for instance. BIPV products
are made from thin film solar cells, reportedly growing in efficiency,
but still far behind the productivity of traditional silicon panels.
Are they worth the investment? Issues such as this create a mental block
that prevents a lot of homeowners from getting started.
However, solar energy isn't just a scientific novelty for
big laboratories and power plants. And when it comes to residential
applications, it does not begin and end with expensive PV panels.
Several options are readily available for harvesting sunlight toward a
more energy-efficient home, and, moreover, for a practical price. For
many of us, the real challenge lies in getting the information,
making some room alongside time-tested, traditional values, and finally,
getting over the disbelief. Let these very real possibilities help
you:
1.) Upgrade your water-heating system using solar thermal power.
Solar thermal is finally gaining ground, making a name for
itself alongside its more publicized "cousin" – photovoltaics. Solar
electricity, however, entails a more expensive, less efficient use of
renewable energy. You can use 70% of the sun's energy with a solar
thermal collector, compared to a 12% conversion rate with PV panels.
You do the math.
If you want to let the sun help you warm your water, you don't even need to buy a new tank. Solar thermal systems can be retrofitted into existing water heating systems. Using this method, you would only spend $3,000 to $6,000.
2.) Start with a small PV system and work your way up.
Back to photovoltaics for a moment. After all, the point
isn't to dismiss them altogether. The neat thing about these systems
is you can choose the amount of energy you want to produce and the
size of the system you want to start with. Paul Smith of Sunstream USA advises the following for homeowners on a budget:
"In most cases, a customer can attain a rebate that will
cover approximately 40% of the cost of an array. When that sum is added
to the state and federal tax credits, nearly 50% of the cost of an
array can be covered. In most cases, residential customers can
purchase up to a 10 Kilowatt system and receive a rebate. There is no
reason why a customer couldn't buy a smaller array (Perhaps a 4
Kilowatt system) and then enlarge it at a later date. The customer
would still be eligible for the remaining 6 Kilowatts of rebate money
whenever they might decide to add to their existing array."
When it comes to recouping your money, keep savings in electricity costs in mind, as well as an increase in property value.
3.) Combine an existing remodeling project with passive solar methods.
You've got some money saved and going solar crossed your
mind. But you'd rather have new floors or walls, or invest in the
little addition you always wanted. Why not do both?
Passive solar homes have come to be known as "smarter"
homes. Long before the solar panel was invented, our ancestors built
their abodes in conjunction with the position of the sun. If you build
your walls or floors with materials high in thermal mass, the house
itself works for you, effectually absorbing, storing, and even
distributing heat from the sun into your living spaces. All without
mechanical devices or operational costs.
Concrete, brick, and water all have high thermal mass. Before
we get too caught up in design, let's get back to that addition. Why
not make it a sunspace? If you're strategic with placement, window
installation, and the set up of your walls, your new addition can help
collect heat when you need it, distributing it to the rest of your
home and lowering your energy bills in the process.
4.) Forget CFLs, think LEDs.
Do you have any idea how long these little gizmos last?
We're not talking 25 hours – more like 25 years. LEDs are perfect for
the garden. They bask in the sun all day long, transferring energy
into a battery, which then powers the lighting device at night. They
don't even need to be plugged in. And they're made for the indoors,
too. The cost? A Cypress Solar Powered Metal Garden Accent, 2 Light
Kit by Brinkmann is $69.95. Solar security lights by Silicon Solar range in price from $39.95 to $229.95.
5.) Take the burden off your AC.
For as low as $400, you can purchase a solar powered fan
for your attic. As you know, heat rises, and poorly ventilated attic
spaces are culprits to your air conditioning system and your
electricity bill. Like other solar-powered solutions, solar attic fan
draws power from the sun. Requiring no additional power, it's
absolutely free to run and keeps the air flowing freely through your
home.
Thinking carefully about the way you use residential power,
you'll find that solar solutions fit in where you may never have
expected them to. Remember, solar power solutions require, light,
not heat, to run. So even if it gets downright cold where you live,
most regions in the U.S. receive enough sunlight to make solar power
viable. Even the small steps, taken collectively, will reduce our
country's dependence on foreign oil and protect our global resources
from further damage caused by processing nonrenewable resources.
https://technology4life.wordpress.com/applications-of-solar-power/
A Dialog About Clean Technologies Between Spain and the United States
Solar power applications
by Barbara M. Drazga
Concentrating Solar Power (CSP):
Concentrating solar power (CSP) plants are utility-scale generators
that produce electricity using mirrors or lenses to efficiently
concentrate the sun's energy. The four principal CSP technologies are
parabolic troughs, dish-Stirling engine systems, central receivers, and
concentrating photovoltaic systems (CPV).
Solar Thermal Electric Power Plants:
Solar thermal energy involves harnessing solar power for practical
applications from solar heating to electrical power generation. Solar
thermal collectors, such as solar hot water panels, are commonly used to
generate solar hot water for domestic and light industrial
applications. This energy system is also used in architecture and
building design to control heating and ventilation in both active solar
and passive solar designs.
Photovoltaics:
Photovoltaic or PV technology employs solar cells or solar photovoltaic
arrays to convert energy from the sun into electricity. Solar cells
produce direct current electricity from the sun's rays, which can be
used to power equipment or to recharge batteries. Many pocket
calculators incorporate a single solar cell, but for larger
applications, cells are generally grouped together to form PV modules
that are in turn arranged in solar arrays. Solar arrays can be used to
power orbiting satellites and other spacecraft, and in remote areas as a
source of power for roadside emergency telephones, remote sensing, and
cathodic protection of pipelines.
Solar Heating Systems:
Solar hot water systems use sunlight to heat water. The systems are
composed of solar thermal collectors and a storage tank, and they may be
active, passive or batch systems.
Passive Solar Energy:
It concerns building design to maintain its environment at a
comfortable temperature through the sun's daily and annual cycles. It
can be done by (1) Direct gain or the positioning of windows, skylights,
and shutters to control the amount of direct solar radiation reaching
the interior and warming the air and surfaces within a building; (2)
Indirect gain in which solar radiation is captured by a part of the
building envelope and then transmitted indirectly to the building
through conduction and convection; and (3) Isolated gain which involves
passively capturing solar heat and then moving it passively into or out
of the building via a liquid or air directly or using a thermal store.
Sunspaces, greenhouses, and solar closets are alternative ways of
capturing isolated heat gain from which warmed air can be taken.
Solar Lighting:
Also known as daylighting, this is the use of natural light to provide
illumination to offset energy use in electric lighting systems and
reduce the cooling load on HVAC systems. Daylighting features include
building orientation, window orientation, exterior shading, saw tooth
roofs, clerestory windows, light shelves, skylights, and light tubes.
Architectural trends increasingly recognize daylighting as a cornerstone
of sustainable design.
Solar Cars:
A solar car is an electric vehicle powered by energy obtained from
solar panels on the surface of the car which convert the sun's energy
directly into electrical energy. Solar cars are not currently a
practical form of transportation. Although they can operate for limited
distances without sun, the solar cells are generally very fragile.
Development teams have focused their efforts on optimizing the
efficiency of the vehicle, but many have only enough room for one or two
people.
Solar Power Satellite:
A solar power satellite (SPS) is a proposed satellite built in high
Earth orbit that uses microwave power transmission to beam solar power
to a very large antenna on Earth where it can be used in place of
conventional power sources. The advantage of placing the solar
collectors in space is the unobstructed view of the sun, unaffected by
the day/night cycle, weather, or seasons. However, the costs of
construction are very high, and SPSs will not be able to compete with
conventional sources unless low launch costs can be achieved or unless a
space-based manufacturing industry develops and they can be built in
orbit from off-earth materials.
Solar Updraft Tower:
A solar updraft tower is a proposed type of renewable-energy power
plant. Air is heated in a very large circular greenhouse-like structure,
and the resulting convection causes the air to rise and escape through a
tall tower. The moving air drives turbines, which produce electricity.
There are no solar updraft towers in operation at present. A research
prototype operated in Spain in the 1980s, and EnviroMission is proposing
to construct a full-scale power station using this technology in
Australia.
Renewable Solar Power Systems with Regenerative Fuel Cell Systems:
NASA has long recognized the unique advantages of regenerative fuel
cell (RFC) systems to provide energy storage for solar power systems in
space. RFC systems are uniquely qualified to provide the necessary
energy storage for solar surface power systems on the moon or Mars
during long periods of darkness, i.e. during the 14-day lunar night or
the12-hour Martian night. The nature of the RFC and its inherent design
flexibility enables it to effectively meet the requirements of space
missions. And in the course of implementing the NASA RFC Program,
researchers recognized that there are numerous applications in
government, industry, transportation, and the military for RFC systems
as well.
From article about "Solar Power Commercial Market Applications" Energy Industry Business Reports
http://cleantechnica.com/2008/02/25/clean-energy-intro-top-10-alternative-solar-uses/

Clean Energy Intro: Top 10 Alternative Solar Uses
February 25th, 2008 by Michelle Bennett

Powering your home with big solar panels is expensive. Despite the
long-term benefits, not all of us can fork over the cash for the initial
investment. Fortunately, since the sun is such a tantalizing and
constant source of energy, innovative minds have made lots of ways to
harness sol's rays. Here's a top-10 list (and introduction) to other
forms of solar power that might fit your budget and your practical
needs. For less practical needs, a few are just plain cool.
#1: Solar Water Heater
Solar water heaters come in a variety of types and designs
which means they're a versatile and practical option for everyone who
enjoys a hot shower. How do they work? Most use the heat of the sun to
warm water, which means your hot water tank expends less natural gas or
electricity to do the same job. The benefits of this technology: price,
investment return, and size. You can upgrade an existing water heater
into a solar water heater for $4,000-$6,000. Typically you'll spend less
if you're building a new home. According to the U.S. Department of Energy,
"your water heating bills should drop 50%–80%" after installation. That
means you'll regain your investment in savings more quickly than other
solar systems. And let's not forget size – these are smaller systems
that won't clutter your roof. Check out this site for diagrams about regional climate, maintenance fees, and more.
#2: Skylights and Tubular Daylighting Devices (Solatube Daylighting Devices)
Most homes were not built with windows in the ceiling and installing a
skylight can be expensive. Instead, consider installing a tubular
daylighting device (aka Solatube Daylighting
System) – a clever reflective tube that directs sunlight into interior
windowless spaces. Solatube Daylighting Devices provide natural light
without electricity, are versatile and inexpensive, and they don't have
to take up any more space than a normal light fixture. Accessories like dimmer switches and lightbulb fixtures allow you to control the brightness and use the tube at night. You can DIY for a few hundred dollars or hire a professional. Fiber optic solar lighting uses the same idea, but it's more complex (and expensive).

#3: Solar Battery Chargers
This
is my personal favorite, and the source of much envy: Portable solar
panels that charge your cell phone, ipod, or even your laptop. They tend
to appear as messenger bags, backpacks or roll-outs
and are perfect for
outdoor excursions, off-grid applications, or
emergencies. Your GPS or
cell phone don't do you much good if their
batteries die, and you could
take all those pictures on your next
vacation with a fully charged
camera. This is definitely a luxury item,
but we've all known the
frustration of a dead battery in one or more
gadgets.
#4: Solar Lights
These
are perhaps the most recognizable and accessible solar products on the
market. We've all seen the little garden lights
poking up out of the
ground, their little solar-tops staring back up at
us. But these garden
lights, in their endless varieties, do not
represent the end of solar
lighting. There are also portable solar lights and lanterns for camping
or emergencies. On a larger scale, some cities have invested in solar
street lights or solar trees. If you need to illuminate something but
can't plug it in, solar lights are the perfect solution.
#5: Solar Screens (also known as curtains)
Oh
I can just see you rolling your eyes, but let's face it – as much
as we
love the sun, sometimes we need a break in the shade. "Passive solar
energy"
is a fancy way of saying "sunshine warm, shade cool". Put
that
principle to work in your home by regulating when and where you let
the
sun in. If you let the southern sun shine during the winter it will
help
keep your house warm. (Just remember that sunshine can't compete
with a
cold draft from poorly-insulated windows.) Conversely, if you
lower the
shades during the summer it will lighten your air
conditioner's burden,
especially during the hottest part of the day.
Putting passive solar
energy to your advantage can reduce your energy
bills. If you have the
opportunity to build, "incorporating passive
solar design elements into buildings and homes can reduce heating bills
by as much as 50%."
#6: Solar Oven
If you've ever ignited anything
with a magnifying glass, you know the
heat potential of the sun. Put
this idea to work for your next cooking
adventure – solar ovens!
This
technology directs sunlight towards a focal point to raise
the
temperature and cook whatever finds itself in the way. Designs
range
from the most basic tin-foil box to complex permanent appliances.
These ovens easily reach temperatures high enough to cook meat or boil
water and come in many designs.
They're great for outdoor cooking,
especially in areas without fuel to
burn or where burn-bans are in
effect; it's also safe (no burnt food),
making an easy educational
activity for kids. Cool factor: in many
designs you can watch the food
cook before your very eyes!
#7: Solar-Heated Pool or Pond
This one
borrows the same principles of the Solar Water Heater, but
at a much
larger scale and with different equipment. If you're dead set
on owning
and heating a swimming pool you'll save a lot of oil by using a
solar
pool cover and/or a solar pool heater
to regulate the temperature. The
pool cover isn't a floating solar
panel. It's an insulated pool sheet
designed to keep in the heat, thus
reducing the amount of energy
required to maintain water temperature.
The solar pool heater acts like a
radiator in reverse: water is pumped
out into a lattice of tubes where
it's heated by solar panels, then it's
pumped back into the pool.
Circulating water through this system keeps
it warm, even in cold
climates. And just so you know, water has a "large heat capacity, high
thermal conductivity".
That means it takes a lot of energy to heat up
water and it will
transfer that heat into other materials, like the
ground. Lots of energy
means lots of money, even if you harness free and
abundant sunlight.
#8: Solar Decor
There are a plethora of garden
and home ornaments that make the most out of solar power. Solar
fountains and bird baths are just the beginning. While these may seem a
bit frivolous, I think it just goes to show that you don't have to give
up everything you own to go green. You can indulge a little and find
gifts for the least eco-inclined people in your life. There are even
educational kits that you assemble into trinkets or toys. Who doesn't
want a solar-powered frog?
#9: Solar Signs
This is a practical
solar panel application that we tend to overlook,
but is already
widespread. Use the sun to power signs along the road. Billboards aside,
real estate, traffic, and construction signs are hot solar sites. Let's
not forget the urge to stand out
from the crowd! This usage of solar
power expands our ability to
communicate, whether to warn motorists of
construction or an accident
ahead or to broadcast a product. Whatever
your message, lighting a sign
with solar makes more than a statement –
it expands the application of a
powerful modern tool.
#10: Solar Gadgets
Sometimes
you just find something so cool or different that you
wonder how
someone could even imagine it. Solar gadgets are no
exception. Here are a
few that tickled my wallet or just made me laugh: solar tents for your
next camping adventure, solar lighters to impress your friends, solar
"personal massage" for someone special, solar tombstones for the dearly
departed, and more! How about the "9 most unusual solar gadgets"?
It
just goes to show that you don't have to buy big solar panels for
your
home to benefit from the energy of the sun. Some techniques,
like
passive solar energy, don't require any money at all. Solar means
more
than silicon wafers or fancy gadgets – it's any application that
puts
our nearest star to work. Many of these applications can save you
money,
and all of them encourage a powerful and practical energy
technology.
Images courtesy of:
1. Solatube – solar tube
Let us know where you'd like to attend CleanTechnica solar and/or EV events.

Keep
up to date with all the hottest cleantech news by subscribing to our
(free) cleantech newsletter, or keep an eye on sector-specific news by
getting our (also free) solar energy newsletter, electric vehicle
newsletter, or wind energy newsletter.
http://www.wec.ufl.edu/extension/gc/harmony/documents/EH328.pdf
June 1992
Energy Efficiency & Environmental News:
Practical Uses of Solar Energy
1
Florida Energy Extension Service and Mike West
PRACTICAL USES OF SOLAR ENERGY
You
can
put solar energy to work for you and save energy and money.
Switching
to solar helps protect Florida's beautiful and delicate
environment, and
reduce our dependence on fossil fuels. Today, there are
three practical
uses of solar energy for the homeowner: pool heating,
hot water, and
electricity for remote locations.
Less use of
electric power
generated from fossil fuels means less greenhouse gas and
acid rain
emissions. Every kWh saved eliminates 1.5 pounds of carbon
dioxide, 0.2
pounds of sulfur dioxide, 0.25 pounds of carbon monoxide,
and 0.01
pounds of nitrogen oxide emissions.
To purchase solar
systems,
consult a local contractor. Many communities are served by an
energy
conservation or solar contractor. Check the yellow pages under
"Solar
Energy Systems."
Follow up on each potential contractor's list of references.
Solar Pool Heating
The
most
practical and popular use of solar energy for the homeowner is
solar
pool heating. A solar pool heater extends the swimming season from
May
through October to February through November (in Central Florida,
water
temperature at least 75 degrees). This amount of heating is
equivalent
to $1500 worth of electricity (heat pump) or natural gas for a
24' by
20' pool.
A solar system for a 24' by 20' pool costs
$3200 to $4200.
The installed cost of a solar system is about the same
as a heat pump,
or about twice the cost of a natural gas heater ($1500
to $7000,
depending on the desired pool temperature and the size of the
pool).
Solar heater maintenance costs are much less than either type
of
conventional heater. An additional advantage of solar is
quiet —
solar pool heaters are almost silent.
The
best type of pool heater
collectors are the rubber mat type, according
to FEES specialist Gary
Cook. The mats are virtually indestructible, and
if damaged, are easily
repaired. Gary has had this type of collector on
his roof for over 12
years. The mats heat his 700 gallon hot tub from
75°F to over 100°F in
less than one hour (two hours in winter). His
swimming season is
extended three months (Gary lives in Gainesville).
Solar Water Heating
Today,
there
are thousands of solar water heating systems installed in
Florida. They
put the sun to work heating water for showers, hot tubs,
and dish
washing.
Reliable solar water heating systems are
economical where
natural gas is unavailable. Modern systems can supply
at least 70% and
up to 90% of a family's hot water needs. This can cut the
typical
Florida home electric bill by 10% to 13%. In this sense, a solar
hot water heater is a good economic investment.
The
return on
investment is the cash saved on utility bills. This
corresponds to an
annual rate of return of 7-9%, very respectable for
such a safe
investment. Quality systems last as long as the home they
are installed
in. The Florida Solar Energy Center can provide their
ratings of solar
collectors and systems (see References).
Solar
water heating systems
range in price from $1600 for a small system
serving two people,
up
to

$5000 for a system that serves a family of eight. A quality
system
sized for a family of 4 costs $3000 to $3500. A solar water
heater could
save the average Florida family around $300 per year, and
help protect
the environment by reducing the pollution caused by
generating
electricity from fossil fuels.
Be aware of a few
important
details when selecting a solar water heating system. A system
sized for a
typical Florida family uses two 4' by 8' collectors. Look
for a system
that uses a solar powered pump. According to Tom Lane of
Energy
Conservation Services, most Floridians should select closed-loop
systems
that use antifreeze to protect the system from freezing.
Drain-back
systems are another option. (Open-loop systems are suitable
in South
Florida and the Keys).
The storage tank should hold at least
20
gallons of water per family member. Extra storage capacity
is
recommended, and is inexpensive.
*
Licensed solar contractor,
Gainesville FL.(904)373-3220. FEES does not endorse brands
or
contractors.
Solar Electric Power Generation
Today,
solar
photovoltaic (PV) systems are at work converting the suns
radiation
directly to electricity. PV generated power has three main
advantages
over all other types of remote power generation:
Free
Inexhaustible
Power Simplicity Low Maintenance PVs provide electricity
to rural
homeowners, ranchers, and farmers for TV, VCR, stereo,
landscape and
security lighting, pumps, electric fences, and livestock
feeders,
without connection to the power company. Some farmers use PV
powered
pumps for watering of livestock on remote grazing areas. PV
systems
power street, billboard, bus stop, and highway sign lights,
navigational
buoys, and emergency telephones throughout Florida. Small
PV systems
provide portable power for camping equipment, computers,
fans, pumps,
and test equipment. PV cells are used in calculators and
watches.
Photovoltaic power is practical where access to utility company
lines is
costly, and for low power/portable needs.
Industry
improvements have
reduced the cost of PV systems to 25-50¢ per kWh. This
is still
considerably more than the 7-10¢ per kWh of utility power. The
U.S.
Department of Energy (DOE) goal is PV power at 12¢ to 20¢ per kWh
before
2000.
To take advantage of the economies of large scale
production,
the DOE announced a new strategy to accelerate the use of PV
power. The
DOE Solar 2000 plan calls for an increase in PV use by a
factor of ten
by the year 2000. Use of PV power is increasing by over
25% each year,
and has been for the past few years.
PV power
systems range in price
from $75 to $40,000 depending on how much
electricity the user needs.
The box below shows how system cost varies.
PV systems are a poor economic investment if power is readily available: the annual rate of return is around 1%.
However,
in outlying or isolated locations, connecting to faraway power lines
can cost more than a complete PV power station!
Table 1.
Cost
Comparison. High Capacity Solar
PV Systems Cost Considerably More Than
Low
Capacity Systems.
Appliances Powered By Solar
PV
System
Cost
Outdoor/Path lighting
$75
DC power for computer or TV
only
$800
TV, VCR, stereo, lights, computer
$7000
– above plus
refrigerator
$12,000
– above plus well pump (home)
$15,000
– above plus
ventilation fans
$17,000
– above plus central A/C
$31,000
As Table 1 shows, even modest increases in electrical capacity increases the price considerably.
When
using PV power, it is especially cost effective to replace
inefficient appliances with modern energy efficient ones —
allowing selection of a less costly PV system. Since PV cells
produce DC voltage, the use of DC (instead of conventional
AC) pumps, fans, refrigerators, lights, etc. makes sense.
Use of DC appliances reduces the cost of the PV system since they
are typically more efficient and require no invertor capacity. (
The invertor is the part of the PV system that changes the PV cells DC
voltage to AC.) In most cases, it is not yet economical to power
cooling and heating equipment with PV power since these are seasonal
loads.
Heating and cooling accounts for over half the residential energy use of a typical Florida family.
PV
power systems are modular, so they easily grow with the users budget
and electricity needs. PV system size is measured in watt-hours per
day (WH/D). Typical system cost is around $3 per WH/D of system
capacity.
The
smallest systems (around 200 WH/D) can cost up to $5 per WH/D, while
very large systems (10,000 WH/D) cost less than $3 per WH/D.
Storage
batteries
are required for power at night and on overcast days. The
required size
and cost of a PV system can be estimated using the
Sizing Worksheet given in Table 2.
Utility
bills can be used to determine the WH/D of electricity currently
consumed. Most bills give "average kWh used per day," simply
multiply this number by 1000 to obtain WH/D. Or, (1) take the total
kWh on the bill, (2) divide by the number of days in the
billing period, and (3) multiply by 1000 to obtain WH/D. Using
this method, one can see that a conventional small home, with a $65
monthly electric bill, would require 25,000 WH/D of PV capacity
to go completely solar using the same appliances and lighting. The
great cost of such a system emphasizes the importance of using
efficient lighting and appliances, natural gas for cookingand heating,
and fans for cooling.
References
Solar Photovoltaics: Out of the Lab and onto the Production Line. Mechanical Engineering
, January
1992 by Steven Ashley.
Solar Equipment Standards: some Questions and
Answers. Florida Solar Energy Center #GP-9.
Energy
Rescource
Directory #421. Contact the
Center at 407-783-0300.
Simplified Sizing Procedure for Solar Domestic Hot
Water Systems. Florida Solar Energy Center #GP-
10. ERD #417.
Thermal Performance Ratings of Solar Collectors.
Florida Solar Energy Center #'s GP-14 and GP-16.
FSEC Approved Solar Energy Systems: Domestic Hot
Water and Pool Heating. Florida Solar Energy
Center #GP-15.
Measurement of Solar Radiation. IFAS publication
#CIR-827, ERD# 214.
Solar Water Heating: A Question and Answer Primer.
Florida Solar Energy Center #EN-5. ERD #426.
Solar Heating of Swimming Pools: A Question and
Answer Primer. Florida Solar Energy Center #EN-6.
ERD #422.
Solar Swimming Pool Heating in Florida: Collector
Sizing and Economics. Florida Solar Energy Center
#GP-13. ERD #423.
Solar Water Heating Options in Florida. FSEC #EN-9.
ERD #425.
Sources of Solar Consumer Protection. Florida Solar
Energy Center #FS-29. ERD #428.
Global Climatic Change Primer. Florida Energy
Extension Service # EES 72.
The Greenhouse Effect. FSEC #EN-16. ERD #431.
The worksheet in Table 2 will aid in estimating the
required size of a solar photovoltaic electric power
system. In the first block, list all the appliances which
are to be powered by the PV system. Check the
appliance label or nameplate for its rated wattage. Next,
estimate the number of hours per day each appliance is
"on". Then, follow the calculation instructions in lines
A
through
G
to arrive at the estimated cost of a
complete PV power system.
Table 2.
PV Sizing Worksheet. Check Appliance Labels For Wattage. For Ratings in AMPS, Multiply AMPS x
VOLTS (120 or 240) to Obtain WATTS. HOURS/DAY is Hours Used Per Day.
List All Appliances to be PV Powered
WATTS
HOURS/DAY
WH/
D
A. Load: Sum of all WH/D above LOAD WH/D =
B. Battery and Invertor Losses: 25% of line A. LOSSES WH/D =
C. Net energy needed per day: Add lines A and B. NET WH/D =
D. Desired number of days of storage capacity. STORAGE DAYS =
E. Total required system size: Multiply line C by line D. TOTAL WH/D =
F. System unit cost. (typically $3 to $5) $ per WH/D =
G. Total system cost. Multiply line E by line F. TOTAL COST =
$
When using PV power, it is especially cost effective to
replace inefficient appliances with modern energy
efficient ones.
SIMPLY SAVING
Energy Efficient
Economical
Environmentally Sound
Practical Uses of Solar Energy
You
can put solar energy to work for you and save energy and money.
Switching to solar helps protect Florida's beautiful and delicate
environment, and reduceour dependence on fossil fuels. Less use
of electric power generated using fossil fuels means less greenhouse
gas and acid rain emissions.
Solar Pool Heating
The
most practical and popular use of solar energy for the homeowner is
solar pool heating. A solar pool heater extends the usable
swimming season from May through October to February through
November (in Central Florida, water temperature at least 75 degrees).
This amount of heating is equivalent to $1500 worth of electricity (heat pump) or natural gas for a 24' by 20'pool.
Solar Water Heating
Today,
there are thousands of solar water heating systems installed in
Florida. They put the sun to work heating water for showers, hot
tubs, laundry, and dish washing. Reliable solar water
heating systems are practical where natural gas is unavailable.
Modern systems can supply at least 70% and up to 90% of a
family's hot water needs. This can cut the typical Floridians home electric bill by 10% to 13%.
Solar
water heating systems range in price from $1600 for a small
system serving two people up to $5000 for a system that will serve a
family of eight. A quality system sized for a family of 4 will cost
$3000 to $3500. A solar water heater will save the average
Florida family around $300 per year, and help protect our
environment by reducing greenhouse gas and acid rain emissions
from electric power generating plants.
Solar Electric Power Generation

Today,
solar photovoltaic (PV) systems are at work converting the suns
radiation directly to electricity. They provide electricity to rural
homeowners, ranchers, and farmers for TV, VCR, stereo, lighting,
pumps, electric fences, and livestock
feeders, without connection to the power company.
Some
farmers use PV powered pumps for watering of livestock on
remote grazing areas. PV systems power street, billboard, bus
stop, and highway sign lights, navigational buoys, and
emergency telephones throughout Florida. Small PV systems provide
portable power for camping equipment, computers, fans, pumps, and test
equipment. PV cells power calculators, watches,and battery chargers.
Photovoltaic
power is practical where access to utility company lines
is costly, and for low power/portable needs. PV power
systems range in price from $75 to $40,000 depending on how much
electricity the user needs.
1. This document is the June 1992
issue of Energy Efficiency and Environmental News, the newsletter of
the Florida Energy Extension Service, Florida
Cooperative Extension Service, Institute of Food and Agricultural Sciences, University of Florida. Publication date: June 1992.
2.
Florida Energy Extension Service, University of Florida, P.O. Box
110940, Gainesville, FL 32611-0940; Mike West, Mechanical Engineering
MEB
237, UF, Gainesville, FL 32611, phone 904-392-5886, suncom
622-5886, fax 904-392-1071, vax GNV::MKW, Cooperative Extension Service,
Institute
of Food and Agricultural Sciences, University of Florida, Gainesville FL 32611.
The
Florida Energy Extension Service receives funding from the Florida
Energy Office, Department of Community Affairs and is operated by the
University
of Florida's Institute of Food and Agricultural Sciences
through the Cooperative Extension Service. The information contained
herein is the product of the
Florida Energy Extension Service and does not necessarily reflect the views of the Florida Energy Office.
http://practicalaction.org/solar-power-3
Solar power
Lighting up lives
For many people in developing countries, modern energy is completely
inaccessible, and yet the problems they face daily are unsolvable
without it.
The most powerful natural energy resource is the Sun. Solar technology
uses this to provide communities with the electrical energy that they
need. Practical Action are using solar power to operate simple
technologies which are changing the lives of so many people for the
better.
Water pumps
In drought-stricken areas, women must walk miles to find water, risking
rape, animal attack or even death at the hands of militia, in order to
sustain their families and animals. They do this with the sickening
knowledge that the water they have collected may well make their
children very ill.
Working with community members, Practical Action developed a solar
powered water pump capable of pumping up to 10,000 litres of clean water
per hour.
Using the overabundance of sunshine, the solar pump draws water from a
100 metre deep well, providing families with the water that they
desperately need and rendering cases of water-related diseases a thing
of the past.
More about solar-powered water pumps

Solar photovoltaic technology
When night falls and natural light fades, there is no electrical supply
to light up homes, streets and classrooms. Children cannot see to learn
and adults cannot see to work. Practical Action's solution is solar
power - solar lanterns, solar flashlights and solar street lights can
charge through the day using the sun's rays and provide hours of light
after dark.
The lights are connected to solar panels which then sit on an open and
un-shaded spot such as a roof. These panels then convert sunlight to
energy which charges the battery built into the equipment.
Solar power can also be used to run other pieces of equipment such as computers and refrigerators.
http://science.howstuffworks.com/science-vs-myth/everyday-myths/what-are-some-practical-uses-for-solar-energy.htm
What are some practical uses for solar energy?
This early solar charger device uses energy from the sun to recharge portable electronic devices.
AP Photo/Elise Amendola
2/3 BHK Luxury Apartments Off OMR. 90% Construction Over. Book Now !
Mounting System Directory: Pitched Roof, Flat Roof, Ground Mount, BIPV
Exeron: Solar Battery Controller, Cabinet, Battery, Inverter, Monitor
Sunlight is a great source of energy — if you're a typical plant.
Plants use the energy from sunlight to create sugars. The energy from
photons becomes chemical energy. Animals eat plants — or eat animals
that in turn eat plants — and in this way most living things on Earth get their energy.
Converting sunlight into electricity
has been a challenging problem for decades. Scientists first discovered
the connection between sunlight and electricity in the 19th century.
But those early photovoltaics, the fancy name for solar cells, were inefficient. They converted less than 1 percent of the energy they received from the sun into electricity.
After
decades of research and engineering, we can now build solar cells that
are more than 30 percent efficient. That has opened up opportunities to
use solar energy in applications that wouldn't have been possible a few
years ago. But just because something is possible doesn't make it
practical. And solar panels are still relatively expensive compared to
other ways to generate electricity. Some applications just aren't
practical from a financial perspective.
Take cars, for example. A
solar-powered car would be a useful tool. Imagine never having to pull
up to a gas pump or plug into an electrical socket. The energy you
needed would be free, courtesy of the sun. But cars are heavy and they
need a lot of energy to move. Solar-powered cars tend to be lightweight,
single-rider vehicles. They're flat and wide to maximize surface area.
They aren't very fast and they have a limited range — they won't go far
in cloudy conditions or after it gets dark. So while it's possible to
power a car with the sun it's still not practical.
That doesn't
mean solar power is useless or that we should abandon it. There are
several applications that make sense. Some require a hefty investment up
front but have the potential to pay off financially in the long run.
And there's no denying that solar power is more environmentally friendly
than systems that emit greenhouse gases.
Up next, let's look at ways you can use solar energy.
http://electrical.about.com/od/appliances/tp/Top-10-Solar-Energy-Uses.htm
Top 10 Solar Energy Uses
Updated
December 16, 2014
.
Solar energy, solar power derived from the sun through the use of solar panels,
is just one of the newest initiatives the "Going Green" movement has
presented to us, in an effort to build and maintain renewable and
sustainable power sources. As with any new addition to your home, there
is always the initial cost of the components and installation cost to
get it up and running.
Peter Starman/Photographer's Choice RF/Getty Images
Solar Powered Ventilation

How would you like the sun's power to run bath fans, floor fans, and ceiling fans
in your home. Fans are widely used throughout the home to move air
around for comfort, moisture, and smell control. Think ae heating and
coling within your home and cut down on the utility bills.bout how many ceiling fans
run in your home each day. Now, think about how many bath fans run
throughout the day, How about floor fans and fans above the stove? I
think you'll agree, we all use fans to either keep us cool, circulate
theair or disguard unwanted air. With solar powered fans, you can
optimiz
Containerized PV Energy Systems 50kW to 1MW - INSTALL READY!
Build Your Online Presence With Google Sites. Free 30-Day Trial!
Heat Your Swimming Pool With Solar Energy

Swimming pools
are one of the greatest joys of summer for children and parents alike.
Everyone is excited the first day the pool is opened, except when the
pool is just to cold to jump into it. To fix that problem, youcan add a
solar blanket that will warm the water, much to everyone's delight.
This heating works directly through the blanket and no other
installations are needed. However, if you'd like to get a little more
high tech, simply install a solar hot water heating system.
This utilizes solar hot water heating panles that are munted onyour
roof to collect the sun's heat and then is circulated to the pool. As
the water is slowly pumped from the pool, heated and then returned from
the panels, the pool temperature is increased.
Solar Energy Can Heat Your Water

Have you considered the possibility of solar energy heating your water instead of using gas or conventional electric water heaters?
I know you may say that you'll have to buy all of these pieces to get
this option to work. There will installation that you may or may not be
able to do. And the cost, well maybe you should just stick to the one
you have now, right?
Not so fast! If you think about it, it's no
different than changing out an outdated furnace, water heater, or air
conditioning unit. You may increase the efficiency by 15-30% by
replacing the unit, but there is an up-front cost associated with that
change as well. Although, the change will save you money over the years,
so that should be considered over a period of time.
MNRE empanelled Solar Pump supplier - Instant Subsidy Scheme
Solar Panel Directory: For Bulk Purchases by Industry Users Only
Solar Energy Can Heat Your Home

Solar heating is referred to as passive space heating and in this example, I'm going to try and explain how this works. One way is to use hot water heat in your home that can be created by using sun-heated tubes of water on your roof and pumping it into your water heater.
With
the addition of a sun room, we'll refer to it as a solar room, for
example, the all glass room allows the daylight hour sunshine to filter
in and warm the room through a collector called a transparent covering
in the glass. Now, if we add plants and rocks for a nice visual, the
rocks will actually store the heat of the sun and that energy can be
used when the sun goes down to heat the room. Stored energy is great and
has a lot of uses, like batteries for instance.
Power Pumps With Solar Energy

In the two illustrations previous, water was used for heating water
and your home. To accomplish that task, you'll need to have a pump to
circulate the water around. This pump would normally connect to your
home's power supply, but let me give you this nice tip. You can use solar energy
to run a DC motor that will slowly circulate the water throughout your
home or in and out of your water heater. This way, the cost of the
system is minimized further. Now, the skeptics will say that's great,
but what do we do when there is no sun?
Good question! One way is
to have normal power run a pump when there is no sun. You can also have a
battery backup system that can run the pump and the battery could be
connected to a solar battery charger.
Solar Energy For Battery Charging

Have you considered solar energy for charging batteries? These could be used to power sump pumps,
hot water pumps, ceiling fans in your home, or lighting that id of DC
nature. battery chargers are used in homes to charge all of those
batteries used for video games and such as well. But most likely, if you
have a reserve battery bank that is charged through the day while
sunlight is present and is used through the nighttime hours, you can see
the benefits of that, right?
Power Your Home With Solar Energy

Yes, you heard me right, you can power your home with solar energy.
The system needed isn't that complex when you examine the devices
needed. Simply add solar panels to collect sunlight and convert it into
electricity. DC power (direct current) is then sent to an inverter,
which converts DC power into Ac power, which now runs your home. Through
the use of transfer switches and other safety devices, your clean,
renewable power source is capable of powering your home, camper, cabin,
tool shed, or any other building for that matter.
Solar Energy For Cooking

Oh yes, we can all relate to this one. After all, we all have
to eat. When you consider the energy and resources that are used to cook
alone, the utility bills may surprise you. Cooking with the use of solar energy
is much easier than you think. We call it thinking outside the box, or
in this case, cooking within a box. Imagine cooking inside a solar oven
instead of your conventional one at home. Building one of these is a
recipe for successful cooking on sunny days! With a box, pan, aluminum
foil, a cooking bag, duct tape (man's best friend), styrofoam insulation, and a thermometer, you'll be cooking in no time at all.
Solar Energy for Indoor Lighting

Lighting in your home is something we all use. With the invention of LEDs (light emitting diodes)
lighting, your home can now have optimal lighting with minimal power
consumption. These small, electronic light or set of lights can be
connected through a battery-charged system that is powered by sunlight
through the day and batteries through the night. When the sun is
available, the battery charger charges the backup battery and runs the lighting. Then at night, the batteries kick in and supply the lighting while the sun is not visible.
Solar Energy Used For Outdoor Lighting

if you're like me, you like to come home at night to some sort
of security light and walkway lighting present. Not only does it aid in
a clear view of the walkway area, a clear view of keys and the entrance
door, but also it serves as a deterrent to unwanted guests. As in the
case of a pole light, your whole yard can be lit and best of all for
free! Yes, with the use of solar lighting,
the solar panel charges the batteries during the day and the batteries
run the light at night. You can also have the landscape lit through
landscape lighting that works the same way. Wow, after the initial cost,
the lighting is free!